Life before Swoop
Hiking in Glacier National Park, Montana
Before beginning a career in travel, I spent several years teaching English abroad and backpacking through Latin America and Asia. During my travels, I trekked to Machu Picchu, rappelled the waterfalls of Vietnam, and learned to make gnocchi in the Italian countryside. Once I settled back in the states, a career in travel seemed like the natural next step and my love of wild, remote locations led me to Antarctica.
Outside of work, you can usually find me roaming the mountains and rivers of western Montana.
My Antarctic experience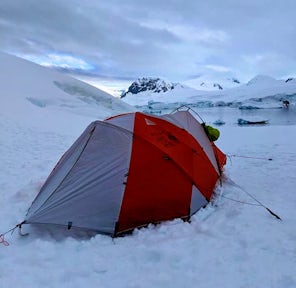 Camping on the Antarctic snow
My first journey south was on board the Hebridean Sky during which I got to spend 14 magical days exploring the various islands and harbours, cruising alongside humpback whales and laughing as adolescent penguins nibbled on my camera straps. I also had the pleasure of pitching a tent at Portal Point and joining the small list of people who can say they have slept under the stars on the Antarctic continent.
Why I love Polar travel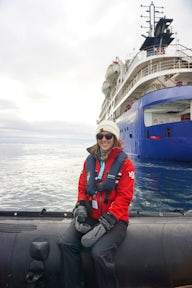 Exploring Antarctica by zodiac
Antarctica is unlike anywhere else you will visit. I live where I do because I love the wide open, expansive spaces and rugged wildernesses that serves as a constant reminder of just how small we truly are in the grand scheme of the planet.
Antarctica has this effect but tenfold. It is sensory overload everywhere you look – humpback whales spraying, penguins porpoising through the water, glaciers calving, the smell of a penguin rookery permeating the air.
Day to day at Swoop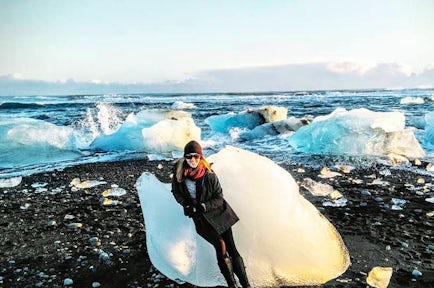 Posing with icebergs in Iceland
I spend my days chatting with travellers about their dreams of visiting Antarctica. I enjoy playing the matchmaking game of learning about each individual's plans and preferences so I can pair them with the absolute perfect voyage. I love providing guidance on when to visit, which ships to consider, and what will actually happen once on board!

What our customers think of Molly
10/10 - Alicia and Molly were great to work with. They responded quickly and answered questions thoroughly. Read the full review

Travelled: February 2023
10/10 – I appreciated the time Swoop took to understand my objectives for Antarctica and the high knowledge level for the 'nuances' of Antarctica, South Georgia travel and wildlife interaction. Read the full review

Travelled: January 2023
Elizabeth Griffiths - Canada
I think staff support (including Molly) made the trip an adventure of a lifetime. Thank you! Read the full review

Travelled: December 2022
10/10 - Molly was great from the very beginning when we were making decisions. She guided us correctly with everything - we went to Patagonia before Antarctica as she recommended, we took cabin 429 based on her reasoning, which we loved, and we were so happy with the time of year we chose. Read the full review

Travelled: December 2022
From the initial contact with Molly through the booking and travel coordination with Andy your company was professional and thorough. Answered all our questions promptly and helped make for a smooth vacation. Read the full review

Travelled: February 2022
I am so thankful that Molly spent the time with my group and selected this cruise as the right one for us; given all the options and how hard it is to choose, her guidance was invaluable and now that we're back I can absolutely say that there couldn't have been a better choice for us. Read the full review

Travelled: February 2022
Molly was very helpful to work with my Dad and me to find us a trip that met our hopes and dreams! Read the full review

Travelled: December 2021
All my interactions have been extremely positive. Molly was delightful. Read the full review

Travelled: December 2021
Molly Hutchison was very helpful on the phone initially helping me to make choices. Read the full review

Travelled: December 2021
As an American it was very important to have Molly available at the beginning of putting our trip together. You might say that Molly and us speak the same language and understand our wants and needs. Read the full review

Travelled: December 2021
Great job, Saffron and Molly. Read the full review

Travelled: February 2020
Mary Boyle Anderson - United States Of America
Thank you again Saffron, Michelle and Molly, you've all been so amazing...you're the only company I would recommend!

Travelled: December 2019
The next adventure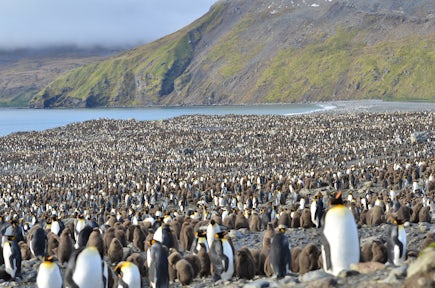 King Penguins in St Andrew's Bay, South Georgia
I have always had a fascination with wildlife, so South Georgia would be a dream come true. I can't begin to wrap my head around being surrounded by 200,000 penguins at once!
Ready to plan your Antarctic adventure?
1
Listen
We'll spend some time listening to your aspirations, then discuss the kind of experience that might suit you.
2
Match
Next we'll discuss the options, shortlist the best trips for you and present you our impartial recommendations.
3
Reserve
We'll place a 24 hour hold on your preferred option - without obligation - whilst we talk through the details.
With over 150 years of Antarctic experience between us, we can help guide you to exactly the right trip for you.
1-855-369-8288