Life before Swoop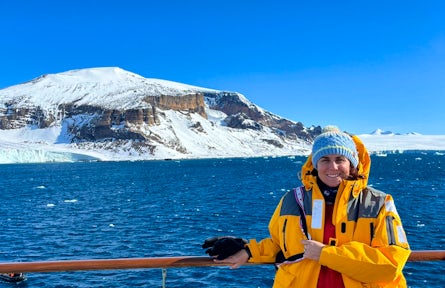 In Antarctica
For as long as I can remember, my family and I have travelled and explored Patagonia. It was always a mix of wonder and excitement! Camping, hiking, kayaking, skiing and everything we could do to explore nature, we did. I believe that those family trips are the reason behind my passion for nature and wildlife. We used to live in a big city, but 20 years ago, we decided to move out to Patagonia, for this very reason.
I spent many years exploring the mountains and rivers and hidden gems of Bariloche and its surroundings while guiding horseback riding tours for travellers from all over the world. After that, I moved on to Llao Llao, one of the most luxurious hotels in Patagonia, where I worked in customer service.
A few years later, I began teaching - yes, I know, a huge pivot, right?! I taught in different places and to different age groups, but for the most part, I was a primary school English teacher. This was one of the biggest learning experiences for me; I learned to be extra patient, multitask, and focus on people's needs above all.
Why I love travelling
I believe that travelling is a way of investing in ourselves. You get to meet new people, taste different flavours, explore, and learn from different cultures. It makes you see the world from a different perspective, and in the end, you figure out that our incredible world is like a book, the more you travel, the more pages you want to read!
I am always ready with my backpack and passport for a new adventure...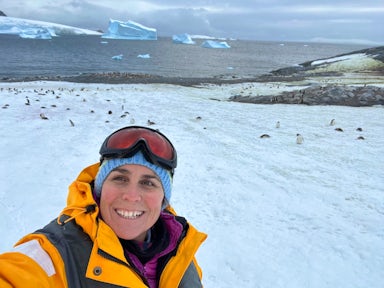 In Antarctica
My Antarctic experience
Cruising amongst icebergs, Antarctica
There's nothing like witnessing the breathtaking sight of icebergs and glaciers up close, watching penguins waddle their way down snowy slopes, or whales breach as your zodiac cruises through one of the most remote and beautiful places on the planet.
My first wow moment was when I saw a giant tabular iceberg; it made me feel so small! It was awe-inspiring and utterly magical; there is no way to anticipate the unique beauty of the ice until you see it in person.
I still look back at the photos and can't believe I was lucky enough to experience such an amazing adventure. I believe that to visit Antarctica is to become an ambassador for a remote and distant place that most can only dream of experiencing for themselves. I felt profoundly connected with nature and even more inspired to protect our planet.

Day to day at Swoop
From my home in Bariloche, Argentina, I work as part of the Customer Experience Team. My mission is to make sure every traveller can experience this magical region on their own terms. I focus on the details and support customers in any way necessary, making their experience unforgettable!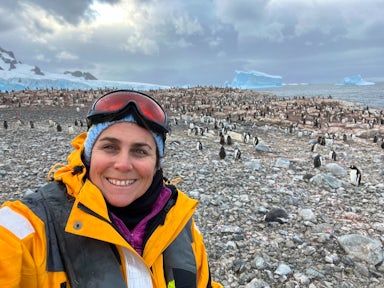 Cuverville Island gentoo penguin colony

What our customers think of Ali