Literature
There are many inspirational books about Antarctica to choose from. Here are a few of our favourites:
South by Ernest Shackleton
The Worst Journey in the World by Apsley Cherry-Garrard
Terra Incognita by Sara Wheeler
Scott & Amundsen by Roland Huntford
No Horizon Is So Far -Two Women and Their Extraordinary Journey Across Antarctica by Liv Arnesen and Ann Bancroft
End of the Earth by Peter Matthiessen
Scott of the Antarctic - The Definitive Biography by David Crane
Guides & Maps
There will be wildlife guides and maps in most onboard libraries, but you may like to have your own to take with you. Here are a few recommendations:
Antarctic Wildlife: A Folding Pocket Guide to Familiar Species of the Antarctic and Subantarctic Environments (Wildlife and Nature Identification)

by James Kavanagh

Antarctic Marine Wildlife: Antarctic Peninsula, Weddell Sea & Scotia Sea Kindle Edition

by Jamie Watts

Antarctic Wildlife: A Visitor's Guide

by James Lowen

Antarctica Cruising Guide: Fourth edition: Includes Antarctic Peninsula, Falkland Islands, South Georgia and Ross Sea

by Peter Carey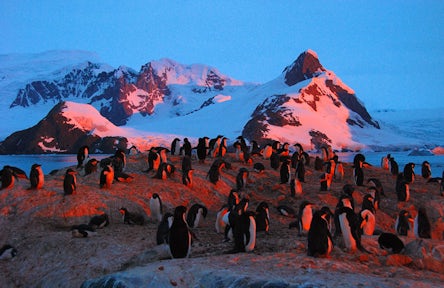 Penguins at sunset on the Yalour Islands, Antarctica
Films & TV
Shackleton starring Kenneth Branagh
The Endurance: Shackleton's Legendary Expedition directed by George Butler and narrated by family members of the crew (with original footage)
BBC Frozen Planet Series narrated by Sir David Attenborough
Encounters at the End of the World directed by Werner Herzog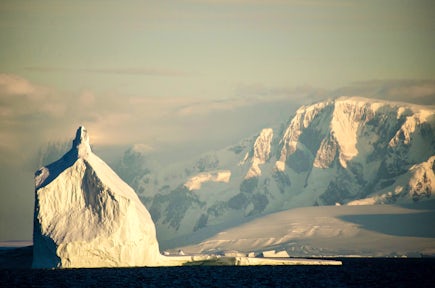 Antarctica landscapes and ice
Podcasts
Discover the best podcasts to introduce you to Antarctic history, science and adventure with our top picks.
Whether you're looking to listen before you travel, or during your voyage, plug in your headphones and point your browsers to our article on the best podcasts about Antarctica.