What to wear
While average temperatures on the Antarctic Peninsula during the Austral summer hover around zero degrees, the reality is that the weather can be extremely variable. If the sun is shining, there's no wind and you're hiking uphill, you can find yourself getting very warm and needing to remove layers. However, this can all change in an instant, and the wind picking up can have you shivering in seconds. Zodiac cruising can be particularly chilly, due to the lack of body movement, so we recommend wrapping up extra warm if you're heading out for an hour or two on the water.
Being correctly prepared and having the right kit makes all the difference, particularly on a trip like this, so it's never too early to start reviewing your kit. The good news is that between the clothing items provided and what you already own, it shouldn't cost you a lot to fill in the gaps for your Polar wardrobe, and you can even hire kit for Antarctica.
Swoop says
Pack some clothes in your hand luggage in case your luggage gets lost, then you can still enjoy your expedition. Pop them into a vacuum pack style bag, squeeze the air out and place it in your carry-on. We recommend a waterproof jacket & fleece (if your ship isn't providing them), waterproof trousers, gloves (thick + liner), a hat, a couple of pairs of socks and underwear and a set of base thermals, as well as your photography equipment and binoculars.
Clothing
1. Under layers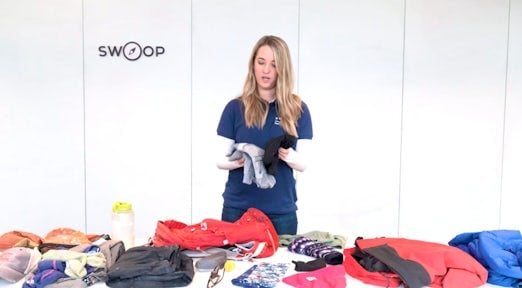 Base layers are key to staying warm in Antarctica, both top and bottoms, as they trap air close to your body and can be added or subtracted until you hit a happy medium. As we like to say, 'dress like an onion'.
We recommend you don't wear cotton, instead choose merino wool, silk or polyester as they retain body heat far better.
On top of one or two base layers, you can then add a fleece layer, before your outer weatherproof jacket. We recommend bringing several different warm layers, whether they be fleeces of varying thicknesses or down-style lightweight liner jackets, so you can layer up according to the weather and activity.

Note: If your ship includes a parka please be aware that some expedition parkas are 3-in-1 jackets with a removable inner quilted jacket, whereas some are outer shells only with no inherent warmth. What is provided in Antarctica will affect what you decide to pack, so if you are not sure if your ship includes a jacket, please check with us.

2. Outer layers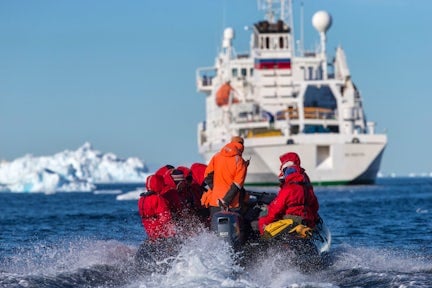 As zodiac rides to and from the ship can get splashy, you will definitely need a weatherproof outer 'shell' comprising both a jacket and waterproof trousers. Many of the ships provide a complimentary outer jacket, which will be waiting for you in your cabin and can be taken home as a fantastic souvenir. Some of these are 3-in-1 jackets with a removable inner quilted jacket, whereas some are outer shells only. If you are not sure if your ship includes a jacket, please check with us.

If your ship does not provide a jacket, a decent Gore-tex or skiing jacket is ideal, which you may well already have. It must be totally waterproof and windproof.
Similarly, for waterproof trousers, skiing trousers/pants work really well and can be layered up with thermal leggings underneath. However, it is important to check that they are completely waterproof, not just snowproof. They will need to go over the top of the rubber boots that most ships provide* (not tucked in, as this directs water run-off straight onto your socks), so a loose ankle is needed.
If you would prefer to avoid investing in outdoor clothing, which you may not have much use for back home, or if you simply don't want to travel with these bulky items, there are clothing hire shops in Ushuaia and rental isn't very expensive. Quality, however, can be variable and it requires you to have additional time post-cruise to return them, rather than being able to go straight to the airport. Please note that this will not be an option if your cruise includes a charter flight package.
Read more about renting versus buying Antarctic gear in our article, 'Should I buy or hire kit for Antarctica?'.
---
*If you are travelling on a voyage operated by Silversea or Lindblad you will need to rent these from Ship to Shore.

3. Gloves & socks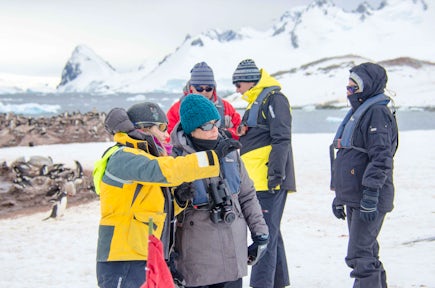 Hands and feet are the first things to get cold when you are out on zodiac excursions, as you are not moving around generating heat and helping blood circulation. There are some excellent "tog-rated" thick thermal socks available nowadays – get them in a ski boot length and these will keep your feet toasty.

For your hands, a pair of waterproof ski-style gloves are a must, and ski mittens are even better for keeping your fingers warm. Of course, these are no good for taking photos, so we recommend a thin pair of liner gloves underneath; silk or those with a touch-sensitive finger pad will allow you to take photos on a phone more easily. If you are using a phone for photos, we strongly recommend using a case that has a loop to secure it around your wrist. Likewise, for cameras, a neckstrap is essential. Zodiac rides can be bumpy and can easily jolt you causing you to lose grip. You may also need to keep your hands free to hold on to the rib.
Also key to warm hands and feet is keeping them dry. Your boots will keep your feet dry, but splashing from the zodiac as you cruise through the icy water may get your gloves wet, so make sure your gloves are either waterproof or bring a pair of rubber gloves to protect them whilst you are cruising around. Fishermen have been doing this for decades. It is worth taking a second pair of gloves to allow for drying time if you do get wet.

What our customers think of What to wear in Antarctica
Other important items
Viewing icebergs and wildlife onboard the Greg Mortimer expedition ship
Taking part in the Polar Plunge!
Walking with penguins, Cuverville
Also, don't forget to pack:

A lined woolly hat – make sure it can be pulled down to cover your ears from bracing winds
A foldable wide-brimmed sunhat – useful on hikes when it's a bit too hot for your woolly hat
UV protective sunglasses, polarised if possible, to combat the reflections from snow and water
High factor suncream
Lip balm with SPF
A Buff or neck gaiter
Your swimwear for the Polar Plunge!
A rucksack - we strongly recommend using a fully waterproof dry bag style backpack (with straps) for splashy zodiac rides as your bag will be on the zodiac's floor, and also to keep your hands free while walking on land. (This will allow you to take off and store layers if you start overheating during landings.)

Camera equipment for taking photos – advice on what to take can be found in our Photography in Antarctica guide
To observe wildlife, you should bring a good pair of lightweight binoculars (the best degree of magnification is 7 or 8 X 30). Nikon is a really good and affordable brand. Our UK and EU customers have also recommended Opticron binoculars.
A telescopic walking pole (or poles) with a snow basket on the end, to avoid sinking into the snow, can also be a really useful extra point of balance on the ice. They don't take up much space in your luggage and are light.

If you are booked to travel on the Seaventure or Island Sky, one walking pole will be provided.
Lizzie says
It's essential that your binoculars are waterproof. It's a good idea to go try some out in a shop to work out what is most comfortable, especially with the magnification. If you have shaky hands it can really influence your decision. Also, think about weight – even the most expensive binoculars are no good if you're never wearing them because they're too heavy!

Lizzie Williams Polar Product & Partnerships Manager
What kit will be provided?
Most Antarctic ships provide:
Rubber insulated boots

on loan to guests for the duration of the voyage
When choosing your rubber boots, we suggest you

choose one size larger than usual

to take into account the thick socks

Try on your boots straight away

– if they aren't quite right there's always a stock of other sizes, so don't fret about getting it 100% correct
If you are travelling on a voyage operated by Silversea, please check with your Customer Experience Coordinator to see if boots are provided. If you are travelling with Lindblad you will need to rent these from Ship to Shore.
Quite a few also offer:
Complimentary parka jackets

These are really decent bits of kit, often with a high neck to keep out the wind and a zip-in fleece inner layer
When choosing your parka size, given the added underlayers you'll be wearing, we suggest you

choose one size larger than normal

Try on your jacket straight away

– if it isn't quite right there's always a stock of other sizes, so don't fret about getting it 100% correct
The details of what clothing will be provided on your own voyage can be found in your original confirmation email which you will have received by email shortly after booking. If in any doubt, please get in touch with your Customer Experience Coordinator.
---
If you're unsure whether to buy or rent any kit that is not provided on your ship, have a read of our article 'Should I buy or hire kit for Antarctica?'.

Swoop says
If you're booked onto a charter flight to/from Punta Arenas, don't forget when packing that the baggage allowance is 20kg – this is inclusive of 5kg of hand luggage.

What kind of luggage should I use?
We would recommend you use a soft-sided holdall (ideally with wheels) or suitcase as they are easier to stow in a cupboard or push under your bed. Some ships have dedicated suitcase storage.