Where to go in the Antarctic
Watch our Introduction to Antarctica
Travelling to Antarctica
The Antarctic Peninsula
Antarctica is the fifth largest continent in the world but most cruises focus on the Antarctic Peninsula (the pointy bit) rather than venturing too far inland. The Peninsula is scattered with a whole host of important landmarks, named after the hundreds of polar explorers that tried to conquer this inhospitable land throughout the 19th and 20th centuries, even to the present day.
Many Antarctic cruises cross the Drake Passage and explore the South Shetland Islands and the northern Antarctic Peninsula, whilst others continue across the Antarctic Circle at 66 degrees south, going as far as Marguerite Bay.
Few based out of Ushuaia or Punta Arenas make it as far south as the Ross Sea, or allow you to venture inland to the South Pole, although some special interest expeditions are designed to do this. It is also possible to reach the Ross Sea on a cruise that disembarks in New Zealand.
All Antarctic trips are flexible to conditions, which is all part of the adventure of travelling so far south!

Antarctica's Wildlife

Antarctica is home to a truly astonishing number of sea creatures, including eight species of penguins that nest or breed in and around the continent. Amongst them you'll see the Emperor, Chinstrap, King, Rockhopper, Macaroni, Gentoo and Adelie. Antarctica's waters are also home to Minke and Humpback whales which can often be spotted around Neko Bay. Seals are a common sight, including Elephant, Crabeater, Fur, Leopard and Weddell species.
If you're interested in seeing a particular animal, let us know so that we can direct you to the right trips. All our partners abide by the guidelines of the International Association of Antarctica Tour Operators, so you can travel in the knowledge that you won't disturb the vast amounts of wildlife you'll meet.
Antarctica's Weather and Seasons

Antarctica's seasons are essentially the opposite to ours, summer starts in November through to March, and winter takes over from March to September. The months in between are equivalent to our autumn, although the ice is too thick for ships to explore with passengers, which makes the visiting season quite short.
During Antarctica's summer months you can expect up to 24 hours of daylight, which make being there a very special and surreal experience indeed, but during winter and particularly at the height in June, Antarctica is shrouded in 24 hour darkness, and is certainly a very trying time for the continent's wildlife, who have to survive this seemingly endless cold.
As a general rule, in Antarctica the temperature falls as you leave the coast and the continent slopes upwards where temperatures drop. If you visit from November to February you can expect temperatures of approximately -27.5 degrees which drops to -60 degrees in winter. So don't forget your thermals!
What our customers think
The trip met all of our expectations. The weather was beautiful, and we saw everything we came to see, including an Emperor penguin!

Joey & Sheri Washington November 2017

Every day was a highlight, every landscape was a new vision of a pristine, untouched planet. Seals, penguins, birds, whales and dolphins... it was like being in a National Geographic documentary but with all the sensations of doing something unique.

I will never forget the sounds of Antarctica. You might think it is very quiet, but no, the calving of the icebergs is thunderous and the oxygen released from the ice in the water is just a wonderful sound.

Patricia Canada February 2017

Dear Swoop family, we would like to thank you for all the amazing effort you made in getting us to Punta Arenas in time.

Erik & Natascha The Netherlands December 2015

Probably the highlight (there were many) was landing on the continent. Other highlights: thousands of penguins, many whales, hundreds of birds. Mountains covered with snow. Icebergs everywhere, some that rolled, looking very wet, some with a dusting of snow that looked like powder sugar and some with seals laying in the sun.

Bob California November 2017

The landscapes and wildlife were unbelievable: from the penguins, birds, seals and whales to the gorgeous icebergs of all different sizes and colors and, most importantly, visualizing all of the stories of the early explorers to Antarctica.

Carol Louisiana November 2017

Don't keep putting it off if you really want to visit Antarctica, I would highly recommend the Swoop Team to be your guides.

June & Edmund Texas January 2017

Having been to Antarctica before I knew what to expect, but you forget how exceptional, beautiful, enormous, fragile, pristine and just magical the place is. It lived up to my expectations and beyond.

I was amazed every day during my stay in Antarctica. When you thought it couldn't be better, Mother Nature always surprised you by her unlimited potential.

Jodi Illinois December 2016

Antarctica is another world. Beautiful, magical and wild. Definitely lived up to our expectations and more.

Bertie & Jessica UK February 2017

It exceeded every expectation I had. The best trip of my life. Love it, most beautiful place I have ever been.

Anna New Zealand November 2016
Getting to Antarctica
The best way of getting to Antarctica largely depends on starting point of your cruise. Are you departing from Punta Arenas or Ushuaia? You essentially need to fly from London to Punta Arenas (Chile) or Ushuaia (Argentina) via the country's capitals.
From Punta Arenas you'll either fly to King George Island in the South Shetland Islands to begin your cruise, or fly to the Falklands to meet the ship there. Cruises departing in Ushuaia cross the Drake Passage over 2 days to get to Antarctica and usually return to Ushuaia 11-12 days later.

Guide to the History of Antarctica
The Race to the South Pole
When Robert Peary claimed to have reached the North Pole in 1909, he triggered a dramatic race amongst polar explorers to be the first to reach its southern counterpart. On 14th December 1911 after months of preparation, the Norwegian explorer Roald Amundsen and his team were the first to finally make it to the South Pole and claim the victory for Norway. Amundsen and his team were just five weeks ahead of a British party led by Robert Falcon Scott as part of the Terra Nova Expedition, an expedition which sadly resulted in the deaths of Scott's entire party.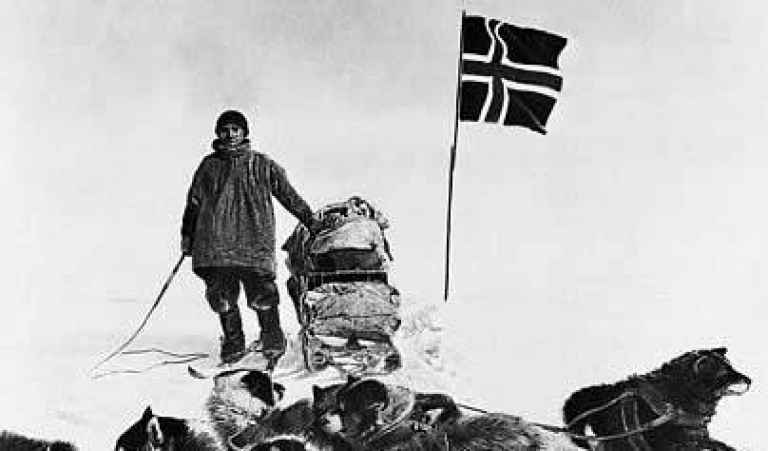 Books about Antarctica
If you're looking to soak up some of Antarctica's history either before or during your trip to Antarctica, we've come up with 3 of our favourite books from the point of view of scientists, historical explorers and adventure travellers:
1. Terra Incognita by Sara Wheeler - Follow Sara Wheeler on her adventure on the 'Antarctic Artists and Writers Program' as she gives her view on Antarctica from the early exploration era through to the heroic and modern history of Antarctica. Wheeler writing is witty and intelligent and she successfully weaves her own exploration and experience of Antarctica with the history of the Great White Continent.
2. End of the Earth: Voyaging to Antarctica by Peter Matthiessen - Widely considered as America's greatest literary naturalists, Peter Matthiessen charts his Antarctic expeditions in 1998 and 2001 where he describes and reports on the penguins, sea birds and marine mammals that he hopes to see whilst in the Antarctic. What Matthiesen does best is not only paint a wonderful picture of a remote place which few people ever get to visit, but also frame this picture with his concerns about protecting the environment.
3. Scott of the Antarctic by David Crane - This beautifully written biography, which was reissued in 2012 for the 100th anniversary of Captain Scott's doomed mission, poignantly retraces Scott's infamous expedition to the South Pole and examines the man behind the tragedy, his bravery and resilience which made him one of Britain's greatest explorers.
Films about Antarctica
...and if you're looking for something visual to whet your appetite, there are a whole world of films and tv programmes to feast your eyes on. We definitely recommend watching:
1. Shackleton - this film directed by Charles Sturridge recounts the story of Shackleton's 1914 Polar expedition to the reach the South Pole. After his ship is crushed by pack ice, Shackleton (played by Kenneth Brannagh) has to cross ice, 800 miles of water and climb mountains in order to find help and save his crew.
Follow in Shackleton's footsteps by joining an Alpine Crossing excursion on this 20-day Falklands, South Georgia & Weddell Sea Voyage and attempt to repeat the epic crossing of Ernest Shackleton for up to 3days from King Haakon Bay to Stromness. The crossing distance is 20 - 30 miles depending on the route, and involves crossing large, heavily crevassed glaciers and alpine passes.
2. March of the penguins - A fantastic film released in 2005 and narrated by Morgan Freeman about the incredible struggle faced by the Emperor penguin to reach its yearly breeding ground and rear its young. The film was shot over an entire year by two isolated French cinematographers who had to weather the incredibly harsh Antarctic winter just like the penguins.
3. Frozen Planet - This remarkable BBC nature documentary series narrated by David Attenborough was extremely well received when it aired in October 2011, largely due to the fantastic photography and up-close filming of some of the most remote wildlife in the world. Made up of 7 episodes, Frozen Planet explores the life and environment of both the Arctic with the changing of the seasons.
More helpful insights when researching your perfect Antarctic adventure.
Ready to plan your Antarctic adventure?






With over 50 years of Antarctic experience between us, we can help guide you to exactly the right trip for you.