About Me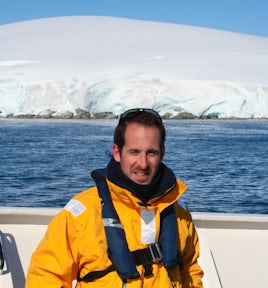 Life before Swoop
Armed with little more than a largely useless archaeology degree and a passion for travel, I began working in travel around 2003. I've been to more than sixty countries and all seven of the continents but still count myself as pretty under travelled, with a growing (rather than shrinking) bucket list of places still to visit!
My life at home is dominated by chasing after my three kids and trying to instil in them a strong sense of wanderlust, alongside the finer points of cricket and the joys of hot food.

---
My polar experience
I first headed south in 2004 with only 36 fellow passengers onboard on the redoubtable 'Professor Molchanov' and I returned with a confirmed case of 'polar fever'. Further forays into the polar regions have included chasing the Northern Lights and following musk oxen in Greenland and dog sledding across Spitsbergen in early March. In spite of over 15 years association with the polar regions, they continue to be places which enthral me; kayaking beside a sleeping humpback whale and watching orcas on the hunt being two incredible memories from my most recent trip to Antarctica.
---
Day to day at Swoop

I oversee our expanding polar programme which involves work in sales, operations, product development and strategy for both Antarctica and the Arctic.

What our customers think of Alex
Alex was fantastic as the main point of contact, very knowledgeable, professional and personable. I felt very prepared for my voyage.

Travelled: February 2017

We cannot thank Alex enough for allowing us to live this; thank you for your excellent advice, support and help all along the planning process.

Travelled: December 2016

The level of expertise and knowledge that Alex has is incredible and he helped us select the perfect trip for our needs and expectations. I've never had such good service.

Travelled: December 2016

Swoop was fantastic. We were provided with great service, efficient and quality responses to our many questions. Swoop found us the perfect expedition to match our interests and budget. Alex even followed up with us throughout the process and called us the day of our departure to wish us a wonderful trip.

Travelled: December 2016

Swoop made preparing for the trip easy. From the first phone call to Alex, I felt my concerns and desires were listened to and acted upon. We had the right ship for us.

Travelled: December 2016
We'd like to thank Alex for using his expert knowledge and time while working with us to understand our aspirations. He helped us choose the perfect holiday.

Travelled: February 2017
Swoop was excellent. Alex's knowledge of the seasons and what we could expect was spot on.

Travelled: January 2017
Why I love polar travel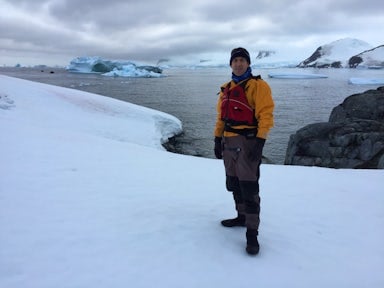 Kayaking and zodiac cruising are without doubt my favourite Antarctic activities - the former for the sense of silence and travelling at a slower pace which allows you to appreciate the macro detail, while getting up close to wildlife. The latter for the sheer joy of zooming around exploring the world's most pristine wilderness.
The iceberg graveyard at Pleneau Bay, a place I've been lucky enough to get to twice, is currently my favourite place in Antarctica. Under any light conditions and in all weathers the icebergs, in every shape and size, are a bewildering beautiful ice maze.
Ready to plan your Antarctic adventure?
1
Listen
We'll spend some time listening to your aspirations, then discuss the kind of experience that might suit you.
2
Match
Next we'll discuss the options, shortlist the best trips for you and present you our impartial recommendations.
3
Reserve
We'll place a 24 hour hold on your preferred option - without obligation - whilst we talk through the details.
With over 150 years of Antarctic experience between us, we can help guide you to exactly the right trip for you.
1-855-369-8288