Mountaineering in Antarctica
To take part in the mountaineering activities you'll need to be fairly fit - you should be fairly regular walkers and happy with quite rugged terrain. Most mountaineering options are open to anyone who would like to experience what it's like to rope up, wield an ice axe and try your hand with crampons. Prior experience is helpful, but typically isn't mandatory, except on the gnarlier multi-day expeditions.
Mountaineering isn't widely available on Antarctic trips, so choose your options carefully from those ships which do offer it if this is definitely on your 'must do' list.
How does it work?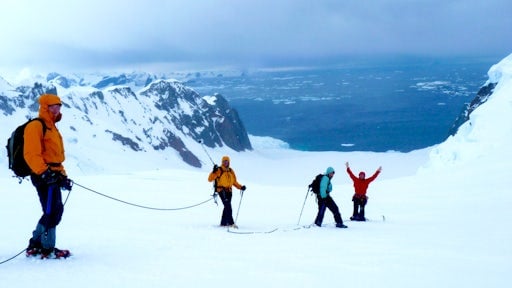 There are two quite distinct types of mountaineering activity offered on select Antarctic departures:
A half day's 'soft adventure' activity in which you get to experience what it's like to rope up, wear crampons and wield an ice axe. While this isn't a training course, Antarctica offers the perfect conditions for novices and no prior experience is required. This is the most common type of Antarctic mountaineering activity
On rare occasions (perhaps only once or twice a season) experienced climbers have the chance to test their mettle on a much more technical multi-day challenge - such as a crossing of South Georgia's mountain range in the footsteps of Shackleton. To join you will need to be able to prove you have previous experience at this kind of level
In terms of how the more common and universally accessible mountaineering activity works, under the guidance of a qualified guide you'll spend 3-4 hours roped up, as part of a small group, getting well beyond the scope of most Antarctic visitors. Your efforts will be rewarded by dramatic vistas and the knowledge that you are the only people in that whole area.
The more specialist climbing equipment will be provided for you; including ropes, harnesses, helmets, ice axes and crampons, as well as snow-shoes when required. Along with the right clothing, all you need to bring is a sturdy pair of boots with a rigid sole for the crampons. Soft hiking boots and trainers aren't appropriate.
What does it cost?
You have the option to either join a Basecamp Adventure, which includes a half day's mountaineering in the voyage price - along with a host of other adventure activities - or sign up to mountaineering as an additional activity, with an extra charge of ​​$575 - $1,250 per person​​, depending on ​nature and duration of the activity.
Swoop says
Kitting up with crampons and ice axe to explore Antarctica's deeper secrets routinely receives rave reviews. Perfect for novices who want to give it a try, without getting too technical.
Antarctic Voyages with Mountaineering
Special Offers:Swoop has access to the widest range of offers and can help you find the right trip, cabin, & price.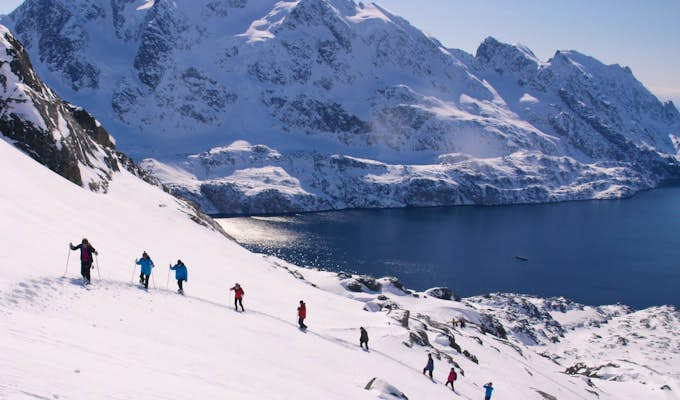 The ultimate Antarctic adventure, this trip is specifically for the active traveller. Spend 7 days kayaking, hiking, camping, mountaineering and snowshoeing, all included in the price. A medium-sized expedition ship acts as your floating 'basecamp'. Great value for money backed…

What our customers think of Mountaineering in Antarctica
Most memorable moment was seeing penguins for the first time as we were on the mountaineering walk. Chinstrap penguins - they were so close! 🥰 Read the full review

Travelled: December 2019
Sarah Gillett - Switzerland
Ice climbing; camping, especially the feeling when our zodiac pulled away and I found myself somehow connected with Shackleton and the seabirds flying overhead; seeing a dozen or more Elephant Seals woven together in the pebbles surrounded by penguins; and the sheer exhilaration of participating in the polar plunge with like-minded thrill seekers! Read the full review

Travelled: December 2019
Rex - Len Hunt - United States Of America
Camping and mountaineering in Antarctica were one of the highlights of my year. Read the full review

Travelled: November 2017
Shawn Faessler - United States Of America
We went up steep hills and got amazing views. With a guide in the front and back, so you felt very safe.

Travelled: November 2017
Mountaineering in Antarctica: FAQs
Ready to plan your Antarctic adventure?
1
Listen
We'll spend some time listening to your aspirations, then discuss the kind of experience that might suit you.
2
Match
Next we'll discuss the options, shortlist the best trips for you and present you our impartial recommendations.
3
Reserve
We'll place a 24 hour hold on your preferred option - without obligation - whilst we talk through the details.
With over 150 years of Antarctic experience between us, we can help guide you to exactly the right trip for you.
1-855-369-8288