Why we like the Ocean Nova
A maximum of only 67 passengers ensures a very intimate polar experience and that everyone can get ashore together
Combines clean, comfortable Scandinavian styling, with a true expeditionary spirit
Ocean Nova's large expeditionary staff of 12 means the highest passenger to staff ratio of any Antarctic ship
A high ice class rating, outstanding manoeuvrability and a first rate captain allow Ocean Nova to access places other ships simply can't reach
Her Panoramic lounge with its 200 degree views is a popular place for wildlife viewing while keeping warm
Delicious hand picked Chilean Wine is complimentary with meals
One of the few small ships with dedicated Single cabins, as well as Twins and Triple cabins, all with a picture window and en-suite bathroom
Watch our Video Tour of Ocean Nova

What Our Customers Think of Ocean Nova
10/10 - The staff was great from the excursions to the wait staff to the housekeeping staff. Everyone was extremely hospitable, smiling and greeting. Read the full review

Travelled: February 2023
We would definitely choose to tour on the Ocean Nova again. The accommodations were clean and comfortable. The housekeeping staff were so efficient and did a wonderful job. And, my goodness, the food!! Chef and galley staff fed us so well - a broad assortment of choices at each meal and excellently prepared and presented. Read the full review

Travelled: February 2023
We did NOT want a cruise experience. It's an older boat but just what we wanted. The library is amazing with its Antarctic collection. Stern lounge and Panarama room comfortable and good views. I would definitely choose Ocean Nova again. Read the full review

Travelled: January 2023
The ship was perfect, food was awesome I would recommend Ocean Nova to anyone thinking of going to Antarctica Read the full review

Travelled: January 2023
The ship was great! The service teams were nice, everything is clean and well maintained. My favourite lectures were from Beate Zein and Marcelo Flores. But overall I knew the team worked hard, they did their best, super friendly and nice! It's so special to get to know each one of them. Read the full review

Travelled: January 2023
Fiona Sukanta - Indonesia
Very comfy! I felt at home and did not have any episode of "claustrophobia!" I honestly prefer this kind of ship, not luxurious, but very comfy and fit for the expedition. Read the full review

Travelled: January 2023
Rich Manalad - Philippines
I would highly recommend Ocean Nova. The cabins are perfectly adequate, the food and service was excellent. I did not want to experience Antarctica from a distance, and Ocean Nova is the only vessel that allows you to get up close and personal with the continent, its wildlife, and its feel. Read the full review

Travelled: December 2022
10/10 - The expedition approach to me, is the best, and the Expedition and Hotel staff on Ocean Nova excelled. I can't imagine how disappointed I would have been had I needed to sign up for each and every excursion. The ship is smaller so can get into areas larger ships cannot - and kudos to our Captain for navigating through some tight spaces. Read the full review

Travelled: December 2022
The ship is the perfect size and atmosphere for this type of trip Read the full review

Travelled: December 2022
10/10 - It was very well organized. It was also very enjoyable. The guides were very enthusiastic. Read the full review

Travelled: December 2022
The entire expedition team and hotel staff on Ocean Nova was top notch. Read the full review

Travelled: November 2022
The Ocean Nova ship was great, I would 10/10 do it again. Read the full review

Travelled: December 2019
Katie Salva - United States Of America
The ship was very comfortable, food excellent with a variety of menus including a barbeque on deck. The crew and expedition staff were excellent and extremely knowledgeable.

Travelled: December 2016
The Ocean Nova was excellent and the perfect size. The ship's crew and the expedition crew were both first class. Swoop did a terrific job in putting it all together.

Travelled: February 2016
We had time of our lives! I would give the overall experience a 10/10.

Travelled: January 2016
Voyages aboard Ocean Nova
Alex says
Cabin Categories

*Note that the above measurements are approximate averages and exact cabin size can vary
All of the Ocean Nova's cabins are ocean-facing with windows, private bathroom facilities, individually controlled heating system and writing desk and chair.
When operating sea voyages, the ship's capacity is 71 passengers.

Twin Window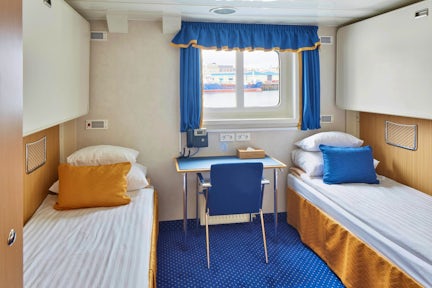 12 cabins are on the Upper Deck and 16 on the Bridge Deck
2 lower beds
All twins have the same floor space. However, they have beds further apart of each other on the Bridge Deck (Deck 4). The twins on the Upper Deck (Deck 3) are potentially better for couples.
Cabins #413 and #414 have obstructed views.

Onboard Communications & Facilities
If you wish to stay in touch, even in Antarctica, you can choose from the options below:
Internet: $49/1GB card
VoIP telephone card: $23 per 60min to the USA (will be less to other countries)
Iridium card: $78/45min
Please note that this is only for light data traffic and that the above prices are only approximate. Satellite phone works at all times, VoIP requires internet connection.
Other facilities include:
Plugs: European 220V two-round-pinned sockets
Towels, toiletries and hair dryers
Laundry service (additional cost)
Find Your Antarctic Ship
Choosing the right ship is crucial, given the amount of time you'll spend on board. Swoop is experienced at helping match our customers to exactly the right ship.
Find your Antarctic ship
Ready to plan your Antarctic adventure?
1
Listen
We'll spend some time listening to your aspirations, then discuss the kind of experience that might suit you.
2
Match
Next we'll discuss the options, shortlist the best trips for you and present you our impartial recommendations.
3
Reserve
We'll place a 24 hour hold on your preferred option - without obligation - whilst we talk through the details.
With over 150 years of Antarctic experience between us, we can help guide you to exactly the right trip for you.
1-855-369-8288