Trip Summary and Itinerary Map
4 full days in Antarctica = 8 planned 'off ship' excursions
We like this ship's small size, simple Scandinavian lines & the Panoramic Lounge's 200 degree views
Kayaking and snowshoeing (additional cost)
One of very few air-cruise trips to offer reserved plane seating
Includes pre-flight hotel night in Punta Arenas and house wines with meals
Landmarks potentially visited on Original Fly & Cruise Expedition Cruise
Operator's Itinerary
Day 1: Arrive to Punta Arenas
Arrive in Punta Arenas, Chile, where you are welcomed and transferred to your hotel. In the afternoon, you attend a briefing that provides important information about your voyage and reviews the essential guidelines for Antarctic visitors. Later, gather for a welcome dinner and meet your fellow adventurers while enjoying a typical regional menu.

---
Day 2: Fly to King George Island
A smooth two-hour flight takes you efficiently from Punta Arenas to King George Island, in the South Shetland Islands. Your Antarctic adventure begins as you exit the airplane and the clear Antarctic air fills your lungs for the first time. A short hop by minibus takes you to the water's edge. Here the adventure begins in earnest as you don your lifejacket and board your Zodiac rib for the ride to your expedition vessel, which is anchored in the bay.

---
Days 3 to 6: Antarctic Peninsula
Cruise between the South Shetland Islands and the western coast of the Antarctic Peninsula, sailing along ice-filled fjords and among spectacular icebergs while enjoying the company of sea birds, penguins, seals and whales. Each day, disembark by Zodiac and explore the landscape together with expert polar guides. Onboard the ship, attend an engaging program of lectures and presentations and enjoy spectacular vistas from the glass-enclosed lounge while sharing your daily adventures with fellow guests.
No journey is the same as flexibility is the key to success in Antarctica. The Expedition Team sets the voyage route to take advantage of the ever-changing opportunities provided by Nature, crafting a unique and extraordinary experience each time. While the exact itinerary changes with each expedition, you will explore several spots that offer the best possible overview of the varied Antarctic environment. Your voyage may include visits to sites such as Paulet Island, Hope Bay, Port Lockroy, Petermann Island, Paradise Bay, Deception Island, the Lemaire Channel, or many other magnificent places.
---
Day 7: Fly back to Punta Arenas
Return to King George Island and bid farewell to Antarctica before boarding the flight back to Punta Arenas. Upon arrival, transfer to your hotel for the night. (Note: Meals in Punta Arenas are at your leisure and not included in the program.)
---
Day 8: Return home
After breakfast, transfer to the Punta Arenas airport for your onward flight.
---
NOTE: This itinerary is for guidance only as each voyage will vary depending on ice and weather conditions, and opportunities to see wildlife. Furthermore, it's important to understand that the charter flight(s) to/ from Antarctica are particularly prone to weather, which requires a flexible flight schedule.

What our customers think of Original Fly & Cruise Expedition Cruise
Original Fly & Cruise Expedition Cruise trips scored 4.6/5 from 20 reviews
Zodiac trip through icebergs. Amazing shapes and colors, and penguins swimming and leaping among the bergs.

Travelled: January 2023
Christmas morning. Waking up to kayak in water surrounded by ice chunks. A minke whale pops up right as we are switching the zodiacs. The sun came out for the first time and it was magical.

Travelled: January 2020
Choose one? We spent an incredible afternoon on the zodiacs following whales in the Gerlache Strait - what an incredible experience. We were fortunate enough to have several groups of whales in the area, with one whale breaching within 20 yards from our zodiac.

Travelled: February 2023
The impressive silence (except for the sounds of breeding penguins) in the area, being so close to wildlife and respecting that for a full 100%

Travelled: January 2020
Seeing tens of thousands of penguins going about their business, and realizing that I was irrelevant.

Travelled: February 2020
Loved everything. Being welcomed by penguins and ignored by seals was priceless. Traversing the LeMaire Strait on a clear, blue, calm day with mirror-like reflections of snowy peaks in the water was stunning. The guests on the cruise were highly compatible and the ship crew and expedition staff were wonderful.

Travelled: February 2021
Sitting in a kayak surrounded by 10+ humpback whales in Fournier Bay

Travelled: February 2020
The highlight was having the opportunity to fulfull my bucket list in ,of my husband. The landscapes are breath-taking and the wildlife interesting. Watching the penquins walk, run, fly, swin was delightful. Seeing whales jump about was a sight to be seen ! Beautiful birds everywhere !! There were 65 folks on the tour - 4 continents, 7 languages. I was the oldest passenger. Many of the young chinese ladies, told me that I was their inspiration which made me feel good. They were delightful !! Biggest surprise was the rough waters the first night out, going through the Bransford Straight. I was very sea sick as were many folks !! A big surprise to say the least. The magical moment is simply the beauty of the land.

Travelled: February 2021
Lula Whitworth (Gayle Goad- agent) -
While in the front of a kayak surrounded by cocktail ice to watch a Humpback adult and calf breech in unison while they swam directly towards us.

Travelled: February 2020
Kayaking with the whales

Travelled: February 2023
Getting on shore on the Peninsula, and spending countless hours at that shitty airport in Santiago

Travelled: December 2022
Kayaking and having whales literally feet from us. Absolutely incredible.

Travelled: January 2023
First touch of the 7th Continent

Travelled: January 2023
Kayaking through sea ice adjacent to icebergs

Travelled: January 2023
The scenery was astonishing, especially as we were sailing down the peninsula.

Travelled: December 2022
Looking out the windows of Antartica and seeing this vast wilderness I had only experienced through magazine pictures, documentaries or books. To see the size, color and the real life of Antartica with my own eyes...to think of life day to day of penguins, whales breaching, and the breathtaking moment a glacier calves and you see it...it moves your soul.

Travelled: January 2020
Seeing Orca's off the ship on Christmas night

Travelled: January 2023
Zodiac ride through the Lemaire channel

Travelled: January 2023
The scenery…every day

Travelled: December 2022
Walking on the Antarctic Continent Kayakiing with Humpback whales Observing the penguins in their rookeries Zodiac expeditions through the ice fields Lectures on board First class Magellan Explorer experience - small, personal, first class!! All the wonderful people we met! By the way, your rating scale inhibits an outstanding rating only because it was not life changing. It was beyond amazing though!

Travelled: December 2022
About The Ship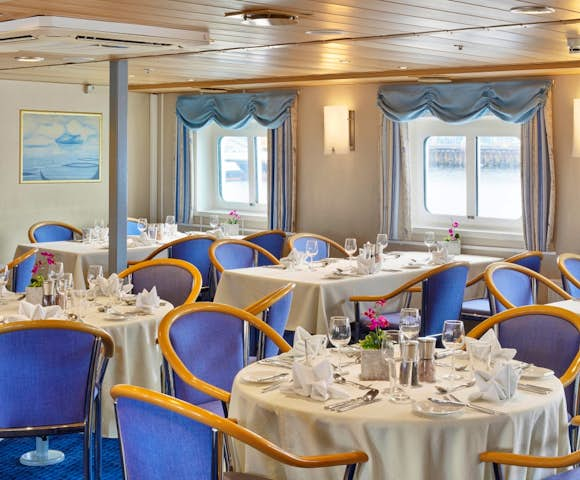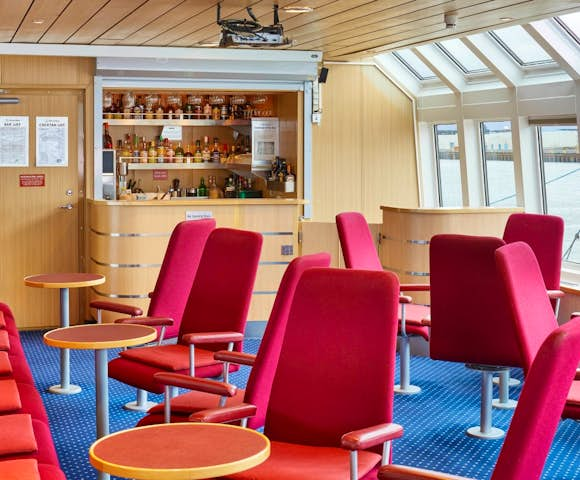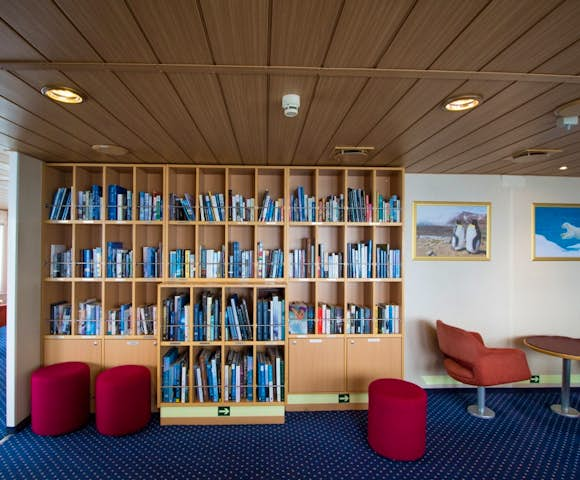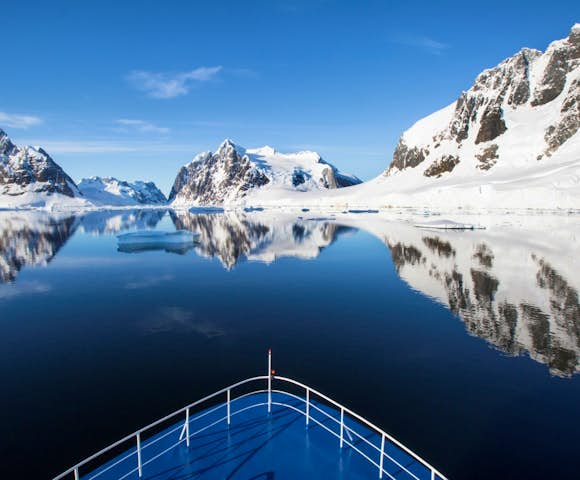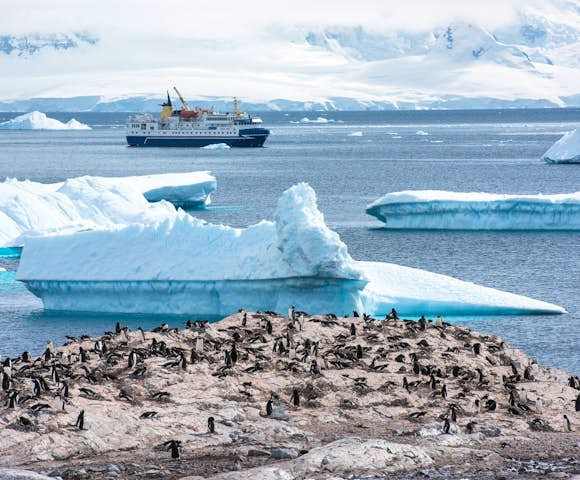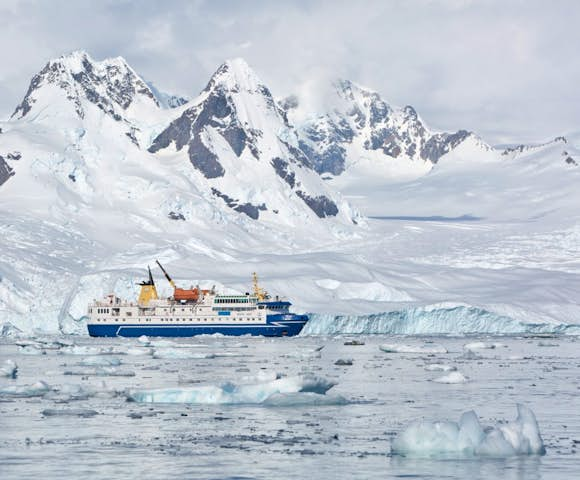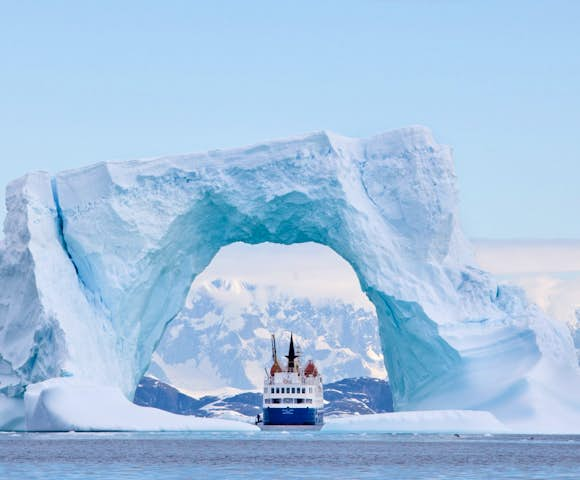 A 4* expedition ship for only 68 guests
Time saving flights
Panoramic lounge with 200 degree views
1B ice class rating (Hull = 1A)
Optional kayaking & snowshoeing/ hiking
Rubber boots are provided on loan
Prices, Departures and Inclusions
Prices quoted below are per person based on 2 people sharing. Cabin availability changes all the time so please contact us for up-to-date details and information on specific cabin availability.
* Note: Prices are per person. Paid in USD ($) - figure above is based on today's exchange rate. Actual cost $11495
Additional Notes
Due to popularity of this trip, early booking is strongly advised (12-18 months in advance).
---
Passengers who book to share a Twin Cabin are accommodated in single rooms at the hotel in Punta Arenas for which there's a mandatory supplement on top of the voyage price of USD $595 (2023/24 season) or USD $790 (2024/25 season).

Single Supplement And Child Policy
For those travelling solo and want their own cabin, this ship has a good number of dedicated single cabins, please contact us for details. However, there is no single supplement for passengers willing to share a cabin.
Children aged 8 years or more are admitted if accompanied by a fully responsible adult. A 5% discount on the rate per person is offered for children up to 8 - 12 years of age.
Optional Adventure Activities
Enhance your trip with the following add ons. Limited places per activity.
Get in contact to check availability.
Includes
Airport/ hotel transfers as indicated
Hotel accommodation in P. Arenas on day 1 and 7
Charter flights P. Arenas/Antarctica return
Voyage aboard the vessel as indicated in the itinerary
Accommodation and meals on full board basis
Complimentary drinks offered during meals
Welcome dinner including drinks
All guided shore excursions and zodiac activities
Educational lectures by expert onboard polar guides
Access to an onboard doctor and basic medical services
Loan of rubber boots for the voyage's duration
Comprehensive pre-departure information
IAATO passenger fee
Excludes
Parka jackets are not provided
Any flights to/ from voyage start and end points
Any additional pre/post land services, including meals
Transfers not specified in the itinerary
Optional adventure activities (e.g. kayaking)
Visa, passport and any vaccination expenses
Airport arrival or departure taxes
Personal travel insurance
Items of a personal nature - laundry, bar tab, etc
Customary staff gratuity at the end of the voyage
Additional onboard purchases (i.e. gift shop)
Questions about this Voyage?