5 reasons to explore the Weddell Sea
Limited to only a handful of unique voyages each year, explore the little visited, distinct and ice-choked Weddell Sea
Renowned for its vast tabular icebergs which provide fantastic photographic opportunities
Historically significant - it was here that Shackleton's ship Endurance became trapped in ice, precipitating the greatest rescue story
The chance to see an Emperor penguin - the Weddell is the only place where they breed so far north
Explore large penguin rookeries, including volcanic Paulet Island with its 100,000 pairs of Adelies
Weddell Sea Voyages
Special Offers:Swoop has access to the widest range of offers and can help you find the right trip, cabin, & price.
The iconic emperor penguin is the goal of this expedition for wildlife enthusiasts, as your ice-strengthened ship sails into Antarctica's challenging and little-visited Weddell Sea. Delve deep into historically significant and ice-laden waters, heading for the remote emperor rookery…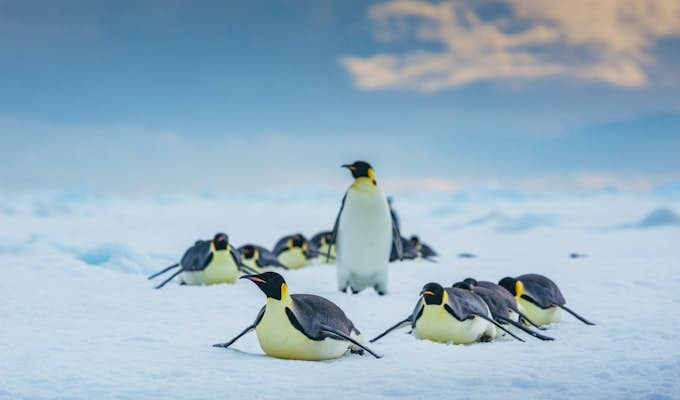 Maximise your time looking for Antarctica's most iconic species, the emperor penguin, on this luxurious expedition to the remote Weddell Sea. If conditions allow, two sleek twin engine helicopters will fly you over vast tabular icebergs to Snow Hill Island,…
How to get to the Weddell Sea
Setting sail from Ushuaia at the tip of South America, your expedition ship will guide you through the Drake Passage towards the South Shetlands, before navigating to the east of the Antarctica Peninsula and into the Weddell Sea. The northwestern Weddell Sea is the only accessible part, due to thick ice, which makes for an exciting and adventurous voyage.

Expect huge tabular icebergs, incredible sunrises, and penguins galore - the Weddell Sea is the heart of Adelie penguin territory! Discover more on getting to Antarctica.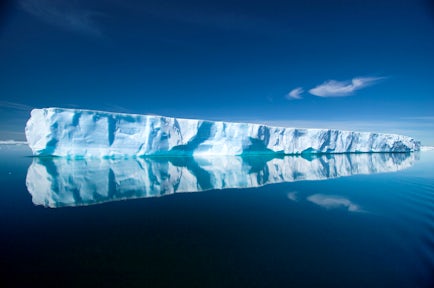 Tabular iceberg in the Weddell Sea © Ira Meyer

What our customers think of Weddell Sea Cruises
Weddell Sea Cruises trips scored 3.9/5 from 6 reviews
The most memorable moment must be the first sight of seeing the emperor penguin colony! It was amazing, just stunning! It was like a dream come true Read the full review

Travelled: November 2022
Fantastic experience, would recommend to anyone interested in wildlife and the history of the area. Walking on an ice floe in the Weddell sea was perfect. Read the full review

Travelled: November 2017
David & Jill Blaen - United Kingdom
Weather & Wildlife in Antarctica
Read Swoop's guides to discover how the weather changes through the seasons and what the wildlife is doing throughout the different months.

Find Out More
Ready to plan your Antarctic adventure?
1
Listen
We'll spend some time listening to your aspirations, then discuss the kind of experience that might suit you.
2
Match
Next we'll discuss the options, shortlist the best trips for you and present you our impartial recommendations.
3
Reserve
We'll place a 24 hour hold on your preferred option - without obligation - whilst we talk through the details.
With over 150 years of Antarctic experience between us, we can help guide you to exactly the right trip for you.
1-855-369-8288