Trip Summary and Itinerary Map
5 full days in the vicinity of Snow Hill Island within the Weddell Sea - the most of any expedition cruise to this area
The most hassle-free expedition to Snow Hill Island with a charter flight package between Buenos Aires and Ushuaia and included pre-cruise hotel
Unparalleled ratio of expedition guides to guests of 1:4 and a capped capacity of 150 travellers onboard
Relax in luxury between excursions, with some pampering in the spa or warm up in the sauna while soaking up the icy views
A purpose-built ship perfectly suited as your expedition "base camp"; the latest navigational technology, high ice class rating and environmentally conscious waste management systems
Explore Antarctica from unique perspectives with optional kayak paddling or stand-up paddleboarding excursions
Landmarks potentially visited on Emperor Penguin Expedition in Style
Operator's Itinerary
Day 1: Arrive in Buenos Aires, Argentina
Arrive into the elegant capital city Buenos Aires today, making your own arrangements to transfer to your group hotel where your pre-cruise hotel night is included in the mandatory transfer package.
---
Day 2: Fly to Ushuaia & embarkation
After an early breakfast at the hotel, your group will transfer to the airport and board the private charter flight to Ushuaia at the southern tip of Argentina. Upon arrival, you will be transferred from the airport to a central downtown location to enjoy time on your own to explore Ushuaia, the world's southernmost city, before making your way to the pier.
After a late afternoon embarkation and safety briefings, you will sail along the historic Beagle Channel, which transects the Tierra del Fuego archipelago in the extreme south of South America. Keep your eyes peeled for wildlife; you often spot large numbers of black browed albatross and sooty shearwaters and potentially even Magellanic penguins and sea lions in the water.
---
Days 3 & 4: Crossing the Drake Passage
The unpredictable and exciting Drake Passage, which lies at the confluence of the Pacific, the Atlantic and the Southern oceans, is an adventure unto itself.You'll be well taken care of by the expert onboard staff and expedition team with educational presentations and preparatory briefings. You'll also have plenty of time to gaze out at the expansive ocean waters, photograph seabirds such as huge wandering albatross and giant petrels as they swoop around the ship, and get to know your expedition team and fellow travellers.
---
Day 5: Navigating into the Weddell Sea
As you reach Antarctica, onboard presentations by world-respected experts will enrich your polar quest, conveying what it was like a century ago for the brave polar heroes who embraced the unknown. You'll also learn more about the ice-dwelling emperor penguins that you will be searching for. Head out on deck to soak up the awe-inspiring landscapes and look for impromptu wildlife sightings.
---
Days 6 to 10: Weddell Sea & Quest to Land at Snow Hill
The journey toward Snow Hill Island will put you in explorer mode as the Captain and Expedition Leader keep you updated through weather briefings, meteorological and sea ice condition reports. The thickness of ice will determine how close Ultramarine can get to Snow Hill Island, then the twin-engine helicopters will take over.
Like summitting a mountain from base camp, if safe conditions allow, parties will set out from the ship towards the emperor penguin colony. Your adventure begins with an extended helicopter transfer that will reveal a landscape of snow-capped peaks and apartment building-sized tabular icebergs. The rookery itself is located on the sea ice off the south coast of Snow Hill Island and the landing will be as close to the penguins as possible, yet at a safe distance to avoid disturbing the birds.

Upon landing, your party will walk across the ice to the emperor penguin colony. The excitement builds as you walk next to paths in the snow carved by penguins that came before. And then there are the incredible sounds of the penguins in the distance as you march toward one of the rarest wildlife opportunities on the planet: the colony of thousands and thousands of rarely-seen emperor penguins.
The goal of the expedition is to get every guest to the remote rookery once during the course of the trip. The expedition team and special experts will be close by to answer your questions and ensure you take in everything there is to see. You'll observe close up how the emperor penguins behave as a tight-knit community, how they care for their young, and how they body surf across the ice in a way that can only be described as quirky yet efficient.
And while at base on the ship with your knowledgeable expedition team, you'll be immersed each day in the polar experience of the Weddell Sea. Daily activities will include Zodiac cruising among the icebergs, adventuring and learning while atop the ice, optional paddle-on-top kayaking (additional cost, pre-booking strongly recommended), or working with the ship's team to observe the weather forecasting and ship operations up close.

A particularly enriching component of your voyage will be the bespoke educational programs tailored specifically for this expedition that offer both traditional (lecture format) and hands-on opportunities for learning about this fascinating region. Each day our polar experts, who include penguin scientists, biologists and polar historians, will present on various aspects of emperor penguins and their behaviors, ice formations such as the tabular icebergs which you'll see from the deck of your ship, and the experiences of polar explorers who braved the Weddell Sea over a century ago.
Or you might, on one of these days, decide to take the polar plunge, or test your balance on a stand-up paddleboard (optional activity at additional cost, pre-booking strongly recommended). Then again, maybe you'll enjoy a little pampering. If so, you can choose from your vessel's excellent onboard amenities, including the spa, sauna and fitness room.
The emperor penguin colony at Snow Hill is the goal of this expedition. However, if unfavourable weather or ice conditions prevent the expedition from visiting the colony entirely or shorten the duration of the visit, you may explore some other locations instead. Your possible alternative landings in Antarctica will take place on the eastern side of the Peninsula, which is an extension of the Transantarctic Mountains and is the most northern stretch of Antarctic land. Below are some of the landing sites you may explore in the area.

Brown Bluff: An immense cliff of volcanic rock, towers 2,225ft (678m) over rookeries of Adélie and gentoo penguins, some of which will be incubating their eggs.

Devil Island: The Swedish Antarctic Expedition of 1901-04 discovered the narrow island, which is 1 mile (1.6 km) long and has a low summit at each end.
Hope Bay: Three members of the Swedish Antarctic Expedition (1901-04) spent the winter in a hut on the shores of Hope Bay. The hut is located close to the jetty of Esperanza Station, an Argentine research station.
Paulet Island: Located in the northwestern Weddell Sea, Paulet Island is home to a large Adélie penguin rookery. With a volcanic cone that rises 1,158ft (353m), the island reminds you that this was once a very active landscape. In addition to penguins, you may be interested in visiting a historic hut built by members of the Swedish Antarctic Expedition of 1901-04. A cross marks the gravesite of crew member Ole Wennersgaard.
Seymour Island: Northeast of Snow Hill Island is a smaller island that was originally mistaken for a cape. Seymour Island is significant for fossil finds and for the remains of the KT Boundary, which marks the transition between the Cretaceous Period (dinosaurs and reptiles) and the Tertiary Period (mammals) of geological times. This era is known for the mass extinction of many forms of life, including dinosaurs.
---
Days 11 to 13: Cruising
The journey back across the Drake Passage provides a final opportunity to enjoy the invigorating Southern Ocean air. Spend time on the deck watching for seabirds and scouting for whales, enjoy presentations by your expedition team, and celebrate the experiences you've shared getting off the beaten track in the remarkable world of Antarctica.
---
Day 14: Disembark in Ushuaia and fly to Buenos Aires
You will arrive in Ushuaia in the morning and disembark after breakfast. The mandatory transfer package includes a tour of Tierra del Fuego National Park for a taste of Patagonia, after which you'll transfer to the airport for the return group charter flight to Buenos Aires. On arrival you will make your own onward travel arrangements.
---
Please note: this itinerary is for guidance only as each voyage will vary depending on ice and weather conditions, and opportunities to see wildlife. Flexibility is key and all part of the adventure of an expeditionary cruise.

About The Ship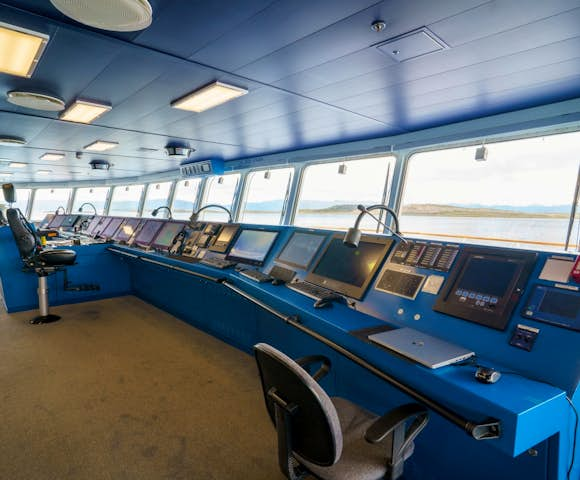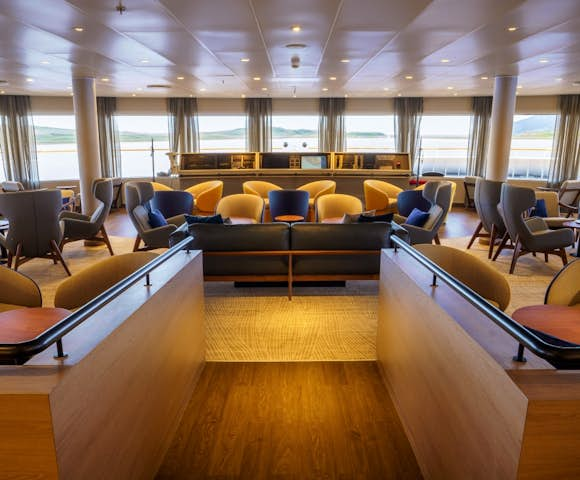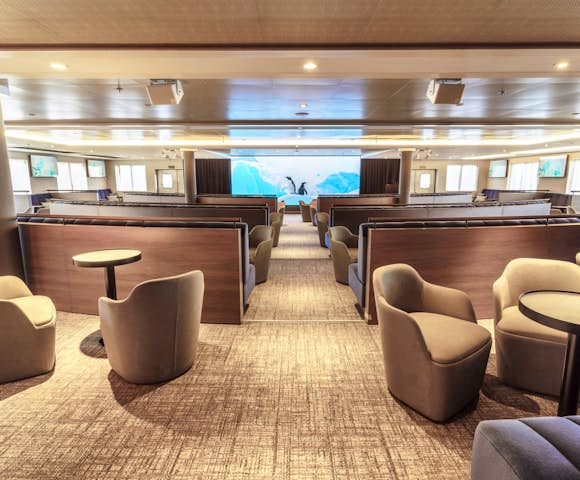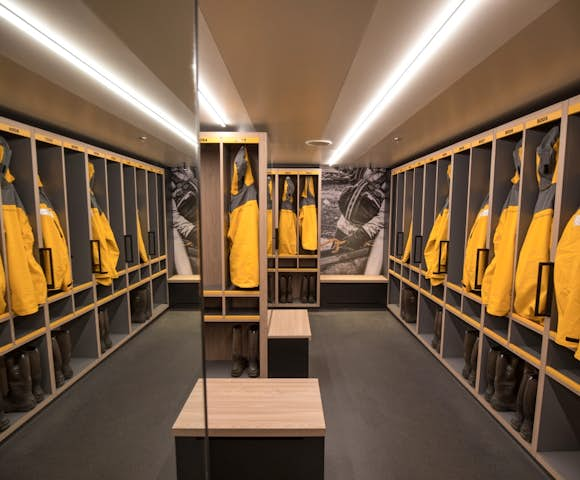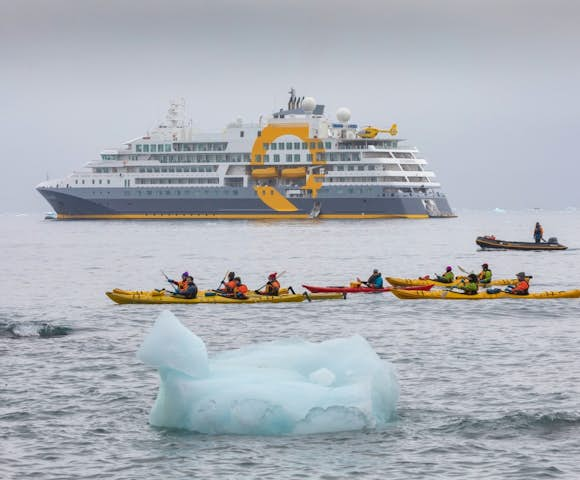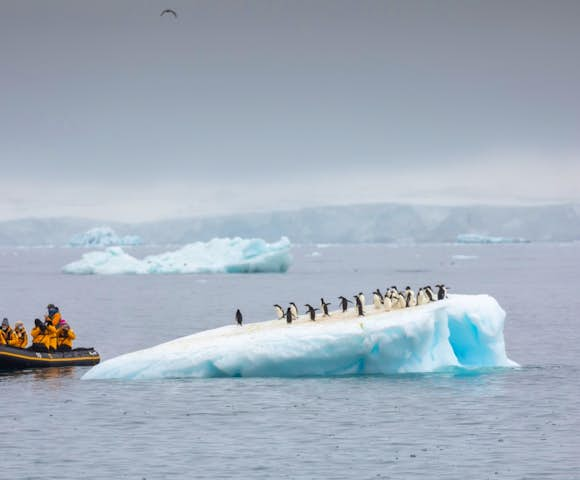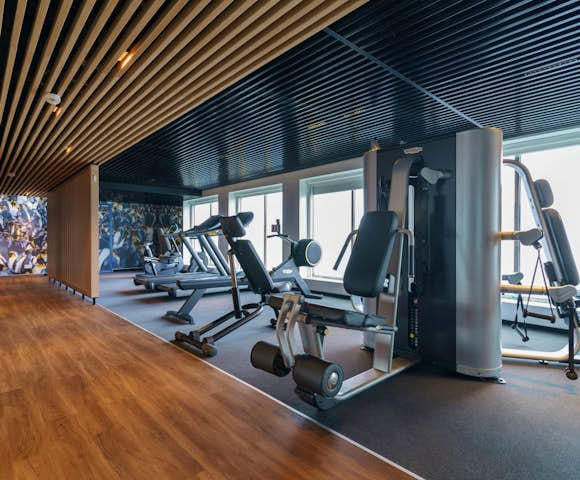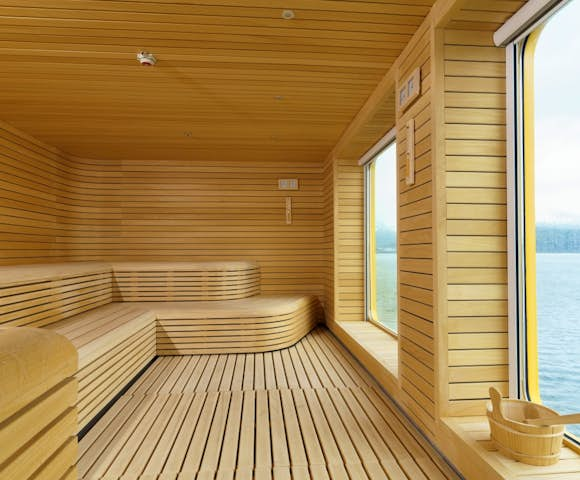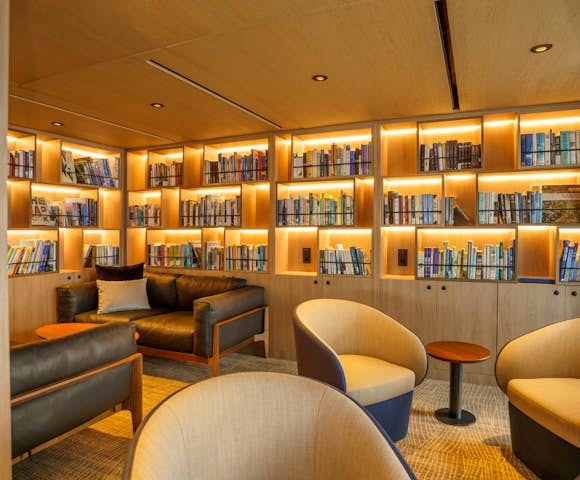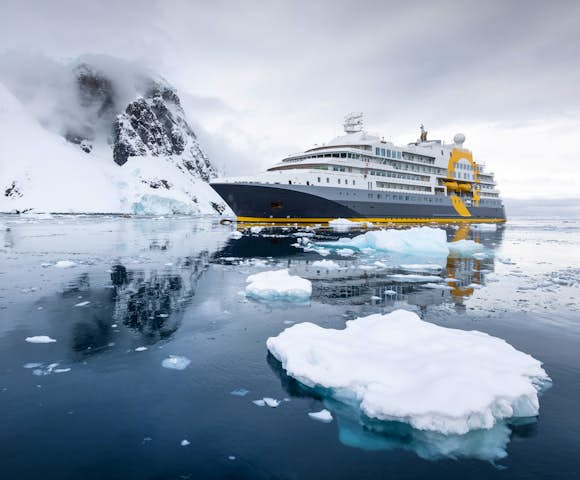 On-board helicopter facilities (available in selected locations only)
4 Zodiac embarkation points for swift landing opportunities
Nine different cabin types
1A+ Ice Class rating
The most exciting range of adventure activities available in Antarctica, including flightseeing, stand-up paddleboarding and cross-country skiing
Prices, Departures and Inclusions
Prices quoted below are per person based on 2 people sharing. Cabin availability changes all the time so please contact us for up-to-date details and information on specific cabin availability.

Triple
Twin Window
Veranda Suite
Superior Twin
Single
Twin Deluxe
Suite
Owner's Suite
Grand Suite
November 2023
12-Nov-2023
Full

$

29,990

*

$

34,990

$

39,990

$

45,990

$

47,990

$

50,990

Full
Full

Enquire

24-Nov-2023
Full

$

29,990

*

$

34,990

$

39,990

$

45,990

$

47,990

$

50,990

Full
Full

Enquire
* Note: Prices are per person. Paid in USD ($) - figure above is based on today's exchange rate. Actual cost $29990
Additional Notes
Please note that a mandatory transfer package applies (USD $995 per person) as outlined below, the cost of which is included in the pricing shown:
This includes the following:
One night's hotel accommodation pre-departure in Buenos Aires including breakfast
Group transfer from hotel to airport in Buenos Aires
Group flight departing from Buenos Aires' domestic airport (Aeroparque) to Ushuaia, and returning to Buenos Aires' international airport (Ezeiza)
Group transfer from Ushuaia airport to the ship, and return (Please note that a transfer on your arrival in Buenos Aires from the airport to your hotel at the beginning of the journey is not included. Please make your own way to the included hotel.)
Combined airport transfer and express bus tour of Tierra del Fuego National Park after disembarkation in Ushuaia.
Single Supplement And Child Policy
For those travelling solo who would like their own cabin, there is a good number of dedicated single cabins. The single supplement is 1.7 times the cost of a standard cabin and 2 times the cost of a superior category. Please contact us for details. There is no single supplement for solo passengers willing to share a cabin.
At date of embarkation, the minimum age restriction of 8 years and a minimum height and weight requirement of 64 lbs or 29kg and 48" or 1.2m must be met. Please contact us for details.
Optional Adventure Activities
Enhance your trip with the following add ons. Limited places per activity.
Get in contact to check availability.
Activity

Cost

Additional Information

Heli-landings

Complimentary

Scenic helicopter transfers to and from Snow Hill Island are included. Weather conditions permitting.

Paddleboarding

$

295

One-off stand up paddleboarding session. Pre-booking essential. Availability subject to weather conditions.

Paddling

$

295

One-off paddle session lasting approximately 60-90 minutes using sit on top kayaks. Available on all departures, subject to weather and ice conditions. Minimal kayaking experience is required. Booking in advance is strongly recommended.
Includes
1 night's hotel stay, breakfast included as part of the mandatory transfer package
Airport transfers as indicated above
Voyage aboard the vessel as indicated in the above itinerary
All shore excursions and zodiac activities
Helicopter shuttles required for access to/from Snow Hill Island (approximately 45 minutes each way depending on ice and weather conditions)
Accommodation & meals during the voyage on full board

Soft drinks, juices, select beer and wine during dinner. Coffee, tea and cocoa throughout the day
Educational lectures by expert onboard polar guides
Access to an onboard doctor and basic medical services
Complimentary 3-in-1 waterproof parka jacket
Loan of rubber boots for the voyage's duration
Emergency evacuation insurance for all passengers to a maximum benefit of USD $500,000 per person
Comprehensive pre-departure information
Port taxes and any entry fees to landing sites
Online photo journal of voyage
Excludes
International airfare
Passport and applicable visa expenses
Government arrival and departure taxes not mentioned
Meals unless otherwise specified
Baggage, cancellation, interruption and medical travel insurance
Excess-baggage fees on international flights and domestic flights
Mandatory waterproof pants/trousers for zodiac landing and cruising excursions, or any other gear not mentioned
Laundry, bar, spa services and other personal charges, unless specified
Phone and internet charges (connectivity may vary by location)
Voluntary gratuity at the end of the voyage for expedition staff and shipboard crew
Additional overnight accommodation
Arrival and departure transfers, except where explicitly stated
Adventure options not listed in Inclusions
Questions about this Voyage?