Why choose Swoop for your group or charter?
We have extensive tailor-made experience, arranging everything from family, special interest and corporate groups all the way up to full ship charters

We collectively have over 100 years of polar planning experience in our team, with over 150 Antarctic trips under our belt
We work with every smaller ship Antarctic operator to offer our clients the widest choice in finding the right trip for them
Our unrivalled industry contacts and long-standing relationships with ship operators gives us reach and access other agents simply can't match
Our team's annual Antarctic trips and ship inspections give us unparalleled knowledge of the polar fleet, and unique insights
We are experienced charter consultants, from shortlisting ship choices to charter negotiation and contract finalisation
Swoop's global team works across five continents, allowing us to support our clients whatever their location or timezone
What Antarctica groups & charters can Swoop arrange?
Case Studies: Groups & Charters arranged by Swoop
Why Swoop
Expert Impartial Advice At No Extra Cost
Antarctic travel options are complicated. We help you choose the right boat, the right cabin, and at the right point in the season.
A Depth Of Knowledge On Board
As a team of ex-guides, tour leaders, & polar adventurers our Antarctic knowledge is leagues ahead of the rest.
For The Ends Of The Earth
Swoop is proud to be B Corp Certified as we know sustainability is more than our carbon footprint (but we're reducing that too).
We're With You At Every Step
We'll make sure you have the adventure of a lifetime.
What sort of group are you?
Family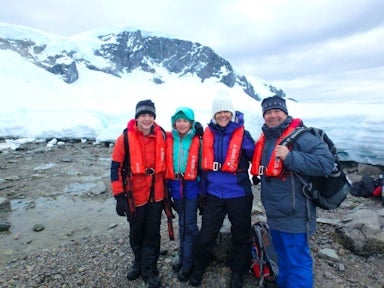 There are few legacies more powerful than handing down the gift of travel to the next generation, inspiring our children with a sense of wanderlust by sharing with them the wonders of our rich and varied world. It's one of life's greatest luxuries: and in Antarctica it's one that comes with added penguins.
We love helping families create memories that will last a lifetime. Over the years we've catered to families of all shapes and sizes, so we know what you need and exactly where to find it.
Our team's encyclopaedic knowledge of the polar fleet means we know exactly which ships offer interconnecting cabins for younger families and can even advise those with teenagers just how many sockets any cabin will have to charge their devices. Because travel is the best education, we can tell you which ships run interactive citizen science programmes to engage both older and younger travellers. Finally, we know that family budgets are always important so we can guide you through which ships offer discounts for younger families and for larger family groups too.
Friends
We believe that travel is at its best when it's a shared experience – and what better company is there than a group of good friends?
Over the years Swoop has worked with many groups of friends to organise amazing cruises to Antarctica, whether as originally planned or when an idea for a trip just snowballed into something bigger and more exciting.
Imagine reaching the Seventh Continent and making camp together in the snow. Picture yourself paddling with penguins in a kayaking group of friends, or egging each other on as you dare to take the polar plunge. Talk to us about what you and your friends like to do best together and we'll help arrange a trip for you that will create memories that you'll be talking about for years to come.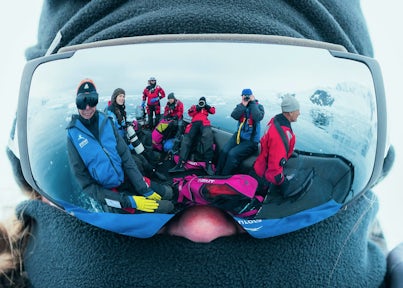 What our customers think of Antarctic Groups & Charters
Photography groups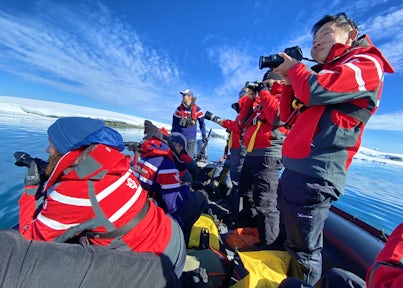 As a travel company that's been visiting Antarctica for years, we not only understand what it is that makes this destination such a special one for photographers, but also how photography groups can squeeze the most out of their trip.
We know which ships and itineraries work best for photographers as well as the best times to travel for different types of photography. We'll arrange trips with the maximum time in the destination for shooting, with a supportive expedition team (including a photography guide) that will intuitively get you into the best position to capture the right shot. Our ship knowledge extends to knowing the vessels with the best space where you can recap the day, collaborate and edit your images.
Swoop even has our own in-house photographer and videographer who can provide pre-trip tips so you're as best prepared as you can possibly be before going on location.
For groups of around 15 or over, we'll include a complimentary place for the group leader.
Special interest groups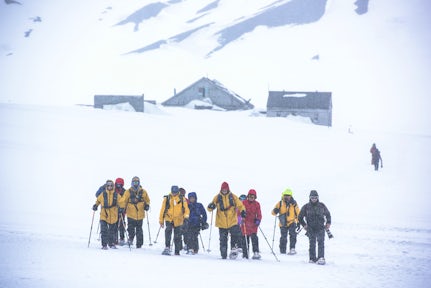 From runners to yoga groups and polar history enthusiasts, we've assisted a fascinating array of different groups overthe years. We've even helped arrange trips for cold water swimmers: our team members have all taken the polar plunge themselves, so we love bonding with clients over their special interests.
It's our network of contacts across the Antarctic industry which gives us the edge when it comes to special requests, so that we can help add that X factor to your trip. As well as finding the perfect ship for your group, we can arrange expert guides and space on board for special activities.
As part of helping you with your arrangements, we'll include a complimentary place for the group leader for groups of around 15 travellers.
Swoop says
As one of the Top 5 polar agents globally, Swoop's deep knowledge, extensive experience and long-standing industry connections means that we're more than equipped to meet even the most challenging briefs
Corporate groups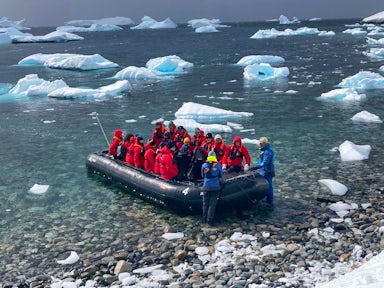 Zodiac landing amid the ice
As a travel company that sends its entire sales and customer support teams to Antarctica every year to keep our industry knowledge the best it can be, we intimately understand the opportunities this region can bring for corporate wellbeing and teambuilding.
From full ship charters to incentive groups, we have experience and success working with corporate organisations from around the world. We know the polar fleet inside out so we can find you the best ship to suit your needs, with the best range of activities to get your group out to Antarctica with the best value for your budget.
From the moment of booking, our dedicated customer support team can help with every aspect of your business travel, to save you time and take the stress out of any complicated booking arrangements.
For groups of around 15 or over, we'll include a complimentary place for the group leader.
Schools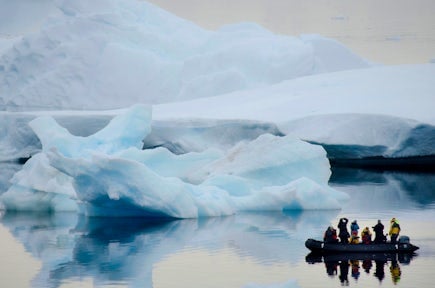 Antarctica is truly a classroom like no other. From a parade of icebergs and glaciers to the opportunity to see penguins and whales at close quarters, this is a place to encounter nature at its most inspiring and create memories to inspire a lifetime.
The trips we can arrange for your school group are supported by a schedule of educational talks. You'll be travelling with and learning from guides who are biologists, ecologists, glaciologists and polar historians: there is no one better to accompany you in this extraordinary open air classroom. We can match you with ships that run active citizen science programmes so that your group can take part in collecting research samples and data that will be used in cutting edge scientific research.
Children of ages 10 and upwards are recommended for our school groups. For groups of around 15 or more we'll include a complimentary place for the group leader.
Full & part charters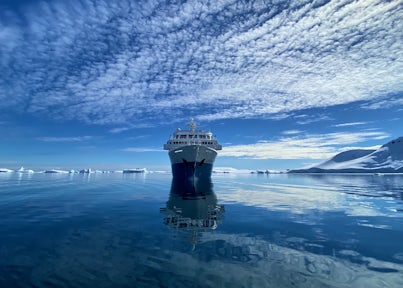 If you've got a large group, there can be no better way of having a truly personalised Antarctic adventure than chartering your own ship.
Booking a full charter doesn't come cheaply—around $1–2 million for an 11 day trip—so this is one arena where a trusted agency really comes into their own. Swoop has years of experience in this field. We'll work closely with you over months and even years to deliver a great outcome for your group.
We provide a full service from initial consultation and shortlisting potential charter options, through to negotiation and contract finalisation, to assisting with project management and taking care of the needs of individual guests. Our network of industry contacts has allowed us to build up a strong track record of accessing options not available on the open market.
Our experience, knowledge and highly personalised hands-on assistance comes at no additional cost: we'll take care of the complicated stuff so you can concentrate on getting your group ready for adventure.
Ready to plan your Antarctic group adventure?
1
Listen
We'll spend some time listening to your aspirations, then discuss the kind of experience that might suit you.
2
Match
Next we'll discuss the options, shortlist the best trips for you and present you our impartial recommendations.
3
Reserve
We'll place a 24 hour hold on your preferred option - without obligation - whilst we talk through the details.
With decades of Antarctic experience between us, we can help plan the perfect trip for your group.

1-855-369-8288