5 reasons for crossing the Antarctic Circle
Join the elite club of travellers who have reached the intangible 66 degree line of latitude
These longer Polar Circle trips afford more time to actually explore Antarctica
Pushing further south than most other voyages go, explore this less visited part of the Peninsula
Experience 24 hours of daylight in high summer once inside the Antarctic Circle
With luck, reach magnificent Crystal Sound then steam on to Marguerite Bay
Our most popular Antarctic Circle Cruises
Special Offers:Swoop has access to the widest range of offers and can help you find the right trip, cabin, & price.
About Antarctic Circle cruises
What is the Antarctic Circle?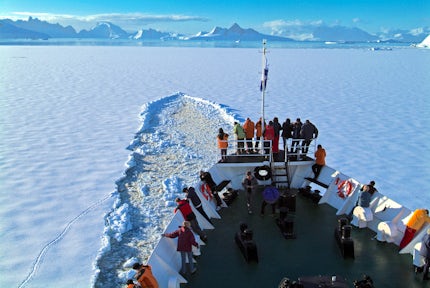 The Antarctic Circle is one of the five major circles of latitude that mark maps of the Earth (the innermost of the two circles around the outside of the continent). Voyages that cross it have been designed not only for you to explore the western coast of the Antarctic Peninsula, but also to reach that all-important goal of crossing the circle at 66 degrees south.


Very few travellers make it this far south, thus in doing so, you'll become part of an elite group of people who have not only walked on the great white continent itself, but also ventured to some of the most secluded spots in the Antarctic.

Are you guaranteed to cross the Antarctic Circle?
While all efforts by the captain and expeditionary leader will be made to cross into the Antarctic Circle, and typically they are successful, it will always depend on the weather and local ice conditions.

This uncertainty is always present on any Antarctic voyage and underlines the challenges and unknowns of travelling in such a remote and logistically challenging region. On successfully reaching 66 degrees south, however, you can be guaranteed that the occasion will be suitably marked.

How much longer is an Antarctic Circle cruise?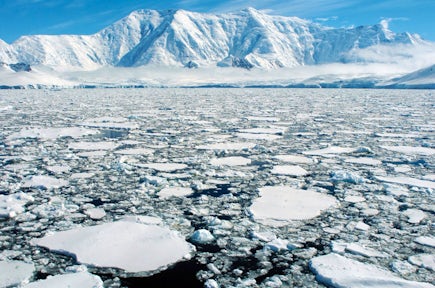 Ice and mountains, Antarctic Peninsula
As well as the kudos attached to bisecting the Antarctic Circle, these voyages also carry the distinct benefit of actually spending more time in Antarctica than any other Antarctic voyage.

On a classic Antarctic Peninsula cruise, you typically spend four days actually in Antarctica, excluding the time involved in getting to Antarctica and back. On an Antarctic Circle cruise, this increases to 6-7 days in Antarctica, the main reason being that you need extra time for the longer journey south to the circle. So for anyone looking to maximise their time in Antarctica, this is the cruise for you.

Will I see more wildlife?
The short answer is, no. Wildlife, in fact, starts to thin out the further south you travel towards the Antarctic Circle, with wildlife found in greater numbers further north in the area you will travel through. What you will notice however are increasingly stark landscapes, heavier ice and fewer ships.

If seeing as much wildlife as possible is important to you, we would strongly recommend you also consider incorporating South Georgia and the Falkland Islands into your Antarctic cruise.

How much does an Antarctic Circle cruise cost?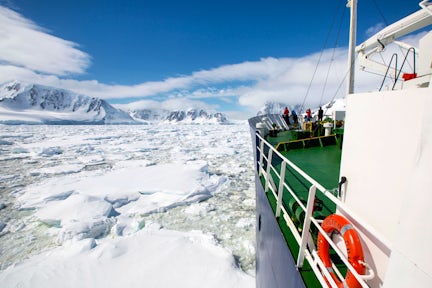 In comparison to a shorter Antarctic Peninsula trip, these Antarctic Circle departures are more expensive reflecting the extra days in Antarctica, greater distances travelled and that there are fewer of them.


Antarctic Circle voyages start from $7,600 per person for 6 days in Antarctica but will depend on the boat and cabin you choose. However, given the not insignificant time, effort and money that you will be investing to get to Antarctica, this relatively modest additional cost for 50% more time is well worth considering.

When should I book?
With far fewer Antarctic Circle departures each year than the shorter classic Antarctic Peninsula voyages, it really is a case of 'the sooner the better'. To be confident of securing your first choice that means booking 12-18 months in advance of your planned trip.


What our customers think of Antarctic Circle Cruises
Antarctic Circle Cruises trips scored 4.3/5 from 69 reviews
Crossing the circle was an achievement, especially as so few tourist ships make it that far south. Learning about the history of the place while being there also made a great impact, as did the other talks about the wildlife.

Travelled: February 2018
The highlight was watching a leopard seal peeping up to check the icebergs, diving back in, swimming under our zodiac and eventually deciding on a flattish iceberg. Rolled on its back to give himself a good scratch, then fell asleep in the sun!

Travelled: January 2018
Lucien & Marie-Eve - South Africa

For me, the highlight was crossing the Antarctic circle. Unbelievable landscapes and wildlife. Loved the whole experience, very impressive. Read the full review

Travelled: January 2018
Tony & Penny Devries - United States Of America
Incredible! Every day was surprising, filled with adventure. I would encourage anyone considering it but who might be nervous to go for it!

Travelled: December 2017
Top marks to Swoop Antarctica - we can't thank you enough for going over and beyond your remit. Advice for future visitors: these guys know their stuff - listen and ask. They have a passion that they just want to share.

Travelled: December 2017
Just loved the rawness of the trip. The raw beauty and abundance of animals was amazing. Read the full review

Travelled: January 2023
I could go 100 times and still feel excited about that spectacular place. Read the full review

Travelled: January 2023
The entire trip was wonderful and the staff was great and very knowledgeable in their respective fields. We were able to get farther south of the circle than was anticipated from the beginning and we were able to accomplish all that was expected. There were of course changes in the schedule as Antarctic weather is always changing, but no real negative changes during our trip. Read the full review

Travelled: January 2023
My expectations about the wildlife in Antarctica were blown away! We saw colonies of Adelie, gentoo, and chinstrap penguins. There was a whale sighting just about every day. We mainly found humpbacks, but saw a few minke whales and one afternoon we ran into a pod of killer whales! They must have been hunting or potentially practicing because we saw a group of humpbacks in the crowd and many seabirds checking out the scene. Read the full review

Travelled: January 2023
On our second day in Antarctica, we celebrated crossing the Antarctic circle. All guests and expedition guides gathered on deck 8 as we joined in an Antarctic circle ritual: stamping a circle on our foreheads! Afterwards, we enjoyed the most fantastic views of The Gullet - a narrow passageway surrounded by towering mountains covered in thick layers of ice. It was the most beautiful place I have ever seen! Read the full review

Travelled: January 2023
10/10 - Life changing! I would not have traded this for a shorter Antarctic tour! Read the full review

Travelled: January 2023
Rich Manalad - Philippines
The entire trip greatly exceeded all expectations! From the great weather affording us the opportunity to leave the ship on zodiac cruises, landings and other excursions twice most days, to also travelling as far south of the Antarctic Circle as we did. Read the full review

Travelled: February 2022
Cruising below the Antarctic circle near Crystal Sound (can't remember the exact location) and witnessing the otherworldly site of a sea of bergy bits, growlers and icebergs tightly packed together as far as the eye can see. Like a broken-up ice shelf with pieces so close it looked like you could hop from one to another for miles. Read the full review

Travelled: February 2022
Surprised how wonderful the experience was. Being on the bridge, with the Captain, navigating the Lemaire Channel, which had a HUGE iceberg towering over us! Read the full review

Travelled: February 2019
It was helpful booking with Swoop - you all did a great job pairing me up with the right trip for me, from roommates to ship size to just the right amount of fancy but not too fancy. Read the full review

Travelled: December 2018
Mykkah Herner - United States Of America
The captain took the ship south into sea ice for a few hours. That was as far South as we ever went. Just when I thought I had seen Antarctica, the new scenery blew me away. Read the full review

Travelled: December 2018
The scenery was breathtaking, the wildlife like none in a temperate climate, and the weather was capricious, and ever-changing, every aspect providing a thoroughly unique experience. Not only did Antarctica live up to expectations, but it surpassed them easily. Read the full review

Travelled: November 2018
Vincent Micelotta - United States Of America
The Polar Circle experience was a perfect choice to meet my expectations. We touched upon many spots which are unheard of. I would recommend this journey to anybody who wants to see the real landscapes of Antarctica, and to experience a place beyond imagination.

Travelled: February 2018
If you are going late in February or March I would highly recommend a circle crossing. The feel and look of Antarctica certainly changes down there. Spectacular. Otherworldly. Impossible to convey what it's like to some one who hasn't been there.

Travelled: February 2018
The service that Swoop provided was excellent. John was very helpful in assisting us to select our cruise and we were very satisfied with the Vavilov. Crossing the Antarctic Circle was very special.

Travelled: January 2018
Joan & Michael - New Jersey
We absolutely loved the trip. We had a difficult time getting south of the Circle due to heavy ice conditions but we finally made it to 66 – 59'S.

Travelled: December 2015
Loli says
Fly & Cruise the Antarctic Circle
Special Offers:Swoop has access to the widest range of offers and can help you find the right trip, cabin, & price.
Antarctic Circle Voyages
Special Offers:Swoop has access to the widest range of offers and can help you find the right trip, cabin, & price.
Luxury Polar Circle Cruises
Special Offers:Swoop has access to the widest range of offers and can help you find the right trip, cabin, & price.
For an unparalleled Polar Circle experience spending 8 full days in Antarctica, choose this February departure. Head south when penguin and whale activity is at its peak, accompanied by a highly experienced team. This elegant 139 passenger ship combines real…
For a breathtaking tour of the very best of the Southern Ocean - including the rare combination of both South Georgia and the Polar Circle - this 17-day voyage is hard to beat. All aboard a modern, fast super-yacht with…
Swoop says
Some people mistakenly think that you'll see more wildlife and extraordinary scenery on a polar circle trip, in fact the opposite is true. South of Port Lockroy, wildlife becomes increasingly sparse and the scenery more austere.
Antarctic Circle Cruises: FAQs
The Antarctic circle is crossed at 66'33 degrees latitude south. Most circle trips will sail the west coast of the peninsula, and reach this point in the vicinity of an area called Crystal Sound - a stunning body of water littered with ice. Tourist ships do not attempt to cross the circle to the east of the peninsular given the extreme amount of ice found there. Ross Sea expeditions will cross the circle in open water.


There is no sign, no neon lights nor a 'bump in the road' when you reach this monumental latitude, only the ship's GPS to prove you've made it to the end of the earth.

The term 'midnight sun' is the term given to the phenomenon of twenty-four consecutive hours of sunlight which occurs south of the Antarctic Circle during the summer months. During this time the sun never sets but describes circles in the sky, gradually spiralling higher until it reaches its zenith on the summer solstice (22nd December). Midnight Sun can actually be experienced up to 90 kilometres outside of the Polar Circle, however if you do reach it you will certainly experience this strange phenomenon. Such long days, while being novel, also have the benefit of allowing you to observe your magnificent surroundings and the wildlife at all hours. All cabins are fitted out with black out blinds on the windows.

Find out more about when to go to Antarctica
Weather & Wildlife in Antarctica
Read Swoop's guides to discover how the weather changes through the seasons and what the wildlife is doing throughout the different months.

Find Out More
Ready to plan your Antarctic adventure?
1
Listen
We'll spend some time listening to your aspirations, then discuss the kind of experience that might suit you.
2
Match
Next we'll discuss the options, shortlist the best trips for you and present you our impartial recommendations.
3
Reserve
We'll place a 24 hour hold on your preferred option - without obligation - whilst we talk through the details.
With over 150 years of Antarctic experience between us, we can help guide you to exactly the right trip for you.
1-855-369-8288