Trip Summary and Itinerary Map
6-9 full days exploring Antarctica (depending on your voyage length)
Join the exclusive club of Polar Circle visitors
Travelling on a small ship with only 120 to 132 guests (depending on departure) means faster logistics and everyone landing together
Explore the polar sea kayaking, diving or snowshoeing (additional cost)
Complimentary parka jacket & post voyage photo book
Operator's Itinerary
Day 1: Arrive in Ushuaia

Arrive in Ushuaia, where you will be met and transferred to your downtown hotel (if you have taken preferred flights only).
---
Day 2: Half-Day Tour of Ushuaia and Embarkation
This morning after a leisurely breakfast, your luggage will be collected for loading onto the ship and you will set out on a half-day tour of Ushuaia just after midday. Ushuaia, capital of Tierra del Fuego, is located at the shores of the Beagle Channel and surrounded by the Martial Mountains giving you a unique landscape in Argentina, which is the combination of mountains, sea, glaciers and forests.
On the half day introductory tour, you will visit La Mision neighbourhood, the old Government House, and the upper area of the city, which offers beautiful panoramic views of Ushuaia and the Beagle Channel. During the excursion you will see the antique houses that belonged to the first families settled in Ushuaia. The excursion ends with a visit to the End of the World Museum before transferring to the pier for embarkation at approximately 1600.
Please note that opening hours to the museum can change without no tice, and if the End of the World Museum is closed, we may visit the nearby Old Prison Museum. As the Greg Mortimer pulls away from port, we'll gather on the deck to commence our adventure with spectacular views over Ushuaia and Tierra del Fuego. You'll have time to settle into your cabin before the briefings. Over the first evening, get to know your fellow passengers, crew and expedition team at a welcome dinner to celebrate the start of a thrilling adventure to Antarctica.
---
Day 3: Drake Passage Crossing
As we commence the Drake Passage crossing, we make the most of our time getting comfortable with the motions of the sea. The expedition team prepare you for our first landing with important wildlife guidelines and biosecurity procedures, and start our lecture program to help you learn more about Antarctica's history, wildlife and environment.
Your wildlife experiences begin immediately as you enjoy watching and photographing the many seabirds, including majestic albatrosses and giant petrels following in the wake of the ship. They rise and fall skilfully, using air currents created by the ship to gain momentum.
---
Day 4: Drake Passage & South Shetland Islands
Nearing the South Shetland Islands and the tip of the Antarctic Peninsula on day four , the excitement is palpable with everyone converging on one of the observation decks, watching for our first iceberg. The ocean takes on a whole new perspective once we are below the Antarctic Convergence and are surrounded by the surreal presence of floating ice sculptures. The memory of your first big iceberg sighting is likely to remain with you for a lifetime. Weather permitting, we may attempt our first landing in Antarctica by late afternoon.
---
Days 5-10: Antarctic Peninsula & Polar Circle

Over the next six days a host of choices are open to us, and depending on ice and weather conditions, the western side of the Antarctic Peninsula is ours to explore. The experienced expedition team will use their expertise to design our voyage from day to day. This allows us to make best use of the prevailing weather, ice conditions and wildlife opportunities.
Because we are so far south, we will experience approximately 18-20 hours of daylight and the days can be as busy as you wish. We will generally make landings or Zodiac excursions two, and occasionally three, times a day; cruising along spectacular ice cliffs, following whales that are feeding near the surface, and landing on the continent and its off-shore islands to visit penguin rookeries, seal haul outs, historic huts, and a few of our other favourite spots along the peninsula. There will be plenty of time for sleep when you get home!
During this voyage, we'll attempt to cross the invisible line of the Antarctic Circle at latitude 66 degrees South - this is certainly a special highlight for all of us and we plan to celebrate with a toast on the deck. In order to reach the Antarctic Circle, our ship will motor south every night and during meal times or when we are not ashore exploring.
As we reach and cross the circle, we notice subtle changes in the Antarctic land and icescapes, and also in the distribution of wildlife. The waters at this time of year are rich with krill and so we are hopeful of seeing whales, particularly humpbacks and minkes, and enjoy watching as penguin chicks learn to swim. As we head north again, we understand more about the effect of southerly latitudes on Antarctic wildlife.
There are many exciting places we can choose to visit; a sample of some of the places where we may land, hike, photograph or view spectacular wildlife follows:
Paradise Harbour: A protected bay surrounded by magnificent peaks and breathtaking glaciers, the rocky cliffs of this unforgettable piece of heaven provide perfect nesting sites for blue-eyed shags, terns and gulls. The serenity of Paradise Harbour envelops us once the sound of the dropping anch or fades from our ears. This is a haven for whales as we keep our eyes open for humpbacks, orcas and minkes, as well as crabeater seals, whilst we explore the bay in Zodiacs.
Hydrurga Rocks: This group of low-lying unprotected granitic rocks protrude from the sea, swept by ocean swells. At first these rocks appear uninteresting, but on closer investigation, calm channels lead to a hidden interior where Weddell seals are hauled out on protected snow beds and noisy chinstrap penguins raise their families on rocky platforms. Hydrurga is the Latin family name for leopard seal (Hydrurga Leonina), and on occasions we see some skulking in the shallows. There are many places to simply sit and watch the rise and fall of clear green water and listen to the magic sounds and calls of the wildlife.
Half Moon Island: This wildlife-rich island is tucked into a neat bay at the eastern end of Livingston Island. On a clear day, the glaciers and mountains of Livingston Island dominate the vista. There is a large chinstrap penguin rookery tucked in between basaltic turrets coloured by yellow and orange lichens. Gulls nest on these turrets and there are often fur seals and elephant seals hauled out on the pebble beaches. At one extremity of the island there is a large colony of nesting blue-eyed shags. At the other end lies a small Argentine station that is sometimes occupied by scientists conducting research on the penguin colony and surrounding waterways.
Lemaire Channl: If ice conditions allow, standing up on the observation deck of the Greg Mortimer quietly moving through the narrow Lemaire Channel could be one of the highlights of our voyage. Cliffs tower 700 metres straight out of the ocean on either side of the ship. The water can be so still that perfect reflections are mirrored on the surface and it is clear to see why this Channel is also known as 'Kodak Alley' - a photographer's paradise. Gigantic icebergs may clog the channel, creating navigational challenges for our Captain and crew; occasionally they may even obstruct our passage.
Port Lockroy: Located on Goudier Island, British Port Lockroy is an important site for both scientific research and visitors to the Antarctic continent. Designated a historic site in 1994 and opened to the Antarctic tourism industry in 1996 , it was discovered in 1904 and used by the whaling industry in the first half of the 1900s was part of the British Operation Tabarin during World War II, and was later used as a British Research Station. Today, Pork Lockroy is manned by the UK Antarctic Heritage Trust and operates as a museum, gift shop and Post Office for visitors from passing Antarctic expeditions. You can even send a post card home from the Penguin Post Office, the world's most southern post office.
Deception Island: Visiting Deception Island is like making a journey to the moon. We sail through the narrow opening of Neptune's Bellows to enter the flooded volcanic crater. The inside of the crater is an unworldly scene, virtually devoid of life. Glaciers flow down from the edge of the crater, littered by black volcanic ash. We can explore the lifeless remains of a derelict whaling station and a vacant British base, or climb to the rim of the crater. Steam rises from the shore indicating that the water is actually warm enough for swim ming , for those who dare. Outside the crater, if conditions allow, we might land at Bailey Head to explore the enormous chinstrap penguin rookery that featured in David Attenborough's Life in the Freezer series.
Neko Harbour: Located in Andvord Bay, Neko Harbour is an inlet home to gentoo penguins, and regularly welcomes Weddell seals. The scenery is dramatic: towering peaks and calving glaciers surround the harbour. The thundering crack of the glaciers as they calve is sure to stop you in your tracks.
---
Days 11-12: Drake Passage Crossing

Today, our landings come to an end as we enter the Drake Passage for our return journey to South America. With lectures and videos to complete our Antarctic experience, there is still plenty of time to enjoy the magic of Southern Ocean and the life that calls it home. There is time for reflection and discussion about what we have seen and experienced, and the impact this voyage has had on our attitude to life.
As we approach the tip of South America, our Captain may sail close to legendary Cape Horn, weather and time permitting.
---
Day 13: Disembark in Ushuaia
During the early morning, we cruise up the Beagle Channel, before quietly slipping into dock in Ushuaia, where we will be free to disembark around 0800. Say farewell to your expedition team and fellow passengers as we all continue our onward journeys, hopefully with a newfound sense of the immense power of nature. A transfer to downtown Ushuaia before continuing to the airport is included in the cost of the voyage.
At the conclusion of the voyage, we do not recommend booking flights departing Ushuaia prior to 1200 on the day of disembarkation in case there are any delays.
---
PLEASE NOTE:
This itinerary is for guidance only as each voyage will vary depending on ice and weather conditions, and opportunities to see wildlife. Flexibility is key and all part of the adventure of an expeditionary cruise. Furthermore, it's important to understand that the charter flight(s) to/from Antarctica are particularly prone to weather, which requires a flexible flight schedule.
---
The 16-Dec-2022 departure is a special Christmas, sailing voyage lasting 12 days.
The 07-Jan-2023 departure is a sailing voyage lasting 13 days.
The 01-Feb-2023 departure is a 12 day fly/sail voyage, starting at King George Island and ending in Ushuaia and includes a one night pre-voyage hotel stay in Punta Arenas.
The 14-Dec-2023 departure is a special Christmas, sailing voyage lasting 15 days.
The 25-Feb-2024 departure is a 14 day fly/sail voyage, starting at King George Island and ending in Ushuaia and includes a one night pre-voyage hotel stay in Punta Arenas.
The 08-Mar-2024 is an 18 day sailing voyage, starting and ending in Ushuaia. This extended length trip will aim to explore the little-visited Weddell Sea area.

What our customers think of Crossing the Antarctic Circle
Crossing the Antarctic Circle trips scored 4.2/5 from 26 reviews
On our second day in Antarctica, we celebrated crossing the Antarctic circle. All guests and expedition guides gathered on deck 8 as we joined in an Antarctic circle ritual: stamping a circle on our foreheads! Afterwards, we enjoyed the most fantastic views of The Gullet - a narrow passageway surrounded by towering mountains covered in thick layers of ice. It was the most beautiful place I have ever seen!

Travelled: January 2023
It's hard to choose from so many; every day I thought was the best ever but I think I will say that the zodiac across Paradise Bay with the whales right in front of us or the cruise through Spert Islands channels and the iceberg graveyard with it all set off by the amazingly blue water. Also getting to 68 degrees south was incredible!

Travelled: March 2022
Waking up the first morning on the ship to see icebergs out to w window and the sound of whales over the ship's loudspeaker. It was clear that we had arrived in another world.

Travelled: February 2023
There is no one most memorable moment. Every day had memorable moments. But if I had to choose one, it would be seeing the icebergs and absorbing the incredible landscape.

Travelled: January 2023
Kayaking south of the Antarctic Circle.

Travelled: March 2022
The awesome beauty of Antarctica is difficult, if not impossible, to put into words. My wife, Laura, and I read several books prior to the expedition, but nothing matched the experience. The most memorable moment was probably standing on the land for the first time. Everything there seemed larger than at home . . . and a great deal colder! A thought that struck me several times was that the Earth was its own and not necessarily meant for man. I was strictly a visitor to this creation.

Travelled: February 2023
The hump back whales all around us in the Lemaire Channel.

Travelled: March 2022
Anchoring in Borgen Bay - such a beautiful place Polar Plunge!

Travelled: January 2023
so many memories it's hard to break it down to just one

Travelled: January 2023
I don't know if I can pick a single moment. The entire trip was wonderful and the staff was great and very knowledgeable in their respective fields. We were able to get farther south of the circle than was anticipated from the beginning and we were able to accomplish all that was expected. There were of course changes in the schedule as Antarctic weather is always changing, but no real negative changes during our trip.

Travelled: January 2023
Crossing the Antarctic Circile and standing on the Antarctic continent.

Travelled: February 2023
When my kayak capsized

Travelled: February 2023
Kayaking

Travelled: March 2022
Kayaking through brash ice onto an ice floe, jumping from ice floe to ice floe and suddenly an Adelie penguin popping up to see what we are doing in his/territory!

Travelled: February 2020
Cruising below the Antarctic circle near Crystal Sound (can't remember the exact location) and witnessing the otherworldly site of a sea or bergy bits, growlers and icebergs tightly packed together as far as the eye can see. Like a broken-up ice shelf with pieces so close it looked like you could hop from one to another for miles.

Travelled: March 2022
Getting engaged as we crossed the Antarctic Circle

Travelled: March 2020
Seeing the sapphire blue of the incredible icebergs!!

Travelled: February 2023
Unfortunately, it was in the plane, on the runway, ready to fly to King George Island and being sent back to the gate as flight cancelled again.

Travelled: March 2023
The trip was absolutely amazing, to the point I ran out of adjectives. It was one big WOW after another. I would definitely recommend going on an excursion boat as everyone there was a pleasure to be with don't think there was a clinker in the bunch! Would have to say crossing the Antarctic Circle was the magical moment as were the sunsets and moon rises there.

Travelled: February 2021
Kayaking at Spert Island. Whales in Paradise

Travelled: April 2022
About The Ship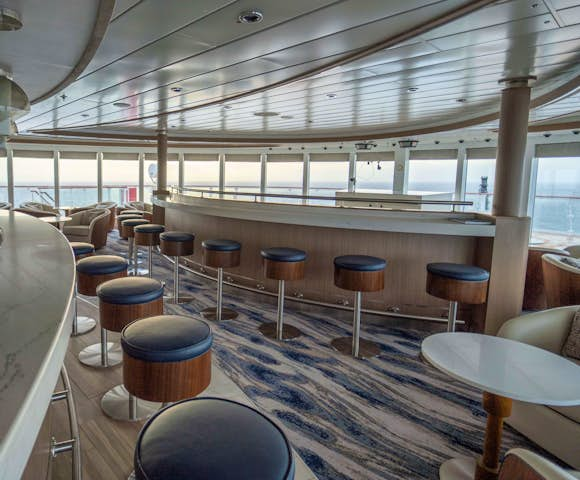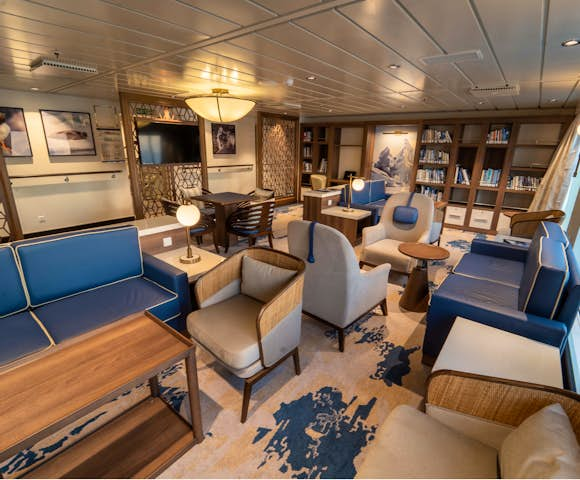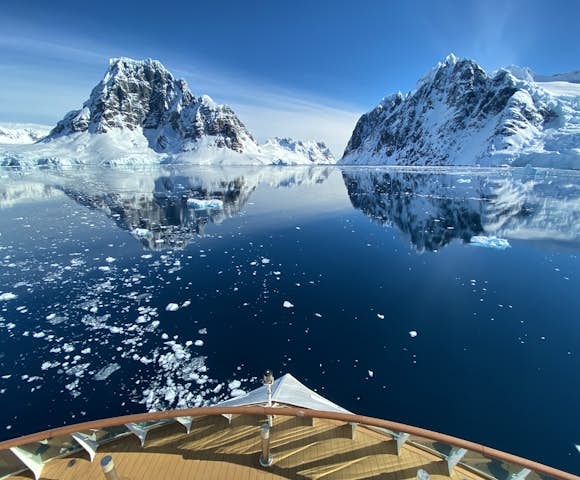 With its sleek X-bow lines and ground breaking design, few new Polar ships have created such excitement.

Zodiac platforms specially designed for quick boardings and more time exploring
State-of-the-art stabiliser system and polar code 6 ice rating

Large comfortable cabins
Prices, Departures and Inclusions
Prices quoted below are per person based on 2 people sharing. Cabin availability changes all the time so please contact us for up-to-date details and information on specific cabin availability.

Triple
Porthole Stateroom
Superior Twin
Balcony Stateroom
Superior Balcony
Junior Suite
Captain's Suite
December 2023
14-Dec-2023

$

17,795

$

18,295

Full

$

19,795

$

24,495

$

30,795

$

36,495

Enquire

February 2024
25-Feb-2024

$

16,195

*
Full

$

17,695

$

19,095

$

22,395

$

28,095

Full

Enquire

March 2024
8-Mar-2024

$

20,695

Full

$

22,495

$

23,095

$

28,495

$

35,795

$

42,495

Enquire

December 2024
21-Dec-2024

$

17,995

Full

$

19,595

$

20,095

$

24,895

$

31,195

$

36,995

Enquire

January 2025
16-Jan-2025

$

17,595

$

18,095

Full

$

19,695

$

24,295

$

30,495

$

36,195

Enquire

February 2025
23-Feb-2025

$

16,195

*

$

16,695

Full

$

18,095

$

22,395

$

27,995

$

33,295

Enquire
* Note: Prices are per person. Paid in USD ($) - figure above is based on today's exchange rate. Actual cost $16195
Additional Notes
Please note:
2023/24 departures
The

14-Dec-2023

departure is a special Christmas voyage lasting

15 days

, with the additional 2 days spent exploring the Antarctic Peninsula.

The

25-Feb-2024

departure is a

14 day

fly-sail voyage cutting out the Drake Passage crossing in one direction. Your trip begins with a pre-cruise night in Punta Arenas, Chile. From here you will fly down to Antarctica (a 2 hour flight) and meet the ship at King George Island. You then have 9 days exploring in Antarctica before sailing across the Drake Passage and ending in Ushuaia (no post-cruise hotel night included).


The 08-Mar-2024 is an 18 day sailing voyage, starting and ending in Ushuaia. This extended length trip has an additional 5 days to allow for time exploring the little-visited Weddell Sea area, in addition to heading below the Antarctic Circle. This gives you a hugely varied and extensive experience of the Peninsula.
2024/25 departures:
The

21-Dec-2024

departure is a special Christmas voyage lasting

14 days

, with the additional day spent exploring the Antarctic Peninsula.
The

16-Jan-2025

departure is a

13 day

sail-fly voyage cutting out the Drake Passage crossing in one direction. Your trip begins in Ushuaia with a pre-cruise night included. You will sail across the Drake Passage and spend 7 days exploring the Antarctic Peninsula. On Day 12 you will disembark the ship at King George Island and fly back to Punta Arenas, Chile (a 2 hour flight) where you have a post-cruise hotel night included.
The 23rd-Feb-2025 is a 13 day sailing voyage, starting and ending in Ushuaia.
Single Supplement And Child Policy
For those travelling solo who would like their own cabin, the single supplement is 1.5 times the cost of a single berth, please contact us for details. However, there is no single supplement for passengers willing to share a cabin.

Children aged 8 years old or over are welcome. There isn't any concession on pricing. Please contact us for details.
Optional Adventure Activities
Enhance your trip with the following add ons. Limited places per activity.
Get in contact to check availability.
Activity

Cost

Additional Information

Kayaking

$

1,295

An immersive full sea kayaking program for those who want to kayak multiple times (as often as weather and ice conditions allow). Prior kayaking experience to at least intermediate level is required and you must be able to do a wet exit to participate. Subject to weather and ice conditions. Booking in advance is essential. Available on select departures. Cost varies from USD $1295-1330.

Polar diving

$

1,260

Available on select departures.

Polar snorkelling

$

640

Available on select departures. Cost varies from USD $640-800. No experience required. Dry suit provided.

Photography

Complimentary

All departures.

Mountaineering

$

1,260

Available on select departures.

Snowshoeing

$

320

Available on select departures. Cost varies from USD $320-370.

Camping

$

150

Available on select departures.

Paddling

$

640

Available on select departures. A gentler option staying closer to shore and using inflatable kayaks, in a group of maximum 6 participants. Includes multiple outings, subject to suitable weather and ice conditions. Suitable for novices and only offered in calm conditions. Booking in advance is essential.
Includes
Overnight hotel accommodation in Ushuaia on Day 1
A 3-in-1 waterproof polar expedition jacket
An experienced team of destination specialists and activity leaders
Captain's Welcome and Farewell drinks reception
Complimentary use of fitness centre
Voyage aboard the vessel as indicated in the itinerary

Accommodation during the voyage on full board basis
Beer, house wine and soft drinks with dinner
All shore excursions and zodiac activities
Educational lectures by expert onboard polar guides
Complimentary WiFi
Access to an onboard doctor and basic medical services
Loan of rubber boots for the voyage's duration
Comprehensive pre-departure information
Port taxes and any entry fees to historic landing sites
A digital photo book produced with photos and ship logs from your voyage

Excludes
Flights to and from points of embarkation/disembarkation
Any additional services before and after your voyage
Transfers not specific to the itinerary
Travel insurance or emergency evacuation charges
Optional adventure activities
Optional activity surcharges
Any visa, passport and vaccination expenses
Airport arrival or departure taxes
Items of a personal nature: laundry, beverages, etc
Additional onboard purchases (i.e. gift shop)

Gratuities for ship crew



Questions about this Voyage?