Why we like the Ortelius
The Ortelius has the highest ice-class rating (equivalent to 1A) and a broad, heavy design making it one of the safest and most stable polar ships
Her solid, former research vessel exterior contrasts with a modern, comfortable 3* hotel on the inside following an extensive upgrade programme
Choice of recently refurbished and spacious cabins, all with en-suite bathrooms. The generous Twin Window cabins measure 190 square feet
Traveling with around 100 passengers ensures slick zodiac logistics and the ability to normally land everyone at the same time
Extensive open-deck space maximises wildlife viewing, while the spacious bridge is a great place to hang out
Offers a wide range of adventure activities, particularly on the active Basecamp voyages, including diving
Uniquely this ship has a helicopter pad which is used on select voyages only, specifically in the Weddell & Ross Seas
Watch our Video Tour of Ortelius

What our customers think of Ortelius
Voyages aboard Ortelius
Special Offers:Swoop has access to the widest range of offers and can help you find the right trip, cabin, & price.
Alex says
What I like about The Ortelius is the unmistakable tang of her original working ship roots as soon as you board, in spite of extensive recent refurbishment throughout. The pleasing result is the feeling of being on a real expedition, but without the traditional discomfort and months at sea.

Alex Mudd Polar Specialist
Cabin Categories

*Note that the above measurements are approximate averages and exact cabin size can vary

All cabins are outside-facing, are en-suite and contain a writing desk and chair.
Superior
All 6 cabins are on the top deck (5)
Double bed with at least 2 windows (cabin 520 has 4 windows facing the bow)
Cabins 509 & 529 have an interconnecting door and are ideal for families
Sitting area with flat screen TV, sofa-bed, mini-fridge, tea- and coffee-maker
Both 518 & 520 cabins have a partially obstructed view
Cabin 521 has the bonus of dual aspect windows (facing bows and port side) and unobstructed views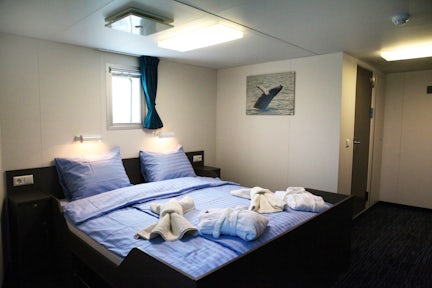 Deluxe
Both cabins are on Deck 5
Twin beds
Windows to the side and stern
Both 510 & 528 cabins have a partially obstructed view to the stern

Small sofa, flat screen TV, mini-fridge and tea- and coffee-maker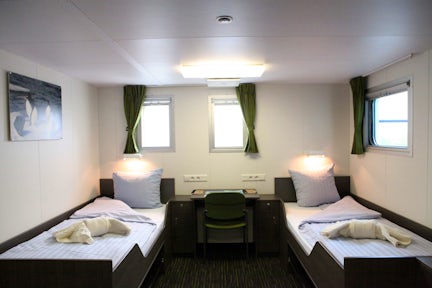 Twin Window
All 12 cabins are on Deck 5
Twin beds and 2 small windows
Small sofa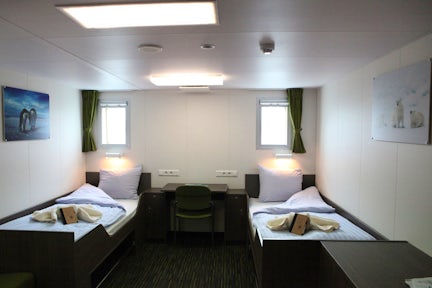 Twin Porthole
24 cabins on Deck 4 and 4 cabins on Deck 3
2 lower berths
Twin portholes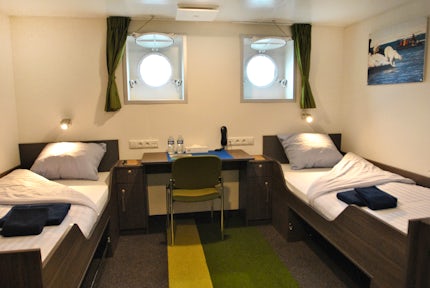 Quadruple Porthole
All cabins on Deck 3
Bunk-beds
Twin portholes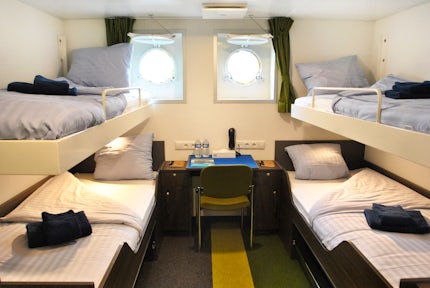 Onboard Communications & Facilities
If you wish to stay in touch, even in Antarctica, you can choose from the options below:
WiFi: you can connect your personal device from anywhere on the ship

Full Internet access: EUR7.50 /20mb; EUR 18 /50mb; EUR35 /100mb; EUR150 /500mb
Telephone card: EUR25/ approx. 25 mins depending on destination you are calling.
Ship-based email: EUR5 set up fee + EUR15 for a 7-10 day trip; EUR20 for a 11-12 day trip; EUR25 for an 18 day trip; EUR50 for a 30 day trip.
Please note that this is only for light data traffic and that the above prices are only approximate. You can check your personal emails using the onboard computers to connect to the Internet and also by connecting to WiFi to use your own device.
Other facilities include:
Plugs: European 220V two-round-pinned sockets
Towels, toiletries and hair dryers
Laundry service (additional cost)
Find Your Antarctic Ship
Choosing the right ship is crucial, given the amount of time you'll spend on board. Swoop is experienced at helping match our customers to exactly the right ship.
Find your Antarctic ship
Ready to plan your Antarctic adventure?
1
Listen
We'll spend some time listening to your aspirations, then discuss the kind of experience that might suit you.
2
Match
Next we'll discuss the options, shortlist the best trips for you and present you our impartial recommendations.
3
Reserve
We'll place a 24 hour hold on your preferred option - without obligation - whilst we talk through the details.
With over 150 years of Antarctic experience between us, we can help guide you to exactly the right trip for you.
1-855-369-8288