Falklands, South Georgia & Antarctic Adventure - 19 - 22 - $13,550
Trip Summary and Itinerary Map
10 days 'off ship' exploring – The Falklands (2), South Georgia (4), South Orkneys (1) and Antarctica (3)
Includes the little visited South Orkney Islands, weather dependent
Encounter six species of penguin and four species of whale
Discover the region's past onboard and on land, visiting historical sites and museums
For an additional cost, experience scuba diving on some departures
Operator's Itinerary
Day 1: Embark the vessel in Ushuaia
Begin your journey where the world drops off, embarking in Ushuaia, Tierra del Fuego, Argentina, the southernmost city in the world. Leave in the afternoon and then sail through the mountain-fringed Beagle Channel into the evening and beyond.
---
Day 2: At sea towards the Falkland Islands
At sea, in the westerlies, the ship is followed by several species of albatrosses, storm petrels, shearwaters and diving petrels.
---
Day 3: On the Falkland Islands
The Falkland Islands (Malvinas) offer an abundance of wildlife that is easily approachable, although caution is always advised. These islands are largely unknown gems, home to not only various species of bird but also Peale's and Commerson's dolphins in the surrounding waters.
During this part of the voyage, you may visit the following sites:
Carcass Island – Despite its name, this island is pleasantly rodent-free and hence bounteous with birdlife. A hike along the shore of the island will give you views of Magellanic and Gentoo Penguins, as well as close encounters with water fowl, Night Herons, and passerines.
Saunders Island – On this fascinating western side of the archipelago, see Black-browed Albatross and its sometimes-clumsy landings, along with breeding Imperial Shags, Rockhopper Penguins, and more Magellanic and Gentoo Penguins
---
Day 4: Port Stanley, Falkland Islands
Arrive at the capital of the Falklands and into the heart of its culture. Port Stanley has a Victorian-era charm: colourful houses, well-tended gardens, and English-style pubs are all to be found here. You can also see several century-old clipper ships nearby, silent witnesses to the hardships of 19th century sailors.
The small but interesting museum is also worth a visit, covering the early days of settlement up to the Falklands War. Approximately 2,100 people live in Port Stanley. All passengers are free to wander around on their own, we recommend a visit to the local church and museum, however note that admission feeds are not included in the voyage.
---
Days 5-6: At sea towards South Georgia
On the way to South Georgia, you now cross the Antarctic Convergence. Entering Antarctic waters, the temperature may drop significantly in the time span of only a few hours. Near the Convergence you'll see a multitude of southern seabirds near the ship; several species of Albatrosses, Shearwaters, Petrels, Prions and Skuas.
---
Days 7-10: South Georgia
In the afternoon of day 7 you will reach the first landing site in South Georgia. Please keep in mind that weather conditions in this area can be challenging, largely dictating the program.
Over the next few days, the plan is to visit some of the following sites:
Prion Island – This location is closed during the early part of the wandering albatross breeding season (20 Nov–7 Jan). From January onwards, the breeding adults have found their partners and are sitting on eggs or nursing their chicks. Witness the gentle nature of these animals, which possess the largest wingspan of any birds in the world.
Fortuna Bay – Near beaches inhabited by various penguins and seals, you have the chance to follow in the footsteps of the great British Explorer Ernest Shackleton, and hike over to the abandoned whaling village of Stromness. This path cuts across the mountain pass beyond Shackleton's Waterfall, and as the terrain is partly swampy, be prepared to cross a few small streams.
Salisbury Plain, St. Andrews Bay, Gold Harbour – These sites not only house the three largest king penguin colonies in South Georgia, they're also three of the world's largest breeding beaches for Antarctic fur seals. Millions breed on South Georgia during December and January; watch the large bulls keep a constant vigil over territories where dozens of females have just given birth or are about to deliver.
Grytviken – See an abandoned whaling village, where King Penguins now walk in the streets and seals have taken over the buildings. There will also be a visit to the Whaling History Museum as well as to Shackleton's grave nearby. In the afternoon of day 10 you'll depart from South Georgia.
---
Day 11: At sea towards the South Orkney Islands
Where the ship is again followed by a multitude of seabirds. At some point, there might be sea-ice on this route, and at the edge of the ice some South Polar Skuas and Snow Petrels could join the other seabirds trailing the vessel south.
---
Day 12: South Orkney Islands
Depending on the conditions, a visit to Orcadas Base is planned, an Argentine scientific station on Laurie Island in the South Orkney archipelago. The friendly base personnel will show you their facility, where you can enjoy wonderful views of the surrounding glaciers. If a visit isn't possible, you may instead land in Signy Island's Shingle Cove.
---
Day 13: At sea towards Antarctica
Enormous icebergs and a fair chance of fin whale sightings ensure there's never a dull moment on this last sea voyage south. In addition, your best chance of spotting Antarctic Petrels is here.
---
Days 14-17: Antarctic Peninsula
If the ice permits, you will now sail into the Weddell Sea through the ice-clogged Antarctic Sound. Huge tabular icebergs will announce the arrival to the eastern side of the Antarctic Peninsula. You might visit Brown Bluff where you may be able to step foot on the Continent. In good sailing conditions, the time in the Weddell Sea may be extended.
If the conditions aren't favourable to enter the Weddell Sea from the east, the ship will set course for Elephant Island and head into the Bransfield Strait, between South Shetland Island and the Antarctic Peninsula. Here you can attempt to access the Antarctic Sound from the northwest.
The breathtaking scenery continues in the southern Gerlache Strait, and if ice conditions allows, we may even reach Lemaire Channel.
---
Days 18-19: At sea towards Ushuaia
As you make your way north you are again followed by a great selection of seabirds while crossing the Drake Passage – making for a far from lonely return voyage.

---
Day 20: Ushuaia
Arrive in Ushuaia in the morning and disembark after breakfast.
---
NOTE: This itinerary is for guidance only as each voyage will vary depending on ice and weather conditions, and opportunities to see wildlife. Flexibility is key and all part of the adventure of an expeditionary cruise.

What our customers think of Falklands, South Georgia & Antarctic Adventure
Falklands, South Georgia & Antarctic Adventure trips scored 4.4/5 from 34 reviews
More varied than we expected in terms of landscapes and wildlife. We were pleased to have so much time ashore - more than expected. Crew and staff were great but an awkwardness in the composition of the passengers meant less companionship than we had experienced on previous similar holidays.

Travelled: February 2021
Overall, the trip was good. Excellent guides, service on board, etc. The landings we were able to do were excellent, and we totally lucked out with beautiful weather and a calm Drake Passage on the way back.

Travelled: February 2021
There were many memorable and each unique moments. While penguin sighting was not necessarily a highlight, seeing tens of thousands of them all gathered together for as far as your eyes can see, was very special.

Travelled: January 2023
Highlight was every morning another day; landscapes and weather were varied. Expedition staff were superb and inspirational. Boat crew were also superb - sorry for lots of superlatives but I could not fault the boat, its crew or the expedition staff on anything - they were all fantastic

Travelled: February 2021
The trip met all of our expectations. The weather was beautiful, and we saw everything we came to see, including an Emperor penguin! The trip was bi-lingual, with about 80% of the people German speakers from Switzerland. As such, we weren't able to engage the other people as much as we would have wanted.

Travelled: February 2021
Highlights: 7 species of penguins, wale watching, information given in the lectures, food on board. The people were nice and many charing also pictures and videos. The weather surprised us with lots of sunshine and one hurricane - the Drake was calm and smooth. A magical moment was a wale appearing right next to the zodiac and staying a while to be filmed.

Travelled: February 2021
Too many to mention really - orcas playing in the ship's wake, penguins, cruise through the Weddell sea icebergs, polar plunge from the continental shore ....

Travelled: February 2020
South Georgia was fantastic. Seeing the sheer volume of wildlife was incredible. It's frightening to think of the effects of global warming are having there. We had excellent weather. Only 2 landings were revised. Going early in the season gave us pristine snowy landscapes. We had the unique opportunity to see a lone emperor penguin. Getting out onto the ice flat and so close to massive ice bergs was fantastic. It was a friendly group of European travellers for the most part. I've discovery that I'm not so great on the open seas.

Travelled: February 2021
I describe this adventure as going to the moon and back. Of course, a trip like this is very weather dependent - but our weather could not have been any more perfect! Our expedition leader, Sarah, was determined to get us off the ship as much as possible. She only wanted to share her knowledge and the beauty around us. Her enthusiasm was infectious. We had 17 landings and 2 cancelled landings, of which one was substituted for a zodiac excursion so we didn't miss the penguin colony. So you ask what was my most memorable moment - every day, every longing, every guide, every lecture was memorable. This was an other worldly experience.

Travelled: January 2023
The experience was fantastic. We saw lots of different seals, penguins, icebergs and glaciers. Highlights: 8 orcas playing "with" our ship, and 2 humpback whales jumping in and out of the water as we had to say good-bye to Antarctica. But our trip was interrupted and our itinerary changed almost completely (effectively to a trip that would have taken half the time and cost half the money). I experienced Antarctica as a "mass tourist", which was different to, e.g., standing on the Greenland ice shelf all by myself. But crew, staff and also fellow passengers were great company, experienced, and did everything they could to make the trip excellent. Most magical: sailing into cierva cove at 5 o'clock in the morning, sun blazing, icebergs glittering, no one at the back end of deck 3 ;)

Travelled: February 2021
Being able to sail into the Weddel Sea and seeing Elephant Island - in the tracks of Shackleton. Or perhaps at Gold Harbour, South Georgia with our close encounters with the elephant seal weaners.

Travelled: December 2019
I am from New Orleans, LA. and have not seen so much snow and ice. I have never been skiing so the highlight of my trip was after I fell going down a slippery slope, I decided to ski down the slope on my butt while pushing down on my trekking poles. I may have started a new tradition in Antarctica. The landscapes and wildlife were unbelievable: from the penguins, birds, seals and whales to the gorgeous icebergs of all different sizes and colors and, most importantly, visualizing all of the stories of the early explorers to Antarctica. What courageous men they were! I am telling my grandchildren to go Antarctica while they are still young not like their 80 year old granny.

Travelled: February 2021
An incredibly hard question - so hard to pick between that first thrill of wildlife at West Point with the albatross and rockhopper colony, the full day sitting amongst and soaking in all the wildlife at sunny Saunders Bay, or the Adelie penguin overload at Paulet island. Or maybe the excitement at seeing an orca pop up out of nowhere on New Years Eve. It really is a trip of endless memorable moments that would each be the highlight of any other holiday.

Travelled: January 2023
There were very many. However the Humpback Whale playing among the Zodiacs on our last excursion was unbelievable. It literally came alongside and under our Zodiac several times.

Travelled: May 2020
Seeing whales really close while zodiac cruising

Travelled: January 2020
Having a Humpback whale swim around our zodiac for 20 minutes while getting great video above and below water of the gentle giant.

Travelled: January 2023
South Georgia and Falkland island was good but Antarctica it was just covered for the sake of showing us and it was totally different than the itinerary which was promised. You can look at the logs of ships to see where they took us in Antarctica. They just wasted 3 days and not showed us anything in Antarctica. Please look at the ship logs and I have sent email to Malva(Swoop resource) what ocean wide provided after trip and what ocean wide shared before trip. They did the same ship route back and forth and wasted 2 days to cover that in Antarctica that is something any person will say its blunder.

Travelled: January 2023
Observing the longest and largest standing iceberg A76 currently in the world. It was so big I couldn't capture it on my phone camera. The overall experience of visiting such pristine and beautiful continent was absolutely amazing and awesome.

Travelled: March 2023
Great scenery and wildlife good opportunities for taking pictures

Travelled: February 2021
Landings in South Georgia. Stepping off the zodiac into Sailbury Plains where there are thousands of king penguins and fur seals just waiting to greet you.

Travelled: January 2020
About The Ship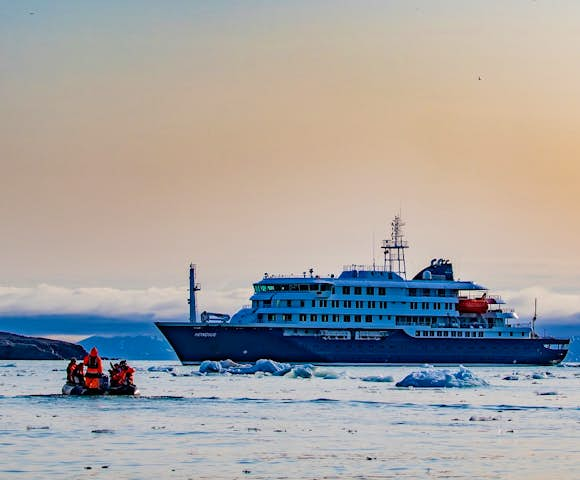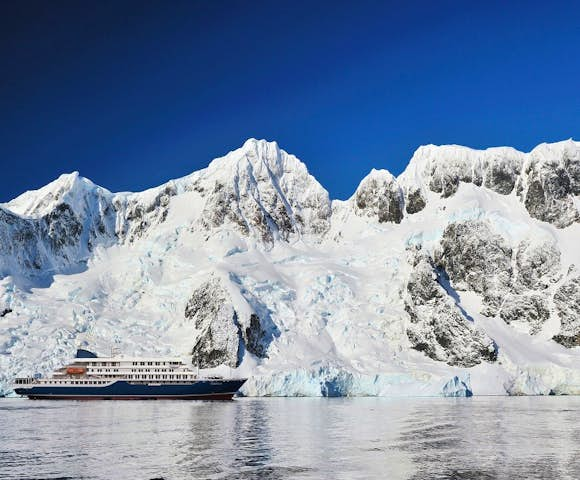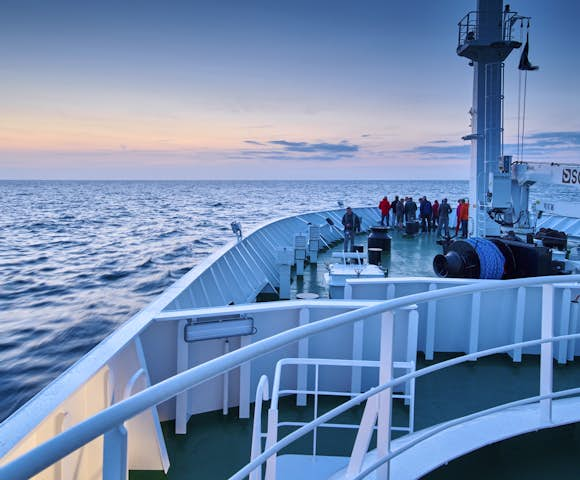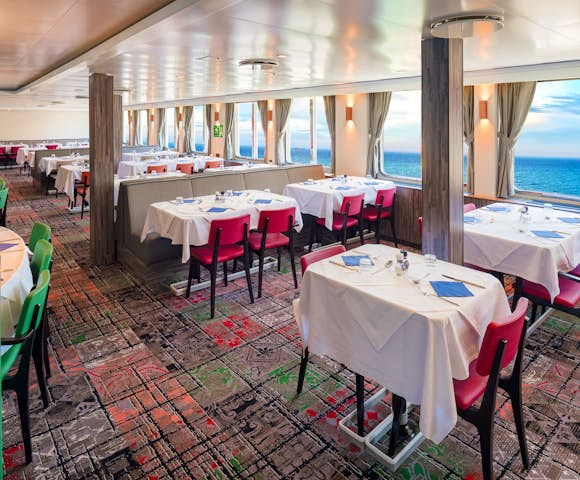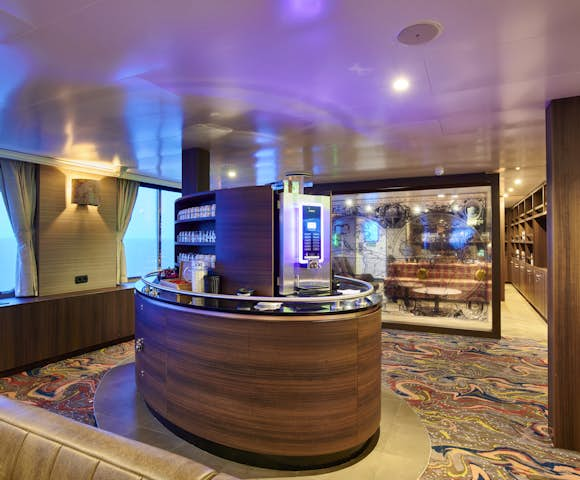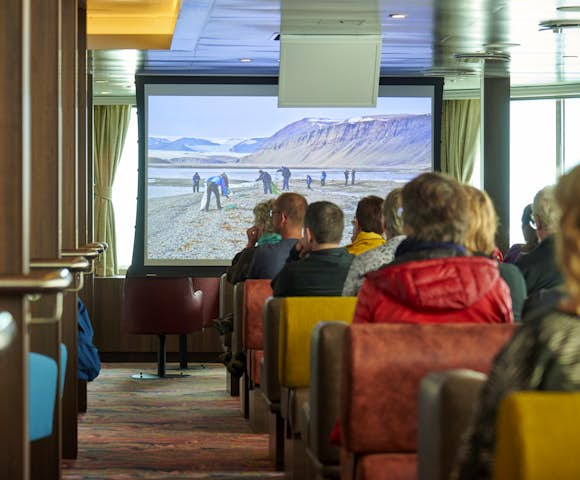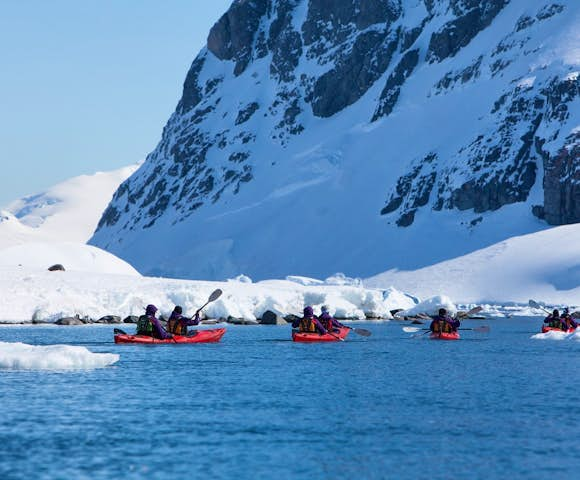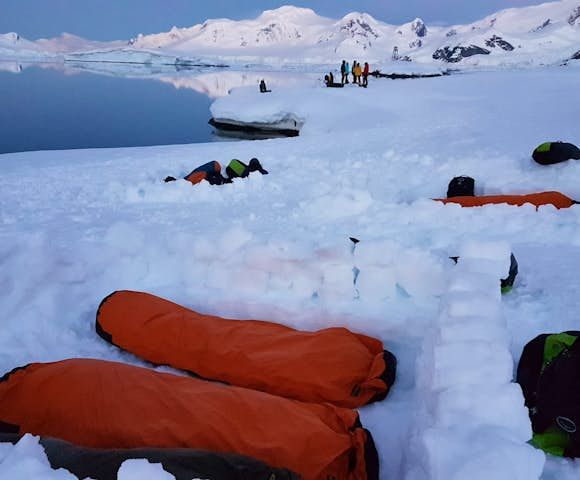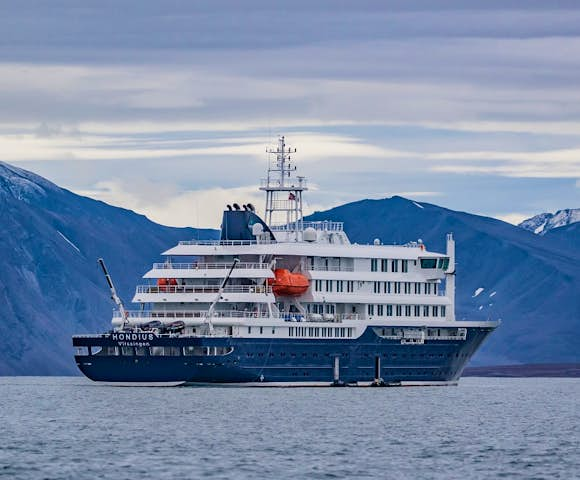 One of the world's only Polar Class 6 vessels - the most advanced rating
Lecture room offers interactive workshops and exhibitions
Exceeds the latest green requirements
Modern in décor with a cosy and informal atmosphere
Sheltered Zodiac boarding zone for easier entry into the boats
Camping, kayaking, hiking
Prices, Departures and Inclusions
Prices quoted below are per person based on 2 people sharing. Cabin availability changes all the time so please contact us for up-to-date details and information on specific cabin availability.

* Note: Prices are per person. Paid in USD ($) - figure above is based on today's exchange rate. Actual cost $13550
Additional Notes
Please note, departures on the following dates are:
19 days long: 23-Nov-23, 17-Dec-23, 04-Jan-24 , 16-Jan-24, 17-Dec-24, 04-Jan-25 & 16-Jan-25
20 days long: 01-Feb-24 , 02-Feb-24, 06-Dec-24, 10-Dec-24 & 01-Feb-25
Single Supplement And Child Policy
For those travelling solo and want their own cabin, the single supplement is 1.7 times the cost of a single berth, please contact us for details. However, there is no single supplement for passengers willing to share a cabin.
Children aged 8 years old or over are welcome. On select departures, children under 16 may receive a 40 % discount, please contact us for details
Optional Adventure Activities
Enhance your trip with the following add ons. Limited places per activity.
Get in contact to check availability.
Activity

Cost

Additional Information

Polar diving

$

1,350

Programme costs vary from $1200-1350 per person depending on the voyage length. Available on selected departures only and subject to ice and weather conditions. Group size: minimum 8, maximum 24 divers. Cold water and dry suit experience required.
Includes
Voyage aboard the vessel as indicated in the itinerary

Accommodation and meals during the voyage on full board including snacks, coffee and tea
All shore excursions and zodiac activities
Educational lectures by expert onboard polar guides
Access to an onboard doctor and basic medical services
Loan of rubber boots and snowshoes for the voyage's duration
Luggage transfer from pick-up point to the vessel on embarkation day
Pre-scheduled group transfer from the vessel to the airport in Ushuaia directly after disembarkation
Comprehensive pre-departure information
Port taxes and any entry fees to landing sites (except additional fees for museums in Port Stanley, Falklands)
Excludes
Flights to and from points of embarkation/disembarkation

Any additional pre/post land services, including meals
Transfers not specified in the itinerary
Optional adventure activities (e.g. diving)
Visa, passport and any vaccination expenses
Airport arrival or departure taxes
Personal travel insurance
Items of a personal nature - laundry, beverages, etc
Customary staff gratuity at the end of the voyage
Additional onboard purchases (i.e. gift shop)
Questions about this Voyage?