Why we like the Plancius
Following the ship's rebuild she combines the authenticity of an expedition ship on the outside with the comfort and amenities of a well-appointed 3* hotel on the inside
The ship's diesel-electric propulsion system greatly reduces noise and vibration, making the journey more comfortable, particularly at night
A wide choice of different cabin types, including Triples & Quads, all are modern with en-suite bathrooms and flat screen TVs with streamed movies
Twin gangways on the starboard side allows two zodiacs to be loaded at once which ensures minimal waiting time during embarkation and disembarkation
Stunning panorama views through the large windows of the observation lounge mean you won't miss out on wildlife sightings while keeping warm onboard
Offers a wide range of adventure activities, particularly on the active Basecamp voyages, including being one of the few ships to offer diving
Watch our video tour of the M/V Plancius

What our customers think of Plancius
Alex says
Voyages aboard Plancius
Special Offers:Swoop has access to the widest range of offers and can help you find the right trip, cabin, & price.
Cabin Categories

*Note that the above measurements are approximate averages and exact cabin size can vary

All cabins aboard the Plancius have a private bathroom, flat-screen TV and writing desk.
Superior
5 cabins on Deck 6, 4 on Deck 5, 1 on Deck 4
All Superior cabins have double beds
Two windows and lounge area with sofa and mini-fridge
All Superior cabins have a sofa bed and are capable of accommodating 3 people
Superior cabins 601 & 602 have the added benefit of windows with dual aspect
Superior cabin 606 is the largest cabin on the ship
Superior cabin 502's double bed is pushed against one wall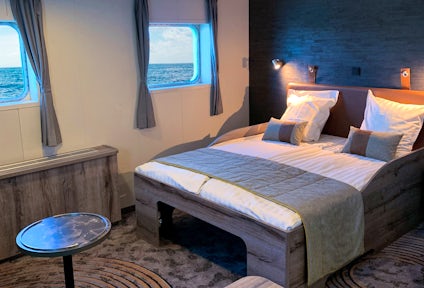 Twin Deluxe
Both cabins are at the stern corners of Deck 4 and are slightly larger versions of the Twin Window cabin
Windows facing to the rear and side
Twin beds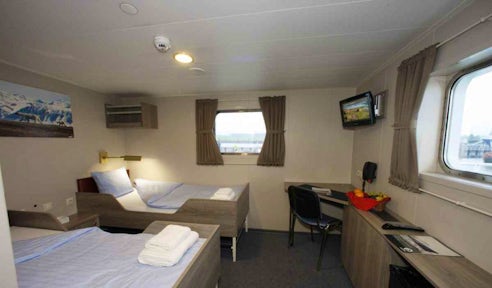 Twin Deluxe
Twin Window
All 25 cabins are on Deck 4
Twin beds with windows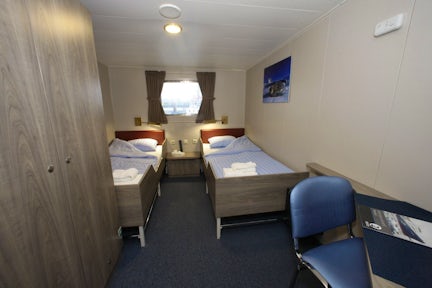 Twin Porthole
9 cabins are on Deck 3 and 2 cabins are on Deck 2
Twin beds with porthole
Cabins #302/ #304 & #306 look out onto the zodiac boarding area and people can walk in front of these cabins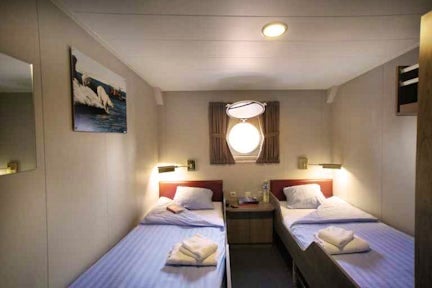 Quadruple Porthole
All cabins are to the stern of Deck 2
Bunk-beds and porthole
All berths have their own individual privacy curtain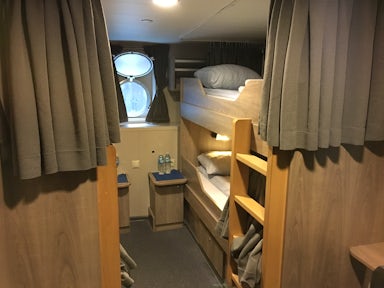 Onboard Communications & Facilities
If you wish to stay in touch, even in Antarctica, you can choose from the options below:
WiFi: you can connect your personal device from anywhere on the ship

Full Internet access: EUR7.50 /20mb; EUR 18 /50mb; EUR35 /100mb; EUR150 /500mb
Telephone card: EUR25/ approx. 25 mins depending on destination you are calling.
Ship-based email: EUR5 set up fee + EUR15 for a 7-10 day trip; EUR20 for a 11-12 day trip; EUR25 for an 18 day trip; EUR50 for a 30 day trip.
Please note that this is only for light data traffic and that the above prices are only approximate. You can check your personal emails using the onboard computers to connect to the Internet and also by connecting to WiFi to use your own device.
Other facilities include:
Plugs: European 220V two-round-pinned sockets
Towels, toiletries and hair dryers
Laundry service (additional cost)

Customer Tips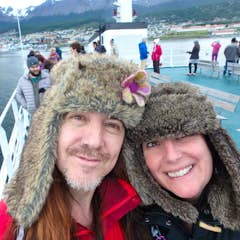 " We were right to keep the Twin Deluxe room – best room on the ship! "
Declan, UK Customer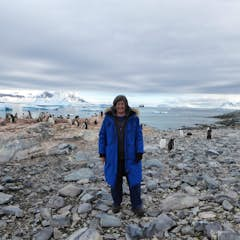 " I overdressed! I should have been more mindful of the temperatures. "
Patricia, Canada Customer
Find Your Antarctic Ship
Choosing the right ship is crucial, given the amount of time you'll spend on board. Swoop is experienced at helping match our customers to exactly the right ship.
Find your Antarctic ship
Ready to plan your Antarctic adventure?
1
Listen
We'll spend some time listening to your aspirations, then discuss the kind of experience that might suit you.
2
Match
Next we'll discuss the options, shortlist the best trips for you and present you our impartial recommendations.
3
Reserve
We'll place a 24 hour hold on your preferred option - without obligation - whilst we talk through the details.
With over 150 years of Antarctic experience between us, we can help guide you to exactly the right trip for you.
1-855-369-8288