Trip Summary and Itinerary Map
7 full days in Antarctica = 14 planned 'off ship' excursions
The widest selection of activities of any Antarctic voyage currently available
Camping, kayaking, mountaineering and snowshoeing are all included
A comfortable, homely (not luxury) 108 or 170 passenger ship
Bivouac under the stars, instead of camping in a tent
Operator's Itinerary
Day 1: Departure from Ushuaia
In the afternoon you will embark from Ushuaia, the southernmost city in the world located in Tierra del Fuego, Argentina. Sail across the waters of the Beagle Channel and beyond throughout the evening.

---
Days 2-3: At sea
During these two days you will sail across the Drake Passage. After crossing the Antarctic Convergence, you'll arrive in the circum-Antarctic upwelling zone. In this area, you may see wandering, grey headed, light-mantled and black-browed albatrosses. Look out also for a variety of petrels including the tiny Wilson's storm petrels along with southern fulmars.

You'll experience the same salty breezes and rolling seas as those encountered by the great polar explorers, spotting the first icebergs as you near the South Shetland Islands.
---
Days 4-10: Antarctica
Today you will begin exploring Antarctica in earnest. Grey stone peaks sketched with snow, towers of broken blue-white ice, and dramatically different wildlife below and above.
Weather and ice conditions along with wildlife opportunities will dictate your exact itinerary. However, places you might visit during the course of your adventure could include some of the following:
Neumayer Channel – The vessel may position itself here, launching its multiple basecamp activities from the protected waters around Wiencke Island. You can enjoy the splendors of this alpine environment at sea with Zodiac and kayaking trips, or if you're in the mood for a walk, there are possible snowshoe hikes and soft-climb mountaineering options farther inland. Naturally, favorable weather conditions determine the possible activities.
Port Lockroy – After sailing through the Neumayer Channel, you may get a chance to visit the former British research station – now a museum and post office – of Port Lockroy on Goudier Island. Though access can be blocked by icebergs filling the bay. You may also be able to partake in activities around Jougla Point, meeting gentoo penguins and blue-eyed shags. At the nearby sites, such as Damoy Point there may be the opportunity for snowshoeing to the old ski-way, this is also one of our favourite camping sites.
Pléneau & Petermann Islands – If the ice allows it, you can sail through the Lemaire Channel in search of Adélie penguins and blue-eyed shags. There's also a possibility that you'll encounter humpback and minke whales here, as well as leopard seals, so stay out on deck and keep a lookout. Once out of the channel and to your destination, kayaking, glacier walks, and more ambitious mountaineering trips are potential activities at this location.
Neko Harbour – An epic landscape of mammoth glaciers and endless wind-carved snow, Neko Harbour offers opportunities for a zodiac cruise and landing that afford the stunning views of the surrounding alpine peaks. If trail conditions allow, there is an ascent to the ridge, making way for passing penguins on their way to their rookeries.
Paradise Bay – You might have the chance to make camp here like a true polar explorer, enjoying a supreme overnight Antarctic adventure.
Errera Channel – Possible sites in this area include Danco Island and Cuverville Island, but also the lesser known (though equally picturesque) Orne Island and Georges Point on Rongé Island.
On your last day of near-shore activities, you might pass the Melchior Islands toward the open sea. Keep a sharp lookout for humpback whales in Dallmann Bay. You might also shoot for Half Moon Island, in the South Shetlands, with further chances for activities.
Conditions on the Drake Passage determine the exact time of departure.
---
Days 11-12: At sea towards Ushuaia

As you make your way north you are again followed by a great selection of seabirds while crossing the Drake Passage; making for a far from lonely return voyage.

---
Day 13: Ushuaia
Arrive in Ushuaia in the morning and disembark after breakfast.
---
NOTES: Activities are offered once during the voyage. Antarctica is a wonderful, wild destination; because of this it is not guaranteed that every Basecamp departure will offer all activities.
This itinerary is for guidance only as each voyage will vary depending on ice and weather conditions, and opportunities to see wildlife. Flexibility is key and all part of the adventure of an expeditionary cruise.

What our customers think of Antarctic Basecamp Adventure
Antarctic Basecamp Adventure trips scored 4.3/5 from 112 reviews
Sleeping on the continent in my bevy bag to wake up at 3am to light snow, peace and a phenomenal view of glaciers and a waterfall. The watching a group of artic turns chase a skua right over me as I lay snug in my bag. The windy wet ride through iceberg alley with dark clouds on the horizon, making it look like one could fall off the edge - cerulean blues iceberg caves, huge icebergs with turrets and knife edge peaks and, to top it all off, a leopard seal on an iceberg. And penguins frolicking in the water - torpedo like in their speed and jumps, clearly having a blast. I could go on...ice climbing with calving icebergs, swimming penguins and seals below, and snow waterfalls from avalanches in the mountains across the bay; Damvoy Point - blue sky with great clouds coming across the peaks and that amazing blue streaked, cracked glacier ...and baby penguins! Love the Adeline's her and there and sharing the penguin highways with them...wacthching them hoping, sliding, jumping, braying....could watch pimguisn forever.

Travelled: January 2020
Seeing orcas trying to drown a humpback whale Meeting some of the most amazing people

Travelled: January 2023
The Moment when one of our guides, Steffie, told us to put down our cameras when we were on an outing on the Zodiac, and just listen! It was surreal - the peace that surrounded us, the sound of the whales, blowing through their blow hole, the water lapping around us - I realized, I have not actually been listening for years!

Travelled: March 2020
Seeing penguins for the first time as we were on the mountaineering walk. Chinstrap penguins - they were so close! ?

Travelled: December 2019
Highlight was kayaking alongside a humpback whale in stunning scenery. Both clients and staff/crew on board were very friendly and the big surprise was the amount and quality of the food.

Travelled: February 2021
Gill & Richard Starling -
Initially seeing the breathtaking landscape. Saw Gentoo and Chinstrap penguins (though only on the first morning) Wish we encountered additional species of penguins as the rest of the trip were only Gentoo, not that I'm complaining, just wish I could see others as well. Did not see a great variety of wildlife, whales mostly from a distance and a few seals though I almost stepped on one camouflaged in the rocky shoreline...oops! Most magical moments was being with Kelly and sharing such exquisite beauty!

Travelled: February 2021
The entire adventure was amazing, I could literally highlight all the activities one by one. The crew was fun and extremely helpful, the food and the services were excellent and every little thing on the ship was designed to make sure that we had the time of our lives. What did I love the most? The animals for sure! I wanted to snuggle up with those curvy seals that always had a smile on their faces and I had a hard time not to hug those clumsy little penguins always curiously staring at us. Seeing a whale made us run to the windows or out to the deck every single time, even on the last day, even if it was 6 am in the morning and we wore nothing but our pyjamas under our coat. Last, but definitely not least, Antarctica is the cupid in my life's love story. My boyfriend had never heard of anyone dreaming about Antarctica before but wanted to get on board. One thing led to another and we suddenly were not only planning the trip but were also falling in love. My best and dearest memories would already tie me to this amazing continent but in Neko Harbour he also proposed to me making this journey truly unforgettable.

Travelled: January 2020
Camping out with friends

Travelled: March 2023
Impossible to identify any one moment as there were so many each day. Perhaps the first sight of the Antarctic after we woke up on Saturday morning, but really everything was a highlight.

Travelled: March 2023
We had a really rough voyage—including sailing through a hurricane plus two or three whiteout days. We arrived late and left very early. So, we got only 4 days down there. Highlights were kayaking onto an iceberg, seeing an iceberg roll, ice climbing. People were fascinating, especially over meals. One of my roommates was hilarious—both intentionally and unintentionally. I was surprised by how short the excursions were. I would have gladly given up a meal or two to experience in-depth excursions.

Travelled: February 2021
I dont have one moment. It was the entire experience. One moment isnt the best.

Travelled: January 2023
Kayaking a few feet from humpback whales

Travelled: March 2023
Seeing type D orcas.

Travelled: December 2022
Overall, the trip was great - the staff, the other passengers, the activities I participated in, the food, the overall quality of every detail. I loved kayaking, but the camping was cancelled due to bad weather. Also this voyage we visited Port Lockroy and could see the history of humans on Antarctica. The surprise was passing through the Drake in a hurricane.

Travelled: February 2021
Marilyn Fisher (2nd trip) -
Ice climbing; camping, especially the feeling when our zodiac pulled away and I found myself somehow connected with Shackleton and the seabirds flying overhead; seeing a dozen or more Elephant Seals woven together in the pebbles surrounded by penguins; and the sheer exhilaration of participating in the polar plunge with like-minded thrill seekers!

Travelled: January 2020
There were so many, it's impossible to pick one. The accommodations and equipment was top flight. The expedition leaders were exceptional -- SO knowledgeable in their fields, competent, inclusive --- their lectures were a high point when we were on the boat. Camaraderie among the passengers was also memorable --- such a diverse and eclectic group of travelers!!! The experience was unparalleled in every respect !

Travelled: December 2022
The crew, the wildlife, the landscapes, and the other passengers were all incredible!

Travelled: February 2021
The highlight of the trip was being able to camp on the continent. The landscape and wildlife was great. We hoped to see orcas and didn't. But we did see several seals, penguins species, and a few humpbacks. The travel experience on the boat was mind boggling, so many great stories and interesting people and backgrounds. A few surprises we had were the bottle of champagne in the room, (THANKS LOLI!!) one day with no wind, and the BBQ dinner and dance on the stern of the boat.

Travelled: February 2021
Honestly, there wasn't one specific moment. Absolutely amazing staff across the board. They did such a great job.

Travelled: March 2023
The highlight was mountain climbing in a snowstorm. Meeting a lot of interesting and accomplished people was the surprising part of the trip. I was shocked at how bad the seasickness was. I normally do well on boats, but I did get sick. I received adequate warning to prepare, but it was still shocking.

Travelled: February 2021
About The Ship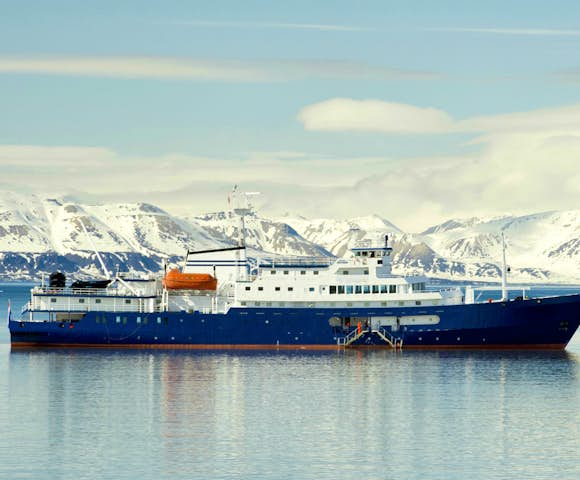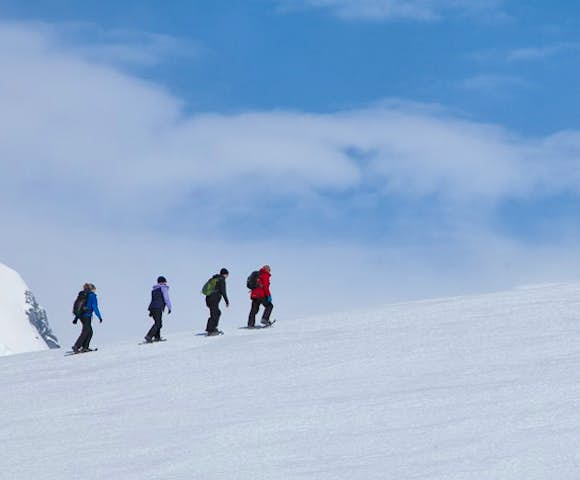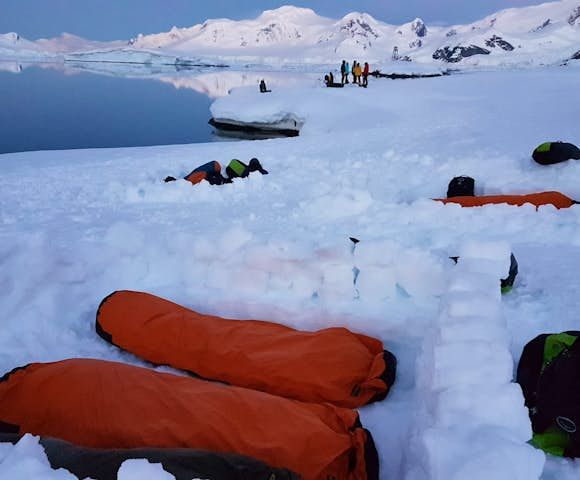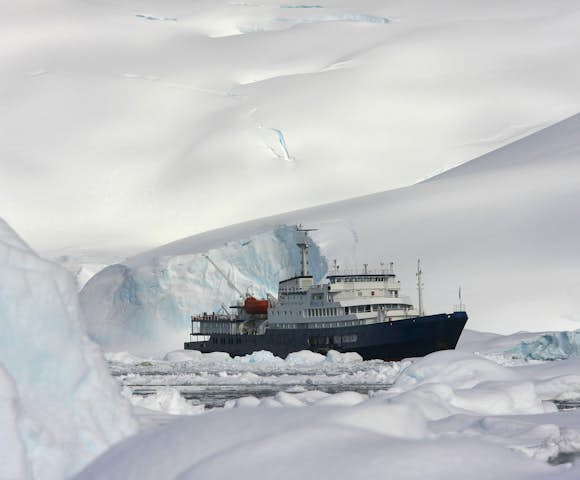 A 3-4* expedition vessel for 108 guests
Contemporary feel after 2009 re-build
A quiet diesel-electric propulsion system
1D ice class rating
Kayaking, camping, mountaineering, hiking
Rubber boots are provided on loan
Antarctica Basecamp Adventure
Prices, Departures and Inclusions
Prices quoted below are per person based on 2 people sharing. Cabin availability changes all the time so please contact us for up-to-date details and information on specific cabin availability.

* Note: Prices are per person. Paid in USD ($) - figure above is based on today's exchange rate. Actual cost $9100
Additional Notes
All departures in the 2023/24 and 2024/25 season are 12 nights/13 days long.
---
The 23-Dec-2023 departure is a special "Educational Basecamp" voyage and includes a free navigational workshop, camping, kayaking, snowshoe/hiking and photo workshop. (Please note that this voyage does not offer mountaineering)

---
The optional adventure activities are offered once during the voyage. Antarctica is a wonderful, wild destination; because of this it is not guaranteed that every Basecamp departure will offer all activities.

Single Supplement And Child Policy
For those travelling solo and want their own cabin, the single supplement is 1.7 times the cost of a single berth, please contact us for details. However there is no single supplement for passengers willing to share a cabin.
Children aged 8 years or over are welcome. On select departures, children under 16 may receive a 40% discount, please contact us for details.
Optional Adventure Activities
Enhance your trip with the following add ons. Limited places per activity.
Get in contact to check availability.
| Activity | Cost | Additional Information |
| --- | --- | --- |
| Camping | Complimentary | Equipment provided. |
| Kayaking | Complimentary | Basic competency required. |
| Photography | Complimentary | Participation with own camera. |
| Snowshoeing | Complimentary | Dependent on snow conditions. Snow shoes provided. |
| Mountaineering | Complimentary | Crampons provided. Mountaineering boots are needed. |
Includes
Voyage aboard the vessel as indicated in the itinerary

Accommodation and meals during the voyage on full board including snacks, coffee and tea
All shore excursions and zodiac activities
Optional adventure activities such as camping, kayaking, snowshoe/hiking, mountaineering, photography workshops (all weather dependent)
Educational lectures by expert onboard polar guides
Access to an onboard doctor and basic medical services
Loan of rubber boots and snowshoes for the voyage's duration
Comprehensive pre-departure information
Port taxes and any entry fees to landing sites
Luggage transfer from pick-up point to the vessel on embarkation day
Pre-scheduled group transfer from the vessel to the airport directly after disembarkation
Excludes
Flights to and from points of embarkation/disembarkation

Any additional pre/post land services, including meals
Transfers not specified in the itinerary
Visa, passport and any vaccination expenses
Airport arrival or departure taxes
Personal travel insurance
Items of a personal nature - laundry, beverages, etc
Customary staff gratuity at the end of the voyage
Additional onboard purchases (i.e. gift shop)
Questions about this Voyage?