Trip Summary and Itinerary Map
4-5 full days in Antarctica = 8-10 planned 'off ship' excursions depending on your preferred departure
Wide selection of well priced voyages to choose from
Kayaking & camping. Diving on limited departures (additional cost for each)
Complimentary snowshoeing on early season departures when snow conditions allow
Operator's Itinerary
Day 1 - Ushuaia; The End of the World:

Where the world drops off, in Ushuaia, your voyage begins. Located on the far southern tip of South America, Ushuaia is the southernmost city in the world. Starting in the afternoon, we embark our vessel and sail from "The End of the World," into the mountain-fringed Beagle Channel for the remainder of the evening.
---
Days 2 & 3 - Drake Passage:

Over the next two days, you'll enjoy some of the same experiences encountered by the great polar explorers who first charted these regions:rolling seas, cool salt breezes maybe even a fin whale spouting up sea spray. After passing through the Antarctic Convergence – Antarctica's natural boundary, where north-flowing cold waters collide with warmer sub-Antarctic seas – you are in the circum-Antarctic upwelling zone. Both marine life and avian life changes here. Wandering albatrosses, grey-headed albatrosses, black-browed albatrosses, light-mantled sooty albatrosses, cape pigeons, southern fulmars, Wilson's storm petrels, blue petrels, and Antarctic petrels are a few of the birds you might see.
---
Days 4 to 7: Entering Antarctica

Towers of broken blue-white ice and grey stone peaks sketched with snow welcome you to Antarctica. You first pass the snow-capped Melchior Islands and Schollaert Channel, before sailing between Brabant and Anvers Islands.
Sites you may visit include:

Danco Island – There are gentoo penguins nesting on the island, and Weddell and crabeater seals to be found nearby.
Neko Harbour – With mammoth glaciers and endless wind-carved snow, Neko Harbour offers opportunities for a zodiac cruise and a landing that affords the closest views of the surrounding alpine peaks.

Paradise Bay – You may be able to take a zodiac cruise in the ice-flecked waters, with a good chance that you'll encounter humpback and minke whales.

Pléneau & Petermann Islands – If the ice allows, you could sail through the Lemaire Channel, searching for Adélie penguins and blue-eyed shags. You may also encounter humpback and minke whales here, as well as leopard seals.

Port Lockroy - After sailing through the Neumayer Channel, you may get a chance to visit the former British research station – now a museum and post office – of Port Lockroy on Goudier Island. You may also be able to partake in activities around Jougla Point, meeting gentoo penguins and blue-eyed shags.
Wilhelmina Bay & Guvernøren – A great place to spot humpback whales, you also may embark on a zodiac trip ending at the ghostly wreck of the Guvernøren, a whaling vessel that caught fire here in 1915. Amid a frozen landscape, around the Melchior Islands, you may encounter more whales, leopard and crabeater seals. Conditions on the Drake Passage will determine the exact time of our departure.
---
Days 8 & 9 - Return to Ushuaia:

Our return voyage is far from lonely; while crossing the Drake, the vast array of seabirds from the passage south will greet us again, but this time, they will seem a little more familiar to you.
---
Day 10 - Ushuaia:

Our adventure must eventually come to an end, and it's now time to disembark in Ushuaia. You will depart with memories that will accompany you wherever your next adventure lies.
Why Swoop
Expert Impartial Advice At No Extra Cost
Antarctic travel options are complicated. We help you choose the right boat, the right cabin, and at the right point in the season.
A Depth Of Knowledge On Board
As a team of ex-guides, tour leaders, & polar adventurers our Antarctic knowledge is leagues ahead of the rest.
For The Ends Of The Earth
Swoop is proud to be B Corp Certified as we know sustainability is more than our carbon footprint (but we're reducing that too).
We're With You At Every Step
We'll make sure you have the adventure of a lifetime.

What our customers think of Onto the Antarctic Ice
Onto the Antarctic Ice trips scored 4.7/5 from 73 reviews
Watching penguins hop up and down on the rocks, also moving through the snow on their bellies using their flippers.

Travelled: January 2020
Probably seeing a pod of an estimated 45 humpback whales feeding right along the Hondius. Even veteran crew members said it was the biggest pod of whales they'd seen, perhaps ever, and they were amazed at how close the whales came to the ship -- they just passed by and came up for air one after another for a couple of hours in the Gerlache strait. Stunning.

Travelled: January 2022
We were kayaking on the second day through rivers of ice and spotted a really cool iceberg in the distance. We decided to make our way towards the iceberg and stopped in a cove-like area for rest and pics. Before we decided to leave, a Leopard Seal came right up to our kayaks and seemed to be toying with or playing with us. The seal spent a good 10 mins swimming around us all, creating waves, popping up out of the water in various places - a lot of people were laughing and enjoying this organic moment.

Travelled: March 2020
The trip was great. The highlight for both my husband and I was the iceberg "garden" at Pleneau Island. The icebergs were so amazing and it was fun to see seals hanging out on some of them. That day was windy and cold. We're both very glad we didn't skip the harbor tour. We saw even more penguins than we expected and were surprised by how close we were to them in some areas, mostly as they were walking to and from the ocean. Being able to experience nature in it's natural state was a once in a lifetime experience. Seeing a Macaroni Penguin at Half Moon Island was my "runner up" highlight of the trip! We enjoyed seeing a lot of Humpback Whales too. We met many interesting people on the trip too. The expedition staff were very nice and knowledgeable, and all of the crew on the ship were wonderful. There were 2 things that were a little disappointing. The first was that there was a large group of Dutch people on our ship and they mostly kept to themselves. The other was that we didn't get to see the Beagle Channel well. On the way out we followed another ship that left late. By the time we were coming through it was dusk and then dark so we couldn't really see it. On the way back, we picked up the pilot at 2 am and were at the dock by 4 or 5 am. I thought I would have a chance to see it.

Travelled: February 2021
45-50 Humpback whales surrounding us for about 2 hours! The Drake Shake with 84 knot wind gusts! Lemaire Channel with brash ice and growlers. Camping in Paradise. Sailing into Deception Island (Neptune's Bellows) at 5 am in broad daylight. Seeing 3 types of seals and 3 types of adorable penguins. Adventureous, friendly, inquisitive people-and staff.

Travelled: January 2022
Crossing the Antarctic Circle!! this was unexpected, and awesome!

Travelled: February 2020
Stephanie and Juliette Lacy -
Loved the trip. Weather was good the first four days after arrival. We personally loved Iceberg Alley. Wildlife was great. A big surprise was that 65% of the travelers were a French group. Although they were often separated from the English speaking group with their own interpreters in the sessions where both languages had to be presented it became a problem because the French passengers continually talked through the English speaking portion and we needed to listen to the French. I was under the impression that if the trip was advertised as English speaking that is all it would be. It did not take long before we realized that the French group did not feel they had to obey staff instructions - particularly staying behind certain boundaries while waiting for zodiacs on shore, waiting in lines for eating,stairs,and boarding zodiacs from ship, etc. Some of the guides had difficulties with the group getting too close to penguins and not staying within the red poles while walking. Even boarding the buses to the airport presented problems with the drivers because of how the French guides wanted them to board, etc. and had to spend their time trying to sort things out. It was a distraction that did not have to happen. The ship operator's Staff and guides were top notch. Very calm, capable and knowledgeable.

Travelled: February 2021
There really isn't just one. I think seeing the glacial ice and the wonderment of the environment were among my most memorable moments. Watching penguins waddle and slide, seals swim and humpbacks letting their presence be known were other memorable moments. Sharing the experience with 150 strangers from around the world and a very talented staff also provided memorable moments.

Travelled: December 2022
The quiet---the beauty of the ice and land and glaciers. Luckily, we were around to see the new penguin chicks. We also camped on the ice/snow while there. Memorable.

Travelled: January 2020
The scenery and wildlife were terrific and it was a pleasure to meet with many of the passengers on the boat. The two big negative surprises were the Chinese school children party on the ship that seemed to constitute nearly 20% of the total passenger group. Not sure of we would have taken this particular voyage if we had known about this. Nothing is mentioned in any of the literature about school parties being on the voyages. The other negative was that we paid for the most expensive standard of cabin but the heating was not working in the cabin. It took a great deal of work to repair the heating unit and on the first evening the men called a halt to the work at 10:30pm as my wife was falling asleep while they worked in the cabin. The repairs were completed the next day. Major pipe and electrical work was needed. I would have thought checking that heating units worked before heading to Antarctica would have been standard practice.

Travelled: February 2021
Charles & Denise Gregory -
Sailing through the Lemaier Channel with a huge iceberg in the middle. Several other ships had to turn around but we successfully navigated the channel and were rewarded with a breathtaking experience in flow ice and bergs

Travelled: December 2019
Our ship encountered a huge group of feeding humpback whales. We were surrounded by them for approx. 1.5 hours as we watched them feed, play, breech, dive... it was an enchanting experience. I never thought I would be so up close to these beautiful creatures.

Travelled: January 2022
Honestly the people and crew I spent time with while on the cruise. I went solo and was worried about being bored and alone on the cruise. I'm glad my budget basically had me limited to having a shared quad cabin. I ended up making friends with some amazing people in my cabin and the guys next door as well. I hope we all keep in contact. Also the crew was AMAZING they were professional but all so real and their backgrounds and histories could keep people entertained for days.

Travelled: December 2022
Experiencing Lemaire Channel with such beautiful weather conditions!

Travelled: December 2022
The most memorable moment was being on the continent with my daughter. Seeing the natural wildlife was wonderful.

Travelled: December 2022
When we unexpectedly stumbled upon the rare and elusive Ross seal and a pod of orcas who came right up to the ship and were swimming alongside.

Travelled: February 2020
Finally stepping on my 7th Continent

Travelled: January 2020
Lemaire Channel was outstanding unable to land but the resultant cruise around left me speechless (not a common problem). Again no camera can do justice to the omnipotence of Antartica it is humbling, penguins were cheeky, seals were unphased and the whales / Orcas gave hope that we haven't destroyed the planet YET. Most fellow travelers were warm, friendly and shared their photos / films. The 'ladies" I shared with were individuals who shared a joke, welcomed you and we have formed firm firm friendship despite our disparate ages interests and nationalities. Only Antartica.

Travelled: February 2021
Coming across dozens and dozens of feeding humpback whales one morning. Some of them came right up to the ship!

Travelled: January 2022
Sitting in a rock on top of Danco island and watching thousands of gentoo penguins in their daily life all around me. The view below was incredible floating ice bergs, glaciers, mountains, seals and even a whale. The most breathtaking view- and seeing our ship in the bay gave proportion to the grandness of Antarctica. Difficult to describe the beauty and feeling I had in this beautiful continent!

Travelled: March 2020
About The Ship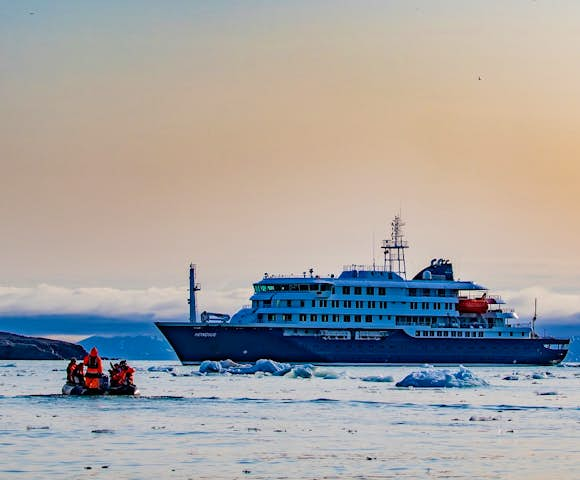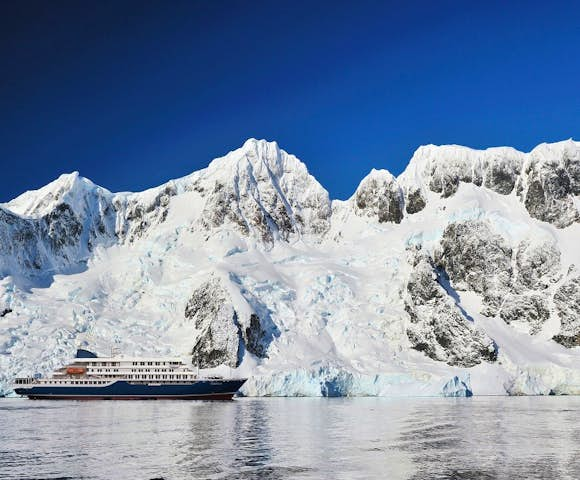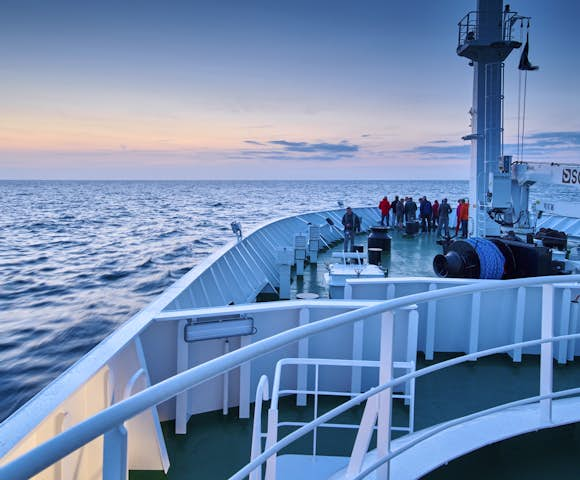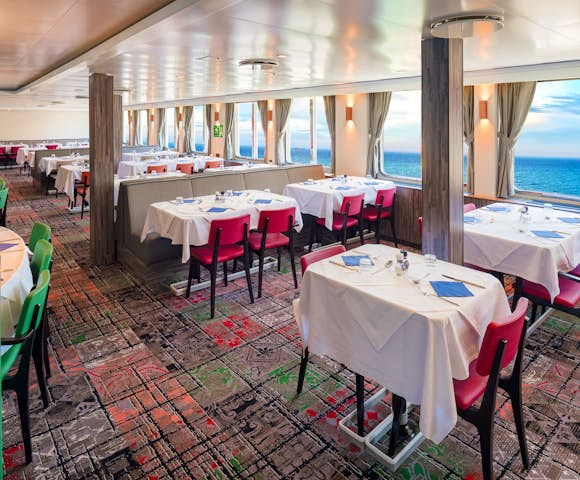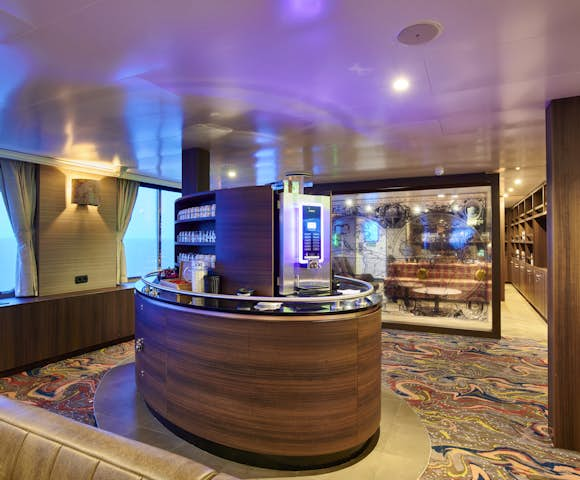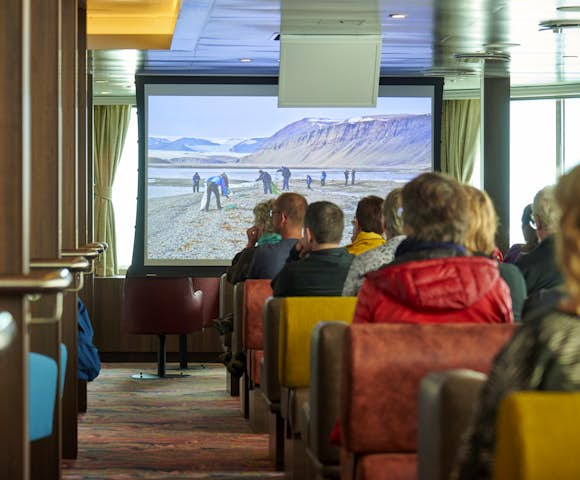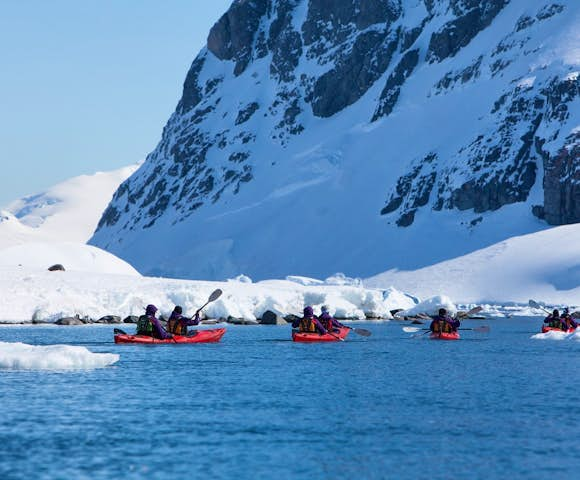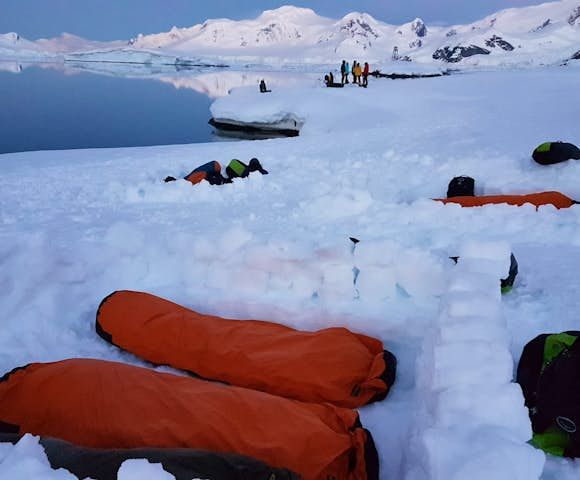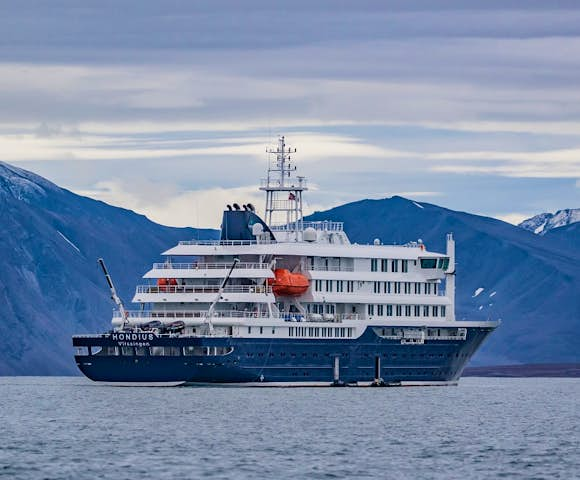 A highly ice-strengthened Polar Class 6 vessel
Spacious lecture theatre for the comprehensive educational programme
State-of-the-art power management systems to help reduce environmental impact
Modern décor with a cosy and informal atmosphere
Sheltered Zodiac boarding zone for easier entry into the boats
Camping, kayaking and snowshoeing available on select departures
Prices, Departures and Inclusions
Prices quoted below are per person based on 2 people sharing. Cabin availability changes all the time so please contact us for up-to-date details and information on specific cabin availability.

* Note: Prices are per person. Paid in USD ($) - figure above is based on today's exchange rate. Actual cost $6300
Additional Notes
Please note, departures on the following dates are:
9 days long: 14-Mar-2025 - with a wha;e watching focus
All other departurres are 11 days long.
Single Supplement And Child Policy
For those travelling solo and want their own cabin, the single supplement is 1.7 times the cost of a single berth, please contact us for details. However there is no single supplement for passengers willing to share a cabin.
Children aged 8 years old or over are welcome. On select departures, children under 16 may receive a 40% discount, please contact us for details.
Optional Adventure Activities
Enhance your trip with the following add ons. Limited places per activity.
Get in contact to check availability.
Activity

Cost

Additional Information

Camping

$

215

Departures from Nov - Feb. Equipment provided. Select departures.

Kayaking

$

550

Kayaking competency required. Select departures.

Polar diving

$

640

Limited spaces available. Cold water and dry suit experience required. Select departures

Snowshoeing

Complimentary

Select departures. As long as snow conditions allow. Snowshoes provided.
Includes
Voyage aboard the vessel as indicated in the itinerary

Accommodation and meals during the voyage on full board
All shore excursions and zodiac activities
Educational lectures by expert onboard polar guides
Access to an onboard doctor and basic medical services
Loan of rubber boots and snowshoes for the voyage's duration
Luggage transfer from pick-up point to the vessel on the day of embarkation, in Ushuaia
Pre-scheduled group transfer from the vessel to the airport in Ushuaia (directly after disembarkation)
Comprehensive pre-departure information

Port taxes and any entry fees to landing sites
Excludes
Flights to and from points of embarkation/disembarkation

Any additional pre/post land services, including meals
Transfers not specified in the itinerary
Optional adventure activities (e.g. kayaking)
Visa, passport and any vaccination expenses
Airport arrival or departure taxes
Personal travel insurance
Items of a personal nature - laundry, beverages, etc
Customary staff gratuity at the end of the voyage
Additional onboard purchases (i.e. gift shop)
Questions about this Voyage?