Trip Summary and Itinerary Map
From albatrosses, to petrels, penguins and seals, you'll have plenty of new Antarctic friends
6, 7 or 8 full days in Antarctica, depending on which departure date you choose
February and March voyage dates only when conditions are optimal for reaching the Polar Circle
Optional scuba diving on most departures, kayaking and camping on selected departures (additional cost)
Soak up even more regional knowledge with a range of wildlife, nature and history lectures onboard
Operator's Itinerary
Day 1: Departure from Ushuaia
Your voyage begins where the world drops off. Ushuaia, Argentina, reputed to be the southernmost city on the planet, is located on the far southern tip of South America. Starting in the afternoon, you embark from this small resort town on Tierra del Fuego, nicknamed "The End of the World," and sail the mountain-fringed Beagle Channel for the remainder of the evening.
---
Days 2-3: At sea
Over the next two days on the Drake Passage, you enjoy some of the same experiences encountered by the great polar explorers who first charted these regions: cool salt breezes, rolling seas, maybe even a fin whale spouting up sea spray.
After passing the Antarctic Convergence – Antarctica's natural boundary, formed when north-flowing cold waters collide with warmer sub-Antarctic seas – you are in the circum-Antarctic upwelling zone. Not only does the marine life change, the avian life changes too. Wandering albatrosses, grey-headed albatrosses, black-browed albatrosses, light-mantled sooty albatrosses, cape pigeons, southern fulmars, Wilson's storm petrels, blue petrels, and Antarctic petrels are a few of the birds you might see.
---
Days 4-9: Antarctic Peninsula
Options for Antarctic Peninsula activities are many, and no less great during the late summer. Humpback whales are prolific in this region, gorging themselves on krill before their migration north. The penguin chicks are also fledging, stirring up activity on the beaches while sleek leopard seals lie in wait, poised to attack the less fortunate ones.
Sites for your Antarctic adventures may include:
Livingston Island – Here you find a wide variety of gentoo and chinstrap penguins on Hannah Point, as well as southern giant petrels and elephant seals hauling out onto the beach.
Deception Island – Actually a subducted crater, this island opens into the sea and creates a natural harbor for the ship. Hot springs, an abandoned whaling station, and multiple bird species – cape petrels, kelp gulls, brown and south polar skuas, and Antarctic terns – can be seen here. Wilson's storm petrels and black-bellied storm petrels also nest in the ruins of the whaling station in Whalers Bay.
Cuverville Island – A small precipitous island nestled between the mountains of the Antarctic Peninsula and Rongé Island, Cuverville houses a large colony of gentoo penguins and breeding pairs of brown skuas.
Neko Harbour – An epic landscape of mammoth glaciers and endless wind-carved snow, Neko Harbour offers opportunities for a Zodiac cruise and landing that afford the closest views of the surrounding alpine peaks. You might also be able to set foot on the continent here.
Paradise Bay – You could take a Zodiac cruise in these sprawling, ice-flecked waters, where you have a good chance of seeing humpback and minke whales.
Pléneau & Petermann Islands – If the ice allows it, you may sail through the Lemaire Channel in search of Adélie penguins and blue-eyed shags. There's also a good chance you'll encounter humpback and minke whales as well as leopard seals.
Crystal Sound – Your journey takes you south along the Argentine Islands to this ice-packed body of water, and from here across the Polar Circle in the morning.
Detaille Island – You may make a landing at an abandoned British research station here, taking in the island's lofty mountains and imposing glaciers.
Fish Islands – Further north you encounter one of the southernmost Adélie penguin and blue-eyed shag colonies in the Antarctic Peninsula.
Melchior Islands – These islands offer a beautiful landscape rich with icebergs. Leopard seals, crabeater seals, and whales are found here, and there are excellent opportunities for kayaking and diving.
Conditions on the Drake Passage determine the exact time of departure.

---
Days 10-11: At sea
Your return voyage is far from lonely. While crossing the Drake, you're again greeted by the vast array of seabirds remembered from the passage south. But they seem a little more familiar to you now, and you to them..
---
Day 12: Arrival in Ushuaia
Every adventure, no matter how grand, must eventually come to an end. It's now time to disembark in Ushuaia, but with memories that will accompany you wherever your next adventure lies.
---
NOTE: This itinerary is for guidance only as each voyage will vary depending on ice and weather conditions, and opportunities to see wildlife. Flexibility is key and all part of the adventure of an expeditionary cruise.

Why Swoop
Expert Impartial Advice At No Extra Cost
Antarctic travel options are complicated. We help you choose the right boat, the right cabin, and at the right point in the season.
A Depth Of Knowledge On Board
As a team of ex-guides, tour leaders, & polar adventurers our Antarctic knowledge is leagues ahead of the rest.
For The Ends Of The Earth
Swoop is proud to be B Corp Certified as we know sustainability is more than our carbon footprint (but we're reducing that too).
We're With You At Every Step
We'll make sure you have the adventure of a lifetime.

What our customers think of South of the Antarctic Circle
South of the Antarctic Circle trips scored 4.6/5 from 28 reviews
No question, hard to choose one. Far the best: zodiak cruise with the whales. Second: Paradise bay zodiak criuse on an amazing suny afternoon. Third: Deception Island on an amazing sunny day.

Travelled: March 2020
Four-star experience! Could not have been better. Highlight was the ship's crew, our guides, and our fellow explorers... all nice folks. Landscapes stark and challenging, photogenic and forboding. Wildlife incredibly resilient and not camera shy, especially the young penguins! Surprised how wonderful the experience was. Being on the bridge, with the Captain, navigating the Lemaire Channel, which had a HUGE iceberg towering over us!

Travelled: February 2021
We had amazingly good luck with weather and were able to make about 10 excursions from the ship. The encounters with the whales were just incredibly wonderful. The icebergs and bergy bits were artistic, majestic, noisy, imaginative and splendid. I think we met people from nearly 20 different countries aboard ship. The crew were all friendly, competent, attentive and knowledgeable. I learned a great deal about history, geography, birds and penguins. Drake's passage is long even in good weather.

Travelled: February 2021
The trip was great. The Plancius was a clean and well run ship. Accommodations and dining on the hotel staff side were well run and comfortable. The Expedition Staff were helpful, informative and showed their passion for Antarctica. Events were flexible but well planned. Landscapes were stunning, the weather was warmer than expected, hovering around freezing and the wildlife was great to see up close. The small ship size with 105 guests was nice. You may not have had the chance to speak to everyone, but that was your own or their choice. 28 different nationalities amongst the guests and crew, so a nice mix. One surprising aspect was the age of the guests. My initial thoughts due to the "bucket list" type vacation and expense of a trip to South America and Antarctica was of an early retired mid-60's well off couple with appropriate means as the standard guest. However there were many younger guests, although the youngest few (mid 20's) were there with their parents for special birthdays etc. But also many in late 30's to 40's which may have been a product of this being a diving adventure. There definitely were the 60's-ish couples but much more age diversity. It is hard to pick one most special moment, however crossing the Antarctic Circle and cruising in Crystal Bay is something to remember for a lifetime. The same goes for the close interaction with Fur Seals on land and near the shore.

Travelled: February 2021
They are are too many but these are some of the top 3. Seeing 100's of Finn Whales surround our ship. Seeing Leopard Seal catch a penguin, seeing the Ocra Whales hunting right around our ship.

Travelled: March 2023
Wildlife sightings and zodiac cruises - can't narrow to just one!

Travelled: April 2023
The landscapes and wildlife were spectacular. After awhile you almost stop taking pictures of whales because you have so many. The other passengers were diverse, adventurous and many will hopefully be friends for life. It was a bummer the weather made us head north a day early, but no worries.

Travelled: February 2021
All the landing activities and zodiac cruising are amazing and memorable. There were many moments I felt touched and moved by the great nature of Antarctica. Penguins, whales, seals are having good life there, I hope Antarctica can keep the way it is so that the wild life animals are protected. Also the expedition crew members are amazing, we won't have a great Antarctica adventure without their dedications.

Travelled: March 2020
I don't know if I can pick a single moment. The entire trip was wonderful and the staff was great and very knowledgeable in their respective fields. We were able to get farther south of the circle than was anticipated from the beginning and we were able to accomplish all that was expected. There were of course changes in the schedule as Antarctic weather is always changing, but no real negative changes during our trip.

Travelled: January 2023
When we arrived in Antarctica, and saw for the first time the magnificence of its imposing mountains

Travelled: December 2022
Impossible! You are surrounded by majestic beauty. The blue hues of the ice, rugged, snow covered mountains… whales feeding… penguins so comical on land, yet so graceful in the water. Just so magnificent.

Travelled: March 2023
Humpback fluking 3m from us under the boat or polar plunge!

Travelled: March 2023
Wildlife, meeting penguins up close and personal!

Travelled: March 2023
Watching over 200 fin whales feeding with hundreds of penguins and albatrosses, just off Elephant Island. It was sunny with incredibly strong wind, and many of the blows from the fin whales turned into rainbows.

Travelled: April 2023
Definitely lots more wildlife other than penguins than I was expecting. The ship & other passengers were fantastic. The ship was way more comfortable than I was expecting and definitely didn't feel too small. Was great to meet like-minded people from around the world too.

Travelled: February 2021
The most memorable moment must be the first sight of seeing the Emperor penguin colony! It was amazing, just stunning! It was like a dream come true :)

Travelled: December 2022
seeing the whales and penguins so close

Travelled: March 2020
the serenity of the area

Travelled: March 2020
when I could be alone observing nature, animals and the different shades of lights

Travelled: March 2020
Seeing the icebergs and penguins.

Travelled: April 2023
About The Ship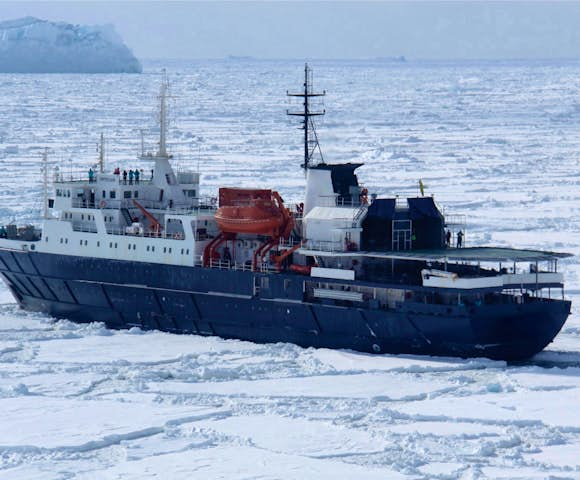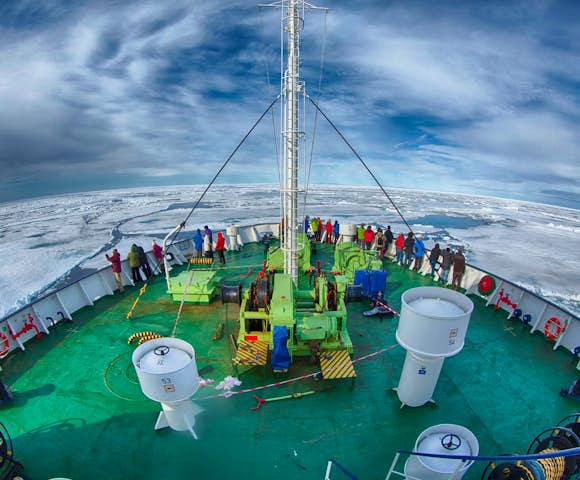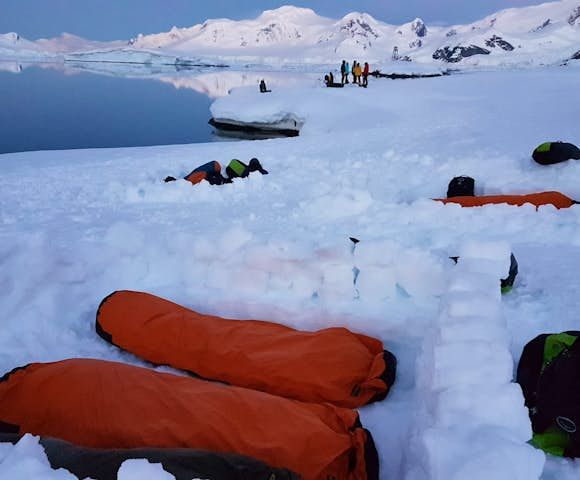 A 3-4* expedition vessel for 108 guests
All cabins have been recently updated
A broad, heavy design = great stability
High 1A ice class rating
Camping, kayaking and snowshoeing available on select departures
Rubber boots are provided on loan
Prices, Departures and Inclusions
Prices quoted below are per person based on 2 people sharing. Cabin availability changes all the time so please contact us for up-to-date details and information on specific cabin availability.

* Note: Prices are per person. Paid in USD ($) - figure above is based on today's exchange rate. Actual cost $7700
Additional Notes
Please note, departures on the following dates are:

12 days long (6 days in Antarctica): 20-Mar-2023 & 25-Feb-2024 & 21-Mar-2024 & 10-Mar-2025 & 23-Mar-2025
13 days long (7 days in Antarctica): 10-Feb-2023
14 days long (8 days in Antarctica): 14-Mar-2023 (including stops at Elephant Island and the Weddell Sea) and 20-Mar-2023 (more expensive voyage) & 16-Mar-2024
15 days long (9 days in Antarctica): 07-Mar-2024 & 09-Mar-2025
13-March-2024 & 21-Mar-2025 departures are extended voyages at 16 days long. The ship will use the additional time to venture even further south than a classic Circle trip, into little known territory where few ships have ever ventured. If possible the ship will attempt to reach the vast Wilkins Ice Shelf.
The departures on 20-Mar-2023 & 21-Mar-2024 have a whale watching focus.
Single Supplement And Child Policy
For those travelling solo and want their own cabin, the single supplement is 1.7 times the cost of a single berth, please contact us for details. However, there is no single supplement for passengers willing to share a cabin.
Children aged 8 years old or over are welcome. On selected departures, children under 16 may receive a 40 % discount, please contact us for details.
Optional Adventure Activities
Enhance your trip with the following add ons. Limited places per activity.
Get in contact to check availability.
Activity

Cost

Additional Information

Kayaking

$

450

Basic competency required. Select departures. USD $450 for 2022/23 season. USD $550 for 2023/24 season.

Polar diving

$

700

Limited spaces available. Cold water and dry suit experience required. Select departures USD $700 for 2022/23 season. USD $815 for 2023/24 season.

Camping

$

195

Equipment provided. Select departures. USD $195 for 2022/23 season. USD $215 for 2023/24 season.
Includes
Voyage aboard the vessel as indicated in the itinerary

Accommodation and meals during the voyage on full board including snacks, coffee and tea
All shore excursions and zodiac activities
Educational lectures by expert onboard polar guides
Access to an onboard doctor and basic medical services
Loan of rubber boots and snowshoes for the voyage's duration
Comprehensive pre-departure information
Service taxes and port charges
Luggage transfer from pick-up point to the vessel on the day of embarkation
Pre-scheduled group transfer from the vessel to the airport directly after disembarkation
Excludes
Flights to and from points of embarkation/disembarkation

Any additional pre/post land services, including meals
Transfers not specified in the itinerary
Optional adventure activities (e.g. kayaking)
Visa, passport and any vaccination expenses
Government arrival or departure taxes
Personal travel insurance
Items of a personal nature - laundry, beverages, etc
Customary staff gratuity at the end of the voyage
Additional onboard purchases (i.e. gift shop)
Questions about this Voyage?