Quest for the Emperor Penguins of Snow Hill Island - 11 Days - $12,100
Trip Summary and Itinerary Map
4 full days in Antarctica = 8 planned "off ship" excursions
Unique itinerary focussing on reaching remote emperor penguins

Sail past vast tabular icebergs and visit cacophonous penguin rookeries

2 onboard helicopters allow for remote exploration

Robust ex-research expedition ship with just 108 passengers

Operator's Itinerary
Day 1: Embarkation in Ushuaia
Start your adventure in the world's southernmost city: Ushuaia, Argentina. You'll embark the ship in the afternoon, sailing into the mountain-fringed Beagle Channel.
---
Days 2 & 3: At Sea
During your first two days at sea you'll make your way through the Drake Passage, feeling the cool salt breeze as the rolling sea below hums, occasionally met with a spout of sea spray courtesy of a fin whale. You'll reach the circum-Antarctic upwelling zone after passing the Antarctic Convergence: Antarctica's natural boundary, formed when north-flowing cold waters collide with warmer Sub-Antarctic seas.
Both the marine and avian life change; look out for wandering albatrosses, grey-headed albatrosses, black-browed albatrosses, light-mantled sooty albatrosses, cape pigeons, southern fulmars, Wilson's storm petrels, blue petrels, and Antarctic petrels.
---
Days 4 to 7: Antarctica

Your journey to the eastern side of the Antarctic Peninsula will navigate through the huge tabular icebergs that populate the Antarctic Sound. As you reach the Weddell Sea, the search for the emperor penguins begins. You will explore by both vessel and helicopter to maximise your chances of finding these elusive birds. You might also enjoy scenic flights, and if conditions allow, helicopter landings in otherwise inaccessible locations. Possible landings include:
The west slopes of the Antarctic Sound: The western side of this area is only rarely seen from the air, though the landscape is truly worth the flight: layered sandstones, lava flows, glaciers, icebergs, and pack-ice extend as far as the eye can see. There are often individual emperor penguins and Adelie penguins on the ice floes, as well as kelp gulls, skuas, and various breeds of petrel. Jagged mountain peaks stab through the snow, and enormous walls of ice lie shattered on the slopes below.
Duse Bay: A soaring helicopter flight may deposit you on a rocky hillock close to an old refuge hut overlooking this bay. There's still a lot of snow and ice this time of year, but much of the walk in this location is over frost-shattered rock covered with lichen of all shapes and colours.
Seymour Island: This is where the Swedish Antarctic Expedition of 1901 to 1904 wintered under harrowing polar conditions. Today, you'll see impressive sedimentary rock, fossils, and expansive views.
If conditions allow for deeper ventures into the Weddell Sea, zodiac trips may include:
Devil Island: Home to a large colony of Adelie penguins, this island offers a magnificent vantage point for hikers willing to foot it to the top of the hill. Melting ice sometimes forms a waterfall dropping from the cliffs close to Cape Well-met.
Brown Bluff: Maybe the most scenic location in the entire northern tip of the Antarctic Continent: sheer canyon walls, fallen boulders, beautiful volcanic creations capped with ice. A large Adelie penguin rookery lives here, with gentoo penguins and nesting snow petrels also to be found.
Gourdin Island: Chinstrap, gentoo, and Adelie penguins love this island, which is yet another landing option for your continuing Antarctic adventure.
Esperanza Base: This Argentine research station, which operates year-round and is one of only two civilian settlements in Antarctica, could serve as an alternative landing site.
---
Alternative Days 5 & 6:

If the route to Snow Hill Island is free of multi-year pack ice the ship will attempt to visit the emperor penguin colonies there by helicopter. The flight to the landing point takes approximately 15 minutes, and from there it is a 45 minute walk to the penguin rookery. The helicopter capacity is 4-6 passengers per flight. A short period of time at the rookery is required to allow for all passengers to share this unique experience. Please be aware that safe helicopter operations are extremely sensitive to changing weather conditions. Based on data from the previous 8 voyages, there is around a 50% probability that the Snow Hill Island visit will be able to proceed. If it is not possible to visit, the ship will look for alternative opportunities, including positioning near the ice edge to look for emperors heading out to open water.
---
Day 8: Deception Island

Upon reaching the submerged volcanic crater of Deception Island you'll make your final landing of the voyage, either at Pendulum Cove or Whalers Bay. Conditions on the Drake Passage determine the exact time of departure back towards Argentina.
---
Days 9 & 10: At Sea

Your return voyage is far from lonely. While crossing the Drake, you're again greeted by the vast array of seabirds that you first saw initially heading south, seeming all the more familiar now.
---
Day 11: Disembark in Ushuaia

Every adventure must eventually come to an end. It's now time to disembark in Ushuaia, with memories that will accompany you wherever your next adventure lies.
---
Please note: This itinerary is for guidance only as each voyage will vary depending on ice and weather conditions, and opportunities to see wildlife. Flexibility is key and all part of the adventure of an expeditionary cruise.
Why Swoop
Expert Impartial Advice At No Extra Cost
Antarctic travel options are complicated. We help you choose the right boat, the right cabin, and at the right point in the season.
A Depth Of Knowledge On Board
As a team of ex-guides, tour leaders, & polar adventurers our Antarctic knowledge is leagues ahead of the rest.
For The Ends Of The Earth
Swoop is proud to be B Corp Certified as we know sustainability is more than our carbon footprint (but we're reducing that too).
We're With You At Every Step
We'll make sure you have the adventure of a lifetime.

What our customers think of Quest for the Emperor Penguins of Snow Hill Island
Quest for the Emperor Penguins of Snow Hill Island trips scored 3.5/5 from 3 reviews
Helicoptering to a landing on sea ice, and then walking 20 minutes on the ice to see the grandeur of a huge Emperor Penguin colony. It was a beautiful blue sky day in the vastness of ice, surrounded by iceberg's frozen in the sea ice. The curious penguins, proudly showing off their chicks, made it difficult to maintain distance. When one would approach there seemed always another behind. I fantastic experience. And then we got to do it again the next day!

Travelled: November 2023
Emperors at Snow Hill.

Travelled: November 2023
The most memorable moment must be the first sight of seeing the Emperor penguin colony! It was amazing, just stunning! It was like a dream come true :)

Travelled: December 2022
About The Ship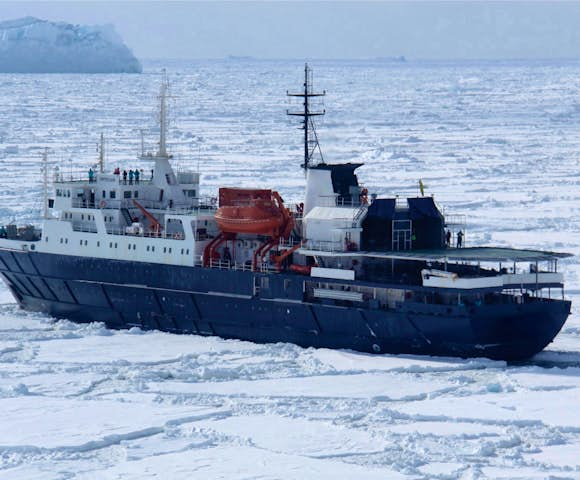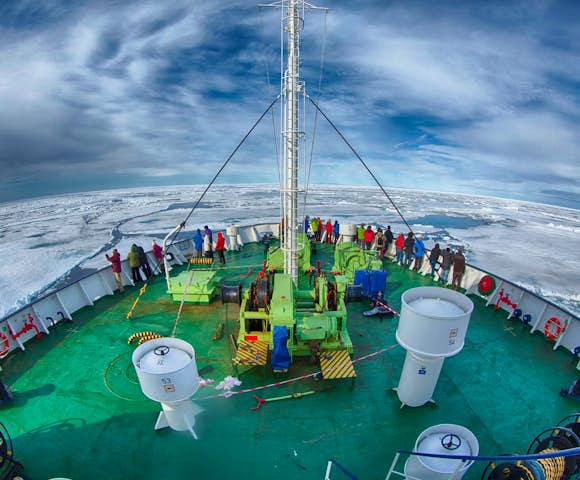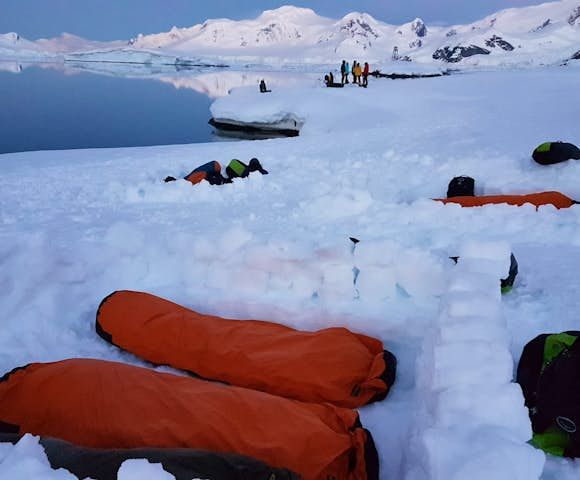 A 3-4* expedition vessel for 108 guests
All cabins have been recently updated
A broad, heavy design = great stability
High 1A ice class rating
Camping, kayaking and snowshoeing available on select departures
Rubber boots are provided on loan
Prices, Departures and Inclusions
Prices quoted below are per person based on 2 people sharing. Cabin availability changes all the time so please contact us for up-to-date details and information on specific cabin availability.

Quad
Twin Porthole
Twin Window
Deluxe
Superior
November 2024
10-Nov-2024

$

12,100

*

$

13,800

$

14,350

$

15,000

$

15,800

Enquire

20-Nov-2024

$

12,100

*

$

13,800

$

14,350

$

15,000

$

15,800

Enquire
* Note: Prices are per person. Paid in USD ($) - figure above is based on today's exchange rate. Actual cost $12100
Single Supplement And Child Policy
For those travelling solo and want their own cabin, the single supplement is 1.7 times the cost of a single berth, please contact us for details. However, there is no single supplement for passengers willing to share a cabin.
Children aged 8 years old or over are welcome. On select departures, children under 16 may receive a 40 % discount, please contact us for details.
Includes
Voyage aboard the vessel as indicated in the itinerary

Accommodation and meals during the voyage on full board including snacks, coffee and tea
All shore excursions and zodiac activities
Educational lectures by expert onboard polar guides
Access to an onboard doctor and basic medical services
Loan of rubber boots and snowshoes for the voyage's duration
Ship-to-shore helicopter transfers (no specific amount of helicopter time guaranteed)

Luggage transfer from pick-up point to the vessel on embarkation day
Pre-scheduled group transfer from the vessel to the airport in Ushuaia directly after disembarkation
Port taxes and any entry fees to landing sites
Excludes
Flights to and from points of embarkation/disembarkation

Any additional pre/post land services, including meals
Transfers not specified in the itinerary
Optional adventure activities
Visa, passport and any vaccination expenses
Airport arrival or departure taxes
Personal travel insurance
Items of a personal nature - laundry, beverages, etc
Customary staff gratuity at the end of the voyage
Additional onboard purchases (i.e. gift shop)
Questions about this Voyage?