Trip Summary and Itinerary Map
7 full days in Antarctica = 14 planned 'off ship' excursions
One of the highlights will be reaching the Polar Circle
Accesses Antarctica in only 2 hours from Punta Arenas, Chile
Choice of two ships with a range of cabins, including balconies
Kayaking, Camping & Paddle boarding on select date(s) (limited places, additional cost)
Complimentary pre/ post hotel nights + parka jacket
Landmarks potentially visited on Fly & Cruise Polar Circle
Operator's Itinerary
Day 1: Punta Arenas, Chile
Your adventure begins in Punta Arenas, Chile, the most populated city in Patagonia. If you arrive early, there are many museums, restaurants and shops to keep you busy for days. By early afternoon, all passengers will be met at the official starting point hotel, where you'll enjoy a welcome dinner and be briefed about preparing for your embarkation day.
---
Day 2: Embarkation Day
Your charter flight from Punta Arenas to Antarctica will have you crossing the legendary Drake Passage in only a few hours. Far below, the ship is approaching King George Island for your arrival. Your first glimpse of dramatic Antarctica landscapes will be from a unique perspective as your plane descends for landing in the South Shetlands. Meet the rest of your shipmates and set sail for the Antarctic Peninsula!
---
Days 3 & 4: Antarctic Peninsula and the South Shetland Islands
There are few places in the world as evocative as Antarctica. As your ship approaches the White Continent, you may be overcome by feelings of excitement and awe. Much of Antarctica is indescribable and can only be fully appreciated through your own eyes.
Your first sightings will be from the ship itself. As the Captain and Expedition Team keep their eyes out for whales and seabirds, you'll be alerted to any new sightings. The team of expert lecturers will also provide in-depth explanations of the glaciology, history and wildlife of the region. Even more exciting are your daily excursions to land. Your first zodiac landing is something you'll never forget! Walking up to a beach that is dotted with penguins and seals is the most intimate way to experience the unique wildlife of Antarctica.
Each landing is different and is dependent on weather, but every day presents new sightings and photo opportunities, and it won't be long before you can tell the difference between an Adelie, Gentoo or Chinstrap penguin. You may take a zodiac cruise in search of whales and icebergs one day, followed by a hike to a penguin rookery the next day. From the booming shot of a calving glacier to the thrill of spotting apex predators like leopard seals and killer whales in action, you'll welcome each day with a sense of adventure and excitement.
Your Expedition Team will accompany you along the way, ensuring safety and providing insights into the places you visit.
---
Days 5 & 6: The Antarctic Circle
Crossing the Antarctic Circle is an impressive achievement, as most expeditions to the Peninsula do not reach 66 degrees 33' S. You and your shipmates will celebrate in style with a well-earned glass of champagne!
With a toast to the first explorers who ventured this far south, you can take pride in knowing you've made it to a part of the world still visited by very few people. This is raw Antarctica, home to the midnight sun, Weddell seals and some of the most magical, odd ice formations are seen anywhere in Antarctica.
---
Days 7 & 8: Northbound Along the Peninsula
If you haven't had your fill of Antarctic wildlife and icebergs by now, you'll surely be satisfied by the time you return to King George Island. You will continue to journey to land by zodiac twice daily as you travel north along the western Antarctic Peninsula. Your Expedition Team will always be on the lookout for any species of penguins, seals and whales that may have eluded you on the journey south.
---
Day 9: Disembarkation and Fly to Punta Arenas
After your week of exploration, you'll say goodbye to the Expedition Team and disembark at King George Island. Your two-hour flight across the Drake Passage to Punta Arenas, Chile, brings your adventure to an end. After we transfer you from the airport to the hotel, you can enjoy a final dinner in the city to reminisce about all the sights and sounds of Antarctica.
---
Day 10: Depart for Home
After breakfast, say goodbye to your fellow explorers and depart for home.
---
NOTE: This itinerary is for guidance only as each voyage will vary depending on ice and weather conditions, and opportunities to see wildlife. Furthermore, it's important to understand that the charter flight(s) to/ from Antarctica are particularly prone to weather, which requires a flexible flight schedule.


What our customers think of Fly & Cruise Polar Circle
Fly & Cruise Polar Circle trips scored 4.8/5 from 4 reviews
Incredible! Every day was surprising, filled with adventure. Highlights: seeing gentoo and chinstrap penguins in a snowstorm, crossing the Antarctic circle, seeing humpback whales up close, and watching penguin parents tend to their hatchlings. I traveled solo and met plenty of like-minded fellow travelers. I would encourage anyone considering it but who might be nervous to go for it! It is the perfect trip for solo travel. The ship operator's team was just phenomenal - great energy, positive attitudes, fun, and generally just good humans. We weren't able to fly back on schedule because of weather conditions but for me this just added to the spirit of adventure. It is not for everyone though! You need to be able to let go of control and roll with unforeseen circumstances.

Travelled: February 2021
Kayaking among the icebergs

Travelled: February 2020
The never-ending sunset over a calm sea. A-68 iceberg. Ice popping while kayaking. The people I met. Truly amazing and magical!!!

Travelled: January 2020
A day on the zodiac with Alex where we spent time with a pod of 4 Humpback Whales surrounding our boat plus the Polar Plunge and everything else which came with this amazing adventure!

Travelled: March 2023
About The Ship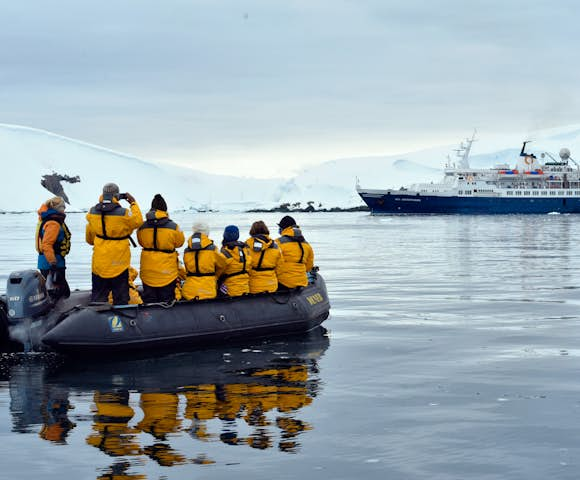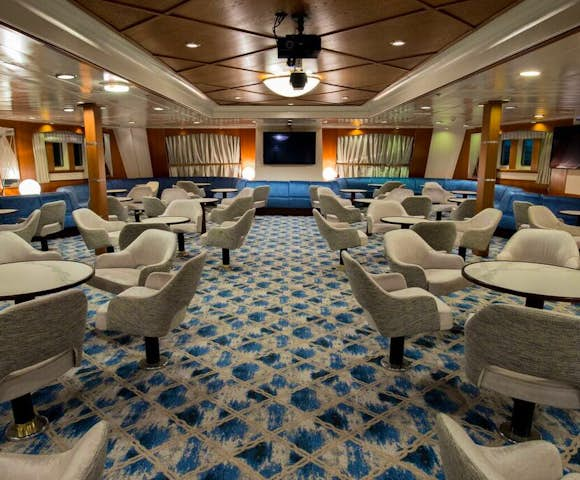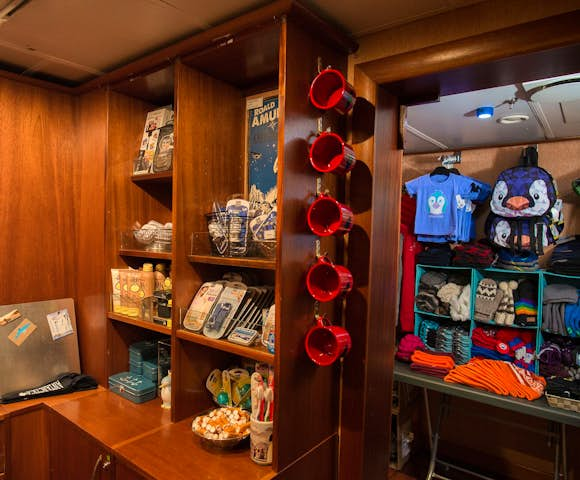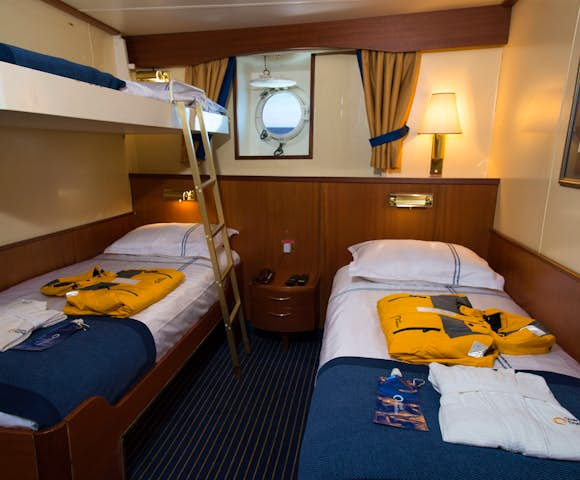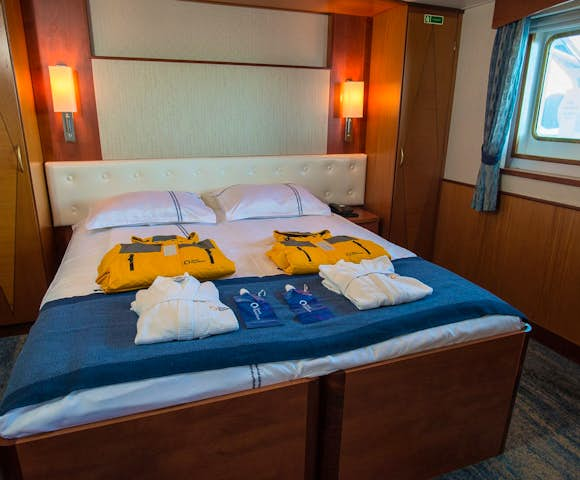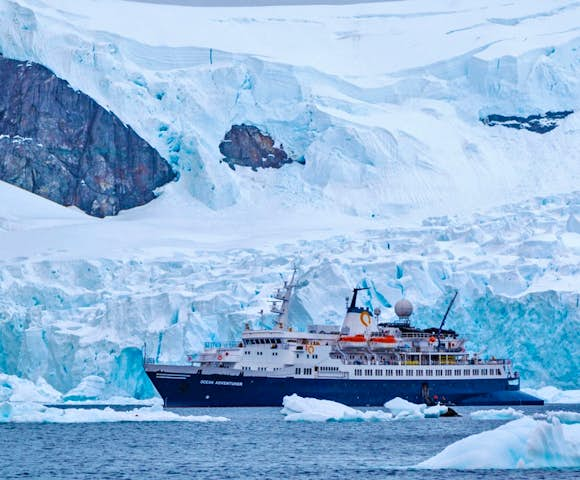 A 3-4* expedition vessel for 128 guests
A spacious ship with extensive public areas
High 1A ice class
Rounded stern & stabilisers = superior stability
Optional kayaking & camping available on selected depatures
Complimentary jacket & loan of rubber boots
Prices, Departures and Inclusions
Prices quoted below are per person based on 2 people sharing. Cabin availability changes all the time so please contact us for up-to-date details and information on specific cabin availability.
Triple
Twin Porthole
Twin Window
Superior Twin
Twin Deluxe
Suite
Owner's Suite
January 2024
25-Jan-2024

$

16,295

$

20,995

$

22,595

$

23,995

$

23,995

$

31,495

$

33,595

Enquire

March 2024
3-Mar-2024

$

14,995

*

$

18,495

$

19,495

$

20,995

$

22,495

$

29,495

$

31,495

Enquire

January 2025
24-Jan-2025

$

16,495

$

20,495

$

22,495

$

23,995

$

22,995

$

31,495

$

33,995

Enquire
* Note: Prices are per person. Paid in USD ($) - figure above is based on today's exchange rate. Actual cost $14995
Single Supplement And Child Policy
For those travelling solo who would like their own cabin, there is a good number of dedicated single cabins. The single supplement is 1.7 times the cost of a standard cabin and 2 times the cost of a superior category. Please contact us for details. There is no single supplement for solo passengers willing to share a cabin.
At date of embarkation, the minimum age restriction of 8 years and a minimum height and weight requirement of 64 lbs or 29kg and 48" or 1.2m must be met. Please contact us for details.
Optional Adventure Activities
Enhance your trip with the following add ons. Limited places per activity.
Get in contact to check availability.
Activity

Cost

Additional Information

Camping

$

295

Selected departures. Equipment provided.

Kayaking

$

995

An immersive full sea kayaking program for those who want to kayak multiple times (as often as weather and ice conditions allow). Prior kayaking experience is required and you must be able to do a wet exit to participate. Available on all departures, subject to weather and ice conditions. Booking in advance is essential. .

Paddleboarding

$

295

Selected departures. Basic competency required.

Paddling

$

295

One-off paddle session lasting approximately 60-90 minutes using sit on top kayaks. Available on all departures, subject to weather and ice conditions. Minimal kayaking experience is required. Booking in advance is strongly recommended.
Includes
Transfers as indicated

Briefing dinner on Day 1
2 night's hotel stay with breakfast
Return flights from Punta Arenas to Antarctica
Online photo journal of the voyage
Complimentary parka jacket
Voyage aboard the vessel as indicated in the itinerary
Accommodation and meals during the voyage on full board
Beer and wine during dinner, and coffee, tea and cocoa available around the clock
All shore excursions and zodiac activities
Educational lectures by expert onboard polar guides
Access to an onboard doctor and basic medical services
Loan of rubber boots for the voyage's duration
Comprehensive pre-departure information
Port taxes and any entry fees to landing sites
Excludes
Any flights to and from points of embarkation/disembarkation not listed as included

Any additional pre/post land services, including meals
Transfers not specified in the itinerary
Optional non-complimentary adventure activities (e.g. kayaking)
Visa, passport and any vaccination expenses
Airport arrival or departure taxes
Personal travel insurance
Items of a personal nature, e.g. laundry, beverages and communication
Customary staff gratuity at the end of the voyage
Additional onboard purchases (i.e. gift shop)
Questions about this Voyage?