Trip Summary and Itinerary Map
6 full days in Antarctica & 12 planned 'off ship' excursions
Flights in both directions from Punta Arenas with reserved plane seating possible
The ship has a high ice class rating and a first class captain
Kayaking and snowshoeing available (additional cost)
Pre-flight hotel night in Punta Arenas with dinner and wine
Landmarks potentially visited on 66 Degrees South Fly Cruise
Operator's Itinerary
Day 1: Punta Arenas
After being welcomed in Punta Arenas, Chile, you will be transferred to your hotel and attend a briefing that provides important information about your voyage and reviews the essential guidelines for Antarctic visitors. A welcome dinner introduces you to the local gastronomy as you meet fellow adventurers from around the world.
---
Day 2: Fly from Punta Arenas to King George Island
A smooth two-hour flight takes you efficiently from Punta Arenas to King George Island, in the South Shetland Islands. Your Antarctic adventure begins as you exit the airplane and the clear Antarctic air fills your lungs for the first time. A short hop by minibus takes you to the water's edge. Here the adventure begins in earnest as you don your lifejacket and board your Zodiac rib for the ride to your expedition vessel, which is anchored in the bay.
---
Days 3 to 8: Antarctic Peninsula and South Shetlands
Sail along ice-filled fjords and among spectacular icebergs, while enjoying the company of sea birds, penguins, seals and whales. Visit the South Shetland Islands and the western coast of the Antarctic Peninsula, disembarking by Zodiac each day. In small groups, hike to extraordinary sites and take part in exploratory Zodiac excursions to otherwise inaccessible areas. Expert polar guides share their passion for Antarctica through an engaging program of illustrated presentations, and lead you ashore to interpret the wildlife, the history and the many wonders of the Antarctic environment. From the glass-enclosed lounge, enjoy spectacular views while sharing your daily adventures with fellow guests over a drink.
The goal of the expedition is to sail far south in the attempt of reaching the Polar Circle. The Expedition Team sets the specific voyage route based on local conditions and takes advantage of the ever-changing opportunities provided by Nature. Flexibility will be the key to a successful voyage. Your expedition may include visits to sites such as Port Lockroy, Petermann Island, Paradise Bay, the Lemaire Channel, Prospect Point or other magnificent places.
Each voyage is unique and each is crafted to provide the best possible overview of the varied Antarctic environment.
---
Day 9: Fly back to Punta Arenas
Back at King George Island, bid farewell to Antarctica as you board the flight to Punta Arenas. Upon arrival, transfer to your hotel for the night. (Note: Meals in Punta Arenas are at your leisure and not included in the program.)
---
Day 10: Punta Arenas
After breakfast, transfer to the Punta Arenas airport for your onward flight.
---
Note: This itinerary is for guidance only as each voyage will vary depending on ice and weather conditions, and opportunities to see wildlife. Furthermore, it's important to understand that the charter flight(s) to/ from Antarctica are particularly prone to weather, which requires a flexible flight schedule.

What our customers think of 66 Degrees South Fly Cruise
66 Degrees South Fly Cruise trips scored 4.8/5 from 17 reviews
The highlight for us was the day we went through the Lemaire Channel, visited Pleneau Bay and Port Charcot, did the polar plunge, and had a deck BBQ dinner. It was an amazing day. The landscape and wildlife were incredible. Conceptualizing the sheer quantity of ice surrounding you is breath taking. And the penguins were always funny to watch. The guides were incredible and beyond knowledgable. Their passion is contagious and it was clear they love their job. Fellow passengers and other ship crew were also extremely friendly and interesting. One unfortunate surprise was the final payment process. The payment processor was through a different company and country than any of the previous payments, so getting approval from one's card issuer was unnecessarily challenging for many passengers. This could've been prevented by communicating the information prior to departing Punta Arenas. Our most magical moment was at the Port Charcot hike where scenery was truly amazing and looked like a painting.

Travelled: February 2021
The trip was fantastic. I highly recommend that anyone travel to Antarctica. I am so glad that we chose to fly the Drake Passage, instead of sailing it, which gave us more time in Antarctica. I also think crossing the polar circle was a huge highlight. I would also insist that anyone booking a trip participate in the kayak program... knowing what I know now and having experienced the kayak program was the best thing about the trip. Kayaking gave us a pristine and uncluttered experience of Antarctica and allowed us to visit more than other tourists on our boat. I also really enjoyed stepping on the Antarctic continent. Most of the stops were on islands along the peninsula, but one stop was on the continent itself, which is a must do. The people we met on the trip were great. I did notice that the average age range of the guests on board was 60-80 years old, but in the kayak program it was younger (30-40 years old) and more at my pace. It was great to meet all the guests on the ship, but I did notice that the tour groups tended to stay separate and did not mingle, and that was disappointing. The food was great, but there were not many chicken options and limited salad bar items. I would have liked to see more white-meat options at dinner.

Travelled: February 2021
Kelly, Shannon and Robin Politte -
Hard to pick just one moment --- the colours in icebergs, the complete lack of fear of penguins (they have to be the only animal on the planet that doesn't run and hide from humans), the active volcano, the whales and their incredible curiosity and playfulness, the moment I set foot on Antarctica --- it was one memorable moment after another.

Travelled: January 2023
Over the top fabulous trip. Surprise: 1)I don't think I understood that the trip was not a "Swoop" trip but rather a brokered trip booked through the ship's operator. 2)I didn't expect that over half the people of the trip (China residents) would not speak English. Made it tough for getting them understanding instructions. The variety of people from 13 countries was great; the other 12 countries could speak some or fluent English.

Travelled: February 2021
I can't say which was my most memorable because every minute of the tour was memorable! 1.) Landing on the continent with the flag 2.) Polar circle crossing baptismal ceremony 3.) Polar plunge 4.) Spending time with fellow guests, staffs, and crew of Ocean Nova

Travelled: January 2023
The pure and spacious of Antarctic, the abundant of wildlife, the greatness of the nature, the efforts and enthusiasm every expedition staff are also very impressive. I still missing all of these when I back home.

Travelled: January 2020
The ship's crew was the highlight of the trip for us, they were simply magnificent. While it was good to go and see Antarctica, once was enough for us there. The surprise was how desolate it was. Very austere and lonely.

Travelled: February 2021
I answered NO above because, at my age, there are just too many other places to see. Chile was a completely new country to me and it was interesting to learn about the history. The Andes are awesome. Antarctic wildlife was like just a few places in the world were humans are not feared. That is so unusual and a privilege to experience.

Travelled: February 2021
Two highlights were crossing the Antarctic Circle and stepping foot twice on the continent.

Travelled: February 2021
The most memorable moment of all times was the heat and the intensity of the sunlight that i saw at the top of the mountain. As u know, Antarctica had the highest recorded temperatures while I was there. and its not just like any other high temperature that I'm used to in NY, this sun in Antarctica is very strong. its bright and it got very hot. never did I even imagine that the sun and the heat that i will face in Antarctica will be stronger than what im used to NY. goes to show how severe the climate emergency is. and its real!. that was astonishing!

Travelled: February 2020
spending hours with the penguins

Travelled: March 2020
I think for me it was the feeling of a vast space, extraordinary geological riches, of course the wildlife, but also the human footprint.

Travelled: February 2021
Torres del Paine - The ever changing view of the Paine Massif and Los Cuernos from our room at Explora. Antarctica - The scale of the landscapes and walking among thousands of penguins.

Travelled: March 2023
Everything was amazing. The whales, seals and penguins are magnificent and cute at the same time. The lectures bring you new knowledge and understanding. The expedition teams are superb! And the service on board and at Punta Arenas also super nice.

Travelled: January 2023
Highlight was kayaking landscapes were beautiful, and the wildlife, although not comparable to Africa, was enjoyable Nice people on the trip No surprises

Travelled: February 2021
The best place in the world, there is no war, no pollution ( or very little), environment and wild animals are not impacted by human activities

Travelled: January 2023
being attacked by a leopard seal while in a kayak

Travelled: March 2020
About The Ship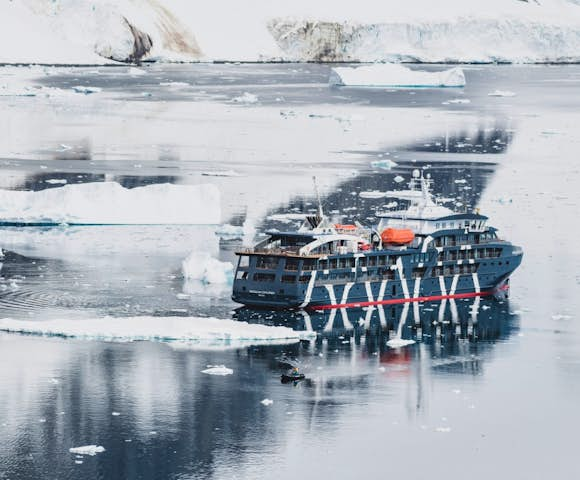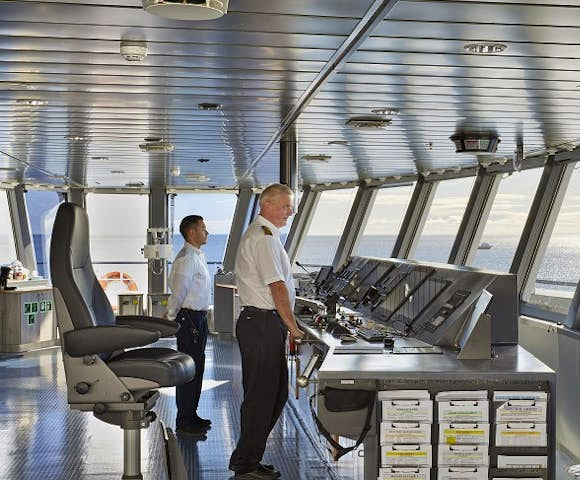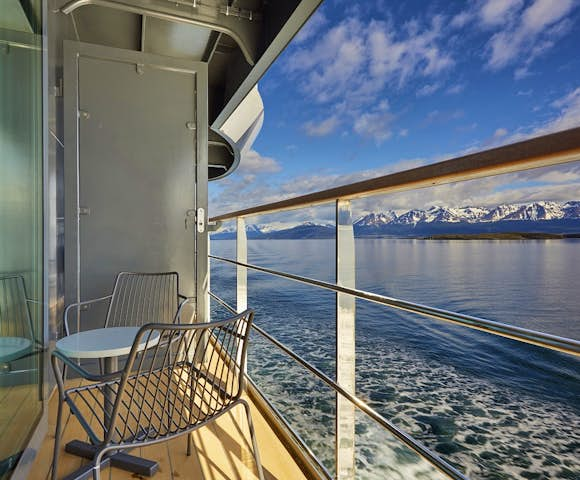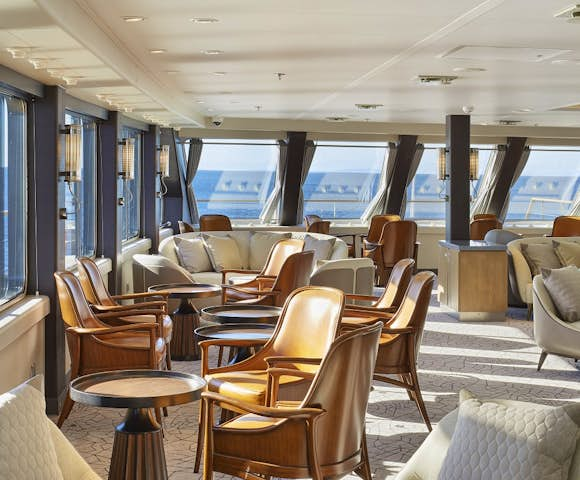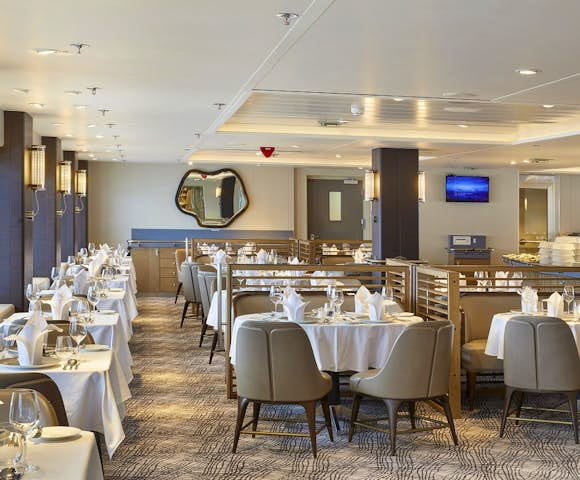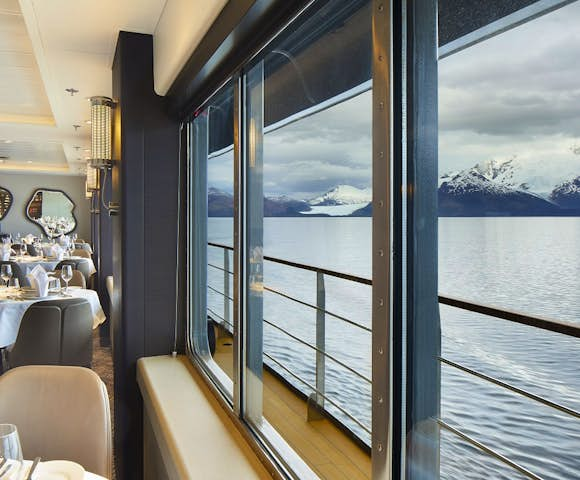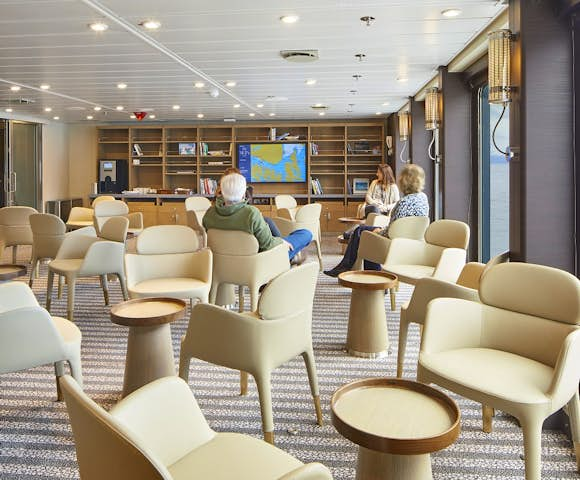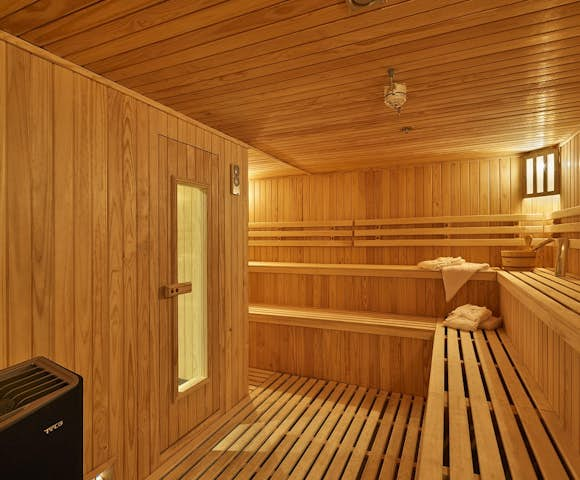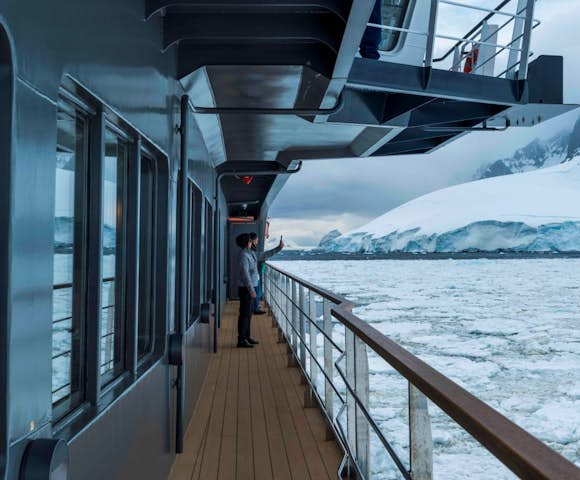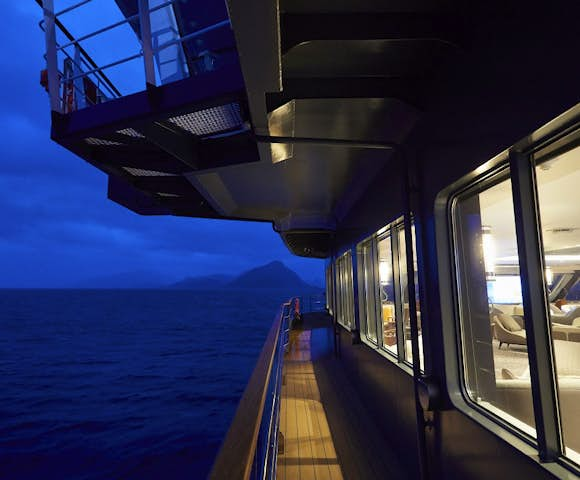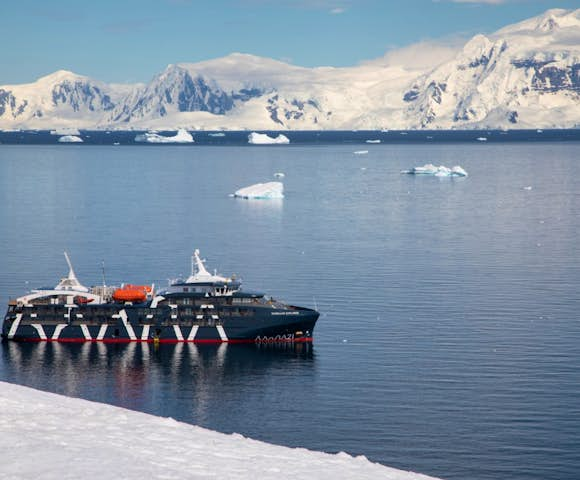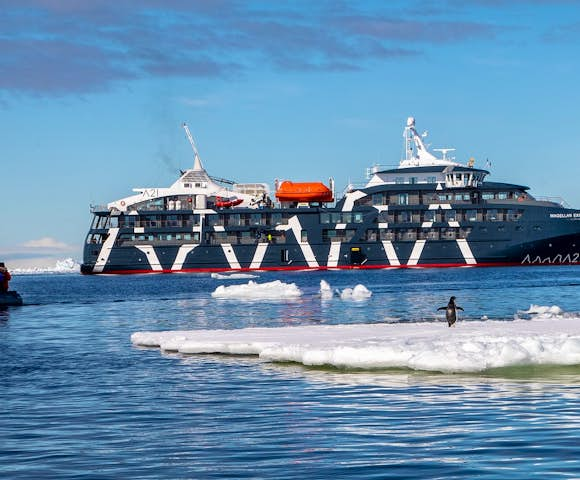 The first small-ship (under 100 passengers) built specifically for Antarctic expedition travel since 2003
Limited to a maximum of only 76 passengers per departure, Antarctic exploration doesn't get much more personal.

Hugely spacious, well appointed suites, many with floor to ceiling windows and outside balconies

Adventure activities, such as kayaking and snowshoeing, will be available to guests
Prices, Departures and Inclusions
Prices quoted below are per person based on 2 people sharing. Cabin availability changes all the time so please contact us for up-to-date details and information on specific cabin availability.
Triple Suite
Triple
Twin Window
Porthole
Veranda
Deluxe Veranda
Single
Penthouse Suite
Grand Suite
January 2024
1-Jan-2024
Full

$

15,595

*

$

18,495

Full
Full
Full

$

26,395

Full
Full

Enquire

24-Jan-2024
Full
Full
Full

$

21,395

Full

$

25,995

$

34,995

Full
Full

Enquire

February 2024
16-Feb-2024
Full

$

15,595

*

$

18,495

Full
Full
Full

$

26,395

Full
Full

Enquire

January 2025
1-Jan-2025
Full

$

15,995

$

18,795

Full
Full
Full

$

26,395

Full
Full

Enquire

24-Jan-2025
Full

$

24,995

Full

$

22,795

$

26,995

$

29,795

$

36,495

$

36,495

$

32,995

Enquire

February 2025
16-Feb-2025
Full

$

15,995

$

18,795

Full
Full
Full

$

26,395

Full
Full

Enquire
* Note: Prices are per person. Paid in USD ($) - figure above is based on today's exchange rate. Actual cost $15595
Additional Notes
Please note for departures from November 2024 - March 2025 Grand Suite cabins will be renamed as Suites.
---
Due to popularity of this trip, early booking is strongly advised (12-18 months in advance).

---
Passengers who book to share a Twin Cabin are accommodated in single rooms at the hotel in Punta Arenas for which there's a mandatory supplement on top of the voyage price of USD $595 (2023/24 season) or USD $790 (2024/25 season).

---
Preferred seating on your Antarctic flights can be added for USD $550 per person (limited spaces). This guarantees priority boarding and an aisle or window seat, with an empty middle seat, at the front of the aircraft.

Single Supplement And Child Policy
For those travelling solo and want their own cabin, the ship has a good number of dedicated single cabins, please contact us for details. However, there is no single supplement for passengers willing to share a cabin.
Children aged 8 years or more are admitted if accompanied by a fully responsible adult. A 5% discount on the rate per person is offered for children up to 8-12 years of age.
Optional Adventure Activities
Enhance your trip with the following add ons. Limited places per activity.
Get in contact to check availability.
Includes
Airport/ hotel transfers as indicated

Hotel accommodation in P. Arenas on day 1 and 9
Charter flights P. Arenas/Antarctica return
Voyage aboard the vessel as indicated in the itinerary
Accommodation and meals on full board basis
Complimentary drinks offered during meals
Welcome dinner including drinks
All guided shore excursions and zodiac activities
Educational lectures by expert onboard polar guides
Access to an onboard doctor and basic medical services
Loan of rubber boots for the voyage's duration
Comprehensive pre-departure information
IAATO passenger fee
Excludes
Parka jackets are not provided

Any flights to/ from voyage start and end points
Any additional pre/post land services, including meals
Transfers not specified in the itinerary
Optional adventure activities (e.g. kayaking)
Visa, passport and any vaccination expenses
Airport arrival or departure taxes
Personal travel insurance
Items of a personal nature - laundry, bar tab, etc
Customary staff gratuity at the end of the voyage
Additional onboard purchases (i.e. gift shop)
Questions about this Voyage?