Trip Summary and Itinerary Map
8 full days in Antarctica = 16 planned 'off ship' excursions
Flies both ways over the Drake passage - in just 2 hours
Travelling on a small ship with 120-130 guests means faster logistics and everyone can do landings together
Includes pre and post flight hotel nights in Punta Arenas
Kayaking, diving and snorkelling activities on selected departures (additional cost)
Complimentary parka jacket & post trip voyage journal
Landmarks potentially visited on Fly & Cruise the Antarctic Peninsula
Operator's Itinerary
Day 1: Punta Arenas

Arrive in Punta Arenas, where you will be met and transferred to your downtown hotel. Overlooking the Straits of Magellan, the city sits astride one of the world's most historic trade routes. Today, Punta Arenas reflects a great mix of cultures, from English sheep ranchers to Portuguese sailors, and it remains an utterly fascinating testament to Chile's rich history.
Tonight, we will gather to meet our fellow expeditioners and a briefing on the first leg of our expedition – our flight to Antarctica!
---
Day 2: King George Island

This morning we will be transferred to Punta Arenas airport for our early morning charter flight to King George Island, Antarctica. The flight will take approximately one-and-a-half hours.
On arrival into King George Island our expedition team is on hand to greet you for your Zodiac transfer to your vessel. You'll have time to settle into your cabin before our important briefings.
King George Island is located at the northern part of the Antarctic Peninsula in the South Shetland Islands and is one of the most remote places on Earth. A clear sky with perfect visibility is required in order for the plane to take off and land safely, so delays are very possible.
---
Days 3–10: Antarctic Peninsula

It's almost impossible to describe the feeling of arriving in Antarctica: spotting your first iceberg and taking a deep breath of some of the most fresh, crisp air on earth is an experience that will stay with you forever. On arrival, the western side of the Antarctic Peninsula and the South Shetland Islands are ours to explore, and we have a host of choices available to us. Because we are so far south, we will experience approximately 18-24 hours of daylight, plenty of time to fill your days with adventure.
Your experienced expedition team will use their expertise to design your voyage from day to day. Having made countless journeys to this area, they will choose the best options based on the prevailing weather, ice conditions and wildlife opportunities.
We generally make landings or Zodiac excursions twice a day, along spectacular ice cliffs or among grounded icebergs, keeping watch for whales, seals and porpoising penguins. Zodiacs will transport you from the ship to land, to visit penguin rookeries, discover historic huts and explore some of our favourite spots along the peninsula.
Whilst ashore there is a chance to stretch your legs and wander along pebbly beaches or perhaps up snow-covered ridgelines to vantage points with mountains towering overhead and ice-speckled oceans below. If you have chosen an optional activity, you'll have the option to do that whenever conditions allow. Keen polar plungers will have the chance to fully immerse themselves in polar waters - conditions permitting!
We may also cruise some of the narrow, dramatic straits separating offshore islands from the mainland, or linger in scenic bays to watch whales travelling or feeding. No better time to enjoy the observation lounge or make your way to the bridge for uninterrupted views of Antarctica in all its splendour. Keep an ear out for the creak and deep rumble of glaciers as they carve their way from summit to sea, and take a quiet moment to experience the wonder of this incredible White Continent.
---
Day 11: King George Island to Punta Arenas

As we approach Frei Base on King George Island, it is time to farewell Antarctica and our amazing adventure before boarding our return flight to Punta Arenas, Chile. On arrival at the Punta Arenas airport, you will be transferred to our preferred downtown hotel.

---
Day 12: Punta Arenas

After breakfast, bid a fond farewell to your fellow passengers as we all continue our onward journeys, hopefully with a newfound sense of the immense power of nature.
---
NOTE: This itinerary is for guidance only as each voyage will vary depending on ice and weather conditions, and opportunities to see wildlife. Flexibility is key and all part of the adventure of an expeditionary cruise. Furthermore, it's important to understand that the charter flight(s) to/from Antarctica are particularly prone to weather, which requires a flexible flight schedule.
Why Swoop
Expert Impartial Advice At No Extra Cost
Antarctic travel options are complicated. We help you choose the right boat, the right cabin, and at the right point in the season.
A Depth Of Knowledge On Board
As a team of ex-guides, tour leaders, & polar adventurers our Antarctic knowledge is leagues ahead of the rest.
For The Ends Of The Earth
Swoop is proud to be B Corp Certified as we know sustainability is more than our carbon footprint (but we're reducing that too).
We're With You At Every Step
We'll make sure you have the adventure of a lifetime.

What our customers think of Fly & Cruise the Antarctic Peninsula
Fly & Cruise the Antarctic Peninsula trips scored 4.4/5 from 8 reviews
The most exciting was being lucky enough to see all of the Orcas surrounding our ship. They were everywhere, and so beautiful. We all jumped up from dinner and ran outside without our jackets (note: worth carrying your jacket for these sudden surprise viewings!) and it was truly magical.

Travelled: February 2023
hard to pin down one, seeing all the adorable penguins was nice, the majestic scenery when ship was sailing, some of icebergs and glaciers with the blue in it, the polar plunge (although that was about 15 seconds), waiting in Punta Arenas for two days due to bad weather before we could fly over to King George Island,

Travelled: March 2023
I don't really do "favorites". There were so many incredible moments and each is special in its own way.

Travelled: February 2022
The whole trip was a hugh memory. Being able to go to a untouched environment and leaving it as you found it was the memory also. Seeing the the many different species living and thriving together brings a smile to my face as I am writing this review.

Travelled: February 2023
The trip was full of memorable moments - for the first three days, it was just one awe-inspiring moment after another, and really we continued to be surprised and delighted up until the last hour. If I have to pick one moment, I'm going to pick the bum slide down a steep slope overlooking a calving glacier and a tranquil, iceberg-filled bay that followed a lovely hike past a penguin rookery. But also: the orcas appearing during the whale talk, the baby humpback breaching off the bow of the zodiacs, the polar plunge, watching from the outriggers as the the boat cut through the ice, drinking macallan with ice fresh from a berg, having an impromptu dance party with my husband on top of a volcanic cinder cone. It was just a super trip from beginning to end.

Travelled: February 2022
Kayaking in the ice and seeing the penguins swimming beside us.

Travelled: February 2023
Zodiac excursion Spurt island.

Travelled: February 2023
Pristine beauty of natural unspolied habitat

Travelled: February 2023
About The Ship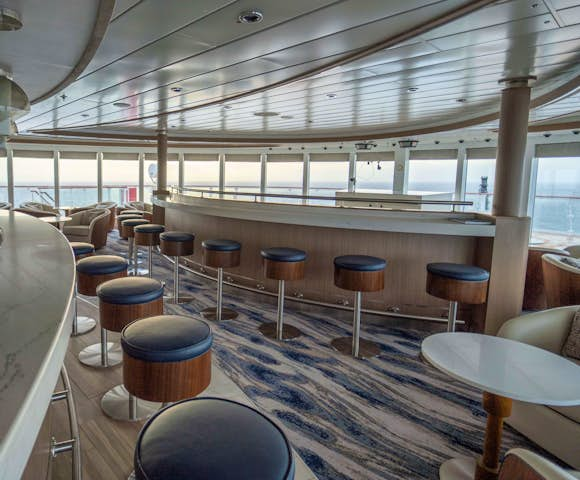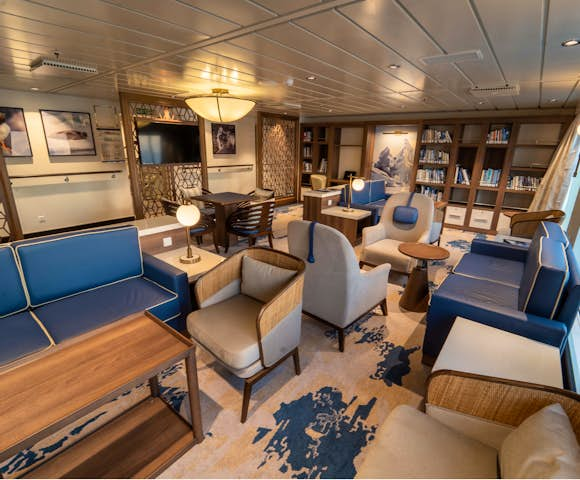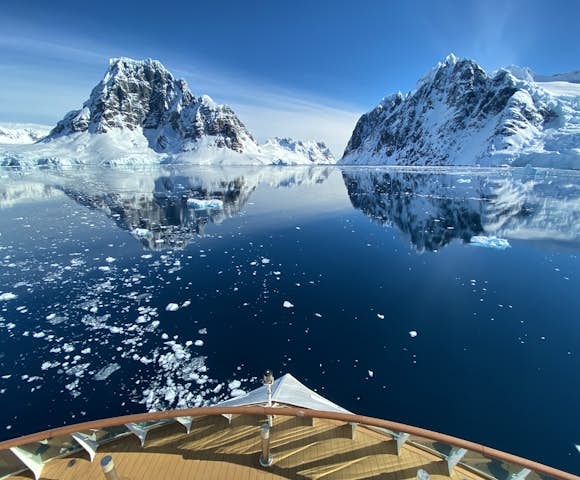 With its sleek X-bow lines and ground breaking design, few new Polar ships have created such excitement.

Zodiac platforms specially designed for quick boardings and more time exploring
State-of-the-art stabiliser system and polar code 6 ice rating

Large comfortable cabins
Prices, Departures and Inclusions
Prices quoted below are per person based on 2 people sharing. Cabin availability changes all the time so please contact us for up-to-date details and information on specific cabin availability.

* Note: Prices are per person. Paid in USD ($) - figure above is based on today's exchange rate. Actual cost $15895
Single Supplement And Child Policy
For those travelling solo who would like their own cabin, the single supplement is 1.5 times the cost of a single berth, please contact us for details. However, there is no single supplement for passengers willing to share a cabin.

Children aged 8 years old or over are welcome. There isn't any concession on pricing. Please contact us for details.
Optional Adventure Activities
Enhance your trip with the following add ons. Limited places per activity.
Get in contact to check availability.
Activity

Cost

Additional Information

Kayaking

$

1,295

An immersive full sea kayaking program for those who want to kayak multiple times (as often as weather and ice conditions allow). Prior kayaking experience to at least intermediate level is required and you must be able to do a wet exit to participate. Subject to weather and ice conditions. Booking in advance is essential. Available on select departures. Cost varies from USD $1295-1330.

Polar snorkelling

$

640

Available on select departures. No experience required. Dry suit provided.

Polar diving

$

1,260

Experience required. Available on select departures.

Paddling

$

640

Available on select departures. A gentler option staying closer to shore and using inflatable kayaks, in a group of maximum 6 participants. Includes multiple outings, subject to suitable weather and ice conditions. Suitable for novices and only offered in calm conditions. Booking in advance is essential.
Includes
Flights: Punta Arenas to Antarctica as indicated in itinerary
Pre and post-flight hotel night
Transfers as indicated in itinerary
A digital photo book produced with photos and ship logs from your voyage
3-in-1 waterproof polar expedition jacket
Voyage aboard the vessel as indicated in the itinerary
Accommodation and meals during the voyage on full board
Captain's Welcome and Farewell drinks reception
Beer, house wine and soft drinks with dinner
All shore excursions and zodiac activities

Educational lectures by expert onboard polar guides
Complimentary WiFi
Access to an onboard doctor and basic medical services
Loan of rubber boots for the voyage's duration
Comprehensive pre-departure information
Port taxes and any entry fees to landing sites
Excludes
Any flights to and from points of embarkation/disembarkation

Any additional pre/post land services, including meals
Transfers not specified in the itinerary
Optional non-complimentary adventure activities (e.g. kayaking)
Visa, passport and any vaccination expenses
Airport arrival or departure taxes
Travel insurance or emergency evacuation charges
Optional adventure activities
Optional activity surcharges
Items of a personal nature, e.g. laundry, beverages and communication
Additional onboard purchases (i.e. gift shop)
Gratuities for ship crew
Questions about this Voyage?