5 reasons to explore Tierra del Fuego
Follow in the footsteps of intrepid explorers: Darwin and Magellan, discovering the final place on earth, outside Antarctica, to be inhabited by humans.
Spot soaring condors and eagles, nesting penguins, lounging seal lions and endearing beavers: Tierra del Fuego is a naturalist's dream.
Fantastic local food and a great variety of hotels make adding-on 2 or 3 days in Ushuaia the perfect appetizer to your main course in Antarctica.
Witness, discover, interact and have fun with the locals at The End of the World as you learn about their authentic way of life.
Catch king-crab, hike forest trails, explore by 4x4, wild-camp, canoe in rivers and lakes, or simply relax and enjoy the magnificent scenery.
Swoop says
Building in extra time in Ushuaia as provision for the frequent flight delays in the region is the perfect excuse to spend time exploring Tierra del Fuego. Some Antarctic operators will provide pre-cruise accommodation in Ushuaia, which we can easily extend for you if desired.

Our favourite 2-day experiences in Tierra del Fuego
Special Offers:Swoop has access to the widest range of offers and can help you find the right trip, cabin, & price.
Discover Tierra del Fuego
Land of Fire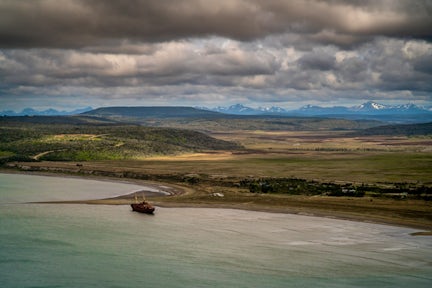 South America's largest island, this vast archipelago was originally named 'Tierra de Humos' or Land of Smoke by Ferdinand Magellan in 1520 upon sighting the smoulder from the indigenous people's fires, dotted along its shores. The expedition had stumbled across the southernmost land mass on the planet outside of Antarctica, with an area larger than Denmark, before setting sail across the newly baptised Pacific Ocean and circumnavigating the globe. As the saying goes: 'where there's smoke, there's fire', so the name Tierra del Fuego or Land of Fire was forever scribed in history.
This mystical region nowadays hosts towns with and all the necessary services for travellers willing to spend a few days discovering its hidden treasures.
Ushuaia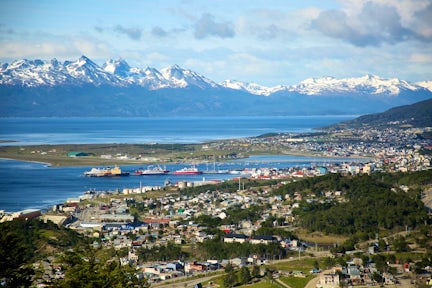 Ushuaia, the southernmost city in the world
Unpronounceable to most, the world's southernmost city, likely derives from the native Yamana expressions Ushu and Waia meaning 'bay facing the sunset'. Established on the shore of the Beagle Channel, the settlement grew as a notorious penal colony, you could say the Alcatraz of Argentina, to become Tierra del Fuego's capital.
Nowadays, the jail is a museum and the city's population is about 80,000. Ushuaia's wild frontier feel remains, yet it provides everything a traveller requires: the perfect place to base oneself for discovering both the stunning national park and beyond.

Wildlife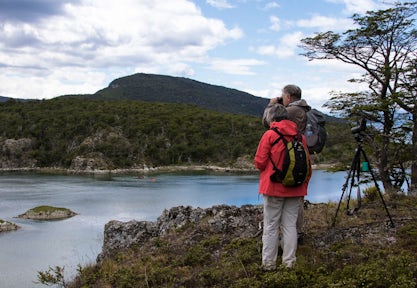 Birdwatching in Tierra del Feugo
Given the island's diverse ecosystems and unspoilt natural beauty, Tierra del Fuego offers wonderful opportunities for spotting various wildlife, especially birds. One can sometimes see both coastal and mountainous species, such as the emblematic Andean condor. Other wonderful species to sight are the characteristic Magellanic woodpecker (with its bright red-plumed head), and the ever-so cute Magellanic penguin - not seen in Antarctica.

Guanacos, a relative of the llama, roam free in the northern part of the island, where no natural predator exists. Foxes are widespread, as are North-American beavers; a species introduced last century and now number in their hundreds of thousands across the archipelago.
David says
Plan your stay
Weather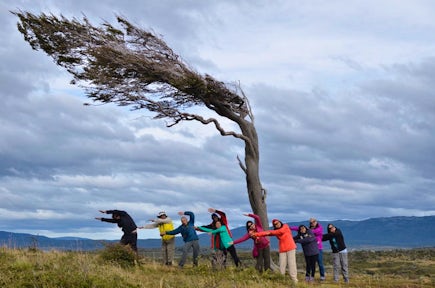 Battling the winds of Patagonia
Patagonia is famed as one of the most unpredictable and windiest, places on earth in terms of weather. Located nearer to Antarctica (600 miles away) than Buenos Aires (approximately 2000 miles away) and surrounded by ocean, you can understand why Tierra del Fuego experiences 'four seasons in one day', so be prepared.
Having said that, winters are not as wicked as you'd expect, with very little wind, and summer days only occasionally exceed 70F or 20C, as the oceans moderate the climate considerably.
We recommend dressing like an onion (lots of layers!), every day, so you're ready for whatever the weather may throw at you.
Fuegian Food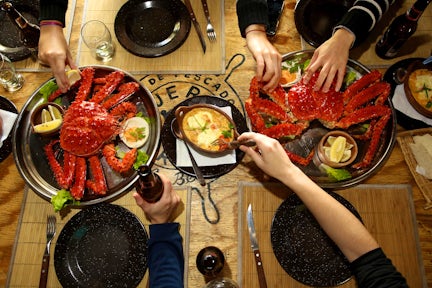 Authentic king crab lunch experience in Tierra del Fuego
Tierra del Fuego excels in its local and authentic culinary offering: The queen of dishes is the centolla or king crab - the local speciality. Other fresh sea-food options are squid, sea bass, salmon and trout, which will only leave you wanting more. From the earth, one has to try the famous Argentine steak grills and especially the local king of dishes, the sumptuous lamb bbq: asado de cordero. Cooked slowly over hot embers, with a specially-made brine tossed on as it roasts, this dish is a must-try for any foodie visiting Tierra del Fuego.

Fueguinos, as the locals are called, are proud of their regional dishes, and our featured 2-day experiences all contain great lunch options, meaning foodies will delight in their stay at the End of the World.

How long to stay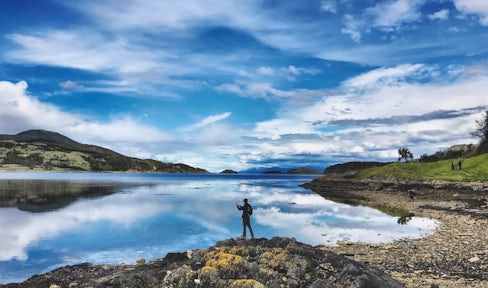 Dotted with protected areas, wild open spaces, a complex array of fjords, rivers, forests with mountains and glaciers abound, Tierra del Fuego merits time and dedication. The good news is that our itineraries are flexible; easily combined and tailored to your needs should you only have limited time to spend in Ushuaia en-route to Antarctica. Ushuaia offers a wide array of hotels, for all types of traveller, some truly superb dining options, and great local guides itching to show you their land and tell you about their history. We recommend at least 2 full-days in Ushuaia to really get a feel for the place, get over that long-haul jet lag and soak up the beauty of the region, before your trip of a lifetime.
Our Experiences
Special Offers:Swoop has access to the widest range of offers and can help you find the right trip, cabin, & price.

What our customers think of Ushuaia & Tierra del Fuego
Ushuaia & Tierra del Fuego trips scored 4.6/5 from 4 reviews
The National Park was beautiful and the gourmet meal at Alma Yagan was outstanding. Read the full review

Travelled: January 2023
A little dream town. My hotel was basic but clean and in the center of town. I ate at all the recommended restaurants and had the recommended King Crab Claws! I collected some gifts there, visited the tourist sites and would like to revisit. Read the full review

Travelled: February 2020
Rosarii Nuala Falvey - United States Of America
From the very beginning, Swoop was with us. They educated us about the perfect trip, the perfect boat, what to sign up for, the clothing to bring, hotels to stay at, restaurants to go to in Ushuaia. When our ship had an issue and there was a one day delay, Swoop literally "swooped in" and had their expert on Ushuaia contact us and give us recommendations. They became like "family"...we adore Ange and Alex and the entire team!!! Read the full review

Travelled: January 2020
Marina Angleton - United States Of America
We did a number of tours in Ushuaia and found the scenery and hikes to be great. Very happy we spent this additional time in the area. Read the full review

Travelled: December 2019
Steve Hatten - United States Of America
Many thanks for making my unforgettable experience in Tierra del Fuego possible. The land is one of a kind; the only regret I have that I was not able to go for more days!

Travelled: April 2018
Christian - United States of America
Places to stay
Your Antarctic adventure may have some accommodation included, nonetheless Ushuaia has a superb variety of hotels for you to choose from. Catering to different budgets and requirements, there are luxury options for those looking for something special; great value options if you want to be in the city centre and want comfortable lodging; and budget options for travellers who look for functionality and location as paramount.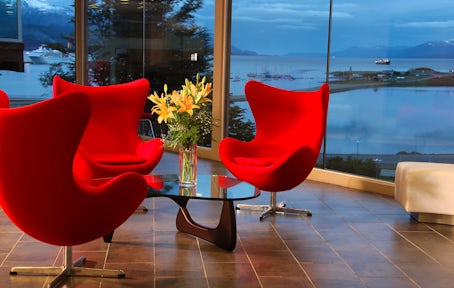 Ushuaia: Frequently Asked Questions
Ready to plan your Antarctic adventure?
1
Listen
We'll spend some time listening to your aspirations, then discuss the kind of experience that might suit you.
2
Match
Next we'll discuss the options, shortlist the best trips for you and present you our impartial recommendations.
3
Reserve
We'll place a 24 hour hold on your preferred option - without obligation - whilst we talk through the details.
With over 150 years of Antarctic experience between us, we can help guide you to exactly the right trip for you.
1-855-369-8288