Booking your Antarctic flights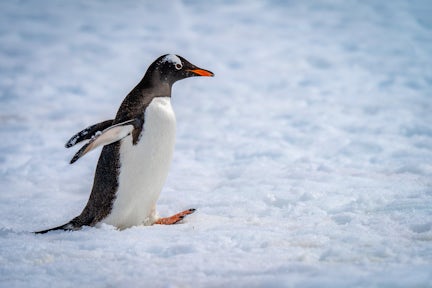 When you are booking your flights you will need to check your voyage dates and any accommodation inclusions carefully, to ensure that you arrive in plenty of time for the beginning of your cruise arrangements. Please see below for more information on how much time we recommend spending on the mainland prior to embarkation. If you are late or delayed, the ship will not wait for you.
Airlines release flights around 11 months to a year before the travel date. Booking early usually secures the best availability of flight options and often the best prices. However, airlines do also price 'dynamically' to maximise revenue. This makes it difficult to predict when the best flight pricing will be on offer, though generally remaining seat prices increase as the plane fills up.
The timing for booking your international flights – and domestic flights, where relevant – will depend on your personal circumstances. However, given that you have fixed dates for your cruise, Swoop recommends getting your flights pinned down sooner rather than later, to ensure you have got seats on the best-suited pre and post-voyage flights. If you have any specific queries regarding fares or purchasing tickets, we recommend that you seek the advice of the airline or contact a flight specialist agency.
Changeable/refundable tickets will give you peace of mind and flexibility should anything unexpected happen. Since the pandemic many airlines are now offering flexible fares either as standard or for a slightly increased price; it is important to check the terms and conditions for the tickets you are purchasing. Whatever flights you choose, we strongly recommend that you opt for flexible ticket options. Additionally, depending on your insurance policy coverage, having flexible flights may be a real financial benefit if you need to cancel or amend your trip.
Please note: A relatively small number of cruises include domestic charter flights between the capital city to the embarkation city. Please check your documentation carefully for information on your voyage inclusions.
Pre-voyage arrangements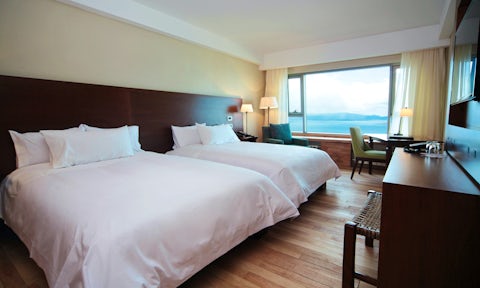 We strongly advise spending a minimum of two nights on the mainland prior to embarkation. This provides a buffer in case of travel or luggage delays – particularly important if you are coming from the northern hemisphere where winter weather can significantly impact airport operations. It also gives you plentiful connection time if you need to take an onward domestic flight to get to the cruise arrangements' starting location. Importantly it allows time for any mandatory pre-embarkation arrangements and ensures you're refreshed, relaxed, and ready for your adventure.
In most instances, we would recommend having one of these pre-voyage nights in the capital city where your international flight lands, before taking any onward domestic flights. Then continue on to the cruise start point for a pre-night there. Please note that some cruise packages may already include one night of pre-voyage accommodation within the dates and price of your trip; please check your itinerary for details and book your flights accordingly.
As stated above, the cruise will not wait for you if you are delayed arriving at the start point, so it is sensible to plan in plenty of time for your travels.
Extending your time in South America
In addition to building in the minimum travel time for logistical reasons, if you have additional time to spare, we strongly recommend extending your stay to spend further time exploring South America either before or after your voyage. Adding on arrangements post voyage may reduce the potential risk of exposure to Covid19, which could impact your ability to embark on your cruise. If you are travelling via Argentina then you could spend further time in Buenos Aires, enjoying the iconic steak and tango. In Chile, you could add on time hiking in Patagonia or exploring the dramatic landscapes of the Atacama desert. Your Swoop Customer Experience consultant will be happy to make arrangements for you based on your interests, budget, and timeframe.
Swoop says
Swoop does not have an in-house flights team, so you will need to book your flights directly with the airline, or use a local flight agent.

Airport taxes for Argentina & Chile
Argentina and Chile require people of certain nationalities to pay an entry fee on arrival in the country – this is called a reciprocity fee. Find out more about who is required to pay them and how much they cost.
There are departure taxes of approximately $30 per person for leaving both Chile and Argentina. It is usually included in the price of your airline ticket. Domestic departure taxes are also generally built into your internal flight tickets.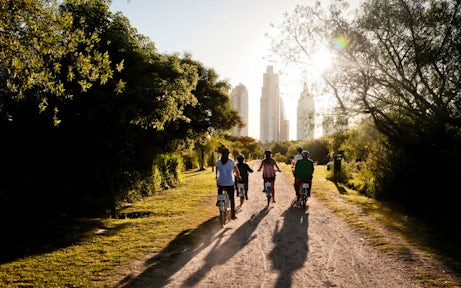 Exploring Buenos Aires by bike
Airports in Buenos Aires, Argentina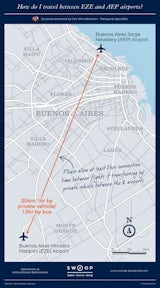 Buenos Aires Ministro Pistarini Airport (EZE)
In Buenos Aires, there are two main airports. Ministro Pistarini is the main international airport in Argentina and is 30km to the south of the main part of town. To differentiate it from the domestic airport, the main airport is often known as Ezeiza due to its location. This is reflected in its airport code EZE.
Immigration in Buenos Aires can be a hot and lengthy process depending on when your flight arrives. The arrivals hall is generally quite chaotic and can feel a little overwhelming at first glance.
When departing EZE for an international flight, a minimum check-in time of four hours prior to the flight is suggested. For domestic flights, a minimum check-in time of 3 hours is suggested.
Buenos Aires Jorge Newbery Airport (AEP)
Jorge Newbery is mainly used for domestic flights and is only a 10-15 minute taxi ride from several smart neighbourhoods within the city. From here you can get the widest range of internal flights to Ushuaia.
Connection times
International flights will typically arrive at the main Buenos Aires Ministro Pistarini Airport (EZE), whereas most flights to Ushuaia will depart from the smaller domestic Jorge Newbery Airport (AEP). Customs, immigration, and baggage reclaim in EZE can take a while. Then transferring between the two airports can take well over an hour depending on traffic, especially around rush hour when the city's roads are very congested.
Once you arrive at AEP check-in for domestic flights is a minimum of 2 hours (3 hours is recommended by Aerolineas Argentinas) prior to the flight. The airport departures terminal itself is often extremely busy, with both Argentines and tourists flying out all over the country. There can often be long lines for check-in, despite the introduction of self-check-in desks, as most then also need to drop their baggage off too.
As such, we recommend having 5 hours' connection time between arriving at one airport and departing from the other. We strongly advise against having only one night between your international flight arriving and boarding your cruise.
Flying to Ushuaia, Argentina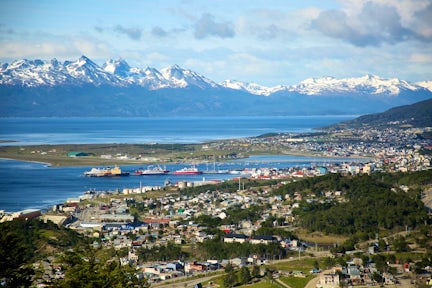 Ushuaia, the southernmost city in the world
If you are embarking on your ship in Ushuaia, please ensure you arrive one full day before departure. Your vessel will set sail at approximately 4pm on the day of embarkation and you will generally need to drop off your luggage and comply with any required testing/paperwork in the morning. To arrive in Ushuaia (airport code: USH), you will almost always need to fly in from Buenos Aires. The only exception is that there may also be the option to fly in from El Calafate (FTE) if you are exploring Patagonia beforehand.
When booking flights down to Ushuaia the day before your voyage, please ensure that you are not booking the last flight of the day out from Buenos Aires to Ushuaia, for added contingency in case of delays. The flight time is approximately 3.5 hours.
Airline options
The vast majority of flights to Ushuaia are operated by Aerolineas Argentinas, the national carrier, with multiple flights per day. Argentine airlines are notorious for frequently changing their flight schedules in the months prior to departure, so please keep a close eye on any emails you receive from them. It is vital to ensure that you maintain an appropriate arrival time. If you are rescheduled you may need to request an alternative flight slot to the one you are automatically reallocated to, as unfortunately they often do not move you to the next closest flight time. Please also check whether they have changed your departure airport in Buenos Aires as you may need to amend your transfer plans.
Alternative flight operators include JetSmart and FlyBondi, however, Swoop is aware of both airlines being less reliable than Aerolineas Argentinas with a higher potential of flight cancellations or postponements.
Swoop says
Aerolineas Argentinas are notorious for schedule changes. We have found that they are sometimes not communicated, so please frequently check your Aerolineas Argentinas online account to ensure your domestic flight time is as expected. If it has been altered to a time that is not convenient for you, please contact Aerolineas Argentinas directly as there may be a more suitable flight.
Airports in Santiago, Chile
Santiago de Chile Airport (SCL)
Arturo Merino Benítez International Airport, also known as Nuevo Pudahuel (airport code SCL) is the main international airport in Chile. It also has a domestic terminal, which connects you to Patagonia. From here you will be able to take internal flights south to Punta Arenas (PUQ).
Connection times
Despite operating from the same airport, we recommend allowing a minimum connection time of 5 hours between flights in this airport, especially on your inbound journey. This allows for time to process through immigrations along with any required testing/ paperwork checks and on to luggage reclaim. It is essential to build in sufficient time to check in for your onward flight as the lines to check in for domestic flights can be lengthy and slow-moving.
A minimum of 4 hours of check-in time is recommended for international flights and at least 2 hours for domestic flights.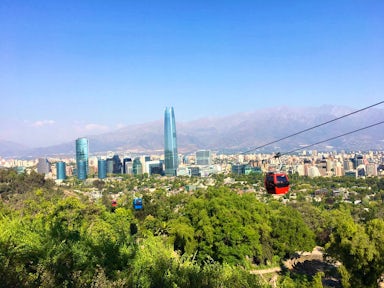 Flying to Punta Arenas, Chile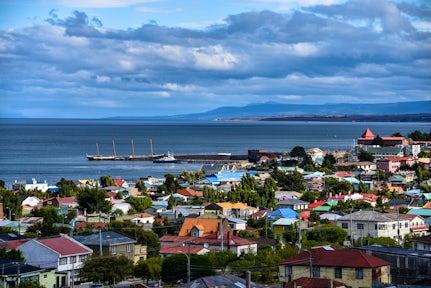 Punta Arenas, Chile
If you are joining your Antarctic cruise arrangements at Punta Arenas (airport code: PUQ), or flying to the Falklands please ensure you have read your confirmation documents prior to booking international flights. Your confirmation documents will outline any mandatory meeting or departure times. You must book your domestic flights to comply with these arrival timings or there is a risk that the trip will depart without you.
Airline options
The most commonly used airline for flights between Santiago and Punta Arenas is LATAM Airlines. They have the widest selection of flight time choices and are generally relatively reliable. They do sometimes release additional flight timings at a later date rather than all slots 11 months prior to departure. You may also find more limited options with low-cost operators SKY and JetSmart. In all cases, look out for direct options rather than those with a touchdown ("Escala" in Spanish) en route.
Charter flights to Antarctica
Many fly-cruises operating from Punta Arenas include a charter flight to King George Island (to meet your Antarctic ship on location). Of these cruises, most include a pre-voyage night in Punta Arenas but - crucially - require that you arrive in town no later than 2pm on the day prior to your flight to Antarctica. This mandatory timing is to allow for your essential pre-embarkation arrangements to take place, and there is also a possibility of an early flight departure to Antarctica should the safe flight weather window require this. The exact timing of your flight to Antarctica will be confirmed to you by the ship operator's staff once you are in Punta Arenas.
Venus says
As you fly south to your cruise, there can be spectacular views of the Andean mountain range. When booking plane seats from Santiago down to Punta Arenas, aim for a left-hand side window seat, and from Buenos Aires to Ushuaia you want to be on the right-hand side. The reverse is true for the return journey.

Venus Ho Customer Experience Coordinator
Return flights after your cruise
King George Island, Antarctica
Port Stanley, Falkland Islands
Returning from Antarctica to Ushuaia
If your cruise finishes in Ushuaia, please ensure that you do not book a flight out of Ushuaia departing before 12 noon/midday. You will generally disembark the ship in the morning after breakfast, but exact timings cannot be guaranteed.
You need to be at the airport to check in 2 hours prior to departure. The ship will provide either a transfer direct to the airport or to a drop-off point in town depending on your flight time. The exact disembarkation logistics will all be provided on board on your penultimate day. If you have an afternoon flight, the ship may be able to provide or recommend a town centre luggage storage location where you can leave your bags. As the airport is small and has limited dining options (a small cafe only), it's worth getting lunch in town. If you have been dropped off in town, you will need to make your own way to the airport. It is a short journey (approx 10 minutes) and taxis can be easily flagged down along the main street.
Returning from Antarctica to Punta Arenas
If you are booked on a fly-cruise voyage that includes a charter flight from King George Island (TNM) back to Punta Arenas, most cruise packages will include a final night in a hotel in the town. This is crucial as these flights are often delayed and may depart from Antarctica at any time - day or night. A post-voyage night's accommodation is included in some voyages, but not all, so please check your itinerary for clarity.
Due to the risk of delays and the unpredictable arrival time of your Antarctic return flight, it is strongly recommended that you book a late afternoon flight from Punta Arenas back to Santiago the following day. This gives you some additional buffer time in case of delays leaving Antarctica. For this reason, we also do not recommend booking your international flight home on the same day as your domestic flight back up to Santiago. It is safer to have a final night planned in Santiago to buffer any delays.
Returning from the Falkland Islands to Punta Arenas
Voyages that include flights from the Falkland Islands (Stanley), may include a flight from Mount Pleasant (MPN) to Punta Arenas (PUQ). This is a flight that continues on to Santiago (SCL) with LATAM Airlines, and if the flight is included in your voyage we may be able to assist with booking this continuation for you. This is a relatively reliable scheduled flight, which means onward travel can be booked according to the times suggested on your voyage itinerary.
Baggage allowances
Please be aware that the baggage allowances on your domestic flights within Chile or Argentina may differ significantly from the allowances on your international flights, especially if you are flying in business class internationally. Please ensure that you book a ticket that includes baggage as many entry-level fares are now carry-on only.
For all Antarctic trips, we recommend avoiding hard shell luggage, as this can be difficult to accommodate within your cabin storage. Generally, rolling suitcases with some flex in the material can be easily stored underneath your cabin bed. For more detailed advice on packing please watch our video.
Please check with your airline for the exact allowance for your specific ticket, but as a general reference, the standard economy baggage allowances for domestic carriers are as follows.
In Argentina
Aerolineas Argentinas
15 kgs per person baggage allowance for checked-in hold luggage*. You may take a small handbag and a carry-on with a maximum weight of 8kg.
Click here for more information from the airline including luggage dimensions [in Spanish].
---
*Please note that Aerolineas Argentinas' baggage allowance is not always rigidly or consistently enforced. However, when checking in you may be required to pay an excess baggage fee at the airport, particularly when flying out of AEP. Excess baggage fees (from 16-23kg) tend to be relatively reasonable, often under $20. There is a separate luggage counter at AEP airport where you can pay for the excess, which usually involves getting your boarding pass stamped once you have paid the excess. Bags in excess of 23kg are not permitted. It is rare to be charged when flying back from Ushuaia.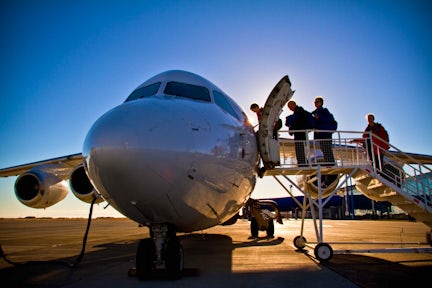 Boarding the plane for King George Island
In Chile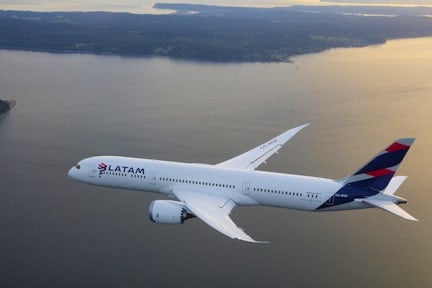 Latam airlines
Charter flights to/from Antarctica
Please be aware that the baggage allowance for chartered flights to/from King George Island is very strict at 15 kgs per person for checked-in hold luggage and 5kgs for hand luggage. There is no flexibility or option for excess baggage. You can generally leave any excess luggage at your hotel if required.
For all Antarctic trips, we recommend avoiding hard shell luggage, as this can be difficult to accommodate within your cabin storage. Generally, suitcases with some flex can be easily stored underneath your cabin bed.