Life before Swoop
After starting college in 1987, I worked in all areas of travel, both planning and organising many itineraries around the world.
After visiting many countries, I realised the areas that inspired me the most, the polar regions! This made me reach out to Swoop.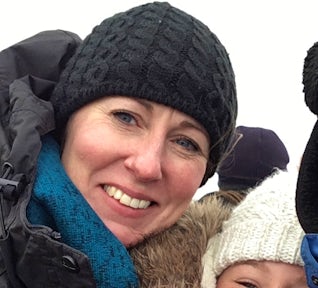 Climbing Mount Snowdon, UK
My Polar experience
I visited the Arctic in July 2019 and the Antarctica Peninsula in November 2022, experiences that will stay with me forever. These are the only true remote wild places left on our planet.

Some voyages offer the opportunity to take part in Citizen Science projects to assist scientists record changes to wildlife and their habitat, helping to protect these important regions of the world. Taking part in Citizen Science during my Antarctic voyage helped me to play a part in understanding our changing planet, which is important to me.
The wildlife, glaciers, and icebergs are a must-see for all – they really do change your perspective.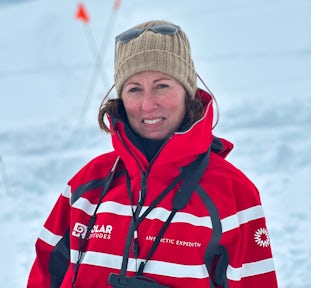 Exploring Mikkleson Harbour, Antarctica
Day to day at Swoop
I am part of the Polar Customer Experience team and spend my time answering all of my customer's questions, however small, to help them plan their adventures. I love to organise itineraries with great attention to detail and make travel plans run smoothly.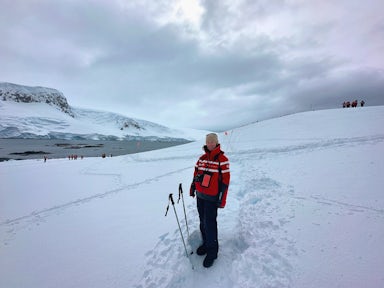 Exploring Mikkleson Harbour, Antarctica

What our customers think of Sarah
10/10 - Swoop in general, and our specific contact Sarah Orson, were responsive, engaged and highly professional. We got quick replies to all our questions (some silly in retrospect) and had the feeling that someone (back in civilization) was looking out for us. Thank you! Read the full review

Travelled: January 2023
10/10 - Alicia Roitman and Sarah Orson were always in touch as a reminder of our amazing trip with updates, documents needed and were VERY patient when some of the ship's information wasn't quite clear. Read the full review

Travelled: January 2023