Life before Swoop
I studied Travel and Tourism at college, which led to a data entry/admin job within the travel industry. Following this, I spent 12 years working in sales and customer support for an adventure travel company. During my time there, I was able to travel to a number of countries including Egypt, Myanmar, Canada, Costa Rica, the USA and parts of Europe.
It was during this time that I had my first experience of Polar travel. I was lucky enough to travel to the Antarctic Peninsula, which was subsequently followed by a trip to the Arctic and the Norwegian fjords. This sparked a passion in me for all things Polar, which ultimately led me to Swoop.

Horse riding in Tamarindo, Costa-Rica
My Antarctic Experience
I travelled to the Antarctic Peninsula in 2015 aboard the Polar Pioneer. I vividly remember the excitement as we made it across the Drake Passage and started to see our first icebergs.
I was constantly in awe of the vast landscapes but my main highlight was the wildlife. I never tired of watching the penguins' antics and will always remember watching a pod of orcas and their calves, something I never thought that I'd experience!

Penguin watching on a sunny Antarctic day
Day to day at Swoop
As part of Swoop's Polar Customer Experience Team, I am responsible for ensuring a smooth experience for our customers' Polar adventures, taking care of the details and assisting with any questions that you may have. I look forward to helping you prepare for the trip of a lifetime!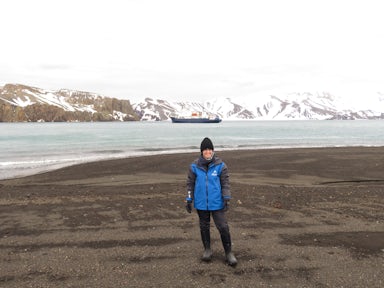 Exploring Whalers Bay in Antarctica

What our customers think of Hannah