Choosing the right ship to travel aboard is a key decision when planning your South Georgia adventure. To help you get started, here are a few key tips on what to consider:

Stability is key in a ship to South Georgia - the Southern Ocean is nothing if not unpredictable
Check the size of the expedition team onboard. The depth and breadth of their knowledge is pivotal to maximising your experience
While larger ships can offer better stability and amenities, smaller ship with fewer guests are more personal and spend more time on land
On these longer voyages, for those who like a little privacy, it's worth considering the upgrade options for a little extra space
Given the number of days you'll spend at sea, stability and comfort should be primary considerations when choosing the right ship.

South Georgia Ships
Hebridean Sky & Island Sky (114 passengers)
With state of the art retractable fins that reduce roll by up to 80%, these opulent sister ships provide a smooth and therefore more enjoyable journey on the two-day stretch to South Georgia.
The vessels' spacious cabins, outstanding service and top of the range catering provide luxury and elegance at an affordable price.

M/V Plancius (116 passengers)
Originally an oceanographic research vessel, the M/V Plancius has been rebuilt with a diesel-electric propulsion system that greatly reduces noise and vibrations. If you're a light sleeper, you'll really feel the benefits during those nights at sea.
The large windows of the observation deck provide stunning panoramic views, perfect for spotting wildlife whilst keeping warm.

M/V Ortelius (116 passengers)
Built with a broad and heavy design, the M/V Ortelius has the highest ice-class rating (equivalent to 1A), making it one of the safest and most stable polar vessels, perfect for the long days at sea on the way to South Georgia.
With an abundance of outdoor space and a roomy bridge, you'll have no trouble finding a spot to watch the wildlife and scenery go by.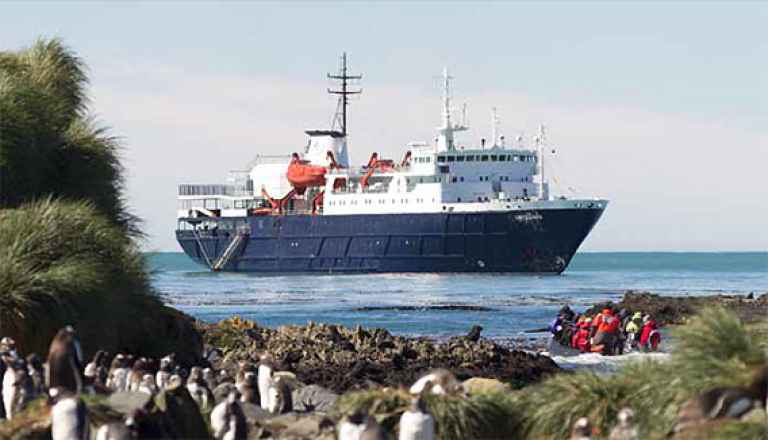 Greg Mortimer (120 passengers)
The first expedition ship to pioneer the groundbreaking X-BOW technology, it will pierce waves making for a smoother overall voyage and a more stable run.

Boasting a panoramic observation deck with floor to ceiling windows and spacious outer decks, you'll never miss out on the action wherever you are on the ship.

Trips on these selected ships
Other South Georgia ships
Ocean Adventurer
World Explorer
Ocean Endeavor
MS Expedition
Polar Pioneer
Ocean Diamond
The Ushuaia
Sea Spirit
Le Boreal, Le Lyrial, Le Soléal, L'Austral

South Georgia Ships: FAQs
Ready to plan your Antarctic adventure?






With over 50 years of Antarctic experience between us, we can help guide you to exactly the right trip for you.