5 reasons to discover Buenos Aires
The local Porteños, citizens of Buenos Aires, are some of the proudest, enchanting and lively people in the world: Enjoy their hospitality.
Famed for its steak, the city boasts world-class restaurants, loud pizzerias and tremendous street food: there's something for everyone to enjoy.

Argentina's constant economic perils, means visitors find their stay in Buenos Aires amazingly good value for money.

Stroll elegant avenues and manicured parks, enjoy a café or glass of red wine in atmospheric bars; revel in the most European of all of South America's capitals.
Antarctica's travel season is the height of summer in Argentina: enjoy the long warm days, a welcome break from the cold northern hemisphere winter.
Buenos Aires Express
Our Express itinerary is tailored for visitors who want to get a feel for the city, absorb some of its magical ambience, and experience its must-see sights, all in under 24 hours. With one night in the city you'll have the opportunity to check-out one of its fabulous steak houses and get a flavour of this energetic metropolis.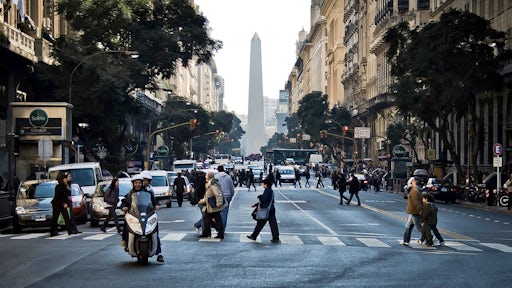 The bustling centre of Buenos Aires
Discover Buenos Aires
Beautiful Buenos Aires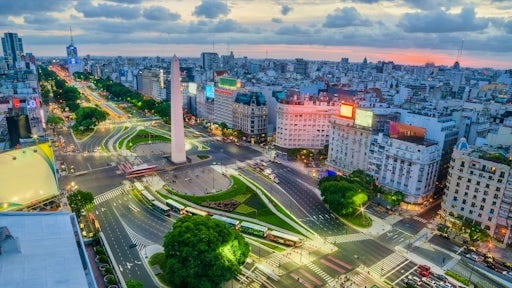 One of Latin America's most populous capitals, Buenos Aires hugs the coast of the immense Rio de la Plata estuary and sprawls inland across the flat pampas grasslands. With around 14 million inhabitants and a dense concentration of lofty skyscrapers, the city can seem overwhelming at first, but you'll rapidly blend in and find yourself revelling in one of the most attractive cities in the world.
Given its compact centre, you can easily access the majority of the highlights. This fascinating city and its curious inhabitants are easily loveable and a stay here is a must. Your biggest problem will be not wanting to leave.
Swoop says
Travelling so far from home, en route to Antarctica, a stop-off in one of the world's most stylish cities is a must. Buenos Aires captivates travellers from all walks of life; with such diverse attractions it's the perfect 'bonus track' to the trip of a lifetime.

Los Porteños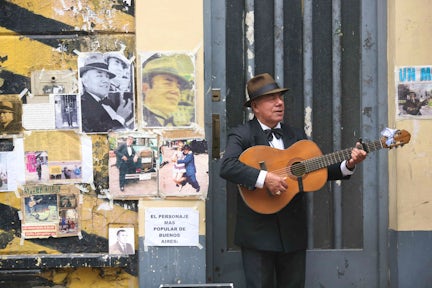 A Porteño musician on the streets of Buenos Aires
The denizens of this metropolis are the result of one of the New World's most fascinating cultural melting pots. Porteños (from the port) have been described as "Italians, who speak Spanish, believe they are French, but would like to be British", which goes some way to explain these fun-loving people!
Much like New York, Buenos Aires has received swathes of immigrants over the decades from far and wide; cultures such as French, Armenian, Jewish, Syrian, Prussian and British have hybridized into Porteño, with the dominant two being Italian and Spanish. Locals have their own idioms, hand gestures,and an infectious vitality: no wonder they invented Tango.
Buenos Aires & the pampas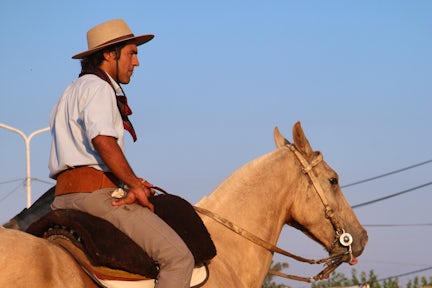 A gaucho in Buenos Aires province, Argentina
Buenos Aires is both a city and a province - things can get confusing. The city, known as Capital Federal, is the federal capital of the country, with its own legislature and governor, similar to Washington DC in the USA. Bordering the city is the province of the same name, so yes, Buenos Aires borders Buenos Aires.
Whilst the city of Buenos Aires is about the size of Patagonia's Perito Moreno glacier (80 square miles), the province is vast, about the size of Britain and Portugal combined. Both the city and province sit in the pampas, one of the world's largest prairies stretching for hundreds of miles inland, and home to the legendary gaucho or Argentine cowboy.
David says
Having called Buenos Aires home for years, I think it's the best place in the world for eating pizza, with a serious cheese overload! This is a legacy from the Italian immigrants who made their homes here. Try the classic pizzerias on Corrientes Avenue: Las Cuartetas, Los Inmortales or Güerrin. Be sure to wash down your tasty slice with a glass of sweet Moscato wine, for a truly authentic experience.

David Hilton Patagonia Product & Partnership Manager
A foodie's heaven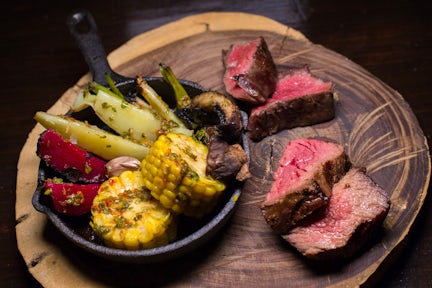 Culinary highlights of Buenos Aires
As you'd expect, when culinary cultures from Europe fuse with local produce, Argentina just oozes gastronomical heritage. Local chefs prepare the best steaks in the world with such craft and street-food thrives with omnipresent empanada (turnovers). The stars of the show are the ember-grilled steaks but be sure to try the cheesy pizzas, flavoursome pasta dishes, the workman's style choripan (chorizo-sausage sandwich) drizzled with chimichurri sauce and round it all off with the best gelato (ice cream) this side of the equator.
Enjoy Swoop's interactive cooking experiences, and share the locals' passion for great food and drink. Superb restaurants abound and home-grown wines are everywhere. With amazingly accessible prices, Buenos Aires has to be a foodie's paradise.

Testament to the Belle Époque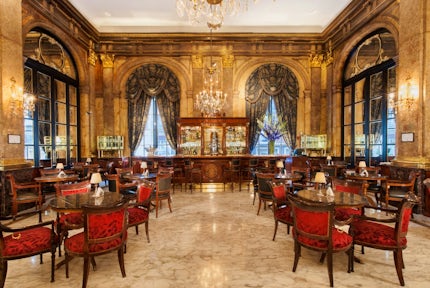 The legacy of the belle-epoch era in Buenos Aires
Argentina's economic hey-day may have been about 100 years ago, but the legacy from the Belle Époque still remains strong, not only in the city's architecture, but also in the locals' mindset. Witness the elegant palaces from this era, classic cafés, one of the oldest metro systems in the world, beautifully manicured parks and amazing wide avenues with a real European flair.
The 20th century has not always been Argentina's proudest era, you will hear of some turbulent historical events from fascinating local guides. However, the essence of this beautiful city remains strong and the spirit of its people is as authentic as they are passionate, making a stay here a truly beguiling experience.
Plan your stay
The barrios of Buenos Aires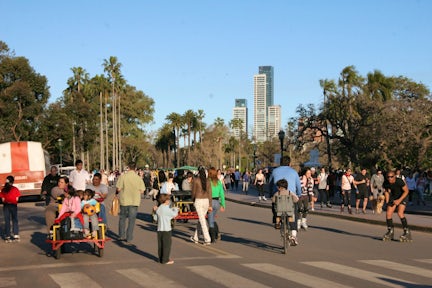 Typical barrio in Buenos Aires, Argentina
The city has around 50 barrios or districts, each with its own distinct character. The elegant Recoleta is reminiscent of beautiful Paris, whilst the vast Palermo district with a more bohemian feel, is easily explored on foot and has the most impressive array of restaurants.
Downtown or Microcentro bustles with commuters during the day and contains many of the city's iconic sights but can be quite desolate outside of working hours. San Telmo is the historic centre of the city, with a relaxed hipster vibe, cobbled streets and and plenty of cool cafés for hanging out. Sunday's flea market attracts both tourists and locals taking in the carnival atmosphere and street food.
Things to do in Buenos Aires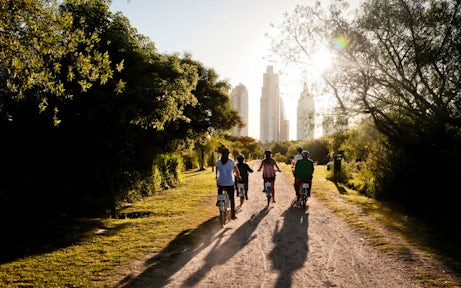 Exploring Buenos Aires by bike
We have crafted an ample variety of small group and private experiences for all types of traveller looking for something different to do in this fascinating city. Swoop's city highlights experience with an Antarctic twist will enlighten you about a fascinating, little-known Antarctic heritage site in the centre of the city. A hidden gem for any polar traveler.
Discover the city by bike, take food-themed walking tours, or enjoy cooking experiences - with other travellers or in more intimate surroundings. Be wowed with street-art interpretation walks off the beaten track. For those wanting to add a touch of glamour to their stay, we have selected a top tango show; a classic evening outing filled with elegance and style.

Things to do near Buenos Aires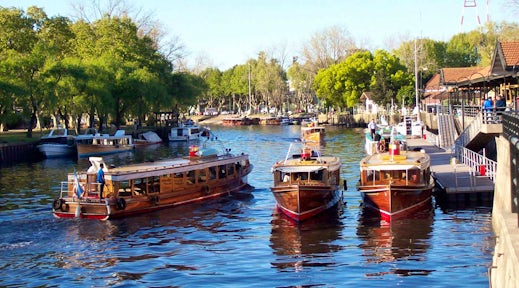 Boat tour of Tigre delta, Buenos Aires
Away from the hustle and bustle, we have selected day-escapes to discover the diverse and varied landscapes that the region offers. Visit neighbouring Uruguay for the day and explore the beautiful town of Colonia de Sacramento. The fascinating Tigre delta is largely unknown to most foreign travellers and can be explored by boat or kayak, at your own pace.

No stay in Buenos Aires would be complete without experiencing the vastness of the pampas, with its rich gaucho folklore. Enjoy a day on an estancia (ranch) or better still, why not spend a night or two immersing yourself in the Argentine countryside?
Our favourite Buenos Aires experiences
Special Offers:Swoop has access to the widest range of offers and can help you find the right trip, cabin, & price.
Places to stay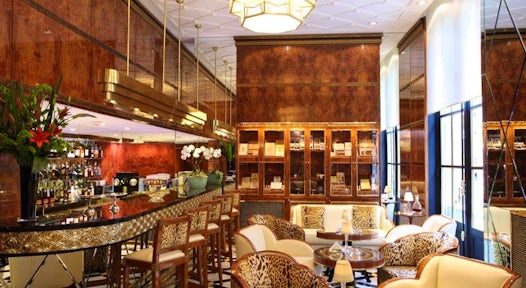 The bar at Hotel Alvear, Buenos Aires
Buenos Aires has a mesmerising number and variety of hotels. From glamourous high-end palaces to cute boutique options, and well-known international chains. There is something for everyone. Follow the link to read more about Swoop's shortlisted Buenos Aires hotels, selected for your perfect stay in the city either before or after your trip to Antarctica.

What our customers think of Buenos Aires
Buenos Aires trips scored 2.5/5 from 4 reviews

Have a day or two in Buenos Aires, well worth a visit.

Travelled: March 2018
It was great to have Swoop organise transfer on our arrival in Buenos Aires and the half day excursion the next day was perfect for us - they did an excellent job, thank you all!

Travelled: February 2018
The city has a lot of different suburbs to explore and there is always something new to discover, so we added a couple of days to our Antarctic trip to 're-enjoy' BA. A couple of must do's, watch the Tango Show on Plaza Dorego, eat the best Steak on the Planet at Somos Asado or El Julio, check out Recoleta, Palermo, La Boca and the new Puerto Madero. Oh - and exchange money at the Blue-Dollar Exchange or on the street -it will make up for your expensive Antarctic trip:) Read the full review

Travelled: December 2022
The Argentine Experience on our first night was a wonderful evening. Highly recommended. Read the full review

Travelled: February 2022
Swoop was brilliant throughout, from making the initial booking to steering us through the pre-trip preparations. Even checking that we had arrived at our hotel in Buenos Aires. Read the full review

Travelled: December 2018
Richard & Anne Abrahall - United Kingdom
Buenos Aires: Frequently Asked Questions
Ready to plan your Antarctic adventure?
1
Listen
We'll spend some time listening to your aspirations, then discuss the kind of experience that might suit you.
2
Match
Next we'll discuss the options, shortlist the best trips for you and present you our impartial recommendations.
3
Reserve
We'll place a 24 hour hold on your preferred option - without obligation - whilst we talk through the details.
With over 150 years of Antarctic experience between us, we can help guide you to exactly the right trip for you.
1-855-369-8288