Trip Summary and Itinerary Map
4 full days exploring Antarctica with daily shore-based landings and zodiac excursions
Choice of two expedition ships, with capacity for either 128 or 189 guests
Optional adventure activities on select departures: camping, kayaking and one-off paddle excursions (limited places, additional cost for each)
Pre-cruise hotel night included in Ushuaia
Complimentary 3-in-1 expedition parka jacket + loan of boots
Operator's Itinerary
Day 1: Ushuaia, Argentina
With a population of more than 70,000 people, Ushuaia is the southernmost city in the world. The city has grown over the past few years, yet it has retained an easy going and accessible feel. With the sea to the south and mountains to the north, Ushuaia is a spectacular departure point for your Antarctic cruise. If you arrive early, you can spend some time in the nearby Tierra del Fuego National Park, enjoy some Argentinian wines and barbecues in the city, or visit the many boutique shops and cafes before you leave for your expedition to Antarctica.
---
Day 2: Embarkation Day
Embarkation will occur in the late afternoon, after which your vessel will sail down the historic Beagle Channel. This famous channel transects the Tierra del Fuego archipelago in the extreme south of South America. Expect an air of excitement as you depart - the next time you see land you'll be in the world's most southern continent!
---
Days 3-4: At sea towards Antarctica
Prepare yourself for potentially rough water, but hope for a smooth sailing as the Drake is unpredictable and always changing. You'll spend these first days getting to know your shipmates while we'll provide safety briefings and insights into what excitement lies ahead.
---
Days 5-8: Antarctic Peninsula and the South Shetland Islands
When the Antarctic Convergence is left in our wake, you will truly begin your Antarctic adventure. It is perhaps the first sight of land itself that is embraced as the true beginning of any Antarctic expedition.
You can begin to appreciate why this region has long captivated the attention of explorers and travellers alike. Every time we visit Antarctica we witness something new or unexpected, meaning your expedition will be unlike any other - creating a unique, personal experience. We will take zodiac excursions from the ship to explore bays, channels and landing sites each day. With wildlife always at the forefront of our minds, you will visit penguin rookeries, scout for humpback and minke whales and search for a number of the southern seal species, including the cunning leopard seal.
The majesty of the Peninsula's mountains will enchant you as you scramble up snowy pathways to vantage points offering you 360 views of your surroundings. One of these in particular, in Orne Harbour, gives the opportunity to visit a chinstrap penguin colony high up on a ridge. Here you'll have the choice between going for a mountain hike or spending time sitting quietly on a pebbled beach to enjoy the antics of curious penguins. If you're feeling extra adventurous, participating in the Polar Plunge swim is about as crazy as it gets! Amidst the serene silence of Antarctica, noisy interludes now become indelible memories, such as penguins squabbling over prized pebbles or the boom and crack of a calving glacier in Neko Harbour.
Every day will be different, having been carefully crafted by your Expedition Team so as to entertain and educate you about this wonderful part of the world.
---
Days 9-10: At sea towards Ushuaia
The journey back across the Drake Passage provides you with some final opportunities to enjoy the crisp Antarctic air. Spend time on the deck watching for seabirds and scouting for whales, enjoy a few final presentations by your Expedition Team or simply relax and reminisce about your experiences.
---
Day 11: Disembarkation in Ushuaia
You will arrive in Ushuaia in the morning allowing for you to continue your adventure on land or catch your flights home.
---
NOTE: This itinerary is for guidance only as each voyage will vary depending on ice and weather conditions, and opportunities to see wildlife. Flexibility is key and all part of the adventure of an expeditionary cruise.


What our customers think of Antarctic Explorer
Antarctic Explorer trips scored 4.8/5 from 20 reviews
A close-up encounter with some humpback whales while in the zodiac.

Travelled: December 2019
The highlight of the trip is being remote and off the grid for a week. It gave us the chance to soak in an untouched part of the world. The landscapes were dramatic and opened our eyes to other part of the world. The people, crew member, and ship operator's staff all made the trip extra memorable. We got to met with everyone and they were some of the nicest people. The staff were professional and made sure everyone on board was safe, happy, and had fun. This is a special story for us and it will be told to our grandchildren as the trip that we got engaged on the summit of Paradise Bay, Antarctica.

Travelled: February 2021
We loved sea kayaking on our trip! The overall scenery was just astounding as well. The crew on Quark (expedition and service) were all fantastic.

Travelled: December 2022
the zodiac cruise where we saw the leopard seal and it stayed playing with us for almost 1 hour. The empathy of the guide and her commitment and patience made this memorable meeting even more memorable.

Travelled: January 2023
The highlight was the wildlife. We saw penguins, seals and three types of Whales. The landscape is absolutely stunning. The talks on board were very high quality and the food and wine was first class. I got a free upgrade to a double room with window. People choosing this trip were all very bright and interesting and a good mix of young and old

Travelled: February 2021
The complete journey was fantastic. Every day would reveal yet more wonders of the cold continent. Words cannot describe what your eyes see. No camera can capture the experience. You name it we saw it - no polar bears though. (people back home kept asking) There was not one negative about the "experience". People from 15 to 89, from every walks of life added to the expedition. The surprise was the adventure itself, how fantastic it was.

Travelled: February 2021
Probable the highlight (there were many) was landing on the continent. There were thousands of penguins, many whales, hundreds of birds. Mountains covered with snow. Icebergs everywhere some that rolled looking very wet, some with a dusting of snow that looked like powder sugar and some with seals laying in the sun. Strangers I never met acted like neighbors I knew for 10 years.

Travelled: February 2021
1- 60mt high Ice Burg Falling in front of me 2- 20 whales giving a spectacular show

Travelled: December 2019
The highlight was breaking through the iced up Lemaire channel. Scenery was amazing and wildlife interesting if limited in species. A pleasant interesting bunch of tourists from several countries all of whom were keen to get out, see things and learn. We'll show them photos of the animals, birds, icebergs, sea conditions, the ship and the journey there. No surprises.

Travelled: February 2021
Vivienne & Maurice Tucker -
It was all amazing - seeing the penguins and whales, the extraordinary scenery, particularly when the weather was good, and the helicopter rides on the ultramarine all made the trip special.

Travelled: January 2023
the spectacular scenery and the penquins

Travelled: January 2020
I spent an amazing time on the Ocean Adventurer. The entire experience was amazing. The scenery in Antarctica is beautiful beyond belief. Incredible and intimate wildlife encounters. The staff and expedition team did a wonderful job making this trip an unforgettable experience. The food was excellent. I highly recommend this once in a lifetime trip.

Travelled: February 2021
Melchior Islands zodiac cruise

Travelled: February 2020
Being up close and personal with the wildlife.

Travelled: December 2019
We see a whale passing under our boat. Penguin parents are taking care of their babies. We had our wedding onshore at Antarctica!

Travelled: January 2023
Chris and I got engaged the first day we saw land!! Then just the icebergs. The most uniquely beautiful things I have ever seen.

Travelled: March 2020
We came across umpteen Humpack whales in a bay one afternoon. At one point we counted 16 within 100 metres of our Zodiac - amazing!

Travelled: April 2020
Seeing wild life's such as whales, see birds etc., spectacular landscape.

Travelled: February 2020
1. surrounding by whales and penguins. 2. wedding in Antarctica is amazing. 3. beautiful viewing

Travelled: January 2023
Landscape, Wilde Life

Travelled: February 2021
About The Ship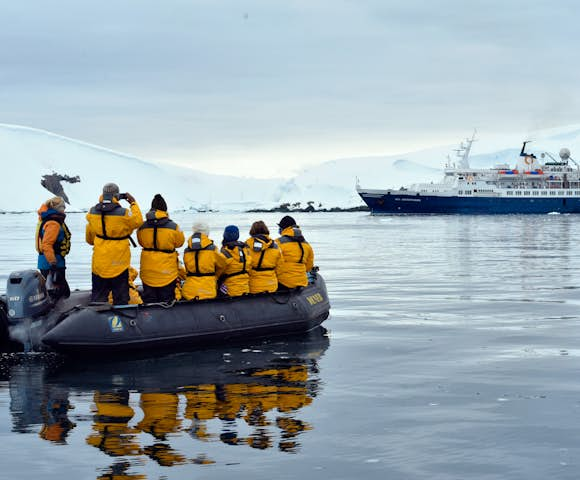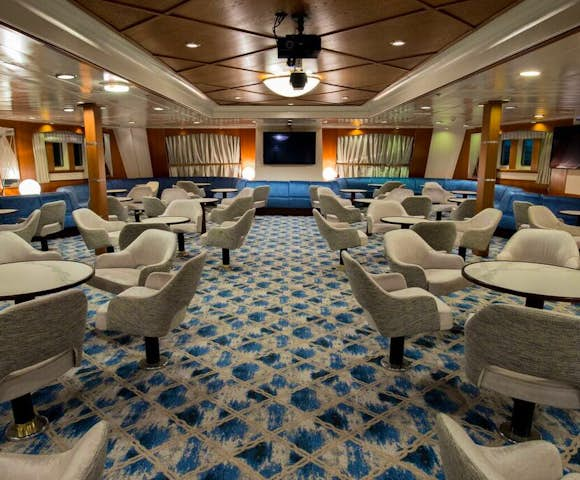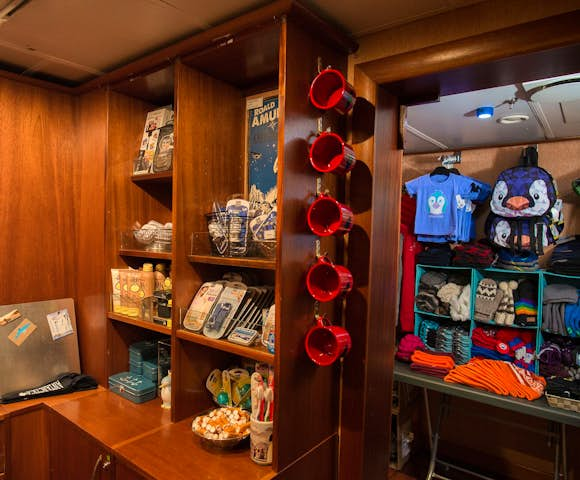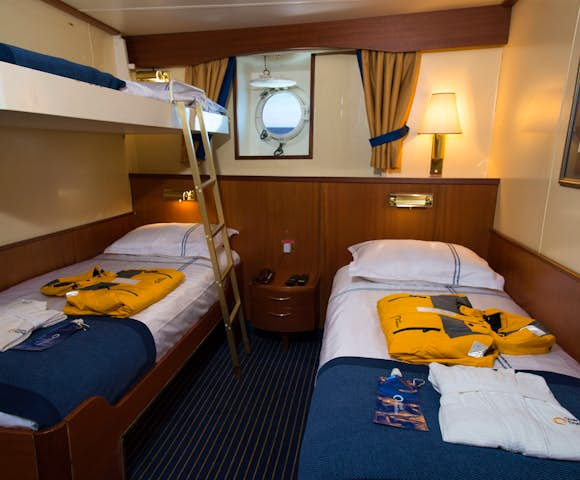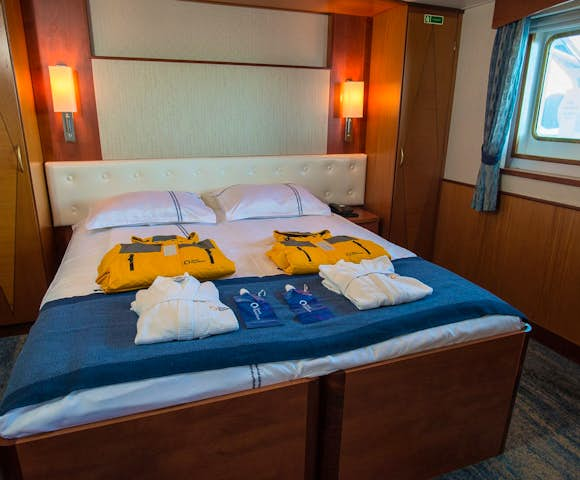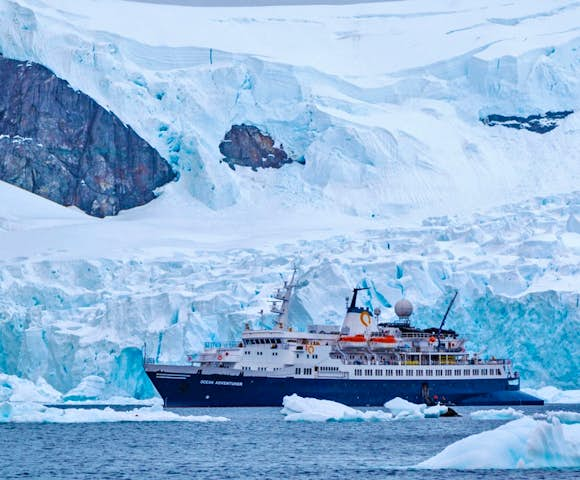 A 3-4* expedition vessel for 128 guests
A spacious ship with extensive public areas
High 1A ice class
Rounded stern & stabilisers = superior stability
Optional kayaking & camping available on selected depatures
Complimentary jacket & loan of rubber boots
Prices, Departures and Inclusions
Prices quoted below are per person based on 2 people sharing. Cabin availability changes all the time so please contact us for up-to-date details and information on specific cabin availability.

Triple
Twin Porthole
Twin Window
Superior Twin
Twin Deluxe
Suite
Owner's Suite
November 2023
5-Nov-2023

$

8,495

*

$

10,995

Full

$

12,495

Full

$

16,495

$

17,995

Enquire

December 2023
2-Dec-2023

$

11,495

Full

$

15,495

$

16,495

$

16,495

$

21,995

$

23,495

Enquire

11-Dec-2023

$

11,495

Full

$

15,495

Full

$

16,495

$

21,995

$

23,495

Enquire

20-Dec-2023
Full
Full
Full

$

17,995

$

17,995

$

23,995

$

25,495

Enquire

29-Dec-2023
Full
Full
Full
Full
Full

$

17,995

$

18,995

Enquire

November 2024
22-Nov-2024

$

11,495

$

13,995

$

15,495

$

16,495

$

16,495

$

21,495

$

22,995

Enquire

December 2024
1-Dec-2024

$

11,495

$

13,995

$

15,495

$

16,495

$

16,495

$

21,495

$

22,995

Enquire

10-Dec-2024

$

11,495

$

13,995

$

15,495

$

16,495

$

16,495

$

21,495

$

22,995

Enquire
* Note: Prices are per person. Paid in USD ($) - figure above is based on today's exchange rate. Actual cost $8495
Single Supplement And Child Policy
For those travelling solo who would like their own cabin, there is a good number of dedicated single cabins. The single supplement is 1.7 times the cost of a standard cabin and 2 times the cost of a superior category. Please contact us for details. There is no single supplement for solo passengers willing to share a cabin.
At date of embarkation, the minimum age restriction of 8 years and a minimum height and weight requirement of 64 lbs or 29kg and 48" or 1.2m must be met. Please contact us for details.
Optional Adventure Activities
Enhance your trip with the following add ons. Limited places per activity.
Get in contact to check availability.
Activity

Cost

Additional Information

Camping

$

295

On selected departures.

Kayaking

$

995

An immersive full sea kayaking program for those who want to kayak multiple times (as often as weather and ice conditions allow). Prior kayaking experience is required and you must be able to do a wet exit to participate. Available on all departures, subject to weather and ice conditions. Booking in advance is essential.

Paddleboarding

$

295

On selected departures. Basic competency required.

Mountaineering

$

575

On selected departures. Crampons provided, you will need rigid sole boots.

Paddling

$

295

One-off paddle session lasting approximately 60-90 minutes using sit on top kayaks. Available on all departures, subject to weather and ice conditions. Minimal kayaking experience is required. Booking in advance is strongly recommended.
Includes
Transfers in Ushuaia as indicated

Pre-embarkation hotel night and breakfast
Online photo journal of the voyage
Complimentary parka jacket
Voyage aboard the vessel as indicated in the itinerary
Accommodation and meals during the voyage on full board
Beer and wine during dinner, and coffee, tea and cocoa throughout the day
All shore excursions and zodiac activities
Educational lectures by expert onboard polar guides
Access to an onboard doctor and basic medical services
Loan of rubber boots for the voyage's duration
Comprehensive pre-departure information
Port taxes and any entry fees to landing sites
Excludes
Any flights to and from points of embarkation/disembarkation not listed as included

Any additional pre/post land services, including meals
Transfers not specified in the itinerary
Optional non-complimentary adventure activities (e.g. kayaking)
Visa, passport and any vaccination expenses
Airport arrival or departure taxes
Personal travel insurance
Items of a personal nature, e.g. laundry, beverages and communication
Customary staff gratuity at the end of the voyage
Additional onboard purchases (i.e. gift shop)
Questions about this Voyage?