Trip Summary and Itinerary Map
Spend 10 full days exploring: 5 in Antarctica, 4 in South Georgia, 1 in the Falkland Islands, plus the possibility of reaching Elephant Island
Take the unique opportunity to witness a total solar eclipse in Antarctica
Onboard lectures and expertise from NASA Astronomer, Dr Michelle Thaller and NASA Engineer, Dr Andrew Booth.

Re-trace Shackleton's legendary mountain crossing on foot (additional cost)
Glide past glittering grounded bergs on kayaking adventures
Encounter South Georgia's diverse and captivating wildlife including elephant seals
Operator's Itinerary
Day 1 - Arrive Ushuaia:
Arrive in Ushuaia, where you will be met at the airport and transferred to your downtown hotel.
---
Day 2 - Embarkation in Ushuaia:

This morning, enjoy a leisurely breakfast at the hotel before exploring Ushuaia on a half-day city tour.
Ushuaia, capital city of the province of Tierra del Fuego, is located on the shores of the Beagle Channel and is surrounded by the Martial Range, which offers a unique landscape as a result of the combination of mountains, sea, glaciers and forest. The city tour will visit The Mission, Brown and Solier neighbourhoods, where you can see old houses belonging to the first families in Tierra del Fuego, such as the Beban, the Pastoriza, and the Ramos. Head 11km / 7 miles out of town to Martial Glacier. The ride in the chair lift to the trails leading up to the glacier provides wonderful regional views and of Ushuaia town, the Beagle Channel and its islands. Afterwards, continue to the End of the World Museum with exhibitions explaining the history of Tierra del Fuego.

After exploring, transfer to the pier where our expedition team will warmly welcome you on board the Greg Mortimer at approximately 4.00 pm. As the Greg Mortimer pulls away from port, we'll gather on the deck to commence our adventure with spectacular views over Ushuaia and Tierra del Fuego. You'll have time to settle into your cabin before our important briefings.
---
Day 3 – Drake Passage Crossing:
As we commence the Drake Passage crossing, we make the most of our time getting comfortable with the motions of the sea. Our expedition team prepare you for our first landing with important wildlife guidelines and biosecurity procedures, and start our lecture program to help you learn more about Antarctica's history, wildlife and environment.
Our wildlife experiences begin as we enjoy watching and photographing many seabirds, including majestic albatrosses and giant petrels following in our wake. They rise and fall skilfully, using air currents created by the ship to gain momentum.
---
Day 4 – Drake Passage & South Shetland Islands:

Nearing the tip of the South Shetland Islands on day four, the excitement is palpable with everyone converging on the bridge watching for our first iceberg. The ocean takes on a whole new perspective once we are below the Antarctic Convergence and are surrounded by the surreal presence of floating ice sculptures. The memory of your first big iceberg sighting is likely to remain with you for a lifetime. Weather permitting, we may attempt our first landing in Antarctica by late afternoon.
---
Days 5 to 9 – Antarctic Peninsula:

Over the next few days a host of choices are open to us, and depending on ice and weather conditions, the western side of the Antarctic Peninsula is ours to explore. Our experienced expedition team, who have made countless journeys to this area, will use their expertise to design our voyage from day to day. This allows us to make best use of the prevailing weather, ice conditions and wildlife opportunities.
Because we are so far south, we will experience approximately 18-20 hours of daylight and the days can be as busy as you wish. We will generally try for two landings or Zodiac excursions each day; cruising along spectacular ice cliffs; following whales that are feeding near the surface; and landing on the continent and its off-shore islands to visit penguin rookeries, seal haul outs, historic huts, and a few of our other favourite spots along the peninsula. There will be plenty of time for sleep when you get home!

There are many exciting places we can choose to visit and our itinerary is deliberately flexible to allow us to pick the best spots on the day based on ice and weather conditions. A sample of some of the types of places where we may cruise through, land, hike, photograph or view spectacular wildlife include:
Beautiful protected bays around the Antarctic Peninsula surrounded by magnificent peaks and spectacular glaciers. These areas are havens for whales and we keep our eyes open for humpbacks, orcas, minkes, and crabeater seals, as we explore the bays by Zodiac.

Wildlife-rich islands where glaciers and mountains dominate the vista and we can see large chinstrap penguin colonies tucked in between basaltic turrets coloured by yellow and orange lichens, and where often fur seals and elephant seals are hauled out on the pebble beaches.
Harbours home to gentoo penguins, and that regularly host Weddell seals. The scenery is dramatic with towering peaks and calving glaciers surrounding the harbours. The thundering crack of the glaciers as they calve is sure to stop you in your tracks.
Lemaire Channel – If ice conditions allow, standing on the observation deck of the Greg Mortimer quietly as the ship sails along the narrow Lemaire Channel could certainly be one of the highlights of our voyage. Cliffs tower 700m / 2300ft straight out of the ocean on either side of the ship. The water can sometimes be so still that perfect reflections are mirrored on the surface and it is clear to see why this channel is often called "Kodak Alley". Gigantic icebergs may clog the channel, creating navigational challenges for our captain and crew; occasionally they may even obstruct our passage.
---
Day 10 – Elephant Island, Weddell Sea:

This morning, if weather permits, we set course for Elephant Island, a half-submerged mountain cloaked with an ice sheet at the outer limits of the South Shetlands. We'll learn the story of Shackleton and hear how his ship, the Endurance, was crushed in pack ice in the Weddell Sea. He and his men climbed into three open boats, spending 16 months at sea, before finally making landfall on this tiny toe of rock and ice in the vastness of the Southern Ocean on 14 April, 1916.
We plan to sail past Cape Valentine to see the beach where the men first put ashore over 100 years ago. Weather permitting; we hope to follow the coastline 10km/6 miles west to Point Wild, where the men eventually set up camp under two of their upturned open boats and some old tents. If weather permits, we'll attempt to make a landing on historic Point Wild, Elephant Island.
We then begin to position our ship in prime location for the eagerly awaited solar eclipse.
---
Day 11 – Solar Eclipse:

According to NASA, the optimum position to experience the solar eclipse is well into the Weddell Sea. The eclipse is visible from the following geographic regions: Antarctica, South Africa, south Atlantic, but the full eclipse will only be visible in Antarctica.
The instant of greatest eclipse takes place on Dec 04 at 07:34:38 TD (Terrestrial Dynamical Time) or (07:33:28 UT1).
Historically, early December would be considered too early to visit South Orkney Islands because of extensive sea ice. However, conditions have been changing every year and it may be possible to get into the South Orkneys on 04 December, 2021 – the unknown is part of what makes the experience even more thrilling.
NASA Astronomer, Dr Michelle Thaller and NASA Engineer, Dr Andrew Booth will be onboard offering lectures and sharing their expertise and knowledge of this special event.

The eclipse belongs to Saros 152 and is number 13 of 70 eclipses in the series. All eclipses in this series occur at the Moon's descending node. The total solar eclipse of December 4th 2021 is preceded two weeks earlier by a partial lunar eclipse on November 19th 2021. These eclipses all take place during a single eclipse season. An eclipse season is a period during which the Sun appears close enough to one of the Moon's nodes to permit an eclipse to occur. Each season lasts approximately 34 days and repeats at about 173-day intervals.
---
Days 12 to 13 – Scotia Sea:

En route for South Georgia we'll head across the Scotia Sea, following the route that Shackleton and five of his men took in order to find help for the rest of their crew. On 24 April, 1916, they piled into the James Caird, the most seaworthy of their open boats, to attempt this perilous journey to South Georgia, some 1290km (802 miles) distant. Shackleton hoped to reach South Georgia in two weeks. There he would enlist the help of the whalers to return to Elephant Island and rescue the men who had been left behind. As excitement builds for South Georgia, catch up with fellow expeditioners in the bar, keep watch for wildlife alongside our naturalist from the open bridge, or learn more of the Shackleton story from our historian.
---
Days 14 to 17 – South Georgia:

Over the next few days, marvel at South Georgia's incredible scenes such as enormous and bustling king penguin colonies, fur seals jostling for space on the beach, jaw-dropping mountain landscapes and learn of Shackleton's epic rescue journey. On Zodiac cruises, discover bays filled with raucous and playful fur seals, and land on pebble beaches to meet curious penguins. Challenge yourself on hikes and enjoy dazzling pristine landscapes seen by few. South Georgia is a place where you can truly feel like you've really escaped from your normal daily life.
South Georgia is one of the world's most amazing natural environments. Just a speck in the vastness of the South Atlantic Ocean, and lying wholly within the Antarctic Convergence, South Georgia and the South Sandwich Islands are a life-sustaining haven to some of the world's largest congregations of wildlife. The surrounding sea is one of the most productive areas on Earth and supports the life of millions of seals, whales, penguins and other seabirds.
A mountain range forms the spine of this long, narrow island. Between the mountains, shattered glaciers carve their way through tussock grass to the deeply indented coastline – a landscape that is synonymous with the epic expedition of survival by Shackleton, Worsley, and Crean. Abandoned rusting whaling stations and remnants of explorers reflect a time of long ago, while summer workers conduct scientific and regeneration projects.
As we explore South Georgia, we will have the opportunity to reflect on Shackleton's epic journey. If conditions permit, we plan to follow in Shackleton, Worsley, and Crean's footsteps and complete the final leg of their walk from Fortuna Bay to Stromness. On this expedition, we will make a special stop at King Haakon Bay to drop off our mountaineers to start their 3-day crossing of South Georgia.
A sample of some of the places where we may land in South Georgia include:
Grytviken – originally a Norwegian sealing and whaling station. It was finally closed in 1965. Sir Ernest Shackleton's body was laid to rest at Grytviken.
St Andrews Bay – the long black sandy beach fronts a broad valley that stretches well back from the sea. This valley shelters the largest king penguin colony on South Georgia.
Godthul – imagine indented bays lined with bleached whale bones, teeming with fur seals and penguins just 'hanging about'. A careful descent leads us to a magnificent Macaroni penguin rookery.
Salisbury Plains – Salisbury Plain has one of the largest king penguin colonies on South Georgia. With about 100,000 pairs, the shore and beach can be completely crammed with penguins. Along the beach you will also find fur and elephant seals in the mix.
Fortuna Bay & Stromness – Fortuna Bay is surrounded by high mountains with glaciers pushing down from the high country to terminate in the open valley that is home to a small king penguin colony. This is where Shackleton, Worsley, and Crean descended from the treacherous glaciers of the interior on their way to Stromness whaling station.
---
Days 18 and 19 – Sea Crossing:
En route to the Falklands (Las Malvinas), you will be entranced by the ceaseless flight of the many seabirds that follow our wake, skilfully using the air currents created by the ship to gain momentum. On this leg, we are usually travelling into the prevailing weather so it is difficult to estimate our arrival time in the Falklands. Our lecture program will continue and highlight all of the amazing sights we have witnessed over the past few days. We'll have ample time to enjoy watching the sea birds or do some whale watching from the bridge, or simply relax with a book.
---
Day 20 – The Falklands~Malvinas:

Located 477km/296 miles east of southern Argentina, the Falkland Islands are a unique mix of wildlife hotspot and inhabited outpost. An archipelago of over 700 islands, but consisting of two main islands, East and West, only seven of the islands are inhabited. The cold nutrient-rich waters surrounding the islands makes them a prime location for marine life including seabirds and seals.
Our time in the Falklands includes a short walk in historic town of Stanley and on Sea Lion Island located in East Falkland's south, where you can get insight into the unique experience of Sea Lion Island Nature Reserve. You will discover how the raw beauty and solitude of the island makes it a haven for wildlife and visitors alike. In 2009, the island was officially declared a National Nature Reserve, with no introduced predators living on the island.
Tussac grass covers much of the island providing an ideal habitat for elephant seals and sea lions that can be found on many of the island's spectacular beaches. A plethora of birds such as thrushes, finches, tussac birds and Magellanic penguins also inhabit the tussac. Pods of orcas, Peale's dolphins and leopard seals are regularly seen in the waters around the island.
The island's southern giant petrels, with a wingspan of two metres, act as a welcoming party to ships as they approach Sea Lion Island. Rockhopper, gentoo and Magellanic penguins come to the island to breed. Macaroni, king penguins and striated and crested caracaras are also commonly seen.
---
Day 21 – Sea Crossing:

You may choose to spend the sea days returning to Ushuaia editing your photos, enjoying the onboard facilities, or listening to an informative lecture. Celebrate the end of an unforgettable voyage with newfound friends at a special captain's farewell dinner.
---
Day 22 – Disembark in Ushuaia:

Upon disembarkation, transfer to Ushuaia airport to continue on your onward journey.
---
NOTE: This itinerary is for guidance only as each voyage will vary depending on ice and weather conditions, and opportunities to see wildlife. Flexibility is key and all part of the adventure of an expeditionary cruise.

Why Swoop
Expert Impartial Advice At No Extra Cost
Antarctic travel options are complicated. We help you choose the right boat, the right cabin, and at the right point in the season.
A Depth Of Knowledge On Board
As a team of ex-guides, tour leaders, & polar adventurers our Antarctic knowledge is leagues ahead of the rest.
For The Ends Of The Earth
Swoop is proud to be B Corp Certified as we know sustainability is more than our carbon footprint (but we're reducing that too).
We're With You At Every Step
We'll make sure you have the adventure of a lifetime.
About The Ship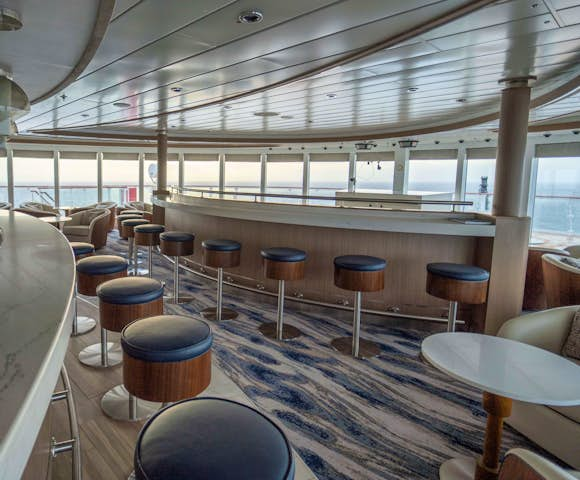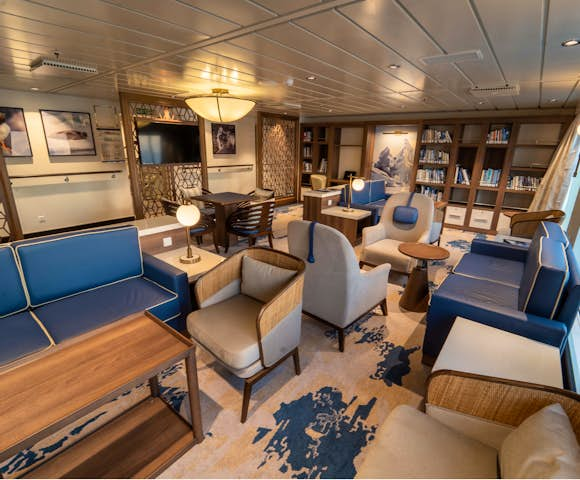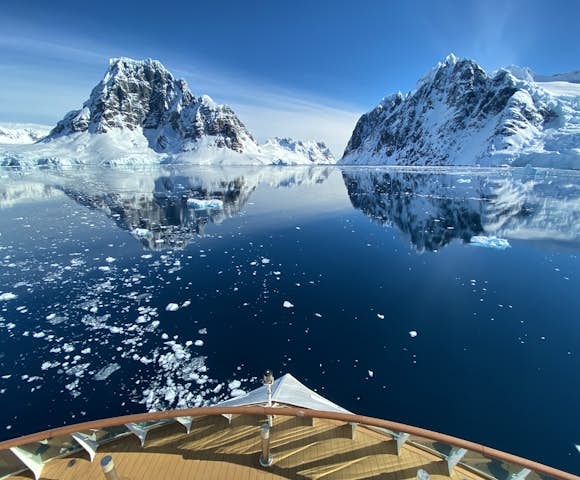 With its sleek X-bow lines and ground breaking design, few new Polar ships have created such excitement.

Zodiac platforms specially designed for quick boardings and more time exploring
State-of-the-art stabiliser system and polar code 6 ice rating

Large comfortable cabins
Prices, Departures and Inclusions
Prices quoted below are per person based on 2 people sharing. Cabin availability changes all the time so please contact us for up-to-date details and information on specific cabin availability.

Additional Notes
NASA Astronomer, Dr Michelle Thaller and NASA Engineer, Dr Andrew Booth will be onboard offering lectures and sharing their expertise and knowledge of this special event.
---
Optional activities:
Enhance your trip with the following add-ons. Limited places per activity, get in contact to check availability.
Shackleton Crossing (on foot) in South Georgia (USD $2,200) – limited spaces
Single Supplement And Child Policy
For those travelling solo who would like their own cabin, the single supplement is 1.5 times the cost of a single berth, please contact us for details. However, there is no single supplement for passengers willing to share a cabin.

Children aged 8 years old or over are welcome. There isn't any concession on pricing. Please contact us for details.
Optional Adventure Activities
Enhance your trip with the following add ons. Limited places per activity.
Get in contact to check availability.
Activity

Cost

Additional Information

Kayaking

$

1,470

All departures. Basic competency required.

Photography

Complimentary

All departures.

Polar snorkelling

$

800

Selected departures. No experience required. Dry suit provided.

Snowshoeing

$

370

All departures.

Mountaineering

$

2,200

3-day alpine crossing. Limited spaces.

Skiing

$

1,470

Advanced ability required.
Includes
A 3-in-1 waterproof polar expedition jacket
Arrival transfer from airport to hotel on Day 1 (preferred flights only)
One night's hotel accommodation with breakfast in Ushuaia on Day 1
Half day city tour in Ushuaia on Day 2 prior to embarkation (lunch not included)
Luggage transfer from your hotel in Ushuaia to ship on Day 2
Captain's Welcome and Farewell drinks including four-course dinner, house cocktails, house beer and wine, non-alcoholic beverages
Voyage aboard the vessel as indicated in the itinerary
Accommodation during the voyage on full board basis
Beer, house wine and soft drinks with dinner
All shore excursions and zodiac activities
Educational lectures by expert onboard polar guides
Access to an onboard doctor and basic medical services
Loan of rubber boots for the voyage's duration
Comprehensive pre-departure information
Port taxes and any entry fees to historic landing sites
A printed photo book produced with photos from your voyage
Excludes
Flights to and from points of embarkation/disembarkation
Any additional services before and after your voyage
Transfers not specific to the itinerary
Travel insurance or emergency evacuation charges
Optional adventure activities
Optional activity surcharges

Any visa, passport and vaccination expenses
Airport arrival or departure taxes
Items of a personal nature: laundry, beverages, etc
Customary staff gratuity at the end of the voyage
Additional onboard purchases (i.e. gift shop)
Questions about this Voyage?