Luxury South Georgia & Antarctica Fly & Cruise - 16 Days - $23,000
Trip Summary and Itinerary Map
2 days in the Falklands, 3 days in South Georgia & 4 days exploring Antarctica
Save two days at sea by taking a 2 hour flight across the Drake Passage in one direction
The most hassle-free expedition to South Georgia and Antarctica with an all-inclusive door-to-door service travel package, including: all flights and hotels, airport transfers and an all-inclusive voyage
Relax in ultra comfort with unparalleled service onboard your luxurious all-suite ship, with a market leading 1:1 ratio of guests-to-staff
Indulge in a diverse choice of dining options and sumptuous amenities, including a tranquil spa for pampering and a simmering on-deck Jacuzzi
Your purpose-built ship is perfectly suited for polar adventures with the latest navigational technology, the highest ice class rating, a top speed of 20 knots and superb manoeuvrability
Enjoy a complimentary kayaking session amid the glorious icy landscape
Landmarks potentially visited on Luxury South Georgia & Antarctica Fly & Cruise
Operator's Itinerary
Included travel arrangements prior to embarkation
The date of Day 1 for each voyage reflects the date that you will be scheduled to embark on the ship, weather conditions permitting. However, for those booking on a door-to-door basis the price of your trip also includes additional services to ensure a hassle-free experience from start to finish. In total there are three nights of accommodation included in Chile, in addition to your scheduled time on the ship.
You will be collected from your home for your private airport transfer in time for your flight to Santiago, Chile's capital city.
On arrival you will be met and transferred to your 5* city centre hotel where you will spend the night.

The following day, you will be transferred to the airport for the included charter flight to Puerto Williams.
Please see the final paragraph of this itinerary for the included arrangements once you have disembarked.
---
Day 1 - Embark in Puerto Williams
Today your charter flight from Santiago will land into Puerto Williams, which is located on Navarino Island on the southern shores of the Beagle Channel. Established as a naval base in 1953, it claims to be the "southernmost city in the world". Though with around just 2500 inhabitants this claim is contested by the much larger Argentinean city of Ushuaia, which sits on the northern side of the same channel.
Surrounded by windswept mountains that are regularly dusted with snow, the city itself has the dramatic backdrop called "Dientes de Navarino" (literally "teeth of Navarino"). The area was originally home to the hunter-gatherer Yaghan people. You will board the ship and set sail on your expedition.
---
Day 2 - At sea: to the Falklands
Days at sea are the perfect opportunity to relax, unwind and attend the educational presentations put on by the expedition team in preparation for time off the ship exploring. There's also time to go to the gym or visit the spa, making a perfect balance with the upcoming busy days once you reach your first landing sites. We strongly recommend spending time out on deck with your binoculars and camera as this can be an excellent area for birdwatching.
---
Day 3 - West Falklands
On the western side of the Falkland Islands is New Island, where the human population is far outweighed by the extraordinary birdlife that abounds on its craggy coastline. Home to five different species of penguin, including king penguins, you will also find huge albatrosses here. Enjoy sweeping landscapes, littered with shipwrecks and colourful wildflowers. A warm welcome from the human residents is guaranteed, especially when the local custom of smoko is served up – towering platters of cakes and biscuits with tea and coffee. Things haven't always been so peaceful here, however, and you may be able to pay a visit to the battlefields and memorials of the costly war in 1982, when the British and Argentinians clashed fiercely over these islands.

Another potential landing site may be at wind-lashed West Point Island. Here you'll be welcomed ashore by the calls and cries of a huge colony of black-browed albatross. Indeed, the island was originally known as Albatross Island before being renamed to reflect its geographic location. The scattering of humans and sheep are outweighed by a huge army of birdlife; look out for the rockhopper penguins who scamper and burrow along the coast's boulders, as well as the imperial cormorants who rest here in great numbers. You may also spot Magellanic penguins during your explorations. Hike the island's quiet landscapes, and look out for endemic plants like Felton's flower carpeting the green interior. Cliff Mountain is the island's standout - a towering sandstone monolith, and the archipelago's highest cliff, falling away to swirling waves below where you might find Commerson's dolphins at play. This is also a good location to look out for whales and as well as fur seals.
---
Day 4 - Port Stanley, Falkland Islands
Today you may visit Stanley, where you may find the odd pub serving ales and even fish and chips. While iconic landmarks such as Christ Church Cathedral, with its whalebone arch are 100% local, there is also a good smattering of imported garden gnomes and Union Jacks.
The islands' ownership has long been a matter of controversy, ever since colonisation in the 18th Century. At various points in their life the islands have been considered French, British, Spanish and Argentine. Following the Falklands War in 1982 the islands remain part of the British Commonwealth today. Margaret Thatcher, under whom the war was masterminded, remains something of a local hero, reflected in the street signs (such as Thatcher Drive). For those who want to dig deeper into the past, the Historic Docklands Museum provides lots of information on the chequered historical and political background of the Falklands. Potential excursions for the day include the highlights of Stanley itself, a Falklands war tour or an extensive 4 hour hike over Mount William and Mount Tumbledown.
---
Day 5 & 6 - At sea
You will be sailing en route to South Georgia and the expedition team will be filling your days with their excellent educational lecture series. It is also a prime time to get out on deck to look for wildlife.
---
Days 7 to 9 - Exploring South Georgia
Dramatic landscapes of jagged mountains ladled with snow, giant glaciers and thriving wildlife combine to make South Georgia one of Earth's most breathtaking islands. Here you'll witness a cacophony of calling birds, with crowds of colourful king penguins stretching out as far as the eye can see. An overseas territory of the UK, these isolated, subantarctic islands once formed a remote whaling centre - and you can still visit the haunting former whaling stations. Nowadays the giants of the sea are free to cruise the icy waters uninhibited with some populations beginning to recover. Fans of Ernest Shackleton's tale of Antarctic exploration, shipwreck and survival will know that the Endurance's crew were saved when he reached the salvation of South Georgia's shores in 1916 - before returning to collect the remaining sailors from desolate Elephant Island. A museum commemorates the legendary mission, and you can see the memorial to Shackleton that stands over his final resting place on this fabled island.
South Georgia's vast colonies of king penguins - with vivid bursts of yellow and orange around their necks - stand, squabble and curiously investigate, enjoying the isolated respite of this island. They're joined by smaller penguin species like Macaroni penguins and other glorious birdlife such as wandering albatrosses, which you can see gliding on gusts of wind, over the choppy waves.
---
Days 10 & 11 - At sea
You will have a couple of days at sea as you head on to the White Continent. There will be more educational presentations from your expedition team, time to relax and enjoy the ship's many amenities and also to look out for wildlife. As you draw closer, be on standby for large icebergs, which have broken away from the Peninsula.
---
Day 12 - Antarctic Sound
Few voyages ignite the imagination like a journey down to the planet's most remote, extreme and enchanting wilderness. An adventure in its purest form, only a select group of people will ever be lucky enough to experience Antarctica first-hand.
The Antarctic Sound will be one of your first sights, located at the northerly tip of the Antarctic Peninsula. Taking its name from the first ship to brave the passageway between the peninsular and the Joinville Island groups back in 1902, the Sound is home to towering tabular icebergs, broken away from the disintegrating Larsen Ice Shelf. Cape petrels sweep overhead as penguins porpoise through the ice-littered waters.
---
Days 13 to 15 - Exploring the Antarctic Peninsula
A mere 620 miles (997 kilometres) from the tip of South America, the Antarctic Peninsula unravels upwards, reaching out a beckoning finger to the adventurous, who dare to explore this untamed realm. The Peninsula offers a spectacular taste of the snow-blanketed landscapes and colossal ice sculptures, which make up Earth's least-explored continent. The vast peninsula is sprinkled with research bases, which are at the front line of human scientific endeavour, pushing to study and understand this unique landscape, its exceptional wildlife and the impact that humans are having on this pristine continent. Witness cathedral-sized icebergs up close, and blue-hued glaciers, slowly slipping from imposing locations like Hope Bay. Blanched mountain peaks cover the peninsula, and you'll find thousands of adorable penguins thriving undisturbed in this unique setting.
---
Day 16 - Fly out of King George Island
As the largest of all the South Shetland Islands, King George is considered the gateway to and from Antarctica. At just 75 miles (120 kilometres) from the Antarctic Peninsula and the only airport in the South Shetlands, it is the connection between "real life" and "Antarctic life". More than 10 different nations have year-round or summer-only scientific research stations on the island; considering that 90% of the island is covered by snow and ice, that is quite an achievement! Maintaining a base on the island allows membership of the Antarctic Treaty. There is even a Russian Orthodox church, with a permanent on-site priest. The island was named for King George III after a British explorer discovered it in 1819. Since then the island has been claimed by both Chile (1940) and Argentina (1943), but remains part of British Antarctic Territory.
The island is home to a simple airstrip, which is the landing location for your flight out of Antarctica and back to Chile. This takes approximately 2 hours and cuts out 2 days sailing across the notorious Drake Passage. Please note that flight schedules are always subject to safe weather conditions.
---
Included travel arrangements after disembarkation
On arrival back into Punta Arenas you have a further night included at the hotel here, to allow a buffer for any flight delays. The following day you will take your included charter flight back up to Santiago, Chile. There is an optional included final night at your Santiago hotel before continuing your onward travel back home.
---
Please note: The above itinerary is for guidance only as each voyage will vary depending on ice and weather conditions, and opportunities to see wildlife. Flexibility is key and all part of the adventure of an expeditionary cruise.

Why Swoop
Expert Impartial Advice At No Extra Cost
Antarctic travel options are complicated. We help you choose the right boat, the right cabin, and at the right point in the season.
A Depth Of Knowledge On Board
As a team of ex-guides, tour leaders, & polar adventurers our Antarctic knowledge is leagues ahead of the rest.
For The Ends Of The Earth
Swoop is proud to be B Corp Certified as we know sustainability is more than our carbon footprint (but we're reducing that too).
We're With You At Every Step
We'll make sure you have the adventure of a lifetime.
About The Ship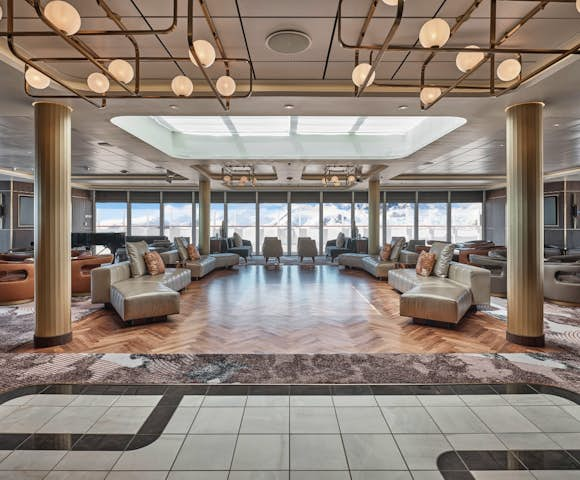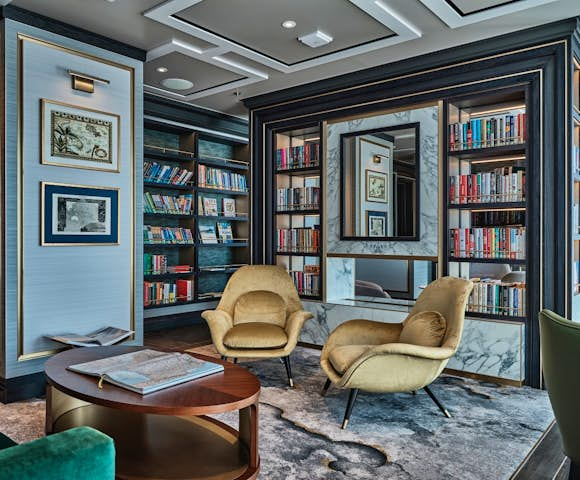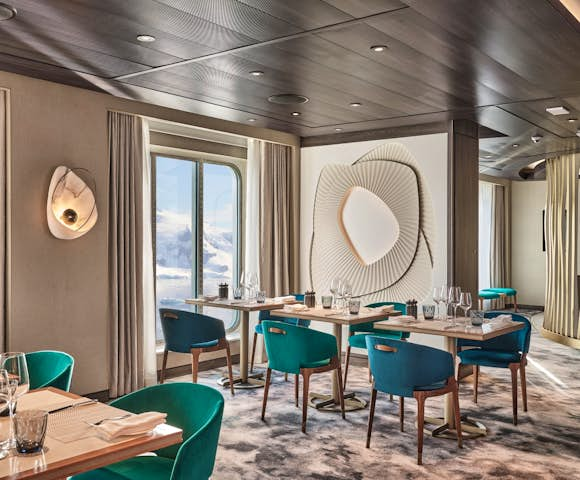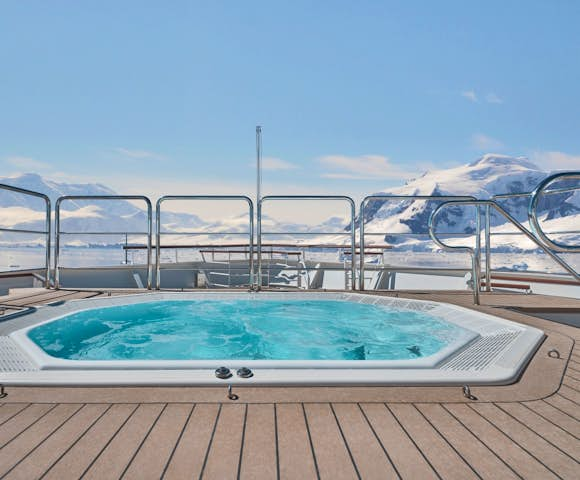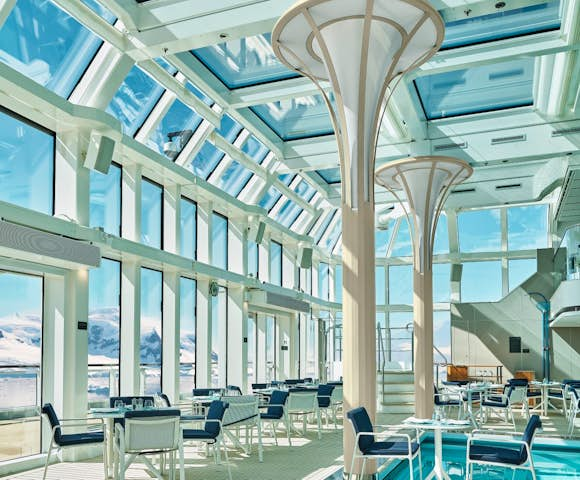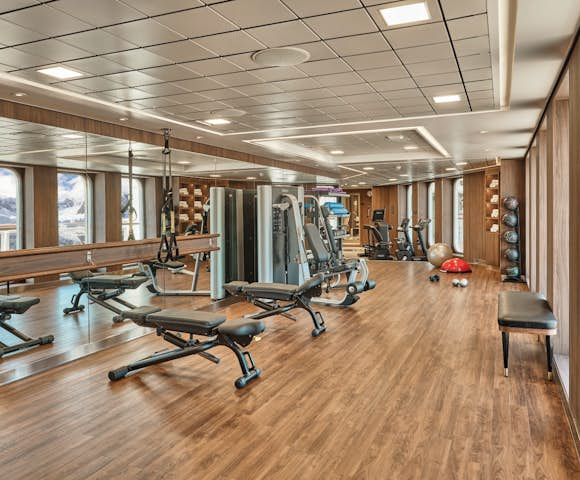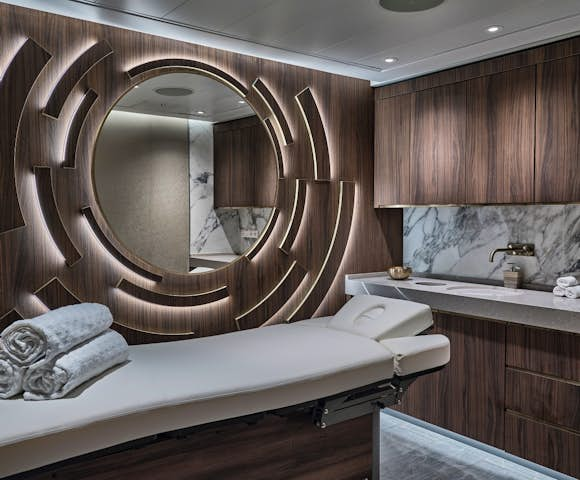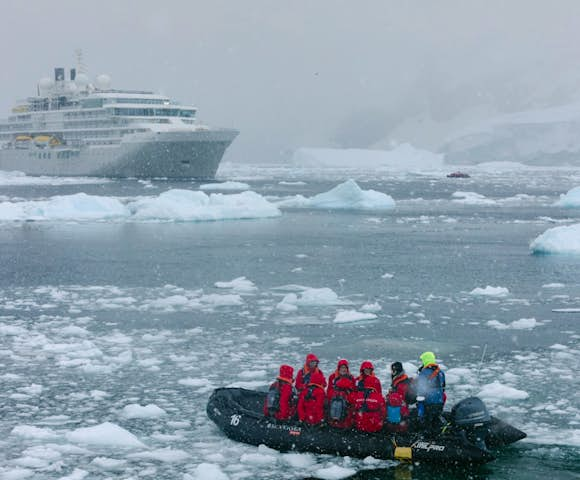 Combines cutting edge systems with true 5* luxury and comfort
Highest ice-class rating and a top speed of 20 knots: can comfortably tackle challenging polar waters
Spacious all-suite cabin types, all with private verandas
Industry-leading onboard staff to guest ratio of 1:1 - personalised service on an expedition ship
A large, experienced team of polar experts onboard
Bookable as a door-to-door fully inclusive package - seamlessly hassle free travel
Prices, Departures and Inclusions
Prices quoted below are per person based on 2 people sharing. Cabin availability changes all the time so please contact us for up-to-date details and information on specific cabin availability.

Veranda Suite
Superior Veranda
Deluxe Veranda
Premium Veranda
Silver Suite
Signature Suite
Master Suite
Grand Suite
Owner's Suite
January 2024
28-Jan-2024

$

26,800

$

30,300

$

31,900

$

32,900

$

49,000

$

56,700

$

64,800

Full
Full

Enquire

February 2024
12-Feb-2024

$

25,200

$

27,900

$

29,300

$

30,200

$

41,500

$

48,100

$

55,500

$

68,700

$

84,900

Enquire

December 2024
22-Dec-2024

$

25,800

$

28,400

$

29,600

$

30,500

$

42,800

$

54,200

$

61,900

Full

$

83,200

Enquire

January 2025
6-Jan-2025

$

23,000

*

$

25,200

$

26,300

$

27,100

$

38,000

$

48,200

$

55,000

$

60,600

$

73,900

Enquire
* Note: Prices are per person. Paid in USD ($) - figure above is based on today's exchange rate. Actual cost $23000
Additional Notes
Please note: the 28-Jan-2024 and 06-Jan-2025 departures operate in the reverse direction. The itinerary begins with the flight out to Antarctica, first visiting the Peninsula and then heading north to South Georgia and on to the Falklands. The ship then sails across and up to Puerto Wiliams, Chile.
Single Supplement And Child Policy
Please call or contact us for details about single supplements. Children aged 6 years old or over are welcome.

Optional Adventure Activities
Enhance your trip with the following add ons. Limited places per activity.
Get in contact to check availability.
Includes
Door-to-door chauffeur service transfer from your home to the airport and back
(Applicable for distances up to 50 miles. For longer distances, special tariffs apply. If not desired, or not available in your location, a credit will be applied.)

Economy class international flights for the first two guests on your booking. For these two travellers, where international flights are not available, or not desired, an air credit reduction will be applied to your booking.
Two 5* hotel nights stay in Santiago (1 pre & 1 post voyage)
One hotel nights stay in Punta Arenas
Charter flights between Santiago and Puerto Williams (round trip)
24 hour room service provided by your suite butler and open seating across a choice of dining venues
Beverages in-suite and throughout the ship, including champagne, spirits and selected wines of the day
All your shore excursions and time off the ship
Complimentary kayaking session
Complimentary parka expedition jacket, water bottle and daypack
Complimentary Wi-Fi in all suites
Gratuities included
Excludes
Economy class flights for any guests beyond the first 2 travellers on the booking
Airline excess baggage charges
Rubber boots to wear off the ship must be hired in advance (cost approximately USD $90pp)
Dinner at La Dame restaurant onboard (supplement of USD $60pp per sitting)
Premium wines from the wine menu
Laundry services
Spa treatments
Additional onboard purchases (i.e. gift shop)
If you have booked on a "port-to-port" fare basis or choose to take an air credit* the international flights and airport transfers - both at home and in Santiago - are not included. The final hotel night in Santiago is also not included; your services finish on arrival from the charter flight back into Santiago airport. *Your Swoop specialist will let you know if this alternative fare option is available on your voyage to see if you wish to opt-in.

Visa, passport and any vaccination expenses
Personal travel insurance
Questions about this Voyage?