Latest Update: Avian Flu in South Georgia
The first cases of Avian Flu on the island of South Georgia were confirmed on the 23rd of October 2023. The arrival of Avian Flu is a result of natural pathways; birds returning to South Georgia from migration.
We are monitoring the situation and working with our ship operators to stay up to date. A number of landing sites have been affected where going ashore is temporarily restricted. However, zodiac cruising excursions in these places are still continuing, and other landing sites currently remain open.
Increased biosecurity measures have been in place in South Georgia and Antarctica for over a year and will be maintained this season.

The Government of South Georgia & the South Sandwich Islands is continuing to assess Avian Flu on the island.
Swoop says
Although Avian Flu was naturally introduced to South Georgia by migrating birds from South America, all visitors have their part to play in helping keep the island's wildlife safe from further infection.
Landing site status
Updated 30th November 2023
---
Over half of South Georgia's landing sites remain fully accessible to visitors, including the spectacular king penguin colony at Fortuna Bay.
The following sites are closed for landings for the 2023/24 season, with zodiac cruises permitted:
Royal Bay (Moltke Harbour), St Andrews Bay, Cooper Bay
The following sites are all temporarily closed for landings, with zodiac cruises permitted:
Gold Harbour, Elsehul, Right Whale Bay, Salisbury Plain, Ocean Harbour, Husvik
The following sites remain open for landings on a restricted basis:
Grytviken (including Shackleton's grave, the South Georgia Museum and Norwegian Church)
What this means for your trip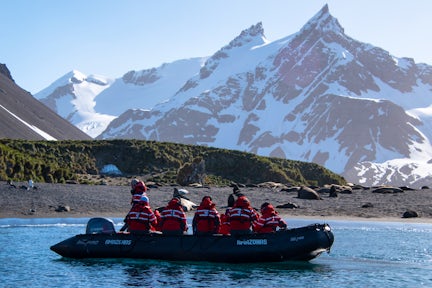 Since the beginning of November there has been a growing number of landing sites temporarily closed to ground-based landings in South Georgia and the situation remains dynamic. It's important to note that these locations remain open for exploration and enjoyment for visitors via zodiac excursions.
Swoop is monitoring the situation very closely; as well as getting regular updates from the Government of South Georgia & the South Sandwich Islands, we are in close contact with our ship operators, particularly those with ships that are currently in the area. Furthermore, we've recently had a Swoop staff member on board ship in South Georgia sharing insightful updates from the ground.
With almost half of the island's landing sites currently inaccessible for going ashore, and the need for heightened biosecurity, this will inevitably mean some adjustments to your visit. However, having a flexible itinerary and being adaptable are watchwords in Antarctic expedition cruising, and all of our ship operators are highly experienced and adept at making the most of any situation and quickly revising plans where necessary.
Here are some of the adjustments you should be aware of:
Increased biosecurity measures All efforts are being made to ensure that visitors aren't an added vector for Avian Flu, which means heightened biosecurity measures and the need for very thorough cleaning of your kit and boots both before and after landings, and a ban on sitting, kneeling or squatting on the ground. Your expedition team will cover this in detail when you're aboard.
Uptick in zodiac excursions Zodiac cruising has always been a key component of any trip to South Georgia and often provides the best platform for wildlife watching when the weather or sheer density of animals makes an actual landing impractical. Where landing sites are currently closed to shore landings, the good news is that you'll still be able to experience them by zodiac, appreciating the mass of wildlife set against the backdrop of South Georgia's majestic mountains.
Photography The increased time for exploring by zodiac, as well as on shore restrictions on being able to get really low viewpoints for photography should be factored in. Due to the likely greater distances between you and your subject matter, we strongly recommend packing a proper camera if you can rather than relying on your mobile phone alone, which is unlikely to have the zoom capabilities you need to capture those memorable images you're looking for.
More flexible itinerary While the situation has recently stabilised with no further landing site closures and others reopening, it remains dynamic. Travelling in such southerly latitudes always comes with challenges and requires a degree of nimbleness and evolution when it comes to the actual daily programme. Your Expedition Leader is a master of adaptation, and will keep you updated and well briefed throughout your trip.
Is Avian Flu affecting Antarctica or the Falkland Islands?
As South Georgia cruises also visit Antarctica, it's important to note that there have been no confirmed cases of Avian Flu in Antarctica. South Georgia is more than 940 miles (1500km) from the tip of the Antarctic Peninsula where you'll be heading. Increased biosecurity measures have been in place in Antarctica for over a year and will be maintained this season: adhering to them on your voyage is the best way to play your part in keeping Antarctica free of Avian Flu.
Most South Georgia cruises also visit the Falkland Islands. Since the end of October, the islands have recorded three isolated cases of Avian Flu, and government officials are monitoring the situation closely. All Falkland Islands landing sites remain open that might be visited by expedition cruise ships, though all visitors are requested to adhere to the same simple biosecurity procedures as for South Georgia and Antarctica.
Avian Flu & South Georgia: FAQs
Swoop says
Itineraries in South Georgia are always flexible by their nature, and plans can change as fast as the weather. Decisions on which locations to visit are made daily by your ship's Captain and Expedition Leader – South Georgia always offers somewhere amazing to visit.
What is Avian Flu?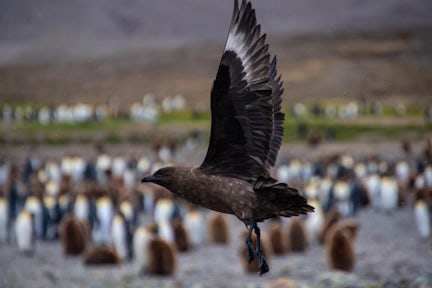 Avian Flu is a virus that exists naturally in wild bird populations and is spread by faeces and respiratory secretions. Most strains of the virus are harmless but the H5N1 strain, also known as Highly Pathogenic Avian Influenza or HPAI, carries a much higher risk to animals. As the name suggests, it mainly affects birds but has also affected some wild mammal species including marine species like seals living in close quarters with infected birds. It carries a very low risk to humans.
Since 2020, the HPAI strain has spread across the northern hemisphere and southern Africa causing widespread mortality, particularly among seabird populations. Spread by migratory birds, it arrived in North America in 2021 and quickly spread across South America in 2022.
Protecting South Georgia's ecosystem
South Georgia has long had some of the tightest environmental regulations anywhere in the world to help protect its wildlife. Thanks to the efforts of the Government of South Georgia & the South Sandwich Islands, the island has been named an ecosystem in recovery. Strict conservation measures such as the eradication of accidentally introduced rats and mice and a tightly policed marine protection area extending 200 miles from its shores have allowed its wildlife to flourish once again. It's a far cry from the days when it was a centre for industrial whaling.
Protecting an ecosystem requires constant vigilance, however. All visitors to South Georgia (including those arriving by expedition cruise ship) have to stick to certain quick and simple biosecurity protocols to help preserve the island's wildlife by preventing the accidental introduction of pathogens or invasive species.
With this in mind, the authorities had already drawn up contingency plans to cover the risk of Avian Flu being introduced to South Georgia by migratory birds.