Immense Discovery: Falklands, South Georgia & the Peninsula - 23 Days - $28,295
Trip Summary and Itinerary Map
12 days 'off ship' exploring – Falklands (1), South Georgia (5), Antarctic Peninsula (6)
Enjoy glorious sunrises and golden sunsets, perfect for photographers

Explore on a state-of-the-art expedition vessel, with X-BOW technology assisting with open water crossings
Optional kayaking and snorkelling activities (additional cost)
Complimentary pre-cruise hotel stay + parka jacket
Operator's Itinerary
Day 1: Arrival in Ushuaia
Arrive in Ushuaia, where you will take a transfer to your pre-voyage hotel. There will be an opportunity to collect your luggage tags and confirm if you wish to join a cruise through the Beagle Channel and to Isla de Los Lobos Cruise (sea lion island) tomorrow. The team will also confirm details regarding embarkation day, answer any questions you may have and provide you with information on where to dine or make last minute purchases. The remainder of your time in Ushuaia is at your leisure; please note that any meals on Day 1 are at your own expense.
---
Day 2: Embarkation
After breakfast, you will need to check-out and ensure your cabin luggage is fitted with cabin tags that are clearly labelled with your name and cabin number. Take your luggage to your hotel reception at check-out; it will be stored and transferred directly to the port for clearance and then placed in your cabin ahead of your arrival onboard. Please keep any valuables or personal items you may need with you throughout the day. Your morning is free for you to explore Ushuaia.
Those wishing to join the afternoon catamaran cruise should meet back at the hotel lobby at 1245 ready to transfer to the port at 1300. Here we board a catamaran and sail the Beagle Channel, towards Ushuaia's iconic Les Eclaireurs Lighthouse. We'll slow down around the Bridges Archipelago to watch colonies of sea lions and imperial cormorants sun themselves on the rocky outcrops. Gulls, rock cormorants, skuas, petrels, albatrosses and cauquenes are often sighted here too. The cruise offers panoramic views of the city and the surrounding mountain range and share histories of the people and communities of the region.
If you are not participating in the cruise, enjoy the day in Ushuaia and meet in the hotel lobby at 1545 to be transferred to the pier for embarkation.
Once onboard the vessel, there is time to settle into your cabin before important mandatory briefings. We gather on the deck as the ship pulls away from port, to commence an Antarctic adventure and enjoy spectacular views over Ushuaia and Tierra del Fuego.
This evening get to know your fellow expeditioners and friendly expedition team and crew at a welcome dinner to celebrate the start of a thrilling adventure to Antarctica.
---
Days 3 & 4: Drake Passage
As we begin crossing the Drake Passage, it's time to get comfortable with the movement of the sea. Meanwhile, the expedition team will prepare you for the first landing in Antarctica with important wildlife guidelines and biosecurity procedures. The lecture programme also begins, helping you learn more about Antarctica's history, wildlife and environment.
Out on deck there is an opportunity to enjoy watching and photographing the many seabirds that follow the vessel including majestic albatrosses and giant petrels. On sea days, there is also chance to enjoy the facilities onboard including the gym, wellness centre and the relaxing observation lounges.
The excitement will be palpable on the afternoon of Day 4 as we draw close to the South Shetland Islands and the tip of the Antarctic Peninsula. Everyone is likely to converge on one of the observation decks watching for the first iceberg. The ocean takes on a whole new perspective once the ship passes below the Antarctic Convergence; we will be surrounded by the surreal presence of floating ice sculptures and the memory of your first big iceberg sighting is likely to remain with you for a lifetime. Time and weather permitting, we may attempt our first landing in Antarctica by late afternoon.
---
Days 5 to 10: Antarctic Peninsula & Antarctic Circle
The feeling of arriving in Antarctica is almost impossible to describe: spotting that first iceberg and taking your first breaths of some of the freshest, crispest air on Earth are memories that will last forever.
On arrival in Antarctica, the western side of the Antarctic Peninsula and the South Shetland Islands offer a whole host of opportunities to explore. We will be so far south that we will experience approximately 18-24 hours of daylight, so the days can be as busy as you wish.
The expedition team, who have made countless journeys to this area, will use their expertise to design the ideal voyage from day to day, choosing the best options based on the prevailing weather, ice conditions and wildlife opportunities.
Generally there are landings or Zodiac excursions twice a day. You will want to wrap up warm before joining Zodiac cruises along spectacular ice cliffs or among grounded icebergs. Be sure to keep watch for whales, seals and porpoising penguins. Zodiacs will also transport you from the ship to land, to visit penguin rookeries, discover historic huts and explore some of the most iconic spots along the peninsula.
While ashore, you may choose to wander along pebbly beaches or perhaps up snow-covered ridgelines to vantage points with mountains towering overhead and ice-speckled oceans below. When conditions allow, any optional activities you have signed up for will be taking place, including a chance to fully immerse yourself in polar waters. The polar plunge can take place at any time during the voyage, depending on when conditions are right, so prepare to listen out for the announcement from the expedition team and get ready for the most exhilarating dip of your life!
We may cruise in the vessel, along some of the narrow, dramatic straits separating offshore islands from the mainland, or linger in scenic bays to watch whales travelling and feeding. This is a great time to use the observation lounge or even make your way to the bridge (open at the captain's discretion) for uninterrupted views of Antarctica in all its splendour. Listen out for the creak and deep rumble of glaciers as they calve; take a quiet moment to experience the wonder of the pristine paradise of the White Continent.
On this voyage, we plan to cross the Antarctic Circle (with favourable conditions). This imaginary line is located at latitude 66°33' south and is certainly a special highlight for many expeditioners. Where possible, the moment will be celebrated with a toast on deck and you will have earned some boasting privileges by joining a small group of lucky adventurers who have ventured to this part of the world. As we approach The Circle, subtle changes take place in the landscape and in the distribution of wildlife. The waters here at this time of year are rich with krill meaning we can hope to see plenty of whales, particularly humpbacks and minkes. We also hope to enjoy the spectacle of penguins feeding their ravenous chicks.
---
Days 11 & 12: The Scotia Sea
On our way to South Georgia, we will sail across the Scotia Sea. This follows the route that explorer Ernest Shackleton and five of his men took in order to find help for the rest of their abandoned crew at Elephant Island. On 24 April 1916, Shackleton and his men piled into the James Caird, the most seaworthy of their lifeboats, to attempt a perilous journey to South Georgia, some 802 miles or 1,290 kms away. Shackleton hoped to reach South Georgia in two weeks. There he would enlist the help of local whalers and return to Elephant Island to rescue the men who had been left behind.

With excitement building for arrival to South Georgia, pass the time by catching up with fellow expeditioners in the bar, keep a close watch for marine wildlife, or perhaps hear more tales of Shackleton's story from our historian.
---
Days 13 to 17: Exploring South Georgia
As the vessel approaches the rugged island of South Georgia, spare a thought for Captain James Cook, who arrived here in 1775 and believed it to be the northern tip of a great southern continent. In fact, it is just a small island only 110 miles (176 kms) long. South Goergia is, however an island of incredible riches. It has a 9,842ft (3,000 m) snow-capped mountain range, some of the world's largest congregations of wildlife and a truly fascinating human history.
From the sea, jagged mountain peaks rise steeply, while seabirds are often spotted soaring around the ship. We will sail along the coast, taking in the spectacular glaciated scenery and the enchanting coastline is yours to explore. Be sure to layer up before joining Zodiac cruises around craggy coves and along the rocky coastline in search of porpoising penguins, seal haul-outs and bird cliffs. Keep an eye out for South Georgia's kelp forests: remarkable underwater ecosystems which are quite mesmerising as their fronds sway back and forth on the water's surface.
Zodiacs will shuttle you to shore, where you can visit some of the largest king penguin colonies on Earth and take a guided walk among fur seals and elephant seals (making sure you listen to your guides and keep your distance). Wander along pebbled streams and grassy glacial outwash plains and visit the remnants of South Georgia's thriving whaling stations. There is time to pay respects to Sir Ernest Shackleton, whose incredible voyage of survival is synonymous with this island. If you have chosen any optional activities, there will be the option to do that whenever conditions allow.
We may cruise in the vessel through fjords with towering cliffs of ancient stone, or into deeply indented bays towards dramatic glacier fronts. Make your way to the ship's bridge or find a comfy spot in the observation lounge to enjoy uninterrupted views of South Georgia's majestic coast.
---
Days 18 to 20: At Sea
We sail towards the Falkland Islands (Las Malvinas), and there is still plenty to keep you occupied on board. The expedition team will continue to share their wealth of knowledge about wildlife, history and the natural world as part of the onboard lecture series. You will have time to enjoy observing seabirds from the stern of the ship and keep a close watch for whales and other marine wildlife.
---
Day 21: Falkland Islands
The Falkland Islands (Las Malvinas) comprise two large islands (East and West Falkland), with over 700 more islands scattered off the coast. All but seven of these are uninhabited and these beautifully barren islands are true wildlife havens. With windswept coastlines, white sand beaches and crystal-clear water, they shelter an impressive diversity of birdlife, including the largest black-browed albatross colony on Earth. The cold, nutrient-rich waters surrounding the islands also make this a prime location for spotting marine life.
There are many beautiful areas to explore across this area, each offering a unique perspective on this magnificent archipelago. We plan to land in Stanley, the historic capital of the Falklands. A charming town with a distinctly British character: terraced town houses, pioneer cottages and even an iconic red telephone box! Colourful buildings house cosy cafes, English pubs, souvenir shops, a post office and the fascinating Historic Dockyard Museum. This museum has displays on the maritime history of the Falkland Islands, local natural history and links to Antarctica.
---
Day 22: At Sea
As we set sail to return to Ushuaia, you may choose to spend your time editing photos, enjoying the ship's facilities, or attend any final lectures on offer onboard. With newfound friends, celebrate the end of an unforgettable voyage at a special Captain's farewell dinner.
There is still plenty of time to enjoy the magic of the Southern Ocean and the life that calls it home and time for reflection and discussion about what we have seen and experienced. We hope you become ambassadors for the Antarctic region, telling your family, friends and colleagues about your journey to this magical place, advocating for its conservation and preservation so that they might one day visit the region to experience what you have been lucky enough to see and do here.
---
Day 23: Disembarkation
Early this morning, we cruise up the Beagle Channel, before quietly slipping into dock in Ushuaia, where we disembark around 0800. Say farewell to your expedition team and fellow passengers as you continue your onward journey, hopefully with a newfound sense of the immense power of nature.
On disembarkation, passengers on flights departing prior to 1400 will be transferred directly to Ushuaia Airport, while those fortunate enough to be continuing their travels in this spectacular region of the world, will be transferred to post-voyage Ushuaia accommodation. Passengers flying after 1400 will have time to explore Ushuaia, prior to an afternoon airport transfer, details of which will be provided onboard prior to disembarkation.
---
Please note:
At the conclusion of the voyage, we do not recommend booking flights departing from Ushuaia prior to 1200 on the day of disembarkation, in case there are any delays.

This itinerary is for guidance only as each voyage will vary depending on ice and weather conditions, and opportunities to see wildlife. Flexibility is key and all part of the adventure of an expeditionary cruise.

Why Swoop
Expert Impartial Advice At No Extra Cost
Antarctic travel options are complicated. We help you choose the right boat, the right cabin, and at the right point in the season.
A Depth Of Knowledge On Board
As a team of ex-guides, tour leaders, & polar adventurers our Antarctic knowledge is leagues ahead of the rest.
For The Ends Of The Earth
Swoop is proud to be B Corp Certified as we know sustainability is more than our carbon footprint (but we're reducing that too).
We're With You At Every Step
We'll make sure you have the adventure of a lifetime.

What our customers think of Immense Discovery: Falklands, South Georgia & the Peninsula
Immense Discovery: Falklands, South Georgia & the Peninsula trips scored 4.7/5 from 10 reviews
Immense colonies of king penguins on South Georgian Island.

Travelled: April 2022
Sailing through the Gunnel Channel into "The Gullet", past the Antarctic Circle and doing the toast to the words of Captian James Cook as we stamped ourselves with circles. Then kayaking in the Horseshoe Island area and stepping foot on the contenient.

Travelled: April 2023
There isn't one. It was like being in a David Attenborough Nature programme. It was amazing. At one point I was leaning over the side of a Zodiac with my camera in my hand & I actually said out load: 'I don't want to go home'. So much wildlife - penguins, sea birds, whales, dolphins - and beautiful icebergs that were all different. Nature is so beautiful & a brilliant artist. Add to that the wonderful scenery & you are in heaven. Loved it.

Travelled: April 2023
First stepping foot on the Continent of Antarctica!!! That has to be the first. But there were so many many more!

Travelled: April 2022
The wild life was the best part of the trip.

Travelled: April 2022
There is so many moments but I guess seeing orcas swimming with the ship was my favorite.

Travelled: April 2023
Setting foot on Antarctica, polar plunge and kayaking

Travelled: April 2022
too many to count - Neko Harbour, landing on Antarctica, entering the Arctic circle, various locations in S Georgia, polar plunge, kayaking through the ice, sea icing up and more

Travelled: April 2022
That is a hard question to answer as there were many. All of Antarctica was very special and each location was somewhat different especially with the ever changing weather. Certainly Horseshoe Bay, Protection Point (where we saw a huge iceberg collapse), Neko Harbor, and Brown Bluff (where we had a leopard seal play with the zodiac for ~30 minutes) were all highlights. We were disappointed by being chased out of South Georgia Island by a storm after only one day which was as important to visit as Antarctica. In hindsight, we may have chosen to go too late in the season.

Travelled: April 2023
Penguins in South Georgia and the great crews which made everything happen.

Travelled: April 2022
About The Ship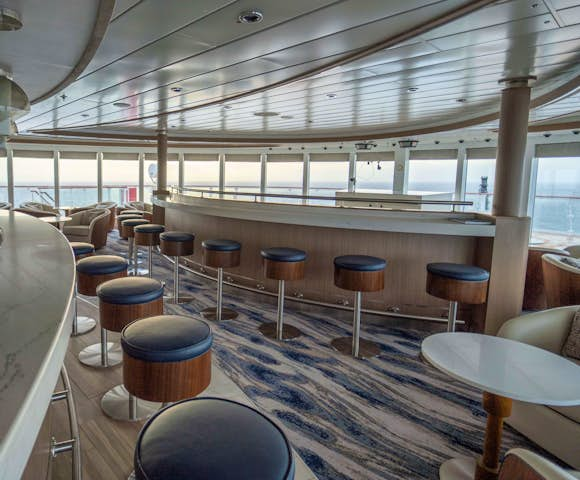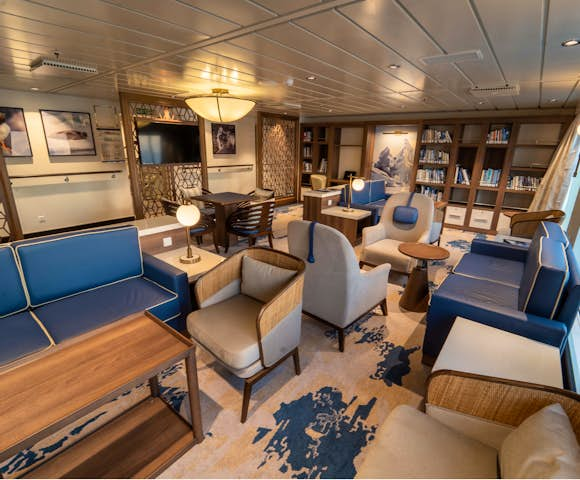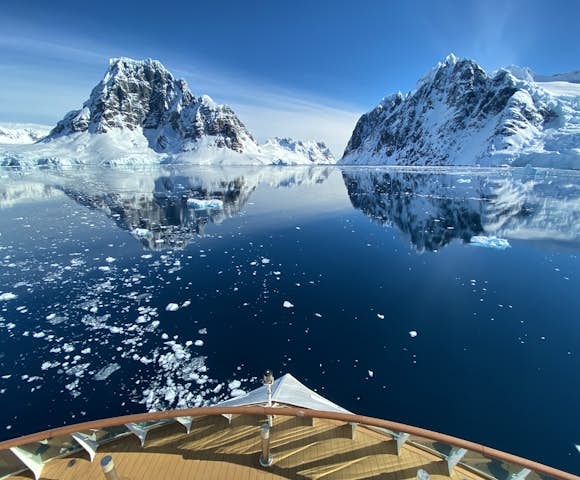 With its sleek X-bow lines and ground breaking design, few new Polar ships have created such excitement.

Zodiac platforms specially designed for quick boardings and more time exploring
State-of-the-art stabiliser system and polar code 6 ice rating

Large comfortable cabins
Prices, Departures and Inclusions
Prices quoted below are per person based on 2 people sharing. Cabin availability changes all the time so please contact us for up-to-date details and information on specific cabin availability.

* Note: Prices are per person. Paid in USD ($) - figure above is based on today's exchange rate. Actual cost $28295
Additional Notes
Please note: the 30-Jan-2025 departure operates in the opposite direction to the itinerary outlined above. This means that it leaves Ushuaia and heads to the Falkland Islands, before moving onto South Georgia. From here it continues on to Antarctica before returning to Ushuaia.
Single Supplement And Child Policy
For those travelling solo who would like their own cabin, the single supplement is 1.5 times the cost of a single berth, please contact us for details. However, there is no single supplement for passengers willing to share a cabin.

Children aged 8 years old or over are welcome. There isn't any concession on pricing. Please contact us for details.
Optional Adventure Activities
Enhance your trip with the following add ons. Limited places per activity.
Get in contact to check availability.
Activity

Cost

Additional Information

Kayaking

$

1,695

An immersive full sea kayaking program for those who want to kayak multiple times (as often as weather and ice conditions allow). Prior kayaking experience to at least intermediate level is required and you must be able to do a wet exit to participate. Available on all departures, subject to weather and ice conditions. Booking in advance is essential. Price varies from USD $1695 - 1745

Polar snorkelling

$

740

Selected departures. No experience required. Dry suit provided. Price varies from USD $740 - 835

Photography

Complimentary

All departures. Workshops with professional photographer.

Paddling

$

640

A gentler option staying closer to shore and using inflatable kayaks, in a group of maximum 6 participants. Available on select departures and includes multiple outings, subject to suitable weather and ice conditions. Suitable for novices and only offered in calm conditions. Booking in advance is essential.
Includes
Pre-voyage hotel night
Transfers as indicated in itinerary
A digital photo book produced with photos and ship logs from your voyage
3-in-1 waterproof polar expedition jacket
Voyage aboard the vessel as indicated in the itinerary
Accommodation and meals during the voyage on full board
Captain's Welcome and Farewell drinks reception
Beer, house wine and soft drinks with dinner
All shore excursions and zodiac activities

Educational lectures by expert onboard polar guides
Complimentary WiFi
Access to an onboard doctor and basic medical services
Loan of rubber boots for the voyage's duration
Comprehensive pre-departure information
Port taxes and any entry fees to landing sites
Excludes
Any flights to and from points of embarkation/disembarkation

Any additional pre/post land services, including meals
Transfers not specified in the itinerary
Optional non-complimentary adventure activities (e.g. kayaking)
Visa, passport and any vaccination expenses
Airport arrival or departure taxes
Travel insurance or emergency evacuation charges
Optional adventure activities
Optional activity surcharges
Items of a personal nature, e.g. laundry, beverages etc.
Additional onboard purchases (i.e. gift shop)

Gratuities for ship crew
Questions about this Voyage?