Antarctic Christmas Adventure - 12 - $9,195
Trip Summary and Itinerary Map
7 full days in Antarctica & a guaranteed White Christmas!
A very stable ship and with only 70 people aboard everyone can go ashore together
Family friendly departure with 25% child discount
Complimentary camping, hiking & photo workshops. Kayaking (additional cost)
We like this voyage as it offers the loan of a parka jacket, boots + trousers (the only one to include all three)
Day 1: Ushuaia, Argentina, to Drake Passage

Arrive in Ushuaia, Argentina, the world's most southerly city, where you board your expedition ship. In the early evening we set sail along the Beagle Channel and push out into the Drake Passage, towards Antarctica.
---
Days 2-3: At Sea towards Antarctica
This stretch of the South Atlantic is rich in its biodiversity and showcases an abundance of wildlife. We will be joined by hundreds of seabirds including the wandering albatross. Giant petrels and smaller Cape petrels are also constant companions as make our way south. Photographing these magnificent birds from the deck of the ship takes patience and skill and our photography expert will be on hand to show you the best techniques.
Join the ship's Captain on the bridge and learn about the operations of our modern research vessel. Throughout the day, our onboard experts educate us with a series of presentations about the environment, the wildlife and history and the locations we hope to visit in the coming days.
---
Day 4-9: Gerlache Coastline and Antarctic Peninsula
Take a deep breath - you have arrived. Welcome to Antarctica! This morning the magnificent snowy peaks are laid out before us. It's an awesome sight. The waterways of the Antarctic Peninsula are home to deep bays, pristine coves and inlets and numerous small islands. The Gerlache coastline features heavily glaciated mountains permanently covered in ice and snow.
Rocky outcrops are home to gentoo, adelie and chinstrap penguin rookeries and the waters are rich in marine life. We frequently encounter seals, including the powerful leopard seal. Curious humpback whales and the smaller minke whales are present much of the time as they feed on the vast schools of krill. Sightings of orca are not uncommon.
Our activity program is in full swing. Every day we plan an exciting range of activities including guided hikes on shore, visits to wildlife colonies with our expert naturalist guides. The historic huts and science stations located along the peninsula provide a fascinating glimpse into the past and the present. Zodiac cruising among the ice searching for seals and whales is a memorable activity. Meanwhile, the sea kayakers may range several miles from the ship. Our resident photography guide will be on hand to help you with your camera handling and image composition.
It is somewhere along this stretch of coastline we plan a night on shore, camping in Antarctica. We have all the right gear and equipment and an expert team to make it happen - all you need is an adventurous spirit!
We encourage you to spend time on the outer decks soaking up the scenery as we navigate south. We pass through the ice-strewn waters making our way towards our ultimate objective, the Lemaire Channel. Given favorable ice conditions, our first goal will be to sail through the Lemaire, a narrow passage of water flanked by the towering peaks and glaciers of the Antarctic Continent on one side and Booth Island on the other.
We hope to visit a working scientific base to learn something of the important climate-related research happening here. A hike over the snowy saddle of nearby Winter Island allows us to stretch our legs and explore a historic British Antarctic Survey hut.
---
Days 9-10: South Shetland Islands
After several busy days of exploration along the Antarctic Peninsula, we head for the South Shetland Islands. The adventure is not over and, if the weather conditions allow, we sail the ship into the flooded volcanic caldera at Deception Island. This is a very dramatic location. History is all around us as we explore the old whaling station, with the rusted relics and dilapidated wooden buildings.
---
Day 11: King George Island - Punta Arenas, Chile

This morning we say goodbye to our expedition team and transfer ashore by Zodiac. We walk from the shore landing site past the Chilean research station and up towards the airstrip where we board our special charter flight. This flight takes a little over two hours and is included in the price of your voyage.
Upon arrival into Punta Arenas a transfer from the airport into town is provided. This itinerary includes a complimentary hotel night in Punta Arenas for all guests returning from King George Island at the end of the voyage. This evening is at your leisure. Punta Arenas is home to some cozy restaurants, cafes and bars – including the historic 'Shackleton Bar' at the Hotel Jose Nogueira – a fitting location to reflect on your journey to Antarctica.
---
Day 12: Punta Arenas

After breakfast and check-out, make your own way to the airport for your onward journey. (We recommend you book flights after midday). Otherwise, why not continue your exploration of Patagonia? Just a few hours north, lies the celebrated Torres del Paine National Park – home to towering peaks, glaciers and spectacular wilderness - a paradise for hikers and nature lovers.
---
NOTE: This itinerary is for guidance only as each voyage will vary depending on ice and weather conditions, and opportunities to see wildlife. Flexibility is key and all part of the adventure of an expedition cruise.
A 4* expedition ship for only 92 guests
Everyone can go ashore together
1A ice class rating + superior stability
Camping, kayaking, snowshoeing, photo workshops
Hot tub & sauna
Boots, jacket & trousers are provided on loan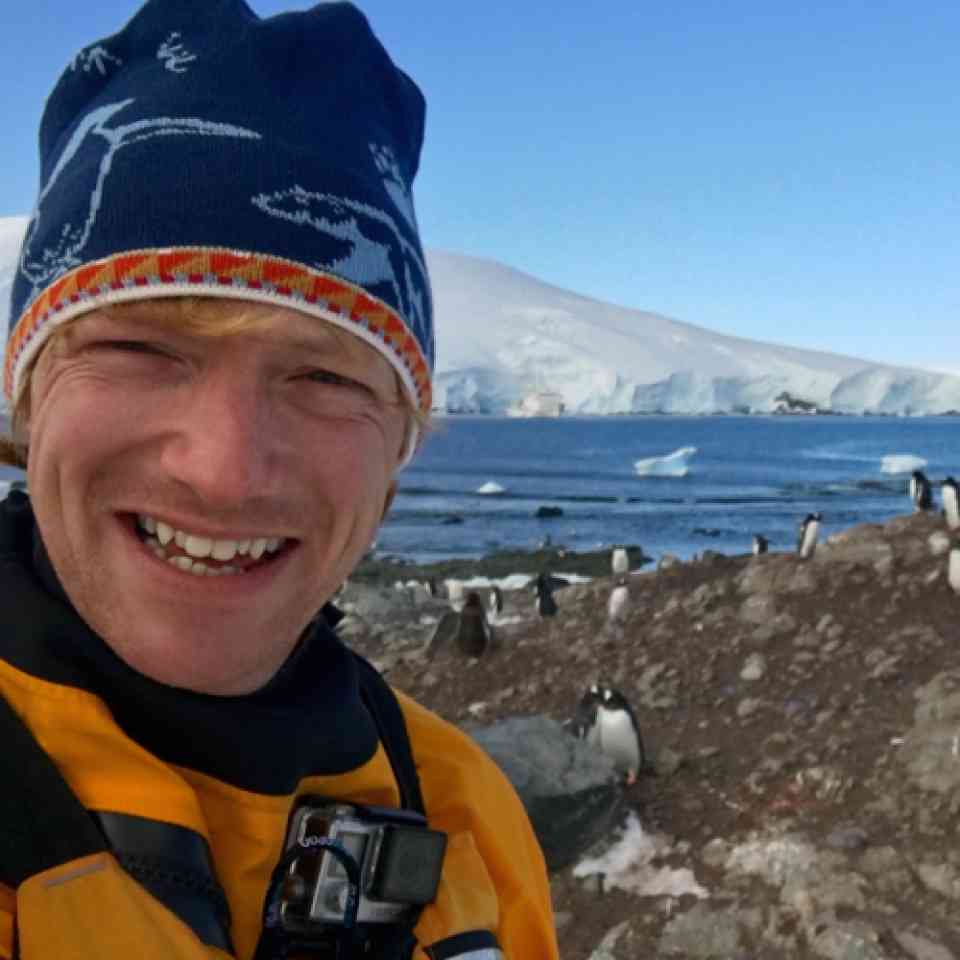 Built as solid as a tank, you can feel this ship's superior stability as soon as you embark.

John Newby Polar Specialist
Prices, Departures and Inclusions
Prices quoted below are per person based on 2 people sharing. Cabin availability changes all the time so please contact us for up-to-date details and information on specific cabin availability.
This trip can run as a group trip, with prices starting from $9,195 per person for a complete group. If you are looking to join a group or you are a solo traveller we will help to form likeminded groups of travellers. Please let us know your travel plans.
The trip can also run on a private basis to fit around your plans. Departures may be tailored and can be set up on a date of your choice. Please note that there is a higher price for smaller groups. Please enquire for further details.
Single Supplement And Child Policy
For those travelling solo and want their own cabin, the single supplement is 1.5 to 2 times the cost of a single berth, please contact us for details. However, there is no single supplement for passengers willing to share a cabin.
Children are welcome. 25% discount young traveller discount up to 17 years and 20% off for those aged 18 - 21. Please contact us for details
Includes
Flight Antarctica/P. Arenas

Voyage aboard the vessel as indicated in the itinerary
Accommodation & meals during the voyage on full board
All shore excursions and zodiac activities
Activities including camping, photo workshops & yoga
Educational lectures by expert onboard polar guides
Loan of rubber boots, waterproof pants & parka jacket
Loan of rucksack and binoculars
Comprehensive pre-departure information
Port taxes and any entry fees to landing sites
Free access to multimedia room & download stations
Excludes
Any flights to/ from voyage start & end points

Any additional pre/post land services, including meals
Transfers not specified in the itinerary
Optional adventure activities (e.g. kayaking)
Visa, passport and any vaccination expenses
Airport arrival or departure taxes
Personal Travel insurance
Items of a personal nature - laundry, beverages, etc
Customary staff gratuity at the end of the voyage
Additional onboard purchases (i.e. gift shop)
Questions about this Voyage?