Trip Summary and Itinerary Map
10 days 'off ship' exploring - Antarctica (4), South Georgia (4) and Falkland Islands (2)

Ship featuring X-bow technology, stabilisers and low emission engines
Spacious bright cabins with options for balconies and dedicated single rooms
Onboard jacuzzis, spa and gym
Kayaking & snowshoeing available on selected departures (additional cost)
Operator's Itinerary
Day 1: Embarkation in Ushuaia
Arrive in Ushuaia, Argentina, the world's southernmost town. Explore the quaint city or local countryside. Perhaps consider a day trip off the beaten path to the raw, natural archipelago of Tierra del Fuego; a hiker's paradise with rugged snow-capped mountains, glaciers, flower meadows and boggy quagmires. In the afternoon, we board our ship and our journey begins. Navigating the Beagle Channel, a strait in the Tierra del Fuego Archipelago, we depart for Antarctica.
---
Days 2 & 3: At Sea
We cross the famed Drake Passage - a body of water that marks the intersection of the cold Antarctic with the warmer Atlantic and Pacific Oceans. The Drake Passage is known for strong westerly winds and heavy sea, earning its nickname of 'The Roaring Fifties'. While this passage may be challenging, you can rest confidently aboard our purpose-built expedition vessel, with stabilizers, powerful engines and a highly qualified crew.
The most spirited sailors consider crossing the Drake Passage a lifetime achievement and you will be able to tick it off on the list yourself. As we cross the Drake, excitement builds as Antarctic wildlife comes into view - we can expect our first sightings of seals, penguins and albatrosses. Then it is on to explore the sub-Antarctic islands of the South Shetland chain, marvelling at the captivating landscapes along the way. Weather permitting, we hope to make our first landfall on King George Island and then continue south to the tip of the Antarctic Peninsula.
---
Days 4 to 7: Exploring the Antarctic Sound & Weddell Sea
During our time spent in the Antarctic Sound, (named in 1902 after the Swedish vessel Antarctic), the captain and the expedition team will keep a watchful eye on the mighty tabular icebergs, born from the floating Larsen Ice Shelf further south. We hope to make landings both on the continent itself and the surrounding islands in the Antarctic Sound and the Weddell Sea, always on the lookout for some of the large penguin colonies nearby.
Over the next few days, the itinerary and activities will depend on weather and ice conditions. The route and shore landings will be determined by the Captain and Expedition Leader and communicated via regularly scheduled briefings to the guests.
---
Days 8 & 9: Sailing north
Leaving the Weddell Sea, we continue our journey into the open sea, following the same route as intrepid explorer Ernest Shackleton and his men more than hundred years ago. Having lost their ship Endurance in the Weddell Sea, the group moved slowly north on ice floes and later in open lifeboats to reach Elephant Island. From there a smaller group set out on one of the most remarkable boat journeys in polar history. Shackleton and five of his men took two weeks to navigate the 720 nautical miles to South Georgia to call for recovery of the stranded crew on Elephant Island. We, on the other hand, will reach the same spot after just a few days at sea!
---
Days 10 to 13: South Georgia
South Georgia offers stunning wildlife experiences; a wealth of breeding penguins, sea birds, sea lions and seals all seek shelter in this oasis amidst the roaring Southern Ocean. Previous whaling history surrounds us in the fjords that we explore, not least of all in Grytviken, the only inhabited settlement on this mountainous island. Grytviken is also the final resting place of Shackleton, after he died on another Antarctica voyage in 1922. We will explore the fjords of the north coast for 2-3 days and take as many shore landings as time and sea conditions allow.
---

Days 14 & 15: At Sea
Spend your days at sea participating in lectures and other activities hosted by your expedition team, reading books in the ship's library, simply relaxing or perhaps watching the ubiquitous storm petrels and albatrosses from the top deck.
---
Days 16 & 17: Port Stanley & Falkland Islands
During the morning we approach the Falkland Islands and in the early afternoon our vessel will anchor in the sheltered natural harbour of Port Stanley. Using Zodiac boats, we will land in the town centre, and take a leisurely stroll through the streets of Port Stanley. Weather permitting, on the following day we will make landings at two of the islands' many magnificent wildlife spots.
---
Day 18: Returning to Ushuaia
The last leg of this adventurous voyage sees us heading back to Ushuaia.
---
Day 19: Disembarkation
After saying farewell to the vessel and crew, we disembark on the final morning after breakfast.
---
NOTE: This itinerary is for guidance only as each voyage will vary depending on ice and weather conditions, and opportunities to see wildlife. Flexibility is key and all part of the adventure of an expeditionary cruise.


What our customers think of Antarctica, South Georgia & Falklands Revealed
Antarctica, South Georgia & Falklands Revealed trips scored 4.5/5 from 1 reviews
Seeing the animals in their own environment

Travelled: January 2023
About The Ship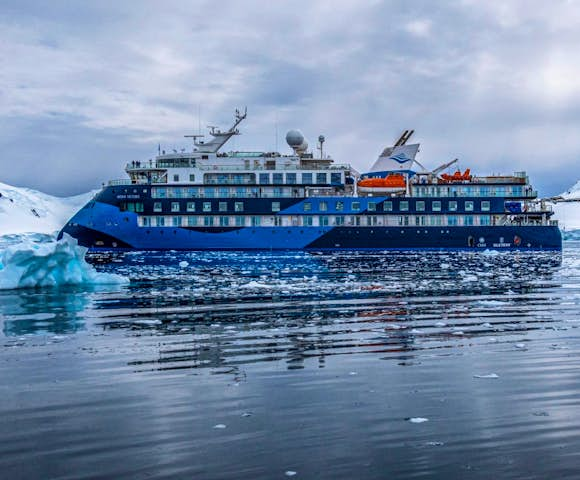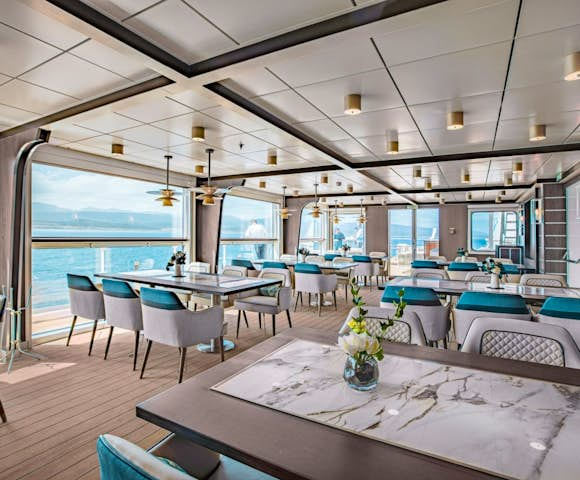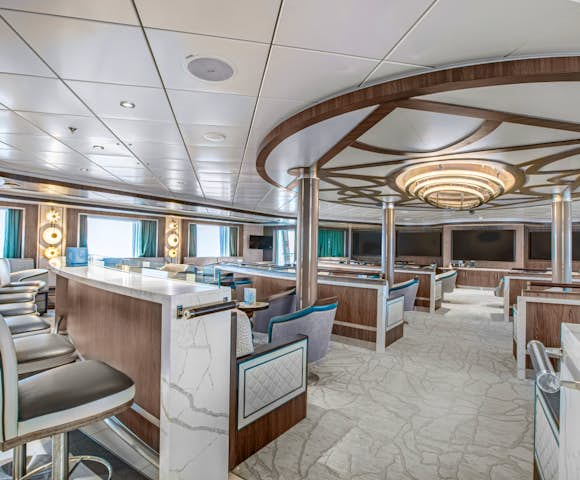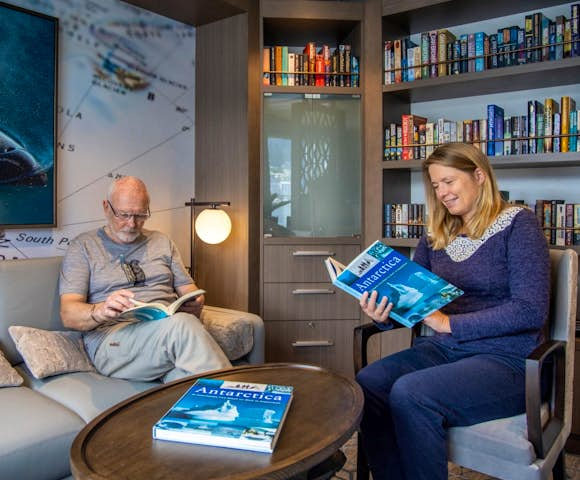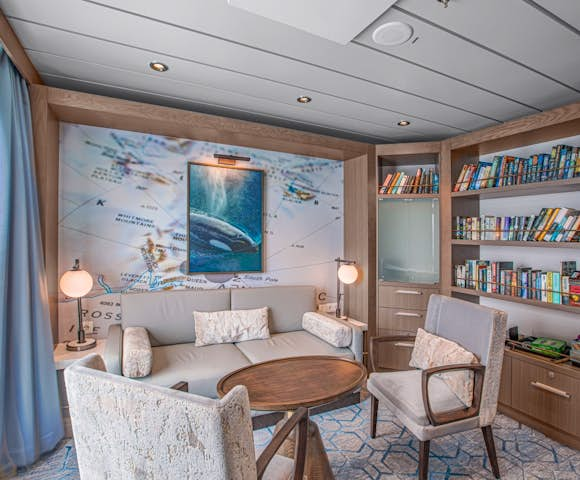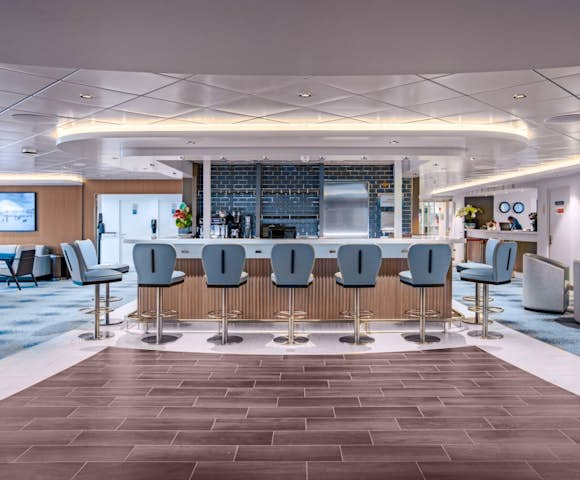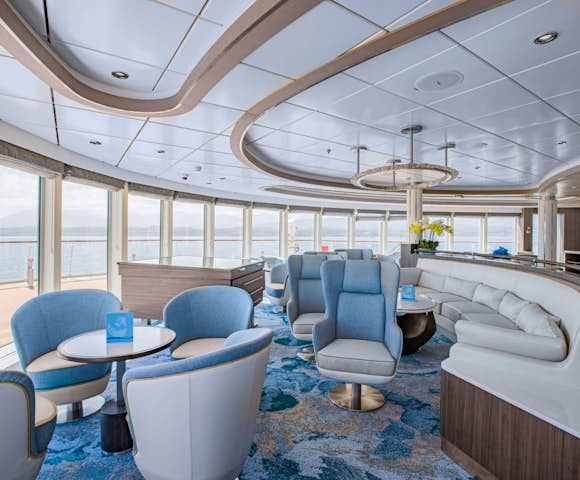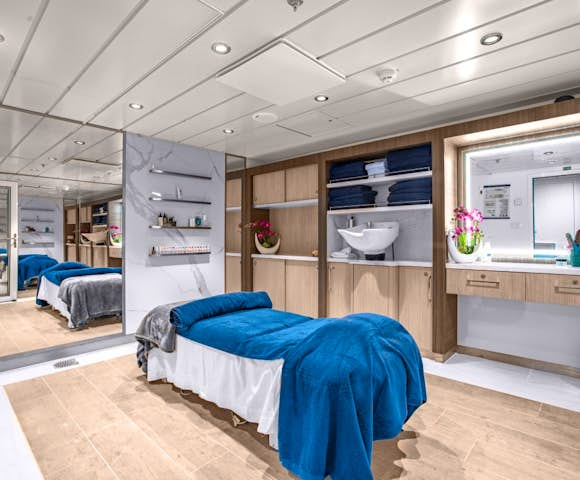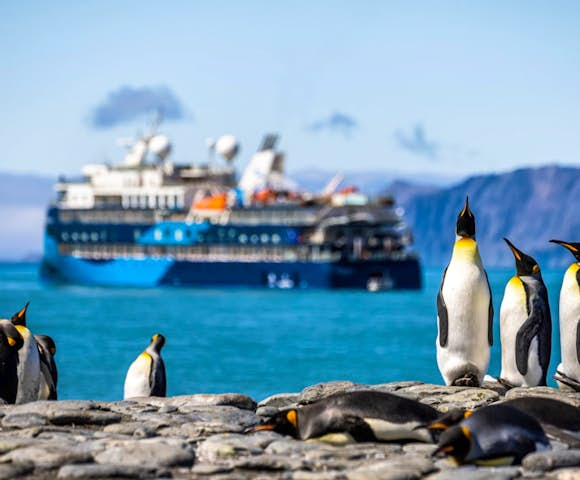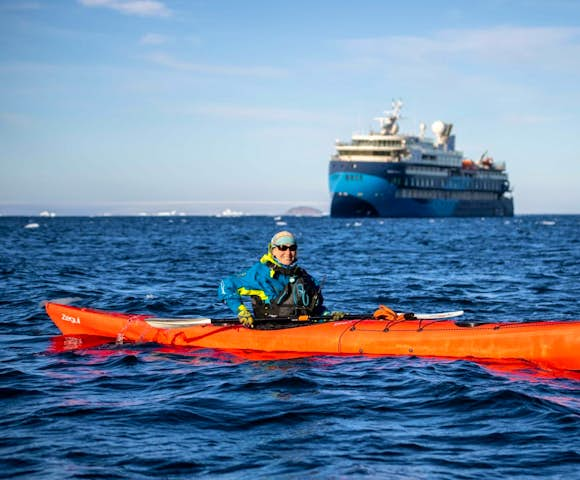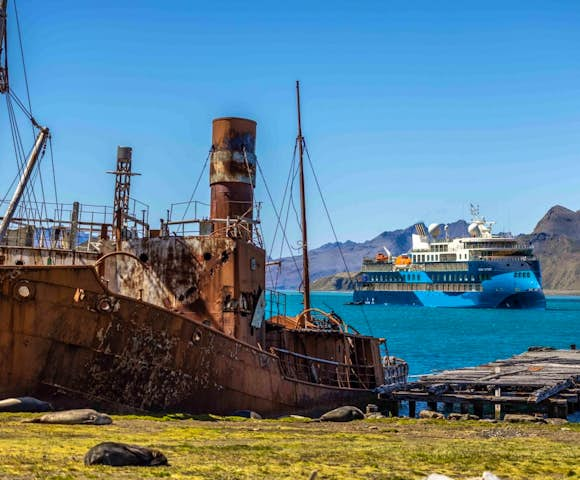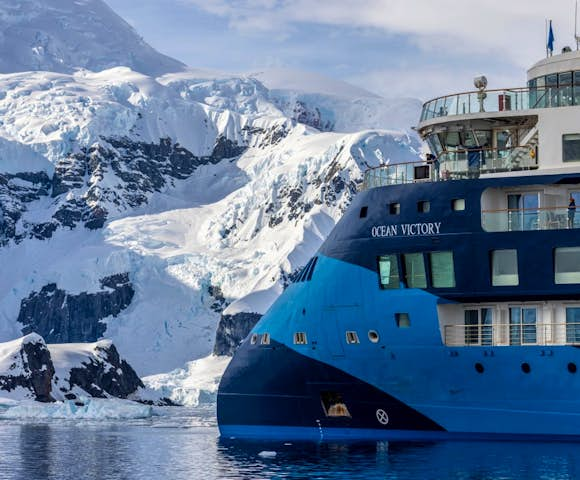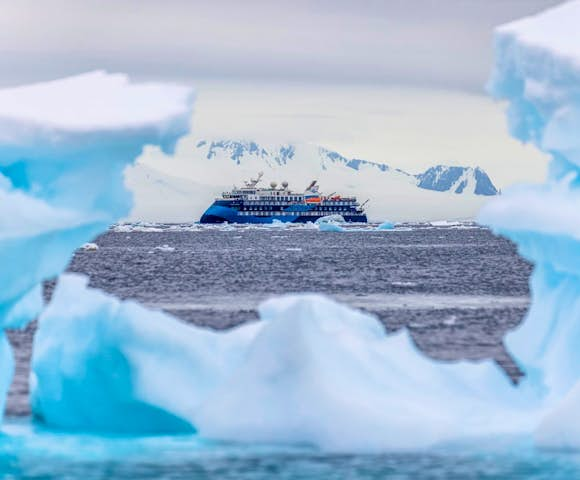 70% of the staterooms offer private balconies
Incredible Antarctic backdrops from the open-deck dining facility
Part of a brand new generation of low-energy vessels
Highest polar code 6 and ice class 1A ratings
Sturdy construction and X-Bow®-Infinity class provides high stability in rough weather
Optional activities on selected voyages include: kayaking, snowshoeing and camping
Prices, Departures and Inclusions
Prices quoted below are per person based on 2 people sharing. Cabin availability changes all the time so please contact us for up-to-date details and information on specific cabin availability.

Cat F Triple Stateroom
Cat D Porthole Stateroom
Cat E French Balcony Stateroom
Cat C Balcony Stateroom
Cat B Balcony Suite
Cat G Single Stateroom
Cat A Junior Suite
Premium Suite
Family Suite
November 2023
1-Nov-2023

$

12,390

*

$

16,090

$

17,590

$

18,990

$

20,990

$

20,990

$

29,390

$

33,190

Full

Enquire

December 2023
23-Dec-2023
Full
Full
Full
Full
Full
Full
Full
Full

$

38,990

Enquire

January 2024
22-Jan-2024

$

13,590

$

17,790

$

19,390

$

20,990

$

23,090

Full

$

32,490

$

36,690

Full

Enquire

February 2024
29-Feb-2024

$

13,590

$

17,790

$

19,390

$

20,990

$

22,900

$

23,090

$

32,490

$

36,690

$

38,990

Enquire

November 2024
1-Nov-2024

$

15,095

$

19,695

$

21,395

$

23,295

$

25,495

$

25,495

$

35,895

$

40,795

Full

Enquire

19-Nov-2024

$

14,995

$

19,825

$

21,575

$

23,295

$

25,655

$

25,655

$

36,155

$

40,815

$

44,995

Enquire

December 2024
18-Dec-2024

$

19,995

$

26,285

$

28,695

$

30,925

$

33,995

$

33,495

$

47,995

$

53,995

Full

Enquire

January 2025
4-Jan-2025
Full
Full
Full
Full
Full
Full
Full
Full
Full

Enquire

March 2025
6-Mar-2025
Full
Full
Full
Full
Full
Full
Full
Full
Full

Enquire
* Note: Prices are per person. Paid in USD ($) - figure above is based on today's exchange rate. Actual cost $12390
Additional Notes
Please note:
The departure on 19-Nov-2024 is 18 days long and spends one day less in South Georgia than the above itinerary.
The departure on 18-Dec-2024 is an extended 23 day trip which operates in reverse to the above itinerary, sailing from Ushuaia to the Falkland Islands and moving in a clockwise direction around to South Georgia before heading further south. The additional length of the trip allows the ship to sail to the remote and little visited South Sandwich Islands spending approximately 3 days there before moving on to Antarctica.
Single Supplement And Child Policy
Single Supplement: For those travelling solo and want their own cabin, the single supplement in a twin cabin is 75% the cost of a single berth plus a single berth. However, there is no single supplement for passengers willing to share a cabin. The ship has 5 dedicated single cabins (Category G).
Child Policy: At date of embarkation, the minimum age restriction of 8 years and a minimum height and weight requirement of 64 lbs or 29kg and 48" or 1.2 meters must be met.
Optional Adventure Activities
Enhance your trip with the following add ons. Limited places per activity.
Get in contact to check availability.
Activity

Cost

Additional Information

Paddling

$

310

One-off paddle session during the course of your voyage. Available on all departures, subject to weather conditions. Previous kayaking experience is required. Cannot be booked in advance; onboard booking only. Cost for departures from November 2024 - March 2025 will be USD $345.
Includes
Voyage aboard the vessel as indicated in the itinerary
Accommodation & meals during the voyage on full board
Welcome and farewell drinks

Free tea and coffee 24 hours daily
House wine, beer and soda included with dinner
All Zodiac landings and excursions as per itinerary

Expedition parka
Rubber boot rentals
Guiding and lectures by our expedition leader and team
Complimentary photo workshop from the onboard photographer

English-speaking expedition team
Taxes
Access to online visual journal after your voyage including photos, species list, log and more
Port fees and taxes required for your voyage
Short shuttle transfer from water's edge pickup point to ship for embarkation
Shuttle transfer after disembarkation directly from the ship to the airport in the morning
Excludes
Any flights to and from points of embarkation/disembarkation
Any pre/post land services, including meals, transfers & hotel accommodation

Visa, passport and any vaccination or Covid19 testing expenses

Personal travel insurance

Optional activities and excursions not mentioned in the itinerary (i.e. kayaking, snowshoeing )

Single room supplement and stateroom upgrades
Meals not on board the ship
Tips for the crew (we recommend USD $14 per person per day)

Additional onboard personal expenses e.g. laundry, internet access
Personal expenses
Questions about this Voyage?