Trip Summary and Itinerary Map
10 days 'off ship' exploring - The Falklands (2), South Georgia (3) & Antarctica (5)

A wide choice of sailing dates means great choice and flexibility to fit your diary
A hassle-free expedition to Antarctica with the all-inclusive door-to-door service travel package, including: airport transfers, all flights and hotels, all-inclusive voyage
Relax in ultra comfort with unparalleled service onboard your all-suite ship
Indulge in a uniquely diverse choice of dining options and beautifully designed amenities
Paddle in one of the world's most remote spots with a complimentary kayaking session
Landmarks potentially visited on Luxury Falklands, South Georgia & Antarctica
Operator's Itinerary
Included travel arrangements prior to embarkation
The date of Day 1 for each voyage reflects the date that you will embark on your ship, weather conditions permitting. However, the price of your trip also includes additional services to ensure a hassle-free experience from start to finish. In total there are two nights of accommodation included in Chile, in addition to your scheduled time on the ship.
You will be collected from your home for your private airport transfer in time for your flight to Santiago, Chile's capital city.
On arrival you will be met and transferred to your 5* city centre hotel where you will spend the night.
The following day, you will be transferred to the airport for the included charter flight to Puerto Williams. Here you will embark on your ship and set sail.
Please see the final paragraph of this itinerary for the included arrangements once you have disembarked.
---
Day 1: Puerto Williams
A Chilean town, located on the southern shores of the Beagle Channel, Puerto Williams is surrounded by magnificent scenery. Wild windswept mountains rise above the tree line and are regularly dusted with snow. The mountain range of "Dientes de Navarino" (literally "teeth of Navarino"), completes the dramatic backdrop. Originally used by the Yaghan people, a hunter-gatherer tribe, the area was abandoned by them upon the arrival of European settlers. The current city was established as a naval base in 1953; its name honours the British-Chilean naval commander John Williams Wilson of the 16th century. Initially protecting territorial possessions and fishing rights in the area, as well as offering logistical support to Antarctic bases, it has now become a departure point for scientific and tourist trips to the Antarctic region. Puerto Williams charms the visitor with a small village feel, complete with rustic buildings and a homely smell of drifting wood smoke.
---
Day 2: At sea towards the Falkland Islands
Days at sea are the perfect opportunity to relax and unwind. Head to the gym, visit the spa, spend some time whale watching, catching up on your reading or simply topping up your tan. These sea days are the perfect balance to busy days spent exploring on shore when you reach your destination.
---
Day 3: New Island & West Point Island, the Falklands
Remote and raw, New Island lies to the west of the Falkland Islands, and the human population here is far outweighed by the bustling birdlife that resides along its craggy coastline. Out in the tempestuous wilds of the South Atlantic Ocean, this island is a sanctuary of animal life: crowds of rockhopper penguins, wrinkled seals and stern-looking albatross number among its many residents. The penguins of the Falklands are a sight to see, fooling around on the beaches and then diving in and whipping through the water. This place is home to five different species, including king penguins that strut proudly with their orange collars glowing against their pure white chests.
Sea lions, seals and elephant seals lumber along the shoreline, while Peale's dolphins cut through the waves and sleek orcas patrol menacingly. The rookery cliffs rattle with the sounds of crashing waves and the echoing shouts of rockhopper penguins, black-browed albatross and king cormorants.
Gorgeous sweeping landscapes are littered with shipwrecks and sprinkles of colourful wildflowers. A warm welcome is guaranteed, signalled with towering platters of cakes and biscuits with tea and coffee, when the local custom of smoko is served up. However, things haven't always been so peaceful here and if you wish, you can pay a visit to the battlefields and memorials of the 1982 war, when the UK and Argentina clashed fiercely over these islands.
West Point Island is an outpost of the Falkland Islands where you'll be welcomed ashore by the calls and cries of a huge colony of black-browed albatross. The island was originally known as Albatross Island before being renamed to reflect its geographic location. The albatrosses are far from the only animal inhabitants of this remote and isolated land. A huge array of birdlife calls the island sanctuary home. Rockhopper penguins scamper and burrow along the coast's boulders and imperial cormorants roost here in great numbers. You're also bound to encounter Magellanic penguins during your explorations. Hike through the island's quiet landscapes and look out for endemic plants like Felton's flower which carpets the green interior. Cliff Mountain, a towering sandstone monolith is the archipelago's highest cliff which falls away to swirling waves below where you'll spot Commerson's dolphin chasing each other around the island, visiting whales and fur seals lounging on the island's inviting shores.
---
Day 4: Port Stanley
Stanley, despite its Britishness, resembles Patagonia more than Portsmouth. The windswept, vast and achingly beautiful landscape of the Falkland Islands is juxtaposed with the odd pub serving ales and even fish and chips. The landmark whalebone arch of Christ Church Cathedral, is 100% local but you will also find a good smattering of imported garden gnomes and Union Jackswhich serve as a reminder of whose territory you are really on.
Ever since colonisation in the 18th Century, The Falkland Islands' ownership has been a matter of controversy and at various points in their life they have been considered French, British, Spanish and Argentine. The short Falklands War in 1982, saw the British cling to this remote outpost and the islands remain part of the British Commonwealth today. British Prime Minister, Margaret Thatcher, under whom the war was masterminded, remains something of a local hero and is memorialised in street signs such as Thatcher Drive. For those who wish to dig deeper into the past, the Historic Docklands Museum provides lots of information on the chequered historical and political background of the islands.
The true heroes of Stanley are of course the thousands and thousands of penguins. Five species nest here during mating season including the rare rockhopper penguin. There are virtually no barriers between you and the wildlife, allowing for an interactive, authentic and totally unforgettable experience.
---
Days 5 & 6: At sea towards South Georgia
Days at sea are the perfect opportunity to relax and unwind. Head to the gym, visit the spa, spend some time whale watching, catching up on your reading or simply topping up your tan. These sea days are the perfect balance to busy days spent exploring on shore when you reach your destination.
---
Days 7 to 9: South Georgia
Charcoal-black mountains dusted with snow, giant glaciers and thriving wildlife combine to make South Georgia one of the world's greatest natural islands. Animals are in charge and humans come a distant second. Every-day occurrences here include a cacophony of calling birds, elephant seals clashing and thrashing and crowds of colourful king penguins stretching for as far as the eye can see. With vivid bursts of yellow and orange around their necks the king penguins stand, squabble and curiously investigate, enjoying the isolated respite of the island. They're joined by smaller penguin species including Macaroni penguins and other glorious birdlife like majestic wandering albatrosses seen gliding on gusts of wind over choppy waves.
These isolated subantarctic islands once formed a remote whaling centre and you can pay a visit to the former whaling stations. Nowadays the giants of the sea are free to cruise the icy waters uninhibited.
The island is written into explorer history thanks to the heroic tale of Ernest Shackleton's Antarctic exploration, shipwreck and survival. The crew of his ship, The Endurance were saved when he reached the salvation of these shores in 1916, before returning to collect the remaining sailors from Elephant Island. A museum commemorates the legendary mission, and there is a memorial to Shackleton that stands over his final resting place on this fabled island.
---
Days 10 & 11: At sea towards Elephant Island
Days at sea are the perfect opportunity to relax and unwind. Head to the gym, visit the spa, spend some time whale watching, catching up on your reading or simply topping up your tan. These sea days are the perfect balance to busy days spent exploring on shore when you reach your destination.
---
Day 12: Elephant Island
Elephant Island is perhaps Antarctica's best-known location and promises thrilling adventure, legendary tales and immaculate Antarctic beauty. Believed to take its name from the elephant seals that early explorers spotted lounging on its rocks, the volcanic island was not properly explored until 1916 when Ernest Shackleton and his men were beaten by the weather and sought shelter on its shores. Their story is one of humanity's most evocative and inspiring accounts of survival and you'll discover Shackleton's tale for yourself as you arrive at the island's icy shores.
The remarkable, slowly flowing Endurance Glacier takes its name from Shackleton's ship, The Endurance. A monument to Shackleton also stands here and is often surrounded by a migrating crowd of tiny gentoo penguins.
At Point Wild, Shackleton and his 28 crew members camped for four and a half months of Antarctic winter. Eventually, Shackleton and a handful of courageous others sailed for South Georgia Island. They then returned to rescue the remaining crew members.
Not only will you be amid breathtaking landscapes, witnessing incredible wildlife and experiencing the rush of adventure into the unknown, you will also know one of the true joys of any Antarctic cruise: to follow in the footsteps of brave explorers who first sought out these alluring, dangerous and evocative landscapes.
---
Day 13: Antarctic Sound
The Sound is an assault on the senses with imposing iceberg slabs that have broken away from the disintegrating Larsen Ice Shelf. You will come face-to-face with the extraordinary birds that call this landscape their home. Gentoo penguins hop around, and cape petrels sweep overhead. Before departure, you'll want to brush up on your photography skills to capture this magnificent sight in all of its unrestrained glory.
---
Days 14 & 15: The Antarctic Peninsula
The Antarctic Peninsula lies a mere 620 miles from Tierra del Fuego (the southern tip of South America) yet was unseen by humans until 1820. The peninsula offers the thrill of the truly unknown and extraordinary. It is sprinkled with research bases at the frontline of human scientific endeavour, their inhabitants dedicated to the study of a unique landscape, its exceptional wildlife, and the impact that humans are having on this pristine continent. Cathedral-sized icebergs will loom up close, blue-hued glaciers will slowly slip into view from imposing locations like Hope Bay and thousands of adorable Adelie penguin pairs are to be found thriving, undisturbed in this unique setting.
---
Day 16: South Shetland Islands
The South Shetland Islands lie close to the northwestern tip of the Antarctic Peninsula, separated by the Bransfield Strait. Several countries maintain research bases here and with plump elephant seals, and crowds of gentoo, chinstrap and Adelie Penguins also calling the islands home, it can sometimes feel a little crowded! King George Island is the largest and hosts the majority of the research stations, some of which are populated all-year-round by small yet hardy crews. These islands offer extraordinary adventure in one of the most remote locations on Earth. Towering over the archipelago are the triple peaks of Mount Foster and you're bound to feel your heart pumping a little faster, as you sail into the centre of Deception Island's magnificent collapsed volcano caldera.
---
Day 17: Drake Passage
Crossing back into the Drake Passage you will relive the chance to navigate those legendary seas with albatros, petrels and dolphins for company.
---
Day 18: Sailing around Cape Horn
No two words conjured up more fear to sailors of the past than Cape Horn. A reputation for ferocious storms and mountainous seas, the cape was a place where a seafarer garnered respect for bravery against the odds. Once an unavoidable physical gateway to adventure and commerce in the Pacific Ocean, Cape Horn nowadays has more of a spiritual attraction. It draws intrepid travellers who wish to pay homage to the brave sailors who once risked their lives to pass this wild and inhospitable headland.
When the weather is clear from the frequent icy squalls that batter the island's shores, a 23 feet (7m) high steel monument can be seen standing about 1 mile (1.5km) away from the true cape, near the Chilean navy station. It is the silhouette of an albatross, the bird that is said to carry the souls of those sailors who perished "rounding the Horn".
---
Day 19: Puerto Williams
Returning to Puerto Williams after your Antarctic adventure, it is time to disembark and say farewell to the crew, the expedition teams and your fellow travellers as you head for home.
---
Included travel arrangements after disembarkation
On arrival into Puerto Williams you will take your included charter flight back up to Santiago. There is an optional included final night at your Santiago hotel before continuing your onward travel back home. Alternatively, if your flight home departs from Santiago the same evening, you will have day use of the hotel included.
About The Ship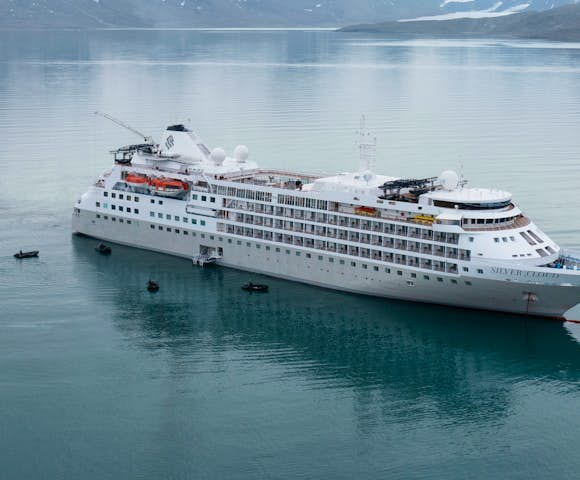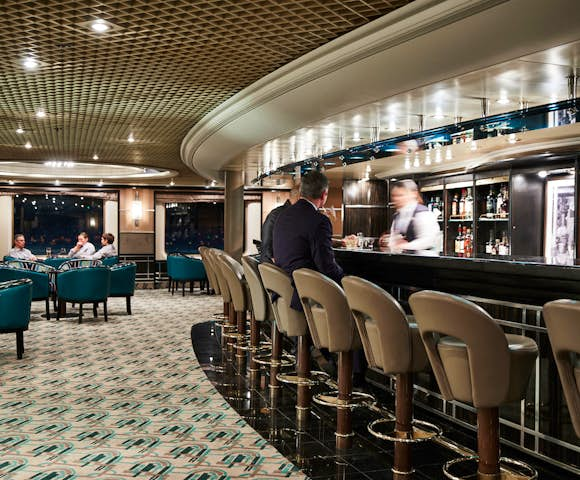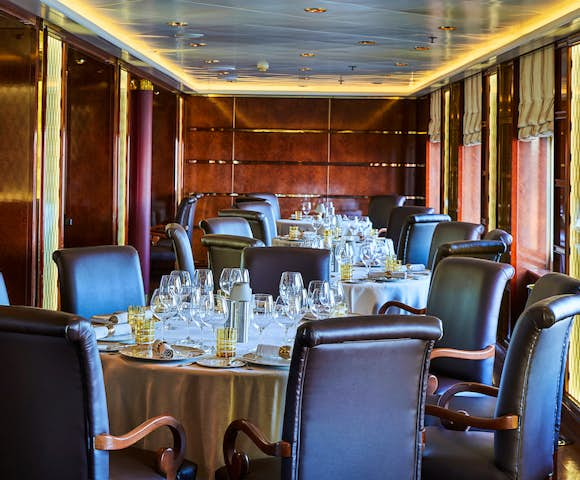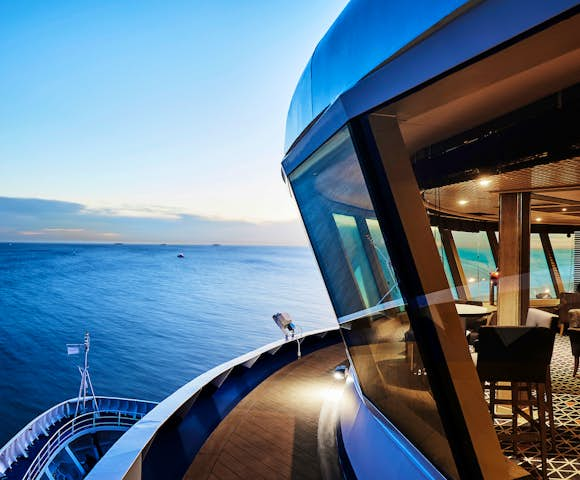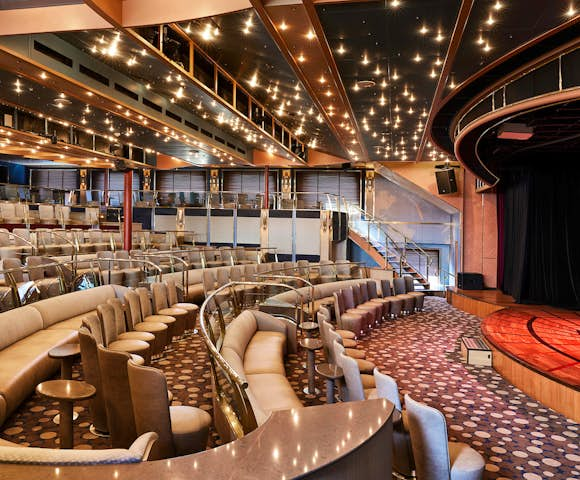 An unparalleled staff-to-guest ratio of almost 1:1
A large, experienced team of polar experts create a rich environment for learning and experiencing the wonders of Antarctica during your expedition
Outstanding cuisine across the ship's 4 dining options including the reservation-only La Dame
Comfortable all-suite cabins
All drinks included, apart from specialist wines and spirits
Complimentary 24-hour room service
Bookable as a door-to-door fully inclusive package - including pick up from your own home, all flights and the voyage - for seamlessly hassle free travel
Prices, Departures and Inclusions
Prices quoted below are per person based on 2 people sharing. Cabin availability changes all the time so please contact us for up-to-date details and information on specific cabin availability.

Vista Suite
Veranda Suite
Deluxe Veranda
Superior Veranda
Premium Veranda
Medallion Suite
Silver Suite
Royal Suite
Grand Suite
Signature Suite
Owner's Suite
Master Suite
October 2023
31-Oct-2023
Full
Full

$

29,847

$

28,237

$

30,962

Full

$

56,721

Full
Full

$

56,721

$

95,857

$

64,895

Enquire

November 2023
13-Nov-2023

$

22,416

$

23,283

$

26,627

Full
Full

$

33,191

$

37,897

$

43,841

$

50,901

Full
Full
Full

Enquire

20-Nov-2023

$

21,921

*

$

25,512

$

29,228

Full
Full

$

36,411

$

43,346

$

51,644

$

60,932

Full

$

73,193

Full

Enquire

December 2023
1-Dec-2023

$

22,664

$

23,407

$

26,627

Full
Full

$

32,448

$

37,525

$

43,594

$

50,901

Full

$

59,818

Full

Enquire

18-Dec-2023

$

24,274

$

27,618

$

31,828

Full
Full

$

39,755

$

46,442

Full

$

63,533

Full

$

75,298

Full

Enquire

19-Dec-2023

$

25,017

$

27,618

$

31,828

Full
Full

$

40,374

Full

$

54,492

$

63,533

Full
Full
Full

Enquire

October 2024
29-Oct-2024
Full

$

27,742

$

31,705

$

30,342

$

32,448

Full

$

45,204

Full
Full

$

58,208

Full
Full

Enquire

December 2024
18-Dec-2024

$

25,760

$

29,723

$

34,925

Full
Full

$

43,346

$

55,978

$

112,948

$

118,273

Full

$

122,731

Full

Enquire

January 2025
25-Jan-2025

$

24,769

$

28,485

$

33,438

Full
Full

$

40,869

$

53,625

$

108,118

$

113,319

Full

$

117,654

Full

Enquire

February 2025
22-Feb-2025
Full

$

24,274

$

28,485

Full
Full

$

34,925

$

44,832

$

89,665

$

93,999

Full

$

97,343

Full

Enquire
* Note: Prices are per person. Paid in GBP (£) - figure above is based on today's exchange rate. Actual cost £17700
Single Supplement And Child Policy
Please call or contact us for details about single supplements. Children aged 6 years old or over are welcome.
Optional Adventure Activities
Enhance your trip with the following add ons. Limited places per activity.
Get in contact to check availability.
Includes
Door-to-door chauffeur service transfer from your home to the airport and back
(Applicable for distances up to 50 miles. For longer distances, special tariffs apply. If not desired, or not available in your location, a credit will be applied.)

Economy class international flights for the first two guests on your booking. For these two travellers, where international flights are not available, or not desired, an air credit reduction will be applied to your booking.
Two 5* hotel nights stay in Santiago (1 pre & 1 post voyage)
Charter flights between Santiago and Puerto Williams (round trip)
24 hour room service provided by your suite butler and open seating across a choice of dining venues
Beverages in-suite and throughout the ship, including champagne, spirits and selected wines of the day
All your shore excursions and time off the ship
Complimentary kayaking session
Complimentary parka expedition jacket, water bottle and daypack
Complimentary Wi-Fi in all suites
Gratuities included
Excludes
Economy class flights for any guests beyond the first 2 travellers on the booking
Airline excess baggage charges
Rubber boots to wear off the ship must be hired in advance (cost approximately USD $90pp)
Dinner at La Dame restaurant onboard (supplement of USD $60pp per sitting)
Premium wines from the wine menu
Laundry services
Spa treatments
Additional onboard purchases (i.e. gift shop)
If you have booked on a "port-to-port" fare basis or choose to take an air credit* the international flights and airport transfers - both at home and in Santiago - are not included. *Your Swoop specialist will let you know if this alternative fare option is available on your voyage to see if you wish to opt-in.
Visa, passport and any vaccination expenses
Personal travel insurance
Questions about this Voyage?