Trip Summary and Itinerary Map
4 full days in Antarctica = 10 planned 'off ship' excursions
Wide range of departure dates to choose from
Only 90 passengers allows everyone to do landings together
No camping or kayaking, only zodiac excursions and landings (2 per day in Antarctica)
We like the fact that this ship is owner managed and its distinctive Latino style
Operator's Itinerary
Day 1: Depart from Ushuaia
Embark your vessel in the afternoon and meet your expedition and lecture staff. After you have settled into your cabins we sail along the famous Beagle Channel and the scenic Mackinlay Pass.
---
Day 2-3: Crossing the Drake Passage
Named after the renowned explorer, Sir Francis Drake, who sailed these waters in 1578, the Drake Passage also marks the Antarctic Convergence, a biological barrier where cold polar water sinks beneath the warmer northern waters. This creates a great upwelling of nutrients, which sustains the biodiversity of this region. The Drake Passage also marks the northern limit of many Antarctic seabirds.
As we sail across the passage, lecturers will be out with you on deck to help in the identification of an amazing variety of seabirds, including many albatrosses, which follow in our wake. The ship's open bridge policy allows you to join our officers on the bridge and learn about navigation, watch for whales and enjoy the view. A full program of lectures will be offered as well.
The first sightings of icebergs and snow-capped mountains indicate that we have reached the South Shetland Islands, a group of twenty islands and islets first sighted in February 1819 by Captain William Smith of the brig Williams. With favorable conditions in the Drake Passage, our lecturers and naturalists will accompany you ashore as you experience your first encounter with the penguins and seals on Day 3.
---
Day 4-7: Exploring the Antarctic Peninsula and the South Shetland Islands
The South Shetland Islands are a haven for wildlife. Vast penguin rookeries, beaches ruled by Antarctic fur seals and Southern elephant seals make every day spent in this amazing island group unforgettable. Sailing through the narrow passage into the flooded caldera of Deception Island is truly amazing.
King George Island, the largest of the South Shetland Islands, features colonies of nesting Adelie and Chinstrap Penguins, Kelp Gulls, Blue-eyed Cormorants, Antarctic Terns and Southern Giant Petrels and is home to scientific bases of many different countries. Macaroni, Chinstrap and Gentoo Penguins, as well as Elephant seals ,await you at Livingston Island.

The Antarctic Peninsula's remarkable history will provide you with a type of excitement often only associated with the early explorers. You will have plenty of time to explore its amazing scenery, a pristine wilderness of snow, ice, mountains and waterways, and an incredibly wide variety of wildlife. Apart from penguins and sea birds, you are very likely to see Weddell, Crabeater and Leopard seals as well as Minke, Orca and Humpback whales at close range.
We hope to navigate some of the most beautiful waterways (depending on the ice conditions): the Gerlache Strait, the Neumayer Channel, and the Lemaire Channel, the latter are narrow passages between towering rock faces and spectacular glaciers.
---
Day 8-9: At Sea crossing the Drake Passage, northbound
We leave Antarctica and head north across the Drake Passage. Join our lecturers and naturalists on deck as we search for seabirds and whales and enjoy some final lectures. Take the chance to relax and reflect on the fascinating adventures of the past days on the way back to Ushuaia.
---
Day 10: Arrival in Ushuaia
We arrive at the port of Ushuaia in the early morning and disembark after breakfast.
---

Additional Note
The 7-Feb-2020 departure is 11 days long and spend one more day on the Antarctic Peninsula.
---
NOTE: This itinerary is for guidance only as each voyage will vary depending on ice and weather conditions, and opportunities to see wildlife. Flexibility is key and all part of the adventure of an expeditionary cruise.


What our customers think of Antarctic Peninsula Expedition
Antarctic Peninsula Expedition trips scored 3.8/5 from 3 reviews
The penguins and the whales!

Travelled: February 2021
The great sightseeing around the Antarctica.

Travelled: December 2019
A wonderful experience.

Travelled: February 2021
About The Ship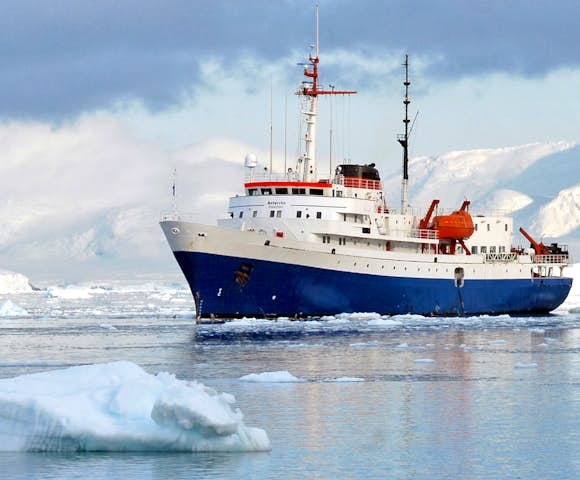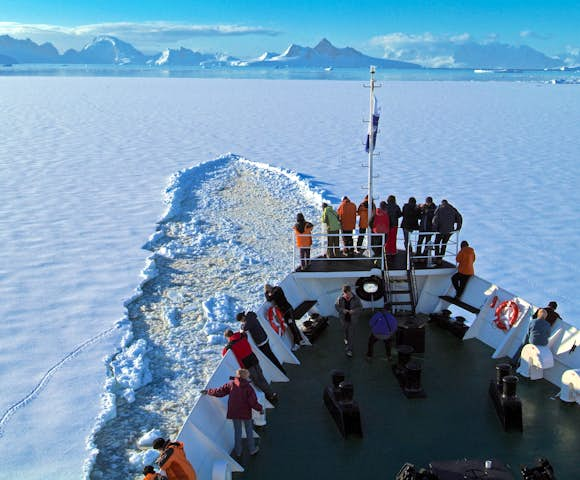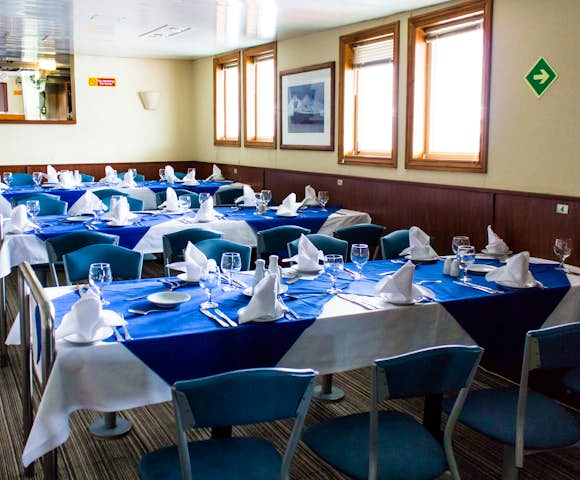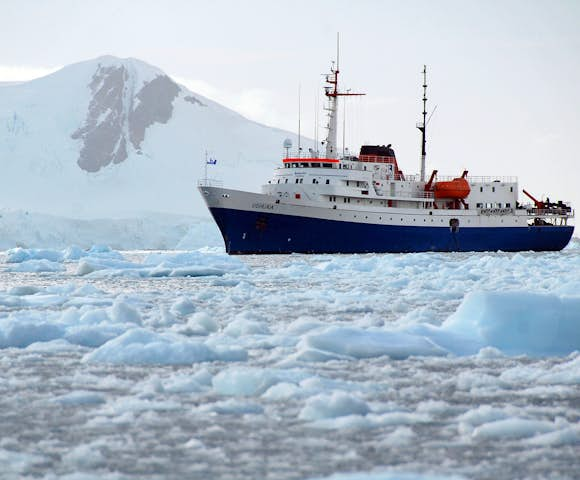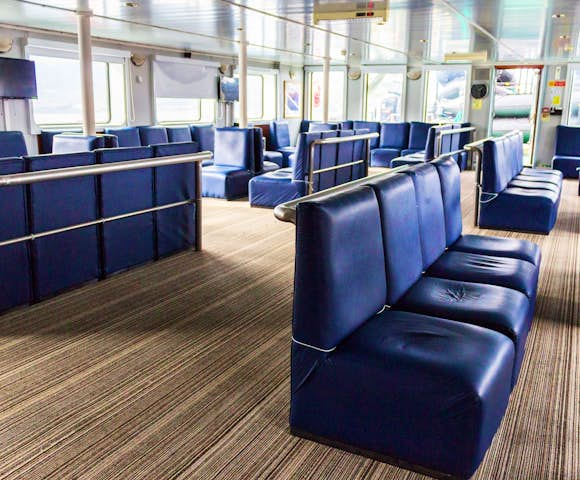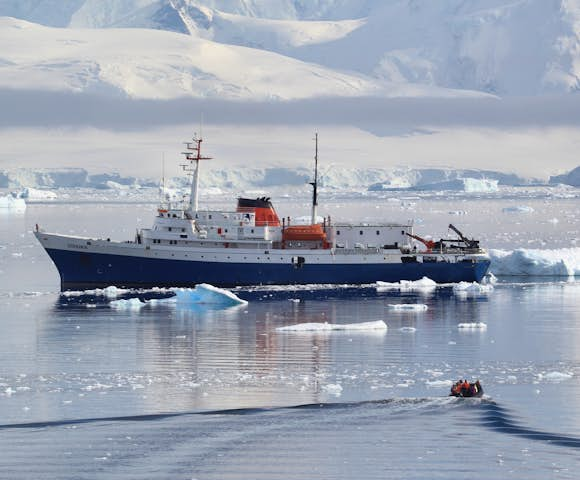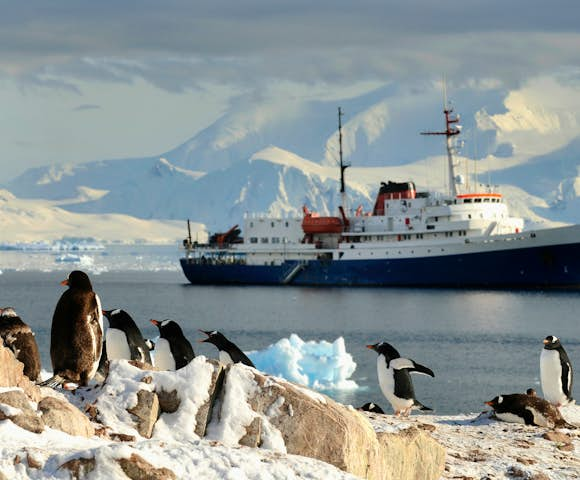 A 3-4* expedition ship carrying 88 guests
Well priced with wide cabin choice
Friendly, experienced mainly Latino staff
1C ice class rating
Only zodiac landings & excursions
Rubber boots are provided on loan
Prices, Departures and Inclusions
Prices quoted below are per person based on 2 people sharing. Cabin availability changes all the time so please contact us for up-to-date details and information on specific cabin availability.
This trip can run as a group trip, with prices starting from $4,860 per person for a complete group. If you are looking to join a group or you are a solo traveller we will help to form likeminded groups of travellers. Please let us know your travel plans.
The trip can also run on a private basis to fit around your plans. Departures may be tailored and can be set up on a date of your choice. Please note that there is a higher price for smaller groups. Please enquire for further details.
Single Supplement And Child Policy
For those travelling solo who would like their own cabin, the ship has two dedicated single cabins and a limited number of twin cabins are available for single occupancy. The single supplement is 1.5–2 times the cost of a single berth. Please contact us for details. There is no single supplement for solo passengers willing to share a cabin.
Children aged 10 years old or over are welcome.
Includes
Detailed post-expedition log

Voyage aboard the vessel as indicated in the itinerary
Accommodation and meals during the voyage on full board
All shore excursions and zodiac activities
Educational lectures by expert onboard polar guides
Access to an onboard doctor and basic medical services
Loan of rubber boots for the voyage's duration
Comprehensive pre-departure information
Port taxes and any entry fees to landing sites
Excludes
Parka jacket not provided

Flights to and from points of embarkation/disembarkation
Any additional pre/post land services, including meals
Transfers not specified in the itinerary
Visa, passport and any vaccination expenses
Airport arrival or departure taxes
Personal travel insurance
Items of a personal nature - laundry, beverages, etc
Customary staff gratuity at the end of the voyage
Additional onboard purchases (i.e. gift shop)
Questions about this Voyage?