Trip Summary and Itinerary Map
8 full days in Antarctica = 16 planned 'off ship' excursions
This ship's spacious cabins are almost double the size of the average
Only one departure in January when the channels are most ice free
Camping & kayaking (additional cost)
Complimentary 5* Ushuaia hotel stay + parka jacket
Operator's Itinerary
Day 1: Ushuaia, Argentina
Our program starts in the city of Ushuaia. Enjoy your staying at a 5* lodge, part of the "Leading Hotels of the World".
---
Day 2: Embarkation day in Ushuaia
We embark and set sail down the Beagle Channel. Our ship heads south to icebergs and penguins, and even deeper south to the "boundary" of Antarctica: the Polar Circle.
---
Days 3-4: At sea towards Antarctica
The Drake Passage is named after the famous 16th century English pirate (and explorer) Sir Francis Drake. The passage has picked up an unpredictable character of the pirate; it might be rough sea there. However, we hope to make our crossing comfortable with the help of the ship's stabiliser fins. We plan to see the first sub-antarctic land on the second day of our sea passage.
---
Days 5-12: The South Shetlands and Antarctic Continent
This is expedition cruising at its most authentic. Our route and exploration opportunities in Antarctica are heavily dependent on weather and ice conditions. Our experienced captain and expedition leader decide the itinerary and continually adjust plans as conditions and opportunities warrant. We take advantage of long daylight hours to exploit every opportunity to experience excellent wildlife viewing, amazing scenery, and excursions via Zodiac.
The Antarctic Peninsula region contains some of the world's most impressive scenery and some of Antarctica's best wildlife viewing opportunities. Protected bays and narrow channels are surrounded by towering mountain peaks covered in permanent snow and immense glaciers. Icebergs of every size and description complete an image of incomparable beauty. Waters rich with krill are home to a variety of whale and seal species. The whole area is alive with penguins foraging at sea and forming large nesting colonies at special places on land. The area is also home to Antarctic research stations of various nationalities. Some stations have a gift shop and post office.
The South Shetland Islands are the northernmost islands in Antarctica and will likely be our first sighting of land. This wild and beautiful island chain contains numerous landing sites with abundant wildlife and historical significance. Among them is Deception Island, where the flooded caldera of an active volcano harbors an abandoned whaling station.
Farther south, on the Antarctic Peninsula, the vast Gerlache Strait area contains sheltered bays, accessible wildlife, and stunning scenery. Places with names like Paradise Bay are the epitome of everything Antarctic: glaciated mountains, towering icebergs, feeding whales, seals on ice floes, and bustling penguin colonies.
At the southern end of Gerlache Strait is the famous Lemaire Channel, also known as "Kodak Gap" because of the photogenic way the mountainous sides of the narrow channel are reflected in calm waters strewn with icebergs.
On this special voyage we have additional days set aside to push even farther south in our attempt to cross the Antarctic Circle. The landscape down here is especially desolate, the weather is particularly wild, and the waters are full of constantly shifting ice. This is real expedition cruising.
Our days in Antarctica are filled with memorable excursions, sumptuous meals, presentations by our experts, and enough incredible scenery and wildlife to fill your camera and overwhelm your emotions.
---
Days 13-14: At sea towards Ushuaia
Antarctic birds and whales escort our ship through the Drake Passage. We believe that now you can identify them all easily.
---
Day 15: Ushuaia, disembarkation
Our voyage finishes at the same port where it had started - Ushuaia. Now you are the part of the select group of travellers who have been south of the Antarctic Circle.
---
NOTE: This itinerary is for guidance only as each voyage will vary depending on ice and weather conditions, and opportunities to see wildlife. Flexibility is key and all part of the adventure of an expeditionary cruise.


What our customers think of Polar Circle Adventure
Polar Circle Adventure trips scored 4.5/5 from 3 reviews
The reason I have chosen NO in the previous question is because I feel very content on having seen Antarctica thoroughly and learning and seeing so much about the place. I do not think I missed anything in the trip, and so if I visit again I might just end up doing the same thing. This was one of my best trips ever in terms of being satisfied. Highlights were aplenty (in order): ~ Spending time in Ushuaia the southern most city in the world ~ Living a comfortable life in the ship with good passengers for company, and the best possible expedition team ~ Witnessing Orcas, Dolphins straight from the portside cabin window ~ Crossing the Polar Circle ~ Polar plunging (twice!) ~ Encounters with humpback whales swimming so close to the zodiac ~ Sitting ashore and absorbing the calm and vastness of the peninsula on a bright sunny day ~ Good variety of food and beverage

Travelled: February 2021
Just loved the rawness of the trip. The raw beauty and abundance of animals was amazing.

Travelled: February 2023
Crossing the Antarctic circle

Travelled: February 2023
About The Ship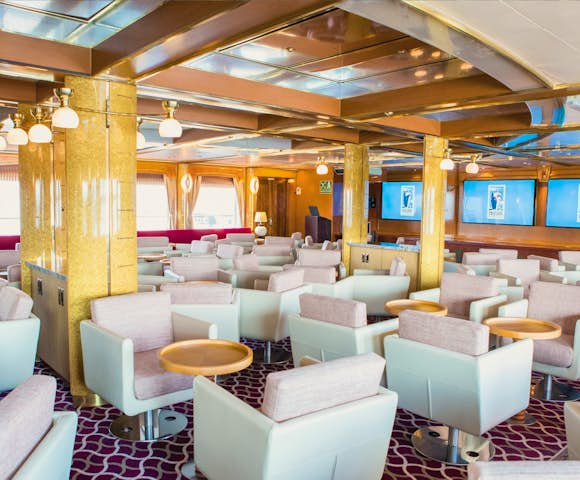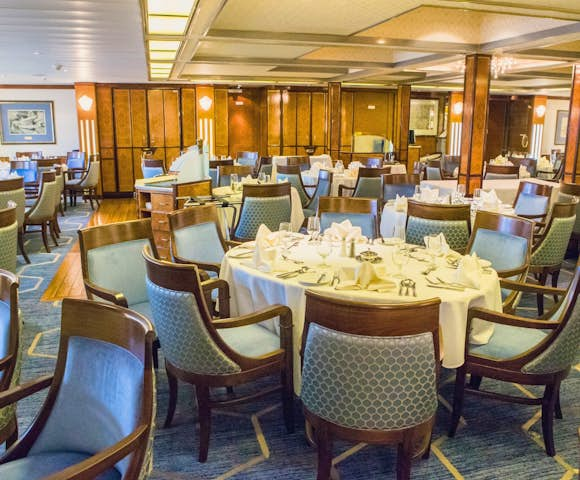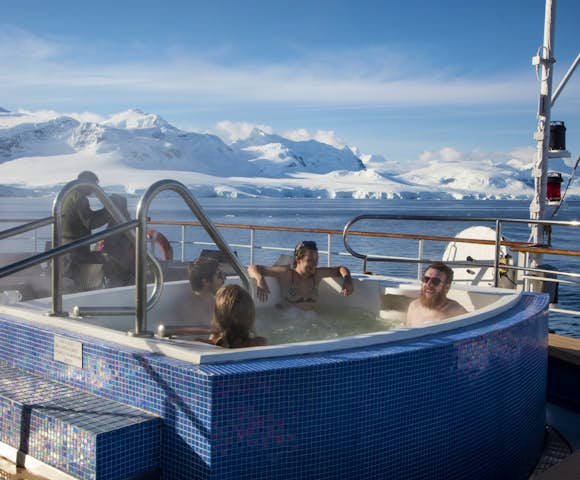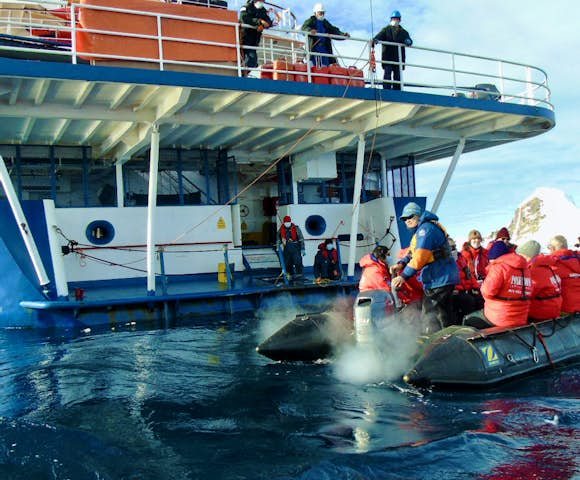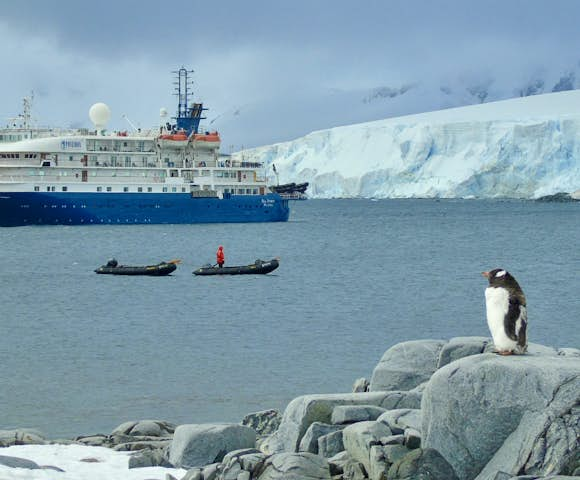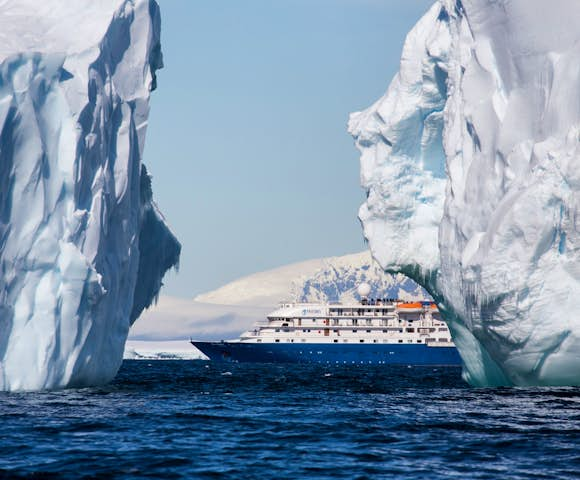 An elegant 4* vessel for 114 guests
Very spacious cabins, double the average
1D ice class rating
Optional kayaking & camping available
Complimentary jacket & loan of rubber boots
Includes a 5* hotel stay in Ushuaia
Prices, Departures and Inclusions
Prices quoted below are per person based on 2 people sharing. Cabin availability changes all the time so please contact us for up-to-date details and information on specific cabin availability.

* Note: Prices are per person. Paid in USD ($) - figure above is based on today's exchange rate. Actual cost $12295
Single Supplement And Child Policy
For those travelling solo who would like their own cabin, the single supplement is 1.7 to 2 times the cost of a single berth, depending on cabin category, please contact us for details. However, there is no single supplement for passengers willing to share a cabin.
Children aged 12 years old or over are welcome. Children aged 6-11 on a case by case basis. The rate for children (16 and under) is $150 per night, based on occupancy with two adults. Please contact us for details.
Optional Adventure Activities
Enhance your trip with the following add ons. Limited places per activity.
Get in contact to check availability.
Includes
One 5* hotel night in Ushuaia with breakfast

Transfers as indicated
Complimentary parka jacket
Digital voyage log
Voyage aboard the vessel as indicated in the itinerary
Accommodation & meals during the voyage on full board
All shore excursions and zodiac activities
Leadership throughout the voyage by our experienced Expedition Leader & Expedition Team
Educational lectures by expert onboard polar guides

Access to an onboard doctor and basic medical services
Loan of rubber boots for the voyage's duration
Comprehensive pre-departure information
Port taxes and any entry fees to landing sites
Excludes
Flights to and from points of embarkation/disembarkation

Any additional pre/post land services, including meals
Transfers not specified in the itinerary
Optional adventure activities (e.g. kayaking)
Visa, passport and any vaccination expenses
Airport arrival or departure taxes
Personal travel insurance
Items of a personal nature - laundry, beverages, etc
Customary staff gratuity at the end of the voyage
Additional onboard purchases (i.e. gift shop)
Fuel surcharge may be applied for all bookings
Questions about this Voyage?