Destination Antarctica, Falklands & South Georgia - 21 Days - $18,199
Trip Summary and Itinerary Map
11 days 'off ship' exploring - Antarctica (5), South Georgia (4) & The Falklands (2)
Few itineraries spend so much time in both Antarctica & South Georgia
We like this ship for its spaciousness, 200 degree observation lounge & heated mudroom
Kayaking & camping (additional cost)
Complimentary Ushuaia hotel stay, parka jacket + metal water bottle
Operator's Itinerary
Day 1: Ushuaia
Arrive into Ushuaia, the southernmost city in the world, at any time. An arrival transfer to your hotel is included.
---
Day 2: Depart from Ushuaia
Today we will embark on the expedition vessel. The morning is free to do any last minute shopping or an optional excursion to the Tierra Del Fuego National Park or a good hike up to the Martial Glacier. Embark in the afternoon and the evening is spent sailing along the Beagle Channel.
Please note while it is our intention to adhere to the itinerary described below, there is a certain amount of flexibility built into the itinerary and on occasion, it may be necessary, or desirable to make alterations. On the first day on board, your Expedition Leader will give you an expedition overview.
---
Days 3 & 4: Drake Passage
Heading across the Drake Passage, enjoy the beauty of the sea as we sail towards the South Shetland Islands. In between bird watching and whale watching, enjoy some introductory lectures by our expedition staff, to learn the extraordinary human and natural history of the Antarctic region, and remember, the best way to experience the wildlife of the Drake Passage is to be on deck keeping a look out for albatross, prions, and whales!
You also have time to become acquainted with the ship and frequent the common areas that include the lounge, dining hall, library and lecture hall where you will meet your guides, ship's crew and lecturers.
---
Days 5 to 9: South Shetland Islands & Antarctica
This is what we've all been waiting for - a chance to step foot on the great White Continent! Over the next 5 days, we will navigate southwards making stops in the South Shetland Islands then through the Bransfield Strait and to the Antarctic Peninsula. Our goal is to attempt two excursions per day while we navigate through the area but our itinerary and daily schedule will be based on the local weather and ice conditions that we encounter.
The Antarctic Peninsula and the South Shetland Islands abound with wildlife activity. Penguins gather with their fast-growing chicks, whales are seen in great numbers, seals haul out onto ice floes and beaches, and numerous seabirds trail in our wake. We may visit scientists working in modern research bases, and there is plenty of time to enjoy the sheer beauty and the breathtaking scenery of ice-choked waterways, blue and white icebergs, impressive glaciers and rugged snow-capped mountains. The Peninsula also has a remarkable history and, during the voyage, we will learn about some of the most important and dramatic expeditions to this remote corner of the world. Keeping a lookout from the Bridge or the deck of the ship, as we thread our way along the continent, you'll feel the same sense of excitement as many of those early explorers.
---
Days 10 & 11: The Scotia Sea
Plotting a northeasterly course we make our way towards South Georgia. The waters are rich with nutrients and the long summer days provide the ingredient that is missing most of the year. The result is a complex food chain topped by several species of whales, seals, and seabirds.
---
Days 12-15: South Georgia
South Georgia Island is home to many marvels including Shackleton's grave, former whaling stations, incredible scenery and prolific wildlife. Weather permitting we will have 3 full days to explore this island. A huge colony of king penguins is the highlight of this part of the journey. On nearby islands, we'll hope to spot wandering albatross in their nesting grounds.
Known for its brutal whaling and exploratory history, this 170 km long and 40 km wide island was the centre of the huge Southern Ocean whaling industry from 1904 to 1966. The famous captain James Cook was the first to land on South Georgia on January 17, 1775 and named the island after King George III. During the 62 years of whaling activities, any number between 183 whales the first year and the record 7825 whales in 1925-26 season were killed annually for their oil. Whales weren't the only animals hunted for their oil at that time. A total of 498,870 seals - mostly giant elephant seals - were also slaughtered. Since the end of whaling activities 40 years ago, wildlife has slowly returned to the island.
Today the Island's wildlife is extraordinary, not only in its variety but also for its sheer abundance. South Georgia is home to roughly 300,000 elephant seals, 3 million fur seals, and 25 species of breeding birds, including wandering albatrosses. The gravel beach at St. Andrews Bay has a king penguin rookery of 100,000. The British explorer Sir Ernest H Shackleton landed at King Haakon Bay on the south-west coast after the 800-mile journey in a 20-foot open boat from Elephant Island. They proceeded to hike the ice-covered mountainous terrain, arriving into Stromness whaling station on May 20, 1916. Shackleton returned to South Georgia in 1922 for one last assault on Antarctica but passed away after suffering a major heart attack while in his cabin. He was buried in the whaler's cemetery at Grytviken station at the request of his wife.
---
Days 16 & 17: The Southern Ocean
Sailing west now, we'll set course for the Fallkland Islands (Las Islas Malvinas). Our days at sea will be filled with lectures and we will have plenty of time on deck to identify the abundant sea birds of the south ocean. We keep our eye peeled for the whales that inhabit these waters.
---
Days 18 & 19: The Falkland Islands
The Falkland Islands provide a rare opportunity to witness the biological diversity and extraordinary scenery of the southern islands. Nesting albatross, penguins and elephant seals are abundant. Port Stanley provides an opportunity to meet the hardy local inhabitants whose colourful houses provide contrast to the long dark winters.
The islands consist of 700 small and mostly uninhabited islands and 2 main islands - East and West Falklands. Located 490 km east of Patagonia, the Falklands have always been a land of hot debate. Officially discovered on August 14, 1592 by John Davis they remained uninhabited until 1764 when the French built a garrison at Port Louis disregarding the Spanish claim to the islands. From that moment on there have been many disputes between Spain, France, Britain and Argentina over the next 200 plus years until the end of the Falklands War between Britain and Argentina in 1982 brought the islands firmly under Britain's control. The islands are now home to a human population of only 2,491 but an abudance of wildlife. We hope to catch glimpses of penguins, including the Magellanic, rockhopper, gentoo, and king penguins. With a little luck, we may also see elephant seals, sea lions, king cormorants, black-browed albatross, skuas, night herons, giant petrels, striated caracaras and of course sheep.
---
Day 20: Return to Ushuaia
Reflect on a memorable adventure and take in some final lectures en route back to Ushuaia, reviewing the highlights of the Antarctic experience with the lecturers and staff.
---
Day 21: Disembark Ushuaia
Our adventure comes to a close. Have a final breakfast on the expedition ship before saying our goodbyes as we disembark in Ushuaia in the morning. You are free to fly out of Ushuaia anytime from noon onwards.
---
Please note: This itinerary is for guidance only as each voyage will vary depending on ice and weather conditions, and opportunities to see wildlife. Flexibility is key and all part of the adventure of an expeditionary cruise.

Why Swoop
Expert Impartial Advice At No Extra Cost
Antarctic travel options are complicated. We help you choose the right boat, the right cabin, and at the right point in the season.
A Depth Of Knowledge On Board
As a team of ex-guides, tour leaders, & polar adventurers our Antarctic knowledge is leagues ahead of the rest.
For The Ends Of The Earth
Swoop is proud to be B Corp Certified as we know sustainability is more than our carbon footprint (but we're reducing that too).
We're With You At Every Step
We'll make sure you have the adventure of a lifetime.

What our customers think of Destination Antarctica, Falklands & South Georgia
Destination Antarctica, Falklands & South Georgia trips scored 5/5 from 4 reviews
My trip on the G Expedition was exceptional. Life on the ship was much more luxurious than I expected or needed, but I enjoyed it very much. Great food, attentive and kind staff service staff, extraordinary subject experts. The other guests were interesting, friendly, and diverse, and I appreciated the mix (Brits>Australians>US, with many other countries represented) and the high number of solo travelers. I was paired with a delightful and age-appropriate roommate, and indeed all the solo travelers seemed to do fine with their assigned roommates. The trip itself was extraordinary, and the excitement built through the itinerary. Falklands was great for its history and our first encounter with penguins, followed by a wonderful tea at the farmhouse of a Falklands family. South Georgia took the scenery up a notch, and the penguin colonies are unforgettable, as were the visits to the Shackleton sites. Among many magical moments, I especially loved the Zodiac cruise around Cierva Cove in Antarctica, which had it all: seals, penguins, glaciers, ice, mountains. Other favorite times were sitting on the snow watching penguins.

Travelled: February 2021
Having had a rocky start with our first planned ship our G experiences on the MS Expedition was way beyond our expectations. We give the total experience 10/10. The standards on the ship were exceptional from the cleaning staff, the variety and excellence of of food and their ever smiling, genuine staff, the comfort of the dining and entertainment bar. The zodiac team were exceptionally careful in all sorts of weather, the professional, expert team gave us amazing information and planned our days and the itinerary diverted around extreme weather events beautifully.The range of ages, singles and couples were all very relaxed and everyone mixed around and no pretension. All enthusiastic, avid travellers. We were exceptionally lucky with divine weather in the Falklands and South Georgia and a calm Drake. Wonderful snowing days in Antarctica with often sky blue times when on the zodiacs. Saw every wildlife, birds and some humpbacks, super close.

Travelled: February 2021
Gentoo penguins up on my chest and laps, they were so friendly. I also love the king penguins, so dignified and regal except when they fight over dominance over a partner.

Travelled: March 2020
I had many! Being in the Zodiac next to a 'Bergroll', walking on sea ice, having a leopard seal follow our Zodiac, stepping on Antarctica...

Travelled: February 2023
About The Ship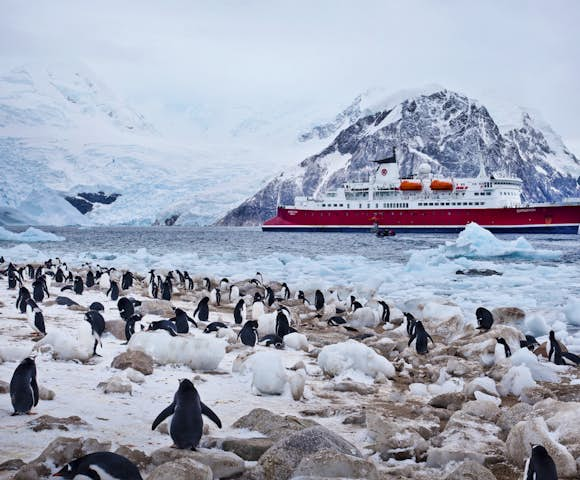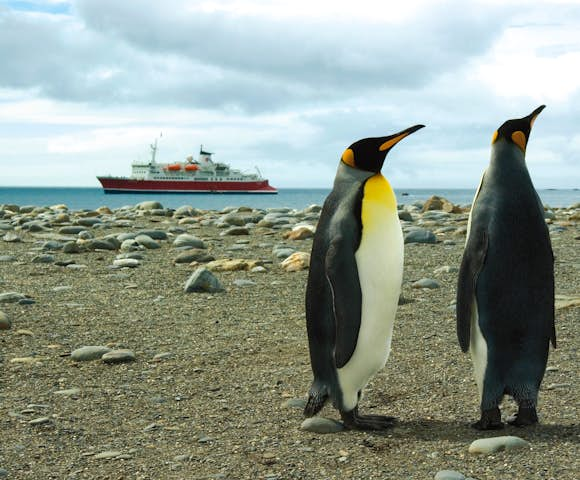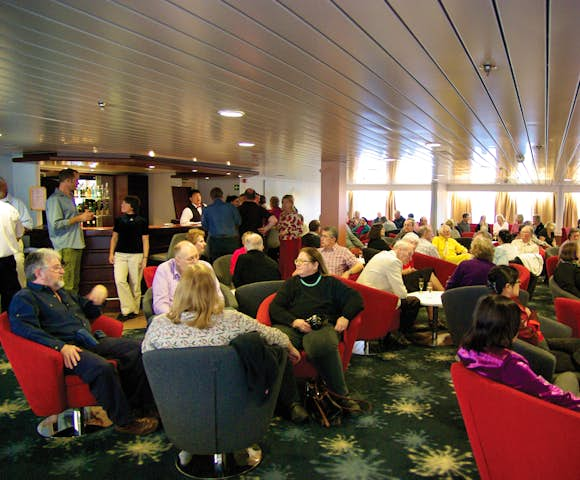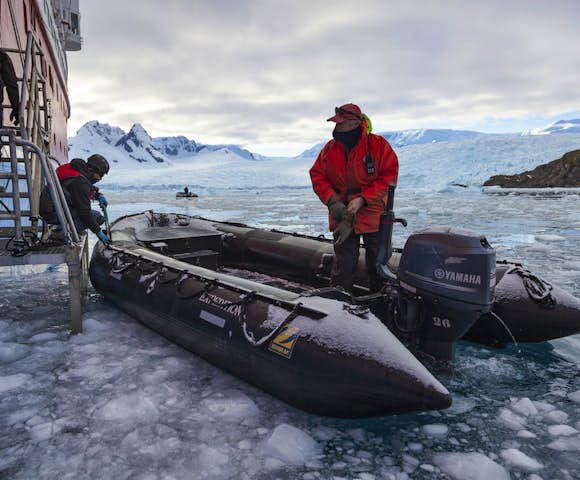 A 3-4* expedition vessel for 134 guests
360 degree Observation Deck
1B ice class rating
Optional kayaking & camping available
Sauna and large heated mudroom
Complimentary jacket & loan of rubber boots
Prices, Departures and Inclusions
Prices quoted below are per person based on 2 people sharing. Cabin availability changes all the time so please contact us for up-to-date details and information on specific cabin availability.

* Note: Prices are per person. Paid in USD ($) - figure above is based on today's exchange rate. Actual cost $18199
Single Supplement And Child Policy
For those travelling solo who would like their own cabin, the single supplement is 1.7 times the cost of a single berth, please contact us for details. However, there is no single supplement for passengers willing to share a cabin.
Children aged 10 years old or over are welcome. There isn't any concession on pricing. Please contact us for details.
Includes
Transfers as indicated

One night's hotel stay with breakfast
Complimentary parka jacket
Voyage aboard the vessel as indicated in the itinerary
Accommodation & meals during the voyage on full board
All shore excursions and zodiac activities
Educational lectures by expert onboard polar guides
Access to an onboard doctor and basic medical services
Loan of rubber boots for the voyage's duration
Comprehensive pre-departure information
Port taxes & any entry fees to landing sites
Excludes
Flights to and from points of embarkation/disembarkation

Any additional pre/post land services, including meals
Transfers not specified in the itinerary
Optional adventure activities (e.g. kayaking)
Visa, passport and any vaccination expenses
Airport arrival or departure taxes
Personal Travel insurance
Items of a personal nature - laundry, beverages, etc
Voluntary staff gratuity at the end of the voyage
Additional onboard purchases (i.e. gift shop)
Questions about this Voyage?