Trip Summary and Itinerary Map
4 full days exploring Antarctica

Hassle-free travel package including domestic charter flights, transfers & pre-cruise hotel night in Buenos Aires
Relax in unpretentious, cosy elegance with unobtrusive but attentive service ensuring the focus stays on the spectacular landscapes outside
Between excursions, watch vast icebergs from the unique vantage points of the infinity pool and outdoor Jacuzzi
With its high Ice Class rating and extra large stabilisers, your purpose-built expedition ship is perfectly suited for polar adventures
Experience Antarctica from water level with one-off kayaking session (additional cost)

Landmarks potentially visited on Antarctic Peninsula in Focus
Operator's Itinerary
Included travel arrangements prior to embarkation:

The date of "Day 1" for each voyage reflects the date that you will embark on your ship. However, the price of your trip also includes additional services pre-voyage to ensure a hassle-free experience on arrival into Argentina. Once you have landed into Buenos Aires (on the day prior to your embarkation date) you will be met and transferred to your included 4-5* city centre hotel where you will spend the night. Please see the final paragraph of this itinerary for the included arrangements once you have disembarked.
---
Day 1: Flight to Ushuaia & Embarkation
After an early breakfast, this morning you will be transferred to the airport for your included charter flight down to the port city of Ushuaia in southern Argentina. Here you will board your ship and set sail for Antarctica. After the mandatory safety briefings, head out on deck as you sail down the Beagle Channel. Here you are likely to spot your first wildlife of the trip including flocks of black-browed albatross, sea lions and perhaps even the odd Magellanic penguin.

---
Days 2 & 3: Crossing the Drake Passage
The adventure begins in earnest as you head across the infamous Drake Passage with the help of the ship's extra large stabilisers. Your sea days will be busy with preparatory educational briefings and presentations on topics such as the wildlife, history and geology of Antarctica. There will also be time to get out on deck to enjoy the spectacular sight of huge albatrosses and giant petrels gliding past the ship. Join in with citizen science activities to count the number and variety of bird species sighted, and help out with cloud surveys for a NASA observation project. As you draw closer to Antarctica, keep your eyes peeled for that first iceberg sighting!
---
Days 4 to 7: Exploring the Antarctic Peninsula
Once you have arrived in glorious Antarctica, your Expedition Leader and the ship's Captain will be working hard to maximise the opportunities for you to get off the ship and explore as much as possible. There is no fixed itinerary as every day the weather and ice conditions can (and do!) change, and impromptu wildlife opportunities such as whale sightings are seized upon wherever possible. Your expedition team of naturalist guides will be on hand to help you explore safely and to explain about this incredible ecosystem.
During your time in Antarctica you may be heading out on Zodiac cruises, crunching through brash ice to look for snoozing seals hauled out, or penguins taking a break on a sculptural iceberg. There are 50 shades of blue as the light dances across the ice and water - it's a photographer's dream. Alternatively, you might be heading ashore to fully experience the sound, sight and smell of cacophonous penguin rookeries. Watching these adorable characters waddle past can't fail to put a smile on your face. Look out also for predatory skuas on the aerial hunt for a penguiny snack, whilst in the water leopard seals patrol looking for opportunities to pounce. There may be the opportunity to hike uphill for breathtaking views out across the Antarctic Peninsula.
Other times the ship itself might be the best platform, with ship cruising often being the perfect way to soak up the incredible landscapes. Whether you're squeezing through the photogenic Lemaire Channel or gliding through iceberg-strewn channels, make sure to spend some time in the toasty Jacuzzi or the infinity pool looking out at the ice - it's a surreal feeling.
---
Days 8 & 9: Crossing the Drake Passage
As you bid Antarctica farewell, the ship will head northwards back towards South America. The educational program will continue, and if you don't feel up to attending in person, you can watch the lectures live-streamed onto your cabin's widescreen television. Why not check out the sauna with its views out to sea, or if you're feeling energetic the window-filled gym is the perfect place to work off all the delicious desserts.
---
Day 10: Return to Buenos Aires
This morning you will arrive back in civilization and disembark in Ushuaia. Here you will be taken to the airport for your charter flight back up to Buenos Aires; from here you can make your own arrangements for onward travel home.
About The Ship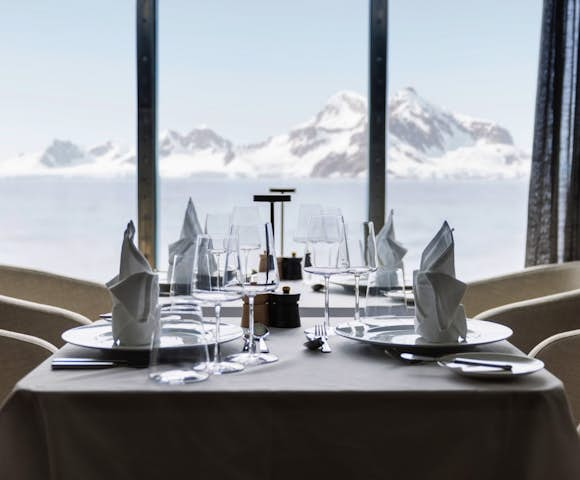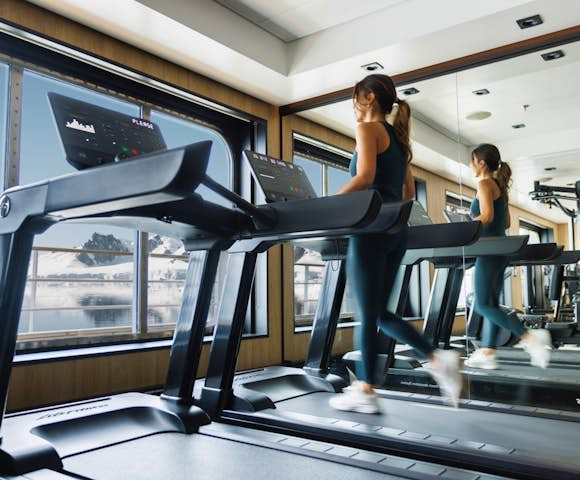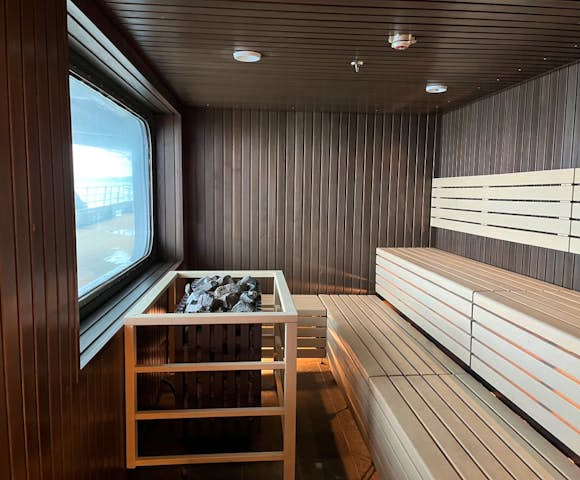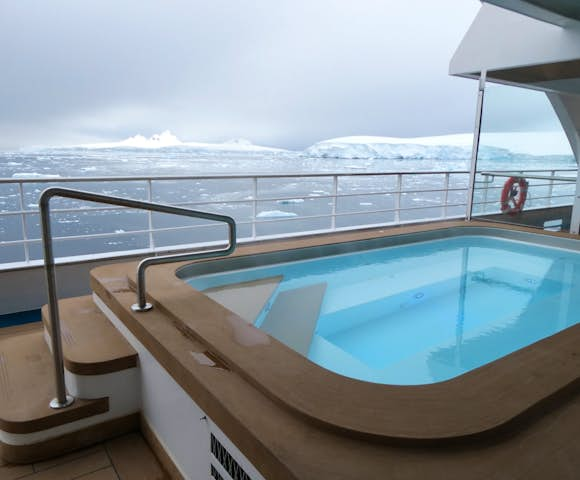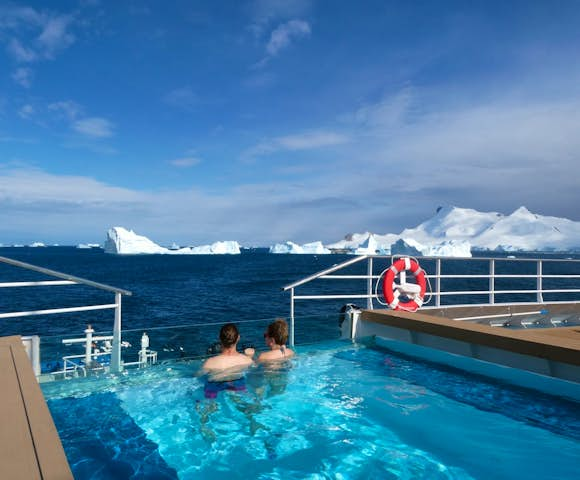 PC5 ice-class rating on its

ice-strengthened hull

and extra long stabilisers, perfect for tackling ever-changing polar waters

Spacious staterooms

with large panoramic windows or private balconies
A

relaxed atmosphere

throughout provided by onboard team of 120 crew.
Eclectic mix of guides provide

exploration and educational opportunities

A

hassle free voyage

package: pre-cruise night in a 5 star hotel in Buenos Aires and charter flights to/from Ushuaia
Prices, Departures and Inclusions
Prices quoted below are per person based on 2 people sharing. Cabin availability changes all the time so please contact us for up-to-date details and information on specific cabin availability.

* Note: Prices are per person. Paid in USD ($) - figure above is based on today's exchange rate. Actual cost $8469
Single Supplement And Child Policy
For those travelling solo the single supplement is generally 1.25 times the cost of a single berth; please call or contact us for more details about single supplements. Children aged 8 years old or over are welcome on board.

Optional Adventure Activities
Enhance your trip with the following add ons. Limited places per activity.
Get in contact to check availability.
Activity

Cost

Additional Information

Paddling

$

250

One-off paddle session lasting approximately 60-90 minutes using double kayaks. Available on all departures, subject to weather and ice conditions. Previous kayaking experience is required. Cannot be booked in advance, onboard booking only; if heavily subscribed there will be a lottery system.
Includes
Domestic charter flights to/from Ushuaia

Group return transfers from Ushuaia airport to the cruise port
One night pre-cruise accommodation in Buenos Aires with breakfast in a 4/5-star hotel
All meals onboard
24 hour room service
Coffee, tea, soft drinks and selected alcoholic beverages available 24-hours per day
Lecture programmes by the experienced expedition team and guest speakers
Standard WiFi where the connection allows
Onboard gratuities and port taxes
Complimentary expedition parka, waterproof rucksack and water bottle to keep
Loan of rubber boots for the duration of the voyage along with one pair of binoculars per cabin
Excludes
International flights to/from the starting point for your cruise arrangements
Transfers from the airport to the hotel if you arrive prior to Day 1
No final transfer is included from Buenos Aires airport when you land back at the end of the cruise arrangements
Optional one-off paddling excursion
Premium wines and spirits
Purchases from the ship's boutique and any spa treatments
Laundry services (however, access to a complimentary self-service laundrette is also available)
Visas where required
Travel insurance
Any hotel requirements pre or post-cruise unless otherwise stated within the itinerary description
Questions about this Voyage?