Trip Summary and Itinerary Map
5 full days exploring Antarctica = 10 planned 'off ship' excursions

Choice of departure dates
Only 132 guests means faster logistics and everyone can do landings together
Kayaking, polar snorkelling & camping activities (additional cost)
Complimentary 3-in-1 parka jacket & digital post-voyage photo book

Operator's Itinerary
Day 1: Arrival in Ushuaia
Arrive in Ushuaia, where you will be met by a representative and transferred to your group hotel.
---
Day 2: Embarkation in Ushuaia
After a morning exploring Ushuaia, it is time to embark on your adventure. Ushuaia, capital of Tierra del Fuego is located at the shores of the Beagle Channel and surrounded by the Martial Mountains giving you a unique landscape in Argentina, which is the combination of mountains, sea, glaciers and forests.
After embarkation, you'll have time to settle into your cabin before our important mandatory briefings. As the ship pulls away from Ushuaia we'll gather on the deck to enjoy spectacular views of Ushuaia and Tierra del Fuego. A welcome dinner will give you chance to get to know your fellow expeditioners and friendly Expedition Team and crew.
---
Day 3: Crossing the Drake Passage
We commence our Drake Passage crossing, and make the most of our time getting comfortable with the motions of the sea. There are also preparations for our first landing with important wildlife guidelines and biosecurity procedures, and we start our lecture program to help you learn more about Antarctica's history, wildlife and environment.
Our wildlife experiences begin as we enjoy watching and photographing the many seabirds, including majestic albatrosses and giant petrels following in our wake. They rise and fall skilfully, using air currents created by the ship to gain momentum.
---
Day 4: Drake Passage & South Shetland Islands:
Nearing the South Shetland Islands and the tip of the Antarctic Peninsula, the excitement is palpable watching for our first iceberg. The ocean takes on a whole new perspective once we are below the Antarctic Convergence and are surrounded by the surreal presence of floating ice sculptures. Weather permitting, we may attempt our first landing in Antarctica by late afternoon.

---
Days 5 to 9: Antarctica Peninsula
As you arrive on the western side of the peninsula and you spot your first iceberg, take a deep breath of some of freshest and crispest air on Earth; it is an experience that will stay with you forever. Being so far south, we will enjoy 18-24 hours of daylight meaning the days can be as busy and full as you wish. Your Expedition Team, having made countless journeys to this area, will use their expertise to design your voyage choosing options based on the prevailing weather, ice conditions and wildlife opportunities.

Generally, there will be either landings or Zodiac excursions twice a day. Zodiacs are used to cruise alongside spectacular ice cliffs or among grounded icebergs where you'll be keeping watch for whales, seals and porpoising penguins. They will also transport you from the ship to land, to visit penguin rookeries, discover historic huts and explore some iconic places along the peninsula.
Onshore, you will be wandering along pebbly beaches and up snow-covered ridgelines to vantage points with mountains towering overhead and ice-speckled oceans below. There will be opportunities to enjoy optional additional activities whenever conditions allow, including a chance to become a "polar plunger" by fully immersing yourself in polar waters - conditions permitting!
In addition to these activities, the ship may cruise some of the narrow and dramatic straits that separate offshore islands from the mainland, or perhaps linger in scenic bays to watch whales travelling or feeding. Whether you're in the observation lounge or you make your way to the bridge, you will have uninterrupted views of Antarctica in all its splendour. Keep an ear out to listen for the creak and deep rumble of glaciers as they carve their way from summit to sea and take a quiet moment to experience the wonder of the incredible White Continent.
---
Day 10 & 11: Drake Passage
Relax and reminisce as we cross the Drake Passage, bound for South America. Our Expedition Team recap all the incredible things you've witnessed, or perhaps you'll find a quiet moment place to review the hundreds of photos taken.
---
Day 12: Ushuaia
The ship will slip up the Beagle Channel and pull into Ushuaia, where you'll say goodbye to new friends and begin any onward travel.
---
PLEASE NOTE: This itinerary is for guidance only as each voyage will vary depending on ice and weather conditions, and opportunities to see wildlife. Flexibility is key and all part of the adventure of an expeditionary cruise. Furthermore, it's important to understand that the charter flight(s) to/from Antarctica are particularly prone to weather, which requires a flexible flight schedule.

What our customers think of Antarctic Peninsula Explorer
Antarctic Peninsula Explorer trips scored 4.4/5 from 13 reviews
This is so hard to answer because there were so many memorable moments. I think our most memorable moments was during our first kayak trip. We landed our kayaks on a rocky beach to go see a penguin rookery. After getting out of the kayaks, we turned around to see dozens of Gentoo penguins walking by and going about their penguins business a handful of meters away. Nothing prepares you for how many penguins you'll see, how unfazed they are by you, and how adorable they are.

Travelled: November 2022
We were sitting in the lecture theatre listening to the speaker and a whale came up and jumped right outside the window super close to the boat. My husband was so excited he shrieked with happiness.

Travelled: January 2023
From beginning to end the trip was fantastic. It was so educational and I learned more about the wildlife, geology and history of Antarctica than I could have imagined. All the staff and crew members were knowlegeable and helpful. The highlight had to be getting so close to the humpback whales while we were on the zodiac

Travelled: February 2021
The kayaking was fabulous, truly the best way to see things. Many of the kayaking moments stand out.

Travelled: December 2022
Kayaking around icebergs.

Travelled: February 2023
Kayaking among icebergs

Travelled: November 2022
The scale & beauty of the Antarctic landscape. We were immersed in the natural landscape while kayaking. This was a real privilege

Travelled: March 2020
The snorkeling boat adventures. Not only did we get to see amazing wildlife underwater, but each voyage out saw amazing wildlife/scenery from the boat. Peter and Edwin made the trip.

Travelled: March 2020
Walking amongst the penguins and the incredible landscape

Travelled: January 2022
the icebergs and animals we saw.

Travelled: February 2023
Skiing where penguins had the right of way.

Travelled: November 2022
Our trip on Polar Pioneer was outstanding. We loved the ship and it's crew, who together with the expedition team make our voyage unforgettable. Highlights: sleep over on the ice, sun sets, icebergs Landscapes: sensory overload

Travelled: February 2021
Zodiac cruise through icebergs

Travelled: December 2022
About The Ship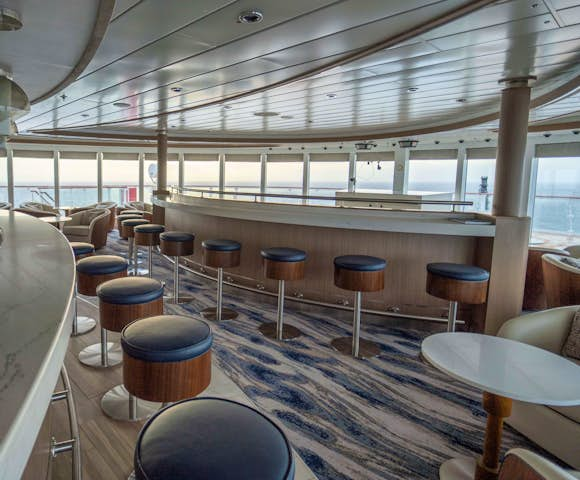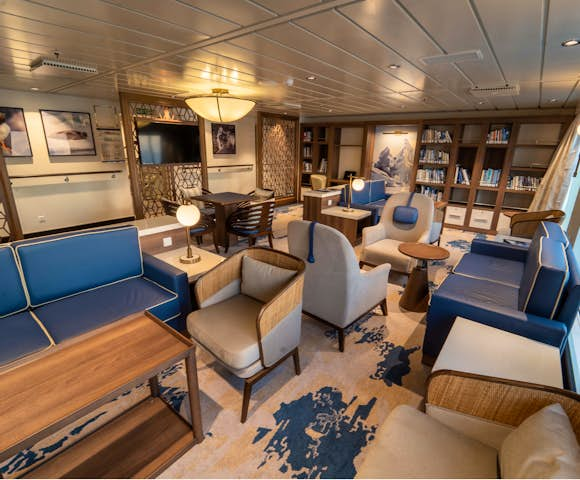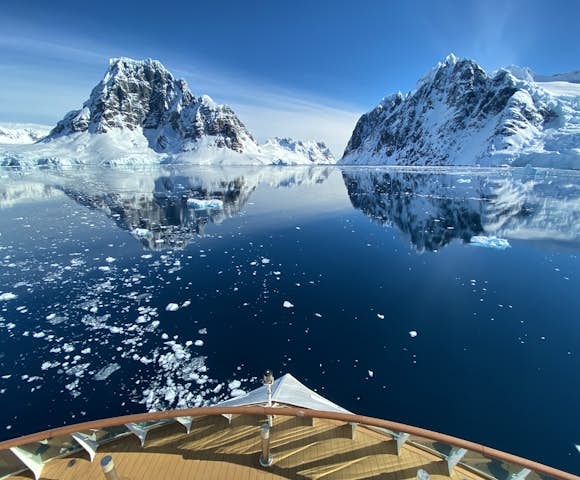 With its sleek X-bow lines and ground breaking design, few new Polar ships have created such excitement.

Zodiac platforms specially designed for quick boardings and more time exploring
State-of-the-art stabiliser system and polar code 6 ice rating

Large comfortable cabins
Prices, Departures and Inclusions
Prices quoted below are per person based on 2 people sharing. Cabin availability changes all the time so please contact us for up-to-date details and information on specific cabin availability.

* Note: Prices are per person. Paid in USD ($) - figure above is based on today's exchange rate. Actual cost $12395
Additional Notes
Please note:
The departures on 23-Oct-2023, 28-Nov-2023 and 06-Nov-2024 are 15 days long and spend additional time exploring the Antarctic Peninsula.

The departure on 24-Mar-2024 is 14 days long and focuses on exploring the little-visited Weddell Sea area.
Single Supplement And Child Policy
For those travelling solo who would like their own cabin, the single supplement is 1.5 times the cost of a single berth, please contact us for details. However, there is no single supplement for passengers willing to share a cabin.

Children aged 8 years old or over are welcome. There isn't any concession on pricing. Please contact us for details.
Optional Adventure Activities
Enhance your trip with the following add ons. Limited places per activity.
Get in contact to check availability.
Activity

Cost

Additional Information

Camping

$

150

Available on select departures. Cost varies from USD $150-165.

Kayaking

$

1,295

An immersive full sea kayaking program for those who want to kayak multiple times (as often as weather and ice conditions allow). Prior kayaking experience to at least intermediate level is required and you must be able to do a wet exit to participate. Subject to weather and ice conditions. Booking in advance is essential. Available on select departures. Cost varies from USD $1295-1330.

Polar snorkelling

$

640

Available on select departures. Cost varies from USD $640-675

Skiing

$

1,395

Available on select departures.

Paddling

$

640

Available on select departures. A gentler option staying closer to shore and using inflatable kayaks, in a group of maximum 6 participants. Includes multiple outings, subject to suitable weather and ice conditions. Suitable for novices and only offered in calm conditions. Booking in advance is essential.

Photography

Complimentary

All depatures.

Snowshoeing

$

370

Available on select departures.

Polar diving

$

1,295

Available on select departures.
Includes
Pre-embarkation hotel night (day 1)
A 3-in-1 waterproof polar expedition jacket
Voyage aboard the vessel as indicated in the itinerary

Accommodation during the voyage on full board basis
Captain's Welcome and Farewell drinks reception
Beer, house wine and soft drinks with dinner
All shore excursions and zodiac activities
Educational lectures by expert onboard polar guides
Complimentary WiFi
Access to an onboard doctor and basic medical services
Loan of rubber boots for the voyage's duration
Comprehensive pre-departure information
Port taxes and any entry fees to historic landing sites
A digital photo book produced with photos and ship logs from your voyage
Excludes
Flights to and from points of embarkation/disembarkation
Any additional services before and after your voyage
Transfers not specific to the itinerary
Travel insurance or emergency evacuation charges
Optional adventure activities
Optional activity surcharges
Any visa, passport and vaccination expenses
Airport arrival or departure taxes
Items of a personal nature: laundry, beverages, etc
Additional onboard purchases (i.e. gift shop)
Gratuities for ship crew
Questions about this Voyage?