The Great Adventure: Antarctica and South Georgia - 16 Days - $12,738
Trip Summary and Itinerary Map
6 full days exploring: Antarctica (3) and South Georgia (3)
Begins in Ushuaia, Argentina and finishes in Montevideo, Uruguay (November departure operates in reverse order)
Capable of cruising comfortably at 15 knots, this 5* all-inclusive ship cuts down sailing time dramatically
Complimentary domestic flights, parka jacket & open bar
Landmarks potentially visited on The Great Adventure: Antarctica and South Georgia
Operator's Itinerary
Day 1: Ushuaia
Fly from Buenos Aires to Ushuaia (included). Direct transfer to the ship OR transfer to Arakur Resort, located inside Cerro Alarken Reserve, where you can enjoy a complimentary excursion with an English-speaking guide. Spend time in the city, take advantage of the included onboard lunch or join an optional excursion to Tierra del Fuego National Park. Embarkation begins in the afternoon.
---
Days 2-3: Drake Passage
If there is one place, one sea, one waterway dreaded by tourists, researchers and hardened seafarers alike, it is undoubtedly Drake Passage. Situated at the latitude of the infamous Furious Fifties winds, between Cape Horn and the South Shetland Islands, it is the shortest route to Antarctica.
Seasoned navigators will tell you that you must earn your visit to the White Continent! As a convergence zone where cold currents rising up from the South Pole meet warmer equatorial water masses, Drake Passage harbours a very diverse marine fauna. Don't forget to look to the sky to catch a glimpse of elegant albatross and Cape petrels, playfully floating about in the wind around your ship.
---
Days 4-6: Antarctic Peninsula
Succumb to the magic of a place unlike any other. To this day, the mythical Antarctic Peninsula still holds real fascination and promises its visitors unforgettable moments. Throughout your adventure in this icy realm, you will find yourself in the heart of a spectacular decor in subtle shades of blue and white, surrounded by exceptional wildlife. Penguins, humpback whales, seals and giant petrels are at home here, as are elephant seals, fur seals, Antarctic minke whales, and orcas. Depending on which sites you visit, you may get the chance to observe them and share with them the beauty of these extreme environments.

Each day, based on ice conditions, the Captain and the Expedition Leader will suggest Zodiac outings or landings to discover the infinite riches of the Antarctic Peninsula. Glaciers, ice floe, tabletop icebergs, mountain peaks that plunge straight into the sea, volcanic beaches, research stations, enchanting bays, and vestiges of the whaling industry: these are the faces of the Antarctic that will likely reveal themselves to you, in a hushed and surreal atmosphere. You will sail in the wake of Jean-Baptiste Charcot, Adrien de Gerlache and Sir Ernest Shackleton, great Antarctic explorers who, from the 19th century, set out to conquer these remote and uninhabited lands.
---
Days 7-8: At Sea
During your day at sea, make the most of the many services and activities on board. Treat yourself to some time of relaxation in the spa, work out in the fitness centre or swim in the outdoor pool. With no port of call, this day will also be an opportunity to enjoy the presentations and lectures on board, to do some shopping in the boutique or to meet the photographers in their dedicated space.
Keen lovers of the open sea will be able to visit the ship's upper deck to admire the spectacle of the waves and perhaps be lucky enough to observe some of the marine species. A truly enchanted interlude, combining comfort, rest and entertainment.
---
Days 9-11: South Georgia
Aboard your ship, discover South Georgia, a region formed by an underwater mountain chain that extends from the Andes to the Antarctic Peninsula. All the wildlife of the Far South can be found here: king and Gentoo penguins, elephant seals, fur seals… The excursions will be dependent on weather and time but may involve discovering the majestic glaciers of Gold Harbour and the vast green plains of Fortuna Bay, where you'll be able to marvel at a panorama of cliffs rising up from the icy waters.
If you are fortunate enough to land at Salisbury Plain, you can expect a wonderful spectacle of more than 300,000 king penguins, which you will recognise by the bright orange mark on their head and neck, who have taken up residence here. Amidst this sea of black and orange heads, fur seals and their young can be spotted nosing their way through the crowd. Under the pale austral sunlight that reflects off of the plain, flocks of birds are carried by the winds in a graceful show of nature's wonder.
Salisbury Plain is also home to one of the most unforgettable natural vistas of South Georgia. Formed by the retreat of Grace Glacier, the same majestic peaks that once awed Shackleton still tower over the surrounding land. The island's bluish landscape exudes the magnificence and beauty of unspoilt nature.
---
Days 12-15: At sea towards Montevideo

Contemplate on your South Georgia experiences as we sail towards Montevideo. Enjoy the the 5-star comfort of the ship, delicious onboard cuisine and take advantage from the rich onboard programme and facilities.
---
Day 16: Montevideo, Uruguay
Perched on the far southern tip of Uruguay, Montevideo is one of the loveliest capital cities of South America. Admire the beautiful historical remains dating from Spanish rule; you'll find the most fascinating within the Cuidad Vieja – formerly fortified, its old town dates from the 18th century. The best preserved are the cathedral and the former governmental palace of the Cabildo, both listed historical monuments. In the crook of a vast blue bay, the city is also blessed with beautiful beaches.
---
NOTE: This itinerary is for guidance only as each voyage will vary depending on ice and weather conditions, and opportunities to see wildlife. Flexibility is key and all part of the adventure of an expeditionary cruise.

Why Swoop
Expert Impartial Advice At No Extra Cost
Antarctic travel options are complicated. We help you choose the right boat, the right cabin, and at the right point in the season.
A Depth Of Knowledge On Board
As a team of ex-guides, tour leaders, & polar adventurers our Antarctic knowledge is leagues ahead of the rest.
For The Ends Of The Earth
Swoop is proud to be B Corp Certified as we know sustainability is more than our carbon footprint (but we're reducing that too).
We're With You At Every Step
We'll make sure you have the adventure of a lifetime.

What our customers think of The Great Adventure: Antarctica and South Georgia
The Great Adventure: Antarctica and South Georgia trips scored 3.5/5 from 2 reviews
Sitting at Brown Bluff, away from the trail, listening to the wind and water and animals and feeling like the only person on the continent. It was a moment I will never forget.

Travelled: March 2020
Orca encounter.

Travelled: March 2022
About The Ship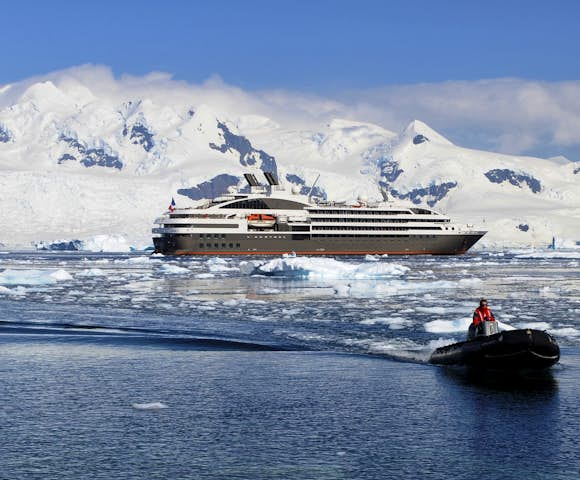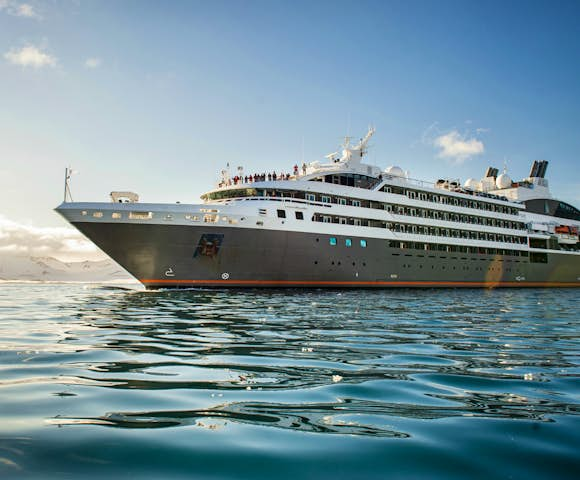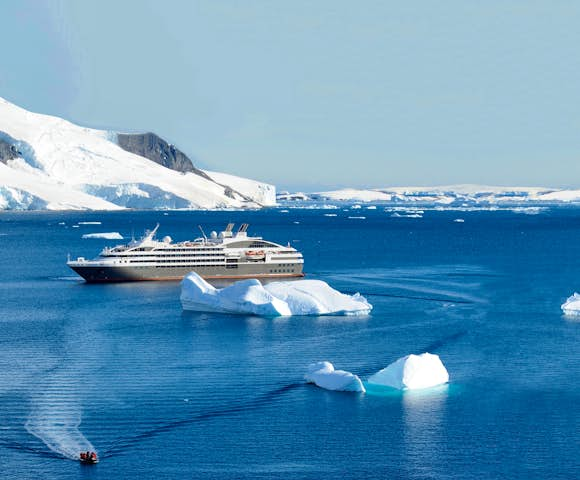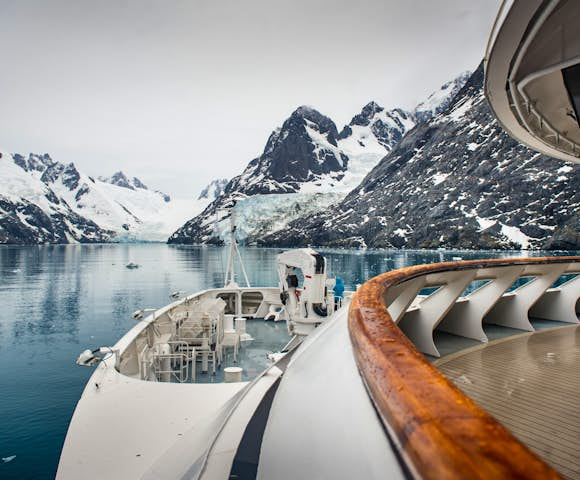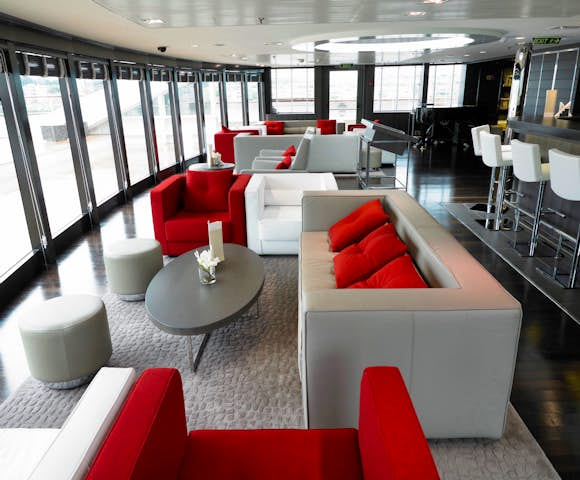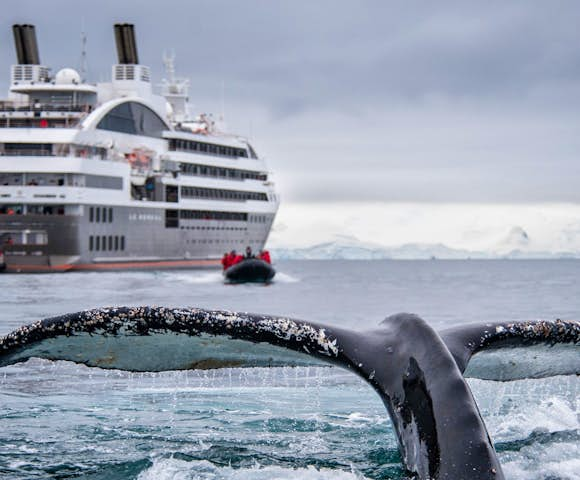 A modern luxury ship for 200 guests
5* experience without the high price tag
95% of the suites have a private balcony
1C ice class + advanced stabilizing system
Only zodiac landings & excursions
Rubber boots are provided on loan
Prices, Departures and Inclusions
Prices quoted below are per person based on 2 people sharing. Cabin availability changes all the time so please contact us for up-to-date details and information on specific cabin availability.

Single Supplement And Child Policy
For solo travellers who would like their own cabin, this ship has a good number of single cabins, please contact us for details. However, for passengers willing to share, there is no single supplement.

Children aged 6 years old or over are welcome. In terms of concessions, one child, aged between 6-11 years, sharing their parent's cabin travels free of charge. A teenager, aged between 12-17 years, receives a 50% discount. Please note that not every cabin category can accommodate 3 people. Please contact us for details.
Includes
Flight from Buenos Aires to Ushuaia

Open bar for duration of voyage
24 hour room service
Unlimited wifi on board
Pre and post voyage transfers
Voyage aboard the vessel as indicated in the itinerary
Accommodation and meals during the voyage on full board basis
All shore excursions and zodiac activities
Educational lectures by expert onboard polar guides
Access to an onboard doctor and basic medical services
Loan of rubber boots
Complimentary waterproof parka jacket
Comprehensive pre-departure information
Port taxes and any entry fees to historic landing sites
Access to fitness room
Laundry, wake up & photography services
Excludes
Flights to and from points of beginning/end of trip

Any additional pre/post land services, including meals
Transfers not specified in the itinerary
Optional non-complimentary adventure activities (e.g. kayaking)
Visa, passport and any vaccination expenses
Airport arrival or departure taxes
Personal Travel insurance
Items of a personal nature - laundry, beverages, etc
Customary staff gratuity at the end of the voyage
Additional onboard purchases (i.e. gift shop)
Questions about this Voyage?