Trip Summary and Itinerary Map
Spend two full weeks in Antarctica

Sail one way across the Drake and fly the other!
We like the flexibility of a small vessel and the intimate wildlife encounters
Onboard scientist and passionate crew
Landmarks potentially visited on Antarctic Yacht Expedition
Operator's Itinerary
Day 1: Embarkation in Ushuaia
Meet at your yacht in the morning for a full briefing and orientation. In the afternoon, depart from Ushuaia and start your unique Antarctic sailing experience by beginning on your crossing of the Drake Passage.
---
Days 2 to 4: Sail the Drake Passage.
You are about to undertake something few get to experience: Antarctica as seen from an expedition sailing yacht. As you sail east out of the Beagle channel, you'll pass through historic waters traversed by Darwin. Head south, past the infamous Cape Horn and keep your eyes peeled for albatross: the Southern Ocean is their home. You may even help the crew a little, with some time at the helm.
---
Days 5 to 17: Explore Antarctica
Each day will be different and can include landings at penguin colonies, exploration of historic scientific bases and whaling sites, kayaking and excursions by zodiac vessel. Flexibility in the itinerary allows you to take full advantage of whatever Antarctica offers, be it an incredible southern sunset or a breaching whale. We can stop and enjoy – not just once, but every time.
There will be a scientist onboard, so all guests are invited to participate in genuine Antarctic research. In the evenings onboard, the scientist will present on their research, as well as discussing pressing current Antarctic issues. The scientist is very much a part of the onboard team and will be prepared to answer questions at dinner, or on deck!
---
Day 18: Return to King George Island
On return to King George Island, you will board your flight to Punta Arenas, taking your final glimpse of the White Continent through your airplane window. On return to Punta Arenas, you will join your fellow passengers for a final evening and a celebration dinner.
---
Please note: this itinerary is for departures that sail down to Antarctica and fly back - it departs from Ushuaia, Argentina. For fly-down and sail-back voyages, the itinerary is reversed and departs from Punta Arenas, Chile.

You will be expected to arrive at least one day prior to the trip in your departure city (either Ushuaia or Punta Arenas).
For those sailing down and flying back – you will meet at the dock on the morning of departure; pre-trip hotel night is not included in the price of the voyage.
For those flying down and sailing back: on the pre-departure afternoon you will collect your Muckboots and attend a briefing about your flight for the next day.

What our customers think of Antarctic Yacht Expedition
Antarctic Yacht Expedition trips scored 2/5 from 1 reviews
Being married on the yacht by Cpt. Dave and passing the Sir David Attenborough in the Lemire Channel.

Travelled: January 2023
About The Ship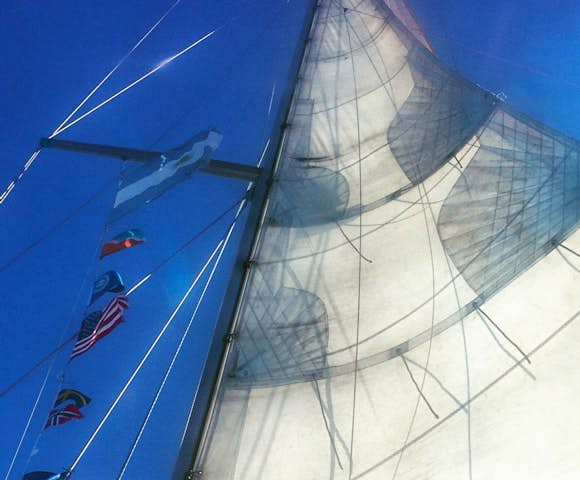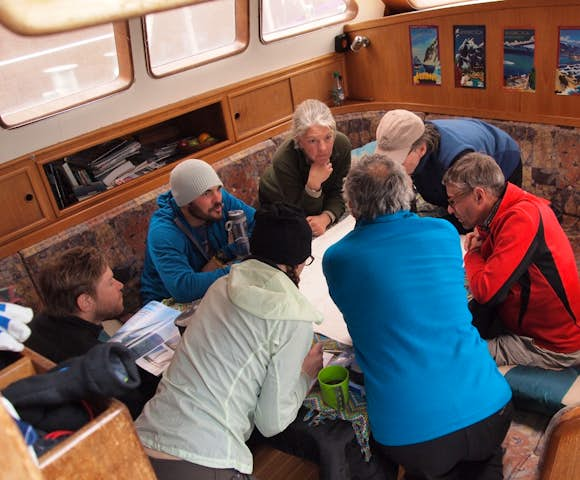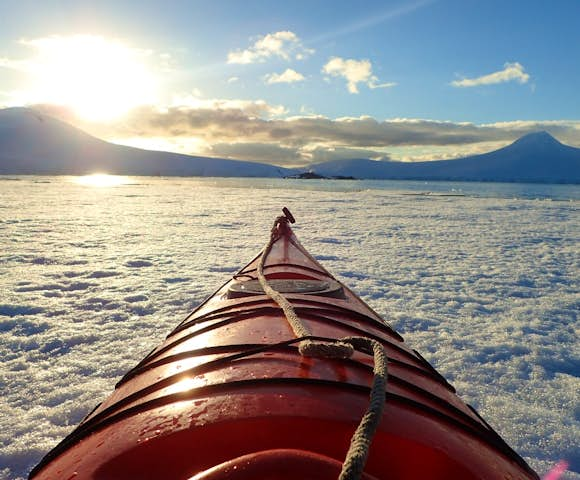 Can comfortably carry eight guests, three crew members and one scientist
Ideal for photographers, hikers, divers, scientists - plenty of storage plus the necessary comfort living onboard a sailboat for longer periods of time
A sturdy & comfortable boat - huge forward and aft decks
Cozy double cabins with a choice of double and single bunks
Carries comprehensive safety equipment, including beacons, liferafts, flares and a variety of lifejackets
Prices, Departures and Inclusions
Prices quoted below are per person based on 2 people sharing. Cabin availability changes all the time so please contact us for up-to-date details and information on specific cabin availability.

* Note: Prices are per person. Paid in USD ($) - figure above is based on today's exchange rate. Actual cost $18140
Includes
Flights Punta Arenas – Antarctica
Muckboots for use in Antarctica
Meals and accommodation in Antarctica
Kayaking and camping
Celebration dinner in Punta Arenas
Wine with dinner
Luggage up to 50lb/23kg
Excludes
Flights to/from home to Ushuaia / Punta Areans
Insurance: medical, evacuation, travel
Personal equipment and clothing
Delays due to weather
Meals and accommodation in Ushuaia / Punta Arenas before and after the trip
Communication charges
Questions about this Voyage?