Snow Hill Island
Snow Hill Island is an almost completely snowcapped island, 33 km (21 mi) long and 12 km (7.5 mi) wide, lying off the east coast of the Antarctic Peninsula.
A site at the south-western extremity of the island has been identified as an Important Bird Area (IBA) by BirdLife International because it supports a breeding colony of about 4000 pairs of emperor penguins. It is one of only two such colonies on land in the Antarctic Peninsula region.
Trips that visit Snow Hill Island
Flexibility is the key to success in Antarctica. All voyage routes take advantage of the ever-changing opportunities provided by nature, crafting a unique and extraordinary experience each time.
Special Offers:Swoop has access to the widest range of offers and can help you find the right trip, cabin, & price.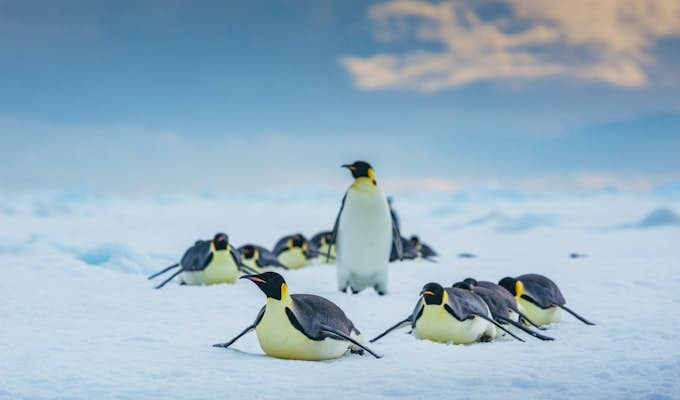 Maximise your time looking for Antarctica's most iconic species, the emperor penguin, on this luxurious expedition to the remote Weddell Sea. If conditions allow, two sleek twin engine helicopters will fly you over vast tabular icebergs to Snow Hill Island,…
The iconic emperor penguin is the goal of this expedition for wildlife enthusiasts, as your ice-strengthened ship sails into Antarctica's challenging and little-visited Weddell Sea. Delve deep into historically significant and ice-laden waters, heading for the remote emperor rookery…