Why we like the Ocean Diamond
A very comfortable, spacious mini-cruise ship with more facilities than most other polar ships
Huge outside deck space ensures that everyone has plenty of space for wildlife viewing
Good choice of larger than average cabins, all with en suite bathroom, including Singles and Suites with balconies
The 360 degree Observation deck is a great place to watch icebergs & wildlife
Comfortable theatre-style auditorium for lectures and briefings, with a huge projector screen
Internal Passenger elevator provides easy access to most decks
The ship's emissions are offset making it the first carbon neutral ship in the polar adventure industry
Watch our Video Tour of Ocean Diamond

What Our Customers Think of Ocean Diamond

The Ocean Diamond was outstanding in all aspects. The ship itself was accommodating, spacious and spotless. My cabin was comfortable and furnished well. The staff made every effort to please and assist - they were just awesome!

Travelled: February 2017

The Ocean Diamond is a great vessel. We had plenty of time on land and the time spent in the zodiacs was amazing. All of the expedition leaders were fantastic so I felt I got more than I expected. It was an epic voyage.

Travelled: February 2017
I loved the ship! It is big enough for all of us to be comfortable and small enough to access difficult places. The internal spaces are comfortable and allow a good view of the environment. The crew is very professional and the hotel management is fantastic. Keep in that way! Read the full review

Travelled: January 2023
Virginia De Francesco - Argentina
Cabin was perfect. The extra cost for a balcony room was worth every penny. Seeing icebergs passing by as we cruised and being able to run out and watch it take pictures was priceless! Housekeeping was more than perfect! Read the full review

Travelled: December 2022
The food was fantastic and over the top. I estimate I may have gained 7 pounds and I was cautious in my eating..... Read the full review

Travelled: December 2019
Steve Hatten - United States Of America
The food and service in the dining room were excellent. Read the full review

Travelled: December 2019
Burke Bretzing - United States Of America
The ship had a nice enclosed, warm observation deck on the 7th level right above the bridge. It was also great that we were allowed in the bridge. Read the full review

Travelled: December 2019
Mark Jongewaard - United States Of America
Voyages aboard the Ocean Diamond
Alex says
Cabin Categories

*Note that the above measurements are approximate averages and exact cabin size can vary

The Ocean Diamond offers 82 cabins over 5 decks, accommodating up to 189 passengers in a range of triple, double and single cabins as well as suites on the main deck as well as balcony suites on the top observation deck.

All cabins have sea views and ensuite bathroom facilities. Also provided in all rooms are flat-screen TV and DVD players.
Balcony Suite
One double bed or two twin beds

Located on the top Observation Deck
Full-size window with a sliding glass door that leads to a private deck with chairs for magnificent views
Coupled with living rooms as well as ensuite facilities
Refrigerator, TV, and DVD player are included in each cabin
Largest cabins on the Ocean Diamond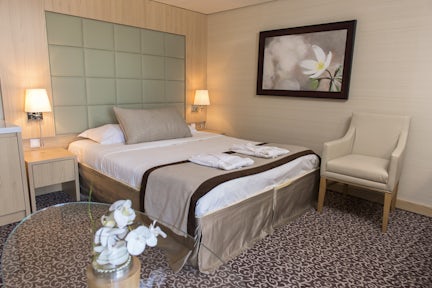 Twin Obstructed View
These cabins have one double bed or two twin beds
Picture window (in cabins 612, 615, 611, and 610 the view is obstructed, cabin 522 has a very obstructed view)
Located on the Captain's and Upper Decks
Private bathroom with shower
Refrigerator, TV, and DVD player are included in each cabin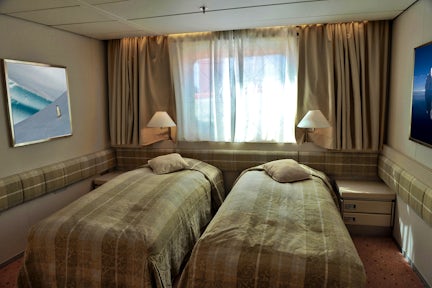 Onboard Communications & Facilities
If you wish to stay in touch, even in Antarctica, you can choose from the options below:

Internet & WiFi: available as a pre-paid PIN card that grants access to WiFi spots found in the public spaces and cabins with a more limited connection. Generally, 100mb cards cost about $100.
Satellite phone card: available as a pre-paid PIN card. Expect costs of about $0.25/minute when calling to the USA.
Ship-based email: available for a nominal fee of about $30 (text-based email)
Mail: it is possible to send mail from the ship
Please note that this is only for light data traffic and that the above prices are only approximate. You can use your own device and connect it to WiFi. The ship is reachable via e-mail or phone. Final prices for these additional services will be posted onboard the ship.
Other facilities include:
Plugs: European 220V two-round-pinned sockets
Towels, toiletries and hair dryers
Laundry service (additional cost)
Find Your Antarctic Ship
Choosing the right ship is crucial, given the amount of time you'll spend on board. Swoop is experienced at helping match our customers to exactly the right ship.
Find your Antarctic ship
Ready to plan your Antarctic adventure?
1
Listen
We'll spend some time listening to your aspirations, then discuss the kind of experience that might suit you.
2
Match
Next we'll discuss the options, shortlist the best trips for you and present you our impartial recommendations.
3
Reserve
We'll place a 24 hour hold on your preferred option - without obligation - whilst we talk through the details.
With over 150 years of Antarctic experience between us, we can help guide you to exactly the right trip for you.
1-855-369-8288