Ross Sea Discovery: In Scott & Shackleton's Footsteps - 28 - $29,450
Trip Summary and Itinerary Map
10 full days exploring the grand-scale Ross Sea region and its historic huts & 6 visiting sub-Antartic islands
One of the few voyages each year to venture deep into unchartered Antarctica
Travelling on a comfortable 140 passenger ice-strengthened ship ideally suited to this expedition
Possible landings include Franklin Island, Cape Hallett, Ross Ice Shelf and Terra Nova Bay
Includes one night pre-voyage hotel stay and pre and post-voyage transfers
Landmarks potentially visited on Ross Sea Discovery: In Scott & Shackleton's Footsteps
Operator's Itinerary
Day 1: Queenstown
Arrive at New Zealand's world famous alpine resort town, Queenstown and make your way to the designated hotel where we will spend the first night of the expedition. This evening there will be an informal get-together at the hotel for dinner; this is an excellent opportunity to meet fellow adventurers and some of our expedition team for your voyage.
---
Day 2: Port of Bluff
After breakfast in the hotel restaurant, the morning free is to explore Queenstown before returning to the hotel for lunch and departing for the Port of Bluff to embark your ship. There you will have time to settle into your cabin and familarise yourself with the ship. We will also take the opportunity to conduct a number of safety briefings once you are. As we set our course to The Snares and our adventure begins, you are invited to join the expedition team in the Observation Lounge and up on the Observation Deck.
---
Day 3: The Snares North East Island
Staggeringly, The Snares Islands are home to more nesting seabirds than all of the British Isles put together. Zodiac cruising the coast we learn how the islands got their name and in the sheltered bays, we should see the endemic Snares crested penguin, the Cape petrel and Buller's albatross nesting on the imposing cliffs.
---
Day 4: Auckland Islands
Characterised by towering cliffs and rugged sea stacks, these islands have borne witness to many a shipwreck in days gone by. We spend the day ashore on Enderby Island which is perhaps the most beautiful of all the Subantarctic Islands. Here we find parakeets flitting above carpets of red, white and yellow wild flowers and on the beaches beyond, the rare Hookers or New Zealand Sea Lion. We land in Carnley Harbour and if conditions are suitable, we'll climb to a Shy Albatross colony, otherwise, we explore sites within the harbour.
---
Day 5: At Sea towards Macquarie Island
Take the chance to learn more about the biology and history of these islands and the tempestuous Southern Ocean through informal lectures with our experts. This particular stretch of ocean is very productive and we can expect many seabirds, including five or six kinds of albatross and numerous species of petrel.
---
Days 6 & 7: Macquarie Island
This remote, rocky outpost which endures roaring westerly winds, supports one of the highest concentrations of wildlife in the Southern Hemisphere. Four species of penguin: king, royal, rockhopper and gentoo penguins breed here. You will never forget your first experience in a ceaselessly active penguin city, where the dapper inhabitants show no fear of their strange visitors. We will also meet with the Park Rangers, visit the Australian Antarctic Base and observe the hundreds of southern elephant seals along the beaches.
---
Days 8-10: At sea towards Antarctica
Soaring albatross and petrels circle the vessel as we steam south through the Southern Ocean. Lectures now concentrate on the Ross Sea region and beyond the bow of the ship; drifting icebergs of extraordinary shapes begin to appear. Manoeuvring in close for your first ice photographs we pass the Antarctic Circle and into the continent's realm of 24-hour daylight.
---
Days 11-22: Antarctica's Ross Sea Region
With unpredictable ice and weather conditions, a day-by-day itinerary is not possible but we assess the conditions daily and take every opportunity to make landings and launch the Zodiacs. You can anticipate wildlife viewing, visits to scientific bases and historic sites, as well as the spectacular white and blue scenery.

We hope to visit the following areas:

Cape Adare: A large flat spit of land, teeming with the staggering sight of Antarctica's largest Adelie penguin rookery: a tumult of chattering, feeding chicks; territorial disputes; petty pilfering and courtship displays. Curious penguins often come very close, offering superb photographic opportunities. Among the shifting mass of penguins, we will find Carsten Borchgrevink's Hut, the oldest in Antarctica, an overwintering shelter for the first expedition to the Antarctic continent in 1899.
Cape Hallett: The enormous Admiralty Range heralds our arrival; wild and extraordinary, the mountains rear up from the sea to over 4,000m, bounded by colossal glaciers. We land at an abandoned base site, now home to large numbers of Adelie penguins and Weddell seals.
Franklin Island: Desolately beautiful and rugged, this is home to a large Adelie penguin population and other nesting seabirds. We attempt a landing and explore the coastline.
Possession Islands: Rarely-visited, small and rugged, these rocks support tens of thousands of penguins. Observe the birds busy and humorous activity, with the Admiralty Mountains forming a superb backdrop across the water.
Ross Ice Shelf: The world's largest body of floating ice and a natural barrier, at times, creating hazardous weather, with sheets of snow blown at gale force by winds off the polar ice cap. Just 800 miles from the South Pole, this daunting spectacle prevented many early explorers from venturing further south. We cruise along its dizzying 30m high ice cliffs, perhaps lucky enough to see icebergs calving.
Ross Island: Mount Erebus/Cape Bird/Shackleton's Hut/Scotts Hut(s) and visits to a scientific field station (Scott and McMurdo Stations are high on our wish list but ice, weather and station operational requirements often make them inaccessible). Ross Island was and is the hub of activity in the Ross Sea, dominated by Mt Erebus, a monstrous active volcano named after the ancient Greek God of Darkness. The carefully preserved huts of the Heroic Era help make the history come alive. If we can reach the bases we get a modern perspective on Antarctic Research.
Terra Nova Bay: An Italian research station where the scientists are always hospitable and enjoy showing us around their lonely but beautiful home. They share with us their scientific research and also, perhaps, the best cafe espresso in Antarctica!
---
Days 23-25: At Sea towards Campbell Island
Taking time to rest and enjoy shipboard life in the bar or library after the excitement and long daylight hours of the Antarctic, we have time for lectures on our final destination and for some pelagic bird spotting.
---
Day 26: Campbell Island
We drop anchor in Perseverance Harbour, an occasional refuge for southern right whales who come here to calve. Walk to the nesting site of the southern royal albatross and see the strange and beautiful megaherbs growing on the hills. These huge wild flowers that have adapted to the harsh conditions have unusual colourings and weirdly-shaped leaves. We also seek out other wildlife such as Campbell Island Shags, Light-mantled sooty albatross and sea lions.
---
Day 27: At Sea towards Invercargill
En route to the Port of Bluff, take the opportunity to relax and reflect on a remarkable journey as you join our experts for a recap of highlights and enjoy a farewell dinner tonight.
---
Day 28: Invercargill / Queenstown

Early this morning we will arrive in the Port of Bluff. After a final breakfast we bid farewell to our fellow voyagers. There will be a complimentary coach transfer to either Invercargill or Queenstown Airports. In case of unexpected delays due to weather and/or port operations we ask you not to book any onward travel until after midday from Invercargill and after 3pm from Queenstown.
---
NOTE
:
This itinerary is for guidance only as each voyage will vary depending on ice and weather conditions, and opportunities to see wildlife. Flexibility is key and all part of the adventure of an expeditionary cruise.

What our customers think of Ross Sea Discovery: In Scott & Shackleton's Footsteps
Ross Sea Discovery: In Scott & Shackleton's Footsteps trips scored 3.5/5 from 5 reviews
My highlight was stepping on the Antarctica Continent, the Ross Sea, Ross Island, Ross Ice Shelf, and Port Ross and was my most magical moment. The historic huts were amazing; to think that the explorers endured and many lost their lives for exploration gives me so much respect for all they accomplished. The landscape: icebergs as well as the flora and fauna in such remote areas were breathtaking. The wildlife and how they survive in such extreme conditions was amazing. We had an awesome group of fifty people that socialized, laughed, and shared their stories of who they were and why this trip was meaningful for them.

Travelled: February 2021
Within a 24 hour period we visited one of the historic Antarctica Explorer's huts, visited a large Adelie penguin colony, and enjoyed champagne on ice, with an Emperor penguin, standing on the Ross Sea Ice pack.

Travelled: February 2020
Penguin party on the ice floe visiting early explorers huts the wildlife the immensity of Antarctica

Travelled: February 2020
Too many to give a rating to one moment. Great moments ranged from the interaction with wildlife to being able to just wander in the wildness.

Travelled: February 2020
When I was at Sir Ernest's hut looking out to the sea and gazing at Mt. Erebus. I had the most overwhelming feeling of a sense of history and was awed by the beauty of the site. I felt so privileged and humbled to be there.

Travelled: February 2020
About The Ship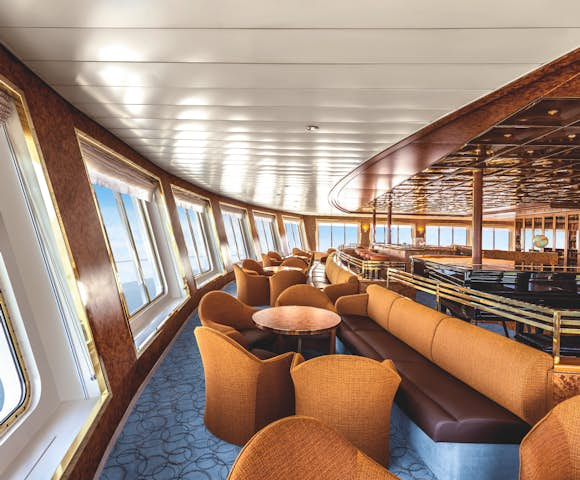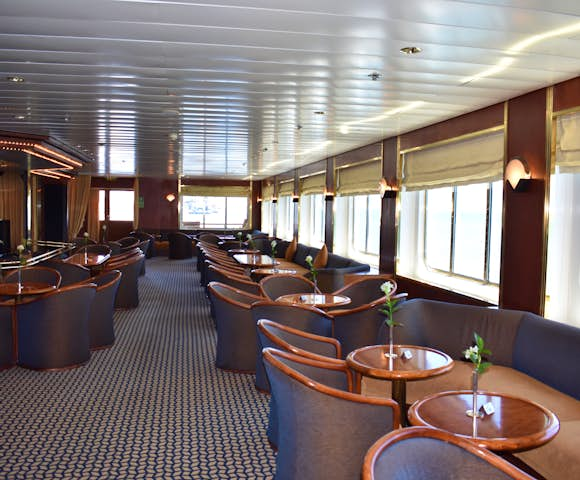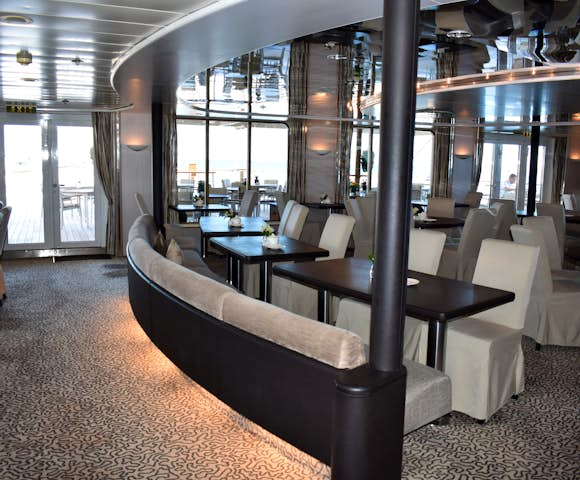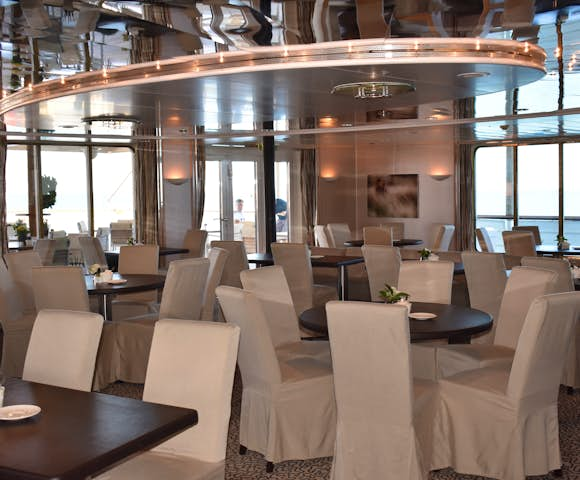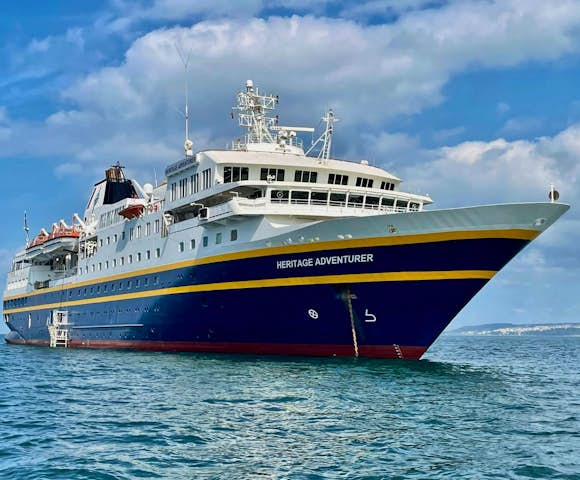 Built in Finland in 1993, few expedition ships are capable of delivering such a well-appointed, comfortable Antarctic experience on board such a safe and ice strengthened vessel. Spacious cabins, modern stabilising and an outstanding expedition staff all help to enhance the adventure.

Prices, Departures and Inclusions
Prices quoted below are per person based on 2 people sharing. Cabin availability changes all the time so please contact us for up-to-date details and information on specific cabin availability.

Triple
Superior
Single
Suite
Penthouse
January 2024
9-Jan-2024

$

29,450

*

$

32,500

$

39,950

$

40,450

$

59,000

Enquire

February 2024
4-Feb-2024

$

29,450

*

$

32,500

$

39,950

$

40,450

$

59,000

Enquire

January 2025
7-Jan-2025

$

31,500

$

34,775

$

42,750

$

43,250

$

63,000

Enquire

February 2025
2-Feb-2025

$

31,500

$

34,775

$

42,750

$

43,250

$

63,000

Enquire
* Note: Prices are per person. Paid in USD ($) - figure above is based on today's exchange rate. Actual cost $29450
Single Supplement And Child Policy
For those travelling solo and want their own cabin, the single supplement is 1.8 to 2 times the cost of a single berth, please contact us for details. However, there is no single supplement for passengers willing to share a cabin.
This expedition is designed for adults but may be suitable for mature teenagers. There is no onboard children programme and children are at the responsibility of their guardian. Please contact us for details.
Includes
Pre and post voyage transfers

Pre-embarkation one night hotel stay with breakfast
Voyage aboard the vessel as indicated in the itinerary
Accommodation and meals during the voyage on full board
House beer, wine and soft drinks with lunch and dinner

All shore excursions and zodiac activities
Educational lectures by expert onboard polar guides
Access to an onboard doctor and basic medical services
Loan of rubber boots for the voyage's duration
Comprehensive pre-departure information
Port taxes
Post-cruise transfer from the port to the airport

Excludes
Parka jacket not provided

Landing fees of USD $1,100
Flights to and from points of embarkation/disembarkation
Any additional pre/post land services, including meals
Arrival transfer from the airport to your designated hotel
Any other transfers not specified in the itinerary
Visa, passport and any vaccination expenses
Airport arrival or departure taxes
Personal travel insurance
Items of a personal nature - laundry, beverages, etc
Customary staff gratuity at the end of the voyage
Additional onboard purchases (i.e. gift shop)
Questions about this Voyage?