If you plan to fly to Argentina and then take a small ship from there to Antarctica, go to Antarctic Cruises. Alternatively, choosing to fly to Antarctica offers the traditional benefits of aviation - namely speed and comfort. It's a very different proposition to booking a flight for a regular holiday, here's why:
There are no scheduled flights to Antarctica
The only flights available for tourists are charter flights, which are only available as part of a package, rather than on a 'seat only' basis like booking a regular scheduled flight;
In spite of the short Antarctic flying season (Dec - Feb) and no regular flight schedule, there's a surprisingly good range options available, from 1 to 10 days in length
Unlike boat-based cruises which can only explore Antarctica's coastline, flights unlock Antarctica's vast interior, including the South Pole
Antarctica's harsh and changeable weather makes flying challenging and susceptible to potential delays. The expediency of flying, therefore, needs to be balanced with this higher risk; learn more about Flying versus Sailing.
Prefer to sail? If you are planning on flying to Argentina and taking a ship to Antarctica, find out more about Antarctic Cruises.
What is it like to fly to Antarctica?
5 ways to Fly to Antarctica
With flying becoming an ever more popular route to Antarctica, there's an increasing number of flight options to consider, depending on time available, area of interest and budget:
1. Fly the Drake & Cruise Antarctica
This is the most popular way to fly to Antarctica in just 2 hours with the widest selection of departure dates available in December, January & February.

The 'Fly & Cruise' concept combines the comfort and expediency of flying - avoiding the Drake Passage - with all the benefits of then exploring Antarctica by small expedition ship, which acts as your floating hotel.
Successfully been operating for over 13 years, this increasingly popular formula has is particularly well suited to travellers who are either:
short on time
anxious sailors

want to combine time exploring Patagonia
This is the fastest route to Antarctica, with a flying time of just under 2 hours from Punta Arenas in southern Chile to King George Island in the Antarctic Peninsula's South Shetland Islands. These trips are typically 8 days in length with a small choice of ships (68 - 110 guests) and start from approx. $10,000 per person, however longer 10 day Polar Circle trips are also available.
Perhaps the one downside of flying is that you won't get to experience the open sea, however for many this is a distinct bonus!
2. Fly to Antarctica & Cruise back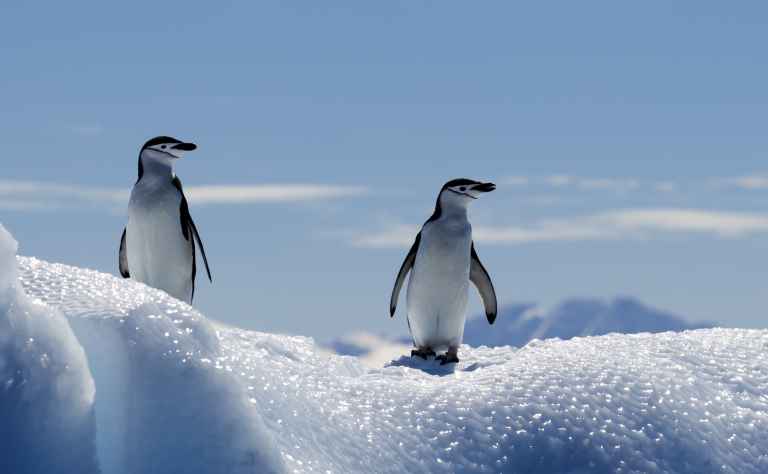 An adaptation of the 'Fly & Cruise' concept, the key difference is that these trips only fly in one direction, the other leg is by ship. For some, the excitement of arriving in Antarctica by ship having crossed open sea and then flying back home at the end - avoiding re-crossing The Drake - is the perfect combination, offering the best of both worlds.
Both charter flights to/from the Antarctic Peninsula and in some cases the once weekly scheduled flights from Punta Arenas to The Falkland Islands operated by LatAm are utilised.
Travelling in one direction by sea also allows the potential for exploring further afield; some of these combination trips incorporate South Georgia and the Weddell Sea, which aren't available on trips with flights in both directions. As such there's a tempting selection of trips available, including to the Polar Circle, from 6 to 18 days in duration, and starting from approx. $4,750 per person.
The one thing to note about some of these trips is their longer length due to the added travel time at sea, however the shortest is only 6 days and combines really well with Patagonia.
3. Fly to Antarctica for a Day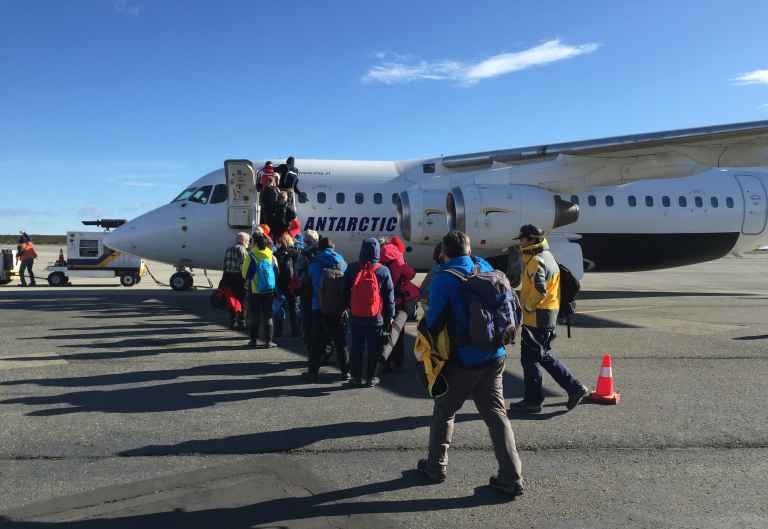 If you're simply looking for the shortest possible trip to Antarctica for a quick taster of The White Continent and to 'tick that box', these express 1 or 2 day trips are worth considering. This type of trip would suit those who:
are very short on time
have a budget of $6,000 per person
just want to 'touch' Antarctica & aren't looking to spend any real time there
don't want to commit to a full Antarctic trip (minimum 6 - 10 days)
However, your visit to Antarctica will be limited to the South Shetland Islands where the airfield is, you won't set foot on the continent itself (it's another 55 miles/ 90 km from there) and in our opinion this trip is too short and limited in scope to really give a true sense of this extraordinary place.
Flying time from Punta Arenas in southern Chile to Antarctica is just under 2 hours with frequent daily trips available from early December through to mid March. Overnight trips are also available.
In terms of cost, it's not a cheap option for the precious few hours you'll actually spend in Antarctica. As such, for only a modest additional investment it's worth also considering an Antarctic cruise, which would mean substantially longer in Antarctica (x4/5) and overall a far more in-depth and immersive experience.

4. Fly to the South Pole
The interior of The White Continent is a vast, uninhabited wilderness - Antarctica's true heart - which amazingly sees less than 500 annual visitors, compared to +1.2 million to Machu Pichu.
The only means of getting to the interior of Antarctica and the South Pole is by charter flight from either Punta Arenas in Chile or Cape Town in South Africa during the short 'weather window' (Dec & Jan only). The number of flights each season is limited and places are only available as part of a packaged group trip with set departure dates. Once in Antarctica, accommodation is in tents, rather than on a ship.
From South Pole flights to camping with Emperor penguins, there's a mouth watering array of experiences available (6 to 12 days in length). However, operating flights in such a remote, cold environment is challenging, costly and susceptible to delays.
With prices from $25,000 - $70,000 per person these trips definitely aren't for the budget traveller, but for those with the means and time, travel really doesn't get more adventurous or exclusive.
5. Fly to Argentina and Sail to Antarctica, both ways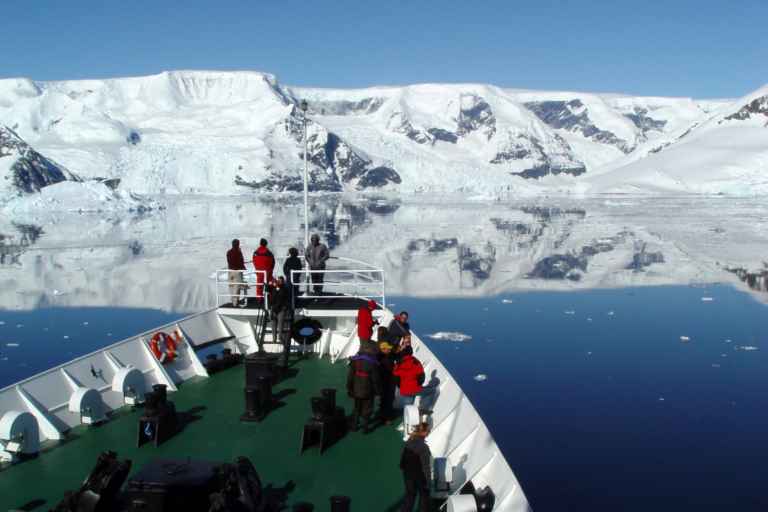 90% of Antarctic travellers still get there and back by ship in the traditional way, departing from the toe of South America. If this is your chosen route, our Antarctic Cruises page has extensive information on all of the different voyages available, ranging from 10 - 30 days in length.
While sailing to Antarctica provides the widest choice of voyages and is more cost effective than flying, they lack the expediency, comfort and avoidance of the Drake Passage of flying. Read on to find out more about actually flying to Antarctica.
For anyone planning to fly to Antarctica, the town of Punta Arenas in southern Chile is the principal gateway to The White Continent.
Most popular ways to fly to Antarctica
About Flying to Antarctica
Which are the Principal Airports?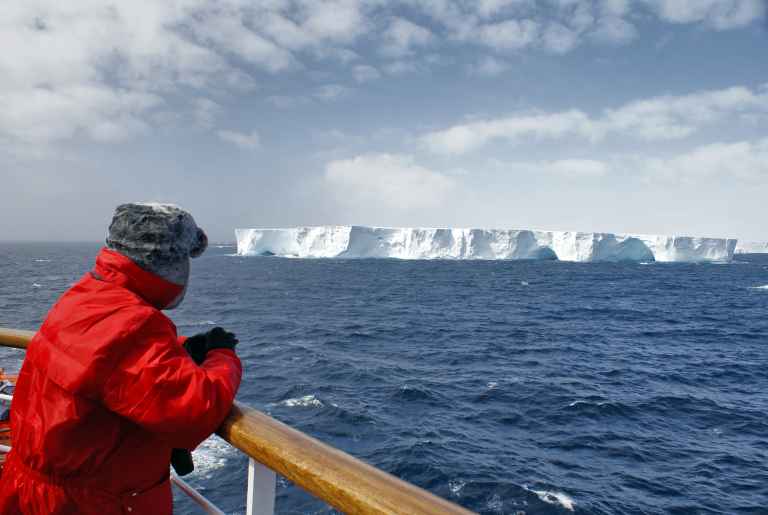 For anyone planning to fly to/ from Antarctica, the town of Punta Arenas in southern Chile is the main departure point for all:
Charter flights to King George Island, South Shetland Islands (flying time = 2 hours). This is the only commercial airfield servicing the Antarctic Peninsula for visitors.
Scheduled flights to the Falkland Islands (flying time = 1 hour 40 mins), from where select Antarctic and South Georgia only cruises depart/return. This once weekly flight is only relevant to certain 'Cruise south, fly north' Antarctic departures.
Charter flights into Antarctica's interior, landing at Union Glacier basecamp (flying time = 4 hours), and for the lucky few on to the South Pole itself. These are 'blue ice runways' and a combination of skis and wheels are used, depending on conditions.
The only other flying route to Antarctica for visitors is from Cape Town in South Africa, which flies into Queen Maud Land to a luxury camp which accommodates only 12 people at a time.
There are other airfields and bases scattered across Antarctica which service field research or governmental traffic only.
The Cost of Flying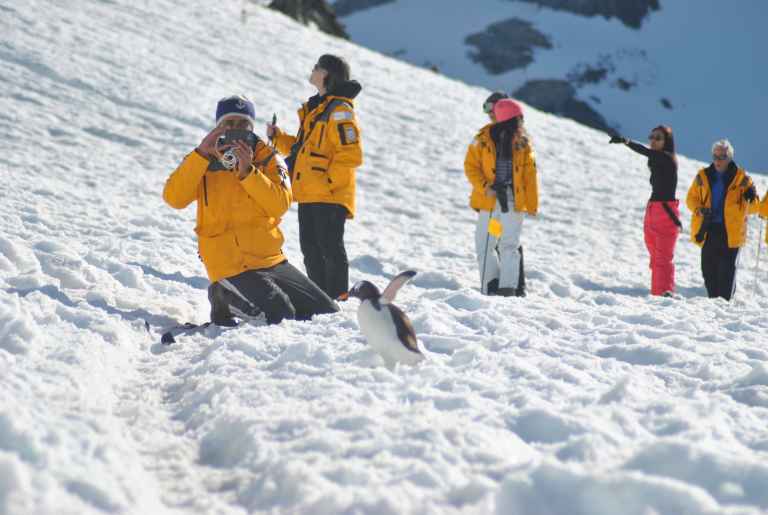 Operating charter flights to Antarctica is challenging due to Antarctica's harsh environment and the specialist aircraft and experienced pilots required - all of which adds to the cost. While flying to Antarctica saves travel time and avoids the Drake Passage, the bottomline is that it costs more to fly than to sail, and so convenience comes at a price:
To fly to the Antarctic Peninsula in both directions on a Fly & Cruise trip it will typically cost 20% more than to sail in both directions. However, the growing demand for these trips clearly demonstrates that this investment is still perceived as good value and worth paying.
Fly to Antarctica & Cruise back trips which combine flying one way and sailing the other make savings with only one charter flight and can be attractively priced, starting from around $5,000 per person, depending on trip duration.
The deeper you fly into Antarctica the more expensive it becomes as the logistics, challenges and aircraft required become more specialised. A week at Union Glacier camp in the Ellsworth Mountains starts from $25,000 per person, a similar cost to a top cabin on a Fly & Cruise trip, however it's a very different experience and fewer than 1% of visitors to Antarctica each year reach this point.
Antarctic Planes
The types of planes used for flights into the Antarctic Peninsula are most commonly a BAE 146. For flights into and within the interior, the smaller more specialised Ilyushin, Twin Otter and Basler are utilised.
BAE 146
These planes are more 'workhorse' than luxury, but are perfectly comfortable for the short 2 hour flight between Punta Arenas and King George Island.
Build: British-designed
Capacity: 80 people
Seating configuration: 3+3
Renowned for its relatively quiet operation
Its four turbofan engine configuration provides important redundancy
Superior takeoff performance from short runways
Toughened undercarriage and positioning of the landing gear for maximum stability makes it ideal for the non-tarmac airstrip on King George Island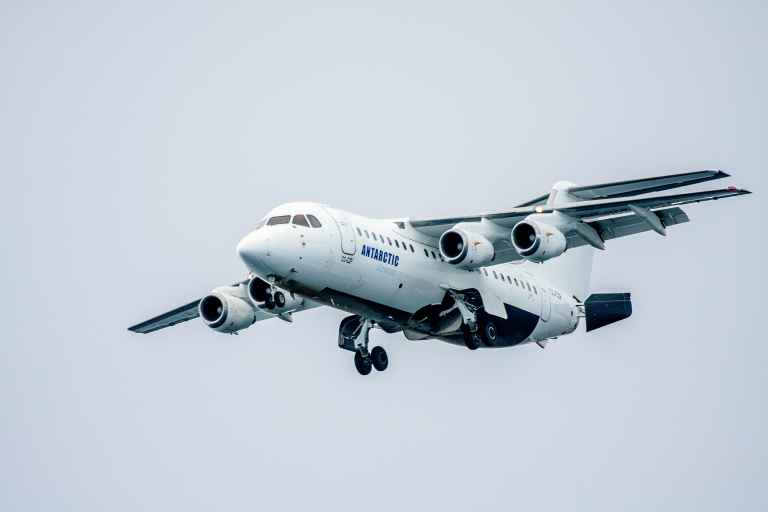 Ilyushin IL-76 TD
Originally designed in 1967 for delivering heavy machinery into Russia's hinterland, this iconic plane only operates between Punta Arenas and Union Glacier camp in Antarctica's Ellsworth Mountains.
Build: Soviet-designed
Capacity: 60 people
Seating configuration: 3+3
Impressive lifting capabilities - able to carry a payload of up to 40 tonnes
Good speed & range courtesy of four turbofan engines
Ability to cope with both adverse Antarctic weather and short, unprepared airstrips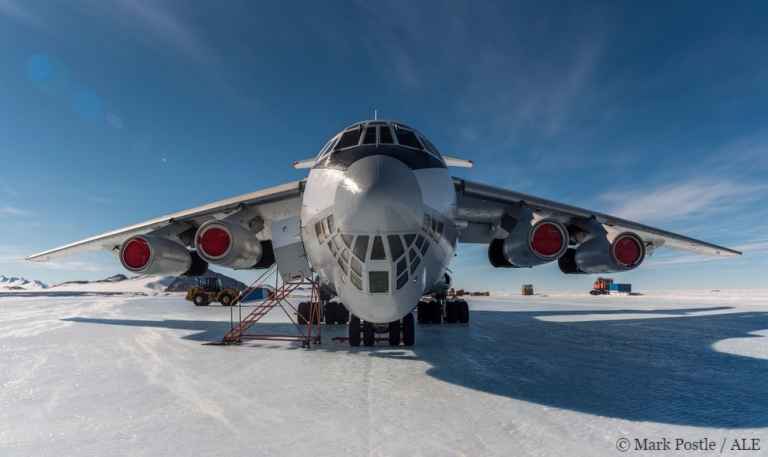 De Haviland DHC-6 Twin Otter
Deployed throughout the interior of Antarctica, these twin engined Twin Otters are the continent's workhorse providing both vital passenger and cargo transportation.
Build: Canadian-designed
Capacity: 5-6 people
Ski equipped

Their rugged landing gear and STOL (short takeoff and landing) capabilities allow them to go where most aircraft can't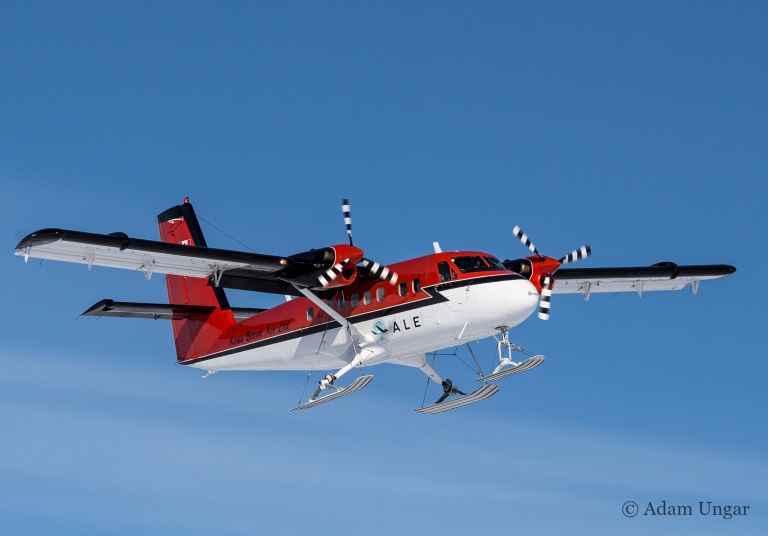 Basler BT-67
The modified version of the original Douglas DC-3, the Basler is only used within Antarctica's interior for getting larger groups than the Twin Otter can handle into remote areas.
Build: US-designed
Capacity: 12-15 people
Seating configuration: 2+2
STOL (short takeoff and landing) capabilities
Versatile & tough
Simple & spacious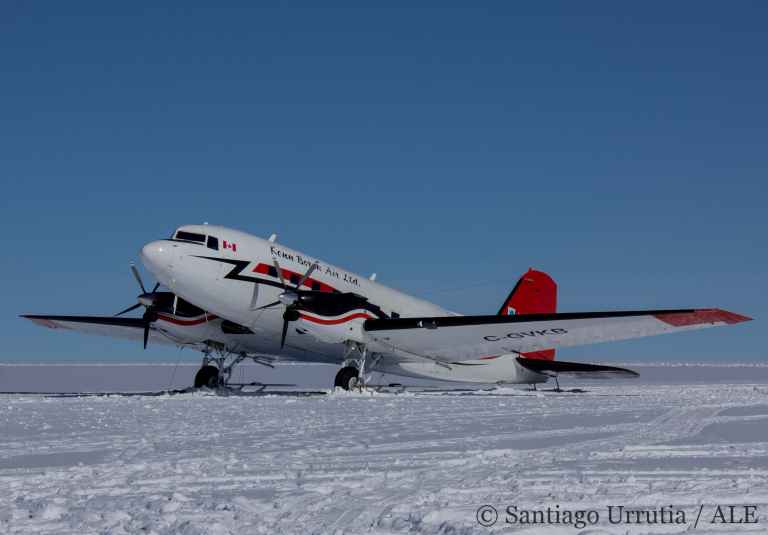 Beechcraft King Air 300
The King Air is the world's most popular business turboprop aircraft. In Antarctica it's exclusively used for the 1 & 2 day trips to The White Continent only. Comfortably accommodating up to 6 passengers, it's also ideal for chartering.
Capacity: 6 passengers
Seating configuration: 1+1
Twin turboprops driving four blade propellers
Max cruising speed 583km/h
Range of up to 3,630km (1,960nm)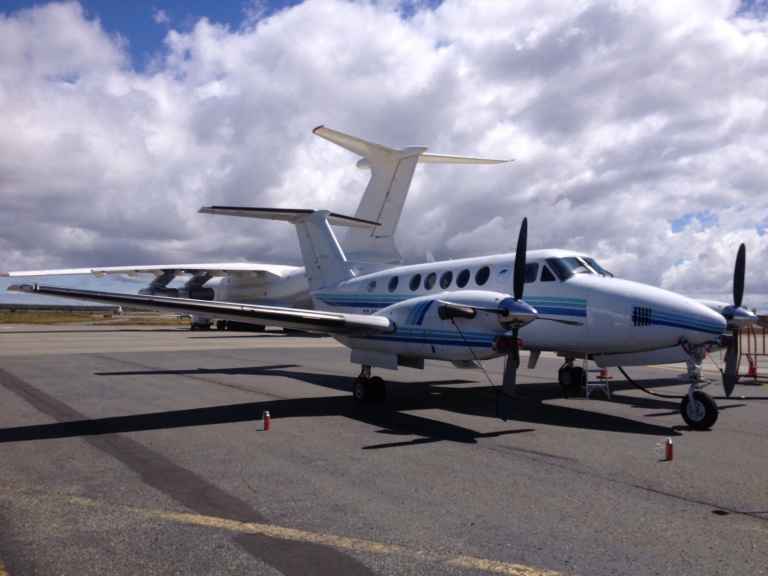 Facts about Flight Delays
Even though the chances of experiencing a delay are relatively low, it's crucial that all visitors flying to Antarctica are prepared for the possibility and have contingency factored into their travel plans, just in case.
Flights to King George Island, South Shetlands

Although delays are possible, one of our principal Fly & Cruise operators has an impressive 80.9% success rate of flights arriving on the correct day across 141 flights over the last 14 years. A further 14.9% arrived the day before or day after, while only one trip has ever had to be totally cancelled. In reality, the majority of delays experienced are only a few hours.
Why are flights sometimes delayed?
Low clouds, fog and heavy winds are the main culprits, with King George Island being particularly prone to fog and low cloud. To be able to confidently depart from and return to Punta Arenas, pilots who are landing in Antarctica by sight only need a minimum 5 hour clear weather window. With such rapidly changing conditions, this is the real challenge, to successfully identify that 'weather window' and get there and back before it closes.
What happens if I am delayed?
If your flight from Punta Arenas is delayed, the local representatives will keep you regularly updated. Typically it's only a wait of a few hours, but in the unlikely event that its longer there are detailed contingency plans in place. Unfortunately you won't be able to 'make up' any time lost once you get to Antarctica and will still leave on the day you were scheduled to.
Those delayed leaving Antarctica benefit from staying on at no extra cost. If you are on a Fly & Cruise trip, you continue to use the ship as your floating hotel and landings will be arranged while you wait for the weather to clear.
Will I receive a refund for delays or cancellation?
If you are very unfortunate to have your trip cancelled altogether due to weather, operators have a clear refund policy in place or will offer you the choice to re-book on an alternative date.
For shorter delays, compensation isn't typically offered as weather is beyond anyone's control and must be accepted as one of the risks of opting to fly. If you are uncomfortable with this, perhaps sailing to Antarctica, which is less prone to delays through adverse weather, may be a better option.

When do I need to book?
Due to the combination of the short flying season, limited flights and their huge popularity, these trips are in increasingly high demand and planning well ahead is crucial. You should definitely be booking your place(s) 10 - 18 months in advance of your departure date, but the general rule of thumb is the earlier the better, particularly for the prime dates around Christmas and New Year.
Alex says
Having both flown and sailed to Antarctica I'm a big fan of flying. With the time saved, combining Antarctica with a few days in Torres del Paine National Park works brilliantly.

Alex Mudd General Manager
FAQs about Flights to Antarctica
Ready to plan your Antarctic adventure?
With over 10 years' experience in Antarctica, we can guide you through the maze of options to choose the perfect voyage.