Luxury at an affordable price
A very comfortable and elegant ship, but with an adventurous heart
She is almost matchless after her $10 million upgrade in 2016.
Outstanding service coupled with top-of-the-line catering
Spacious cabins ranging from 20 - 34 square metres (215 - 366 square feet), including a capacious Owner's Suite, dedicated single cabins and the option of outside balconies in the higher cabin categories
A stern step provides easy access into zodiacs as an alternative to the gangway
A dedicated on-board Customer Service Representative responsible for ensuring that every passenger is being fully looked after
Watch our Video Tour of Hebridean Sky
What Our Customers Think
Hebridean Sky is a 5 star experience all the way. The boat was outstanding, as was the friendly and helpful crew. It felt like somebody was there with anything I could have needed - they were at least two steps ahead of me at all times.

The rooms were top rate and food superb. The captain chose the times re Drake passage and avoided the storms. The boat staff were all efficient, courteous and kept the boat immaculate. Best cruise we have done.

Barb and Bob, Canada February 2017

The Hebridean Sky was a great boat and very comfortable - much more so than expected.

Boyce & Elizabeth, Mississippi December 2016

The Hebridean Sky is an exceptional ship of the right size, comfort, and luxury for such an Antarctic journey. The food was plentiful, of superb quality and variety. The ship was spotlessly clean and the cabin staff were excellent and made every effort to ensure all passengers were well treated and happy.

The Hebridean crew were amazing and everything was so organised with lectures and landings. I liked how the crew ate with us and shared stories.

Oscar, Massachusetts March 2017

I am back, and I must say that this was the most amazing experience of my life. So much so that I did not want it to end, EVER! Every aspect of this voyage was beyond expectations.

I was amazed with the elegance of the Hebridean Sky. Our room was spacious and furnished beautifully. Anyone interested in going on this trip, I would be sure to tell them about our experience. It was perfect.

Mary and John, New York January 2017
Voyages aboard Hebridean Sky
John says
I've been onboard the Hebridean Sky and have to say it's rare to find a ship which combines such comfort, classy suites and great food with an outstanding expedition team - worth every penny.

John Newby Polar Specialist

*Note that the above measurements are approximate averages and exact cabin size can vary

Following her 2016 renovation, all suites on board will be outward-facing. Each one is at least 225 square ft (~21 square meters) and offers a choice of either twin- or queen-sized bed, flat-screen TV, mini-bar and sitting area with a sofa-bed, independent temperature controls and a marble-appointed en-suite bathroom.
Owner's Suite (1)
On the top cabin deck (6 - the Penthouse Deck)
Cabin size: 35.7 square meters (385 square feet)

10.2 square meter (110 square feet) private balcony
Two-room suite with separate lounge and bedroom
Choice of either Queen-sized bed or Twin beds
Sitting area with sofa & chair
Flat screen TV with DVD/CD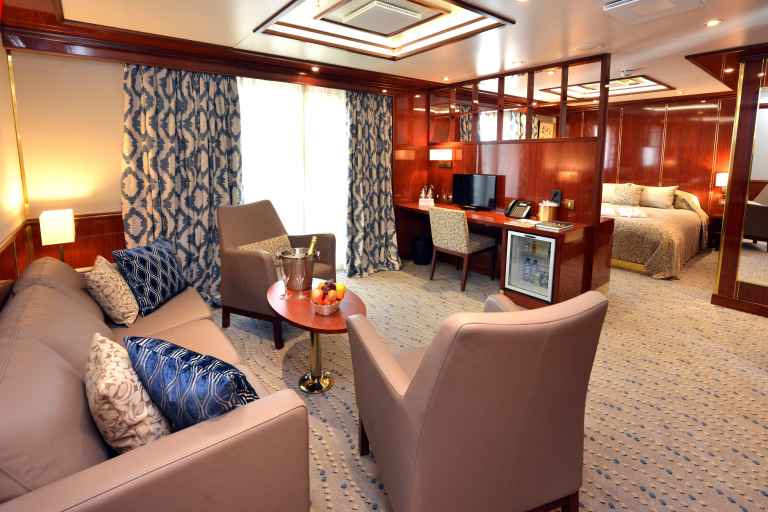 Single Suites (2)
Both Single Suites are on Deck 4 - the Promenade Deck
Cabin size: 11 square meters (118 square feet)
Windows to the side

Queen-sized bed

Sitting area with sofa & chair
Flat screen TV with DVD/CD

This is an all-new suite category that is part of the 2016 renovation of the vessel - the image to the left is a visualisation of what to expect.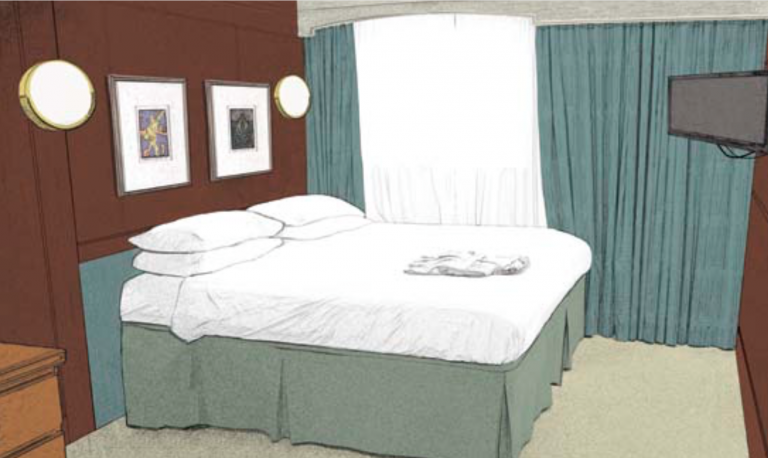 If you wish to stay in touch, even in Antarctica, you can choose from the options below:
Internet - wifi: you can connect your personal device from anywhere on the ship
Satellite phone card
VoIP telephone card
Ship-based email
Please note that this is only for light data traffic and that the above prices are only approximate. There are two public computers available in the library for internet & email access. Data packages prices are starting at $18 for 300min. However, prices vary over the season and should serve only for illustrative purposes. Satellite phone works at all times, VoIP requires internet connection.
Ready to plan your Antarctic adventure?
With over 10 years' experience in Antarctica, we can guide you through the maze of options to choose the perfect voyage.